On this page we describe how you can skip the 10-day quarantine with a negative COVID-19 test, and highlight restrictions currently in place on O'ahu.
Table of Contents
Getting to Hawaiʻi
Partly because of its isolated location and early adaptation of strict travel restrictions the state of Hawaiʻi has one of the lowest COVID-19 infection rates of the country. To keep our residents and visitors safe the state has designed a multilayered process designed to mitigate the spread of COVID-19 in our community from trans-Pacific visitor and resident passengers arriving at airports/ports across the Islands: the Safe Travels Hawaiʻi Program.
-> Safe Travels Hawaiʻi Program website
The Safe Travels Hawai'i Program
Safe Travels is the mandatory online application form all travelers entering Hawaiʻi must complete. It collects travel and health information in order to protect the health and safety of visitors and residents alike. You can find out what to expect when traveling to Hawaii in this 3-minute video explaining the process in 6 steps:
See also these frequently asked questions (and answers!)  about the Safe Travels program.
Pre-travel testing
The pre-travel testing of passengers — both residents and visitors — allows those with a negative result to avoid the state's 10-day mandatory quarantine. Read more details below or on the hawaiicovid19.com website.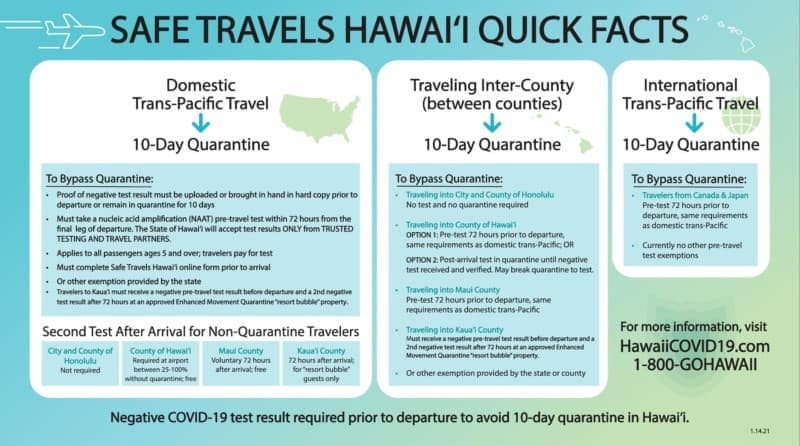 What to do when you are in Hawaiʻi
Once you get to Hawaiʻi you are still asked to follow certain rules to make sure you and others will remain as safe as possible.
Most importantly, please wear a face covering at all times, adhere to physical distancing recommendations of 6 feet or more, avoid gathering in large groups, and practice exceptional hand hygiene. Read more on what to do while you are in Hawaiʻi on the hawaiicovid19 website.
Restrictions relevant to Oʻahu
O'ahu is currently under Emergency Order 2021-01 through April 15th, 2021. You can see all proclamations and special rules for O'ahu here.
The City and County of Honolulu has a new framework for reducing the spread of COVID-19 on O'ahu, with criteria set for loosening and tightening restrictions on businesses and activities to keep the residents of Honolulu healthy.
The framework includes four tiers (tier 1 through 4), with tier 1 being the most restrictive and tier 4 the least restrictive. Tiers are based on the level of community spread of COVID-19 within Honolulu, as determined by two specific criteria: The number of daily cases reported, using 7-day averages over two to four week periods; and the positivity rate, using 7-day averages over two or four week periods.
O'ahu is currently in Tier 3.
Read more about the allowed activities, openings, and group sizes for each tier on the One O'ahu website:
You can find out more specific information about the COVID-19 response from the city and county of Honolulu at the Frequently Asked Questions section on the OneOahu website.
What is open, what is closed, and who is reopening when?
As you can imagine a LOT is changing at the moment. Most hotels and quite some tour companies are carefully reopening again while others wait a bit longer because there simply are not enough costumers to cover operation costs. Bars and restaurants open, close, and reopen with the tide of the current 4-tuer reopening strategy, and state parks are dealing with changes forced upon them by the changing tourism infrastructure.
We strive to keep all information on the Love Oʻahu website as up-to-date as possible, but at the moment we can not promise that all information on our site is current. We therefore recommend to always dig deeper once you found something you are interested in and to get in touch with them through the contact information we provide on our site.
If you do find information ou our site that needs updating we really appreciate a heads up through our contact form. Mahalo!