Love O'ahu was created to help visitors plan their visit to the most popular island in the Hawaiian island chain in a sustainable way. We provide our readers with the same current, useful, and real information we would give to our family and loved ones, keeping in mind communities and cultural conservation, environmental conservation, and local economic development.
Table of Contents
With love and from our 'ohana to yours, we wish you a wonderful visit and many returns.
Our Mission
We are a home-grown travel guide written for people that love O'ahu by people that love O'ahu. Our mission is to help you discover the authentic Hawai'i while promoting sustainability and local business.
In other words, we provide current, useful and real information to help you plan your visit, while emphasizing the importance of buying local and traveling responsibly. Hawai'i is a unique, intricate and beautiful place, and our mission is to make sure it remains as such for current and future generations.
With this in mind, we carefully curate the places, experiences and businesses we recommend, always preferring local vendors and tour operators where possible. We refrain from sending you to "hidden" or "secret" spots, as this can often (unintentionally) lead to these places being damaged and visitors injuring themselves getting there.
As we say in Hawai'i, malama 'aina (care for the land), leave the secret spots to the locals, and let yourself be enchanted by the countless easily accessible wonders O'ahu has to offer.
The people behind Love O'ahu
Love O'ahu is created and maintained by the loving hands of our 3-person team: Joey, Gerrit, and Will.
Joey & Gerrit
Born and raised on O'ahu's neighbor island, the island of Hawai'i, Joey has always been passionate about the people, culture and scenery of Hawai'i and was excited to share this with Gerrit when they first visited the state together in 2008.
That trip was the first of many, but Gerrit was immediately struck by how difficult it was to find non-biased, quality information about the islands and decided to start blogging about his experiences there. What started as a small passion project grew steadily throughout the years and has resulted in this collection which we now happily share with you.
Will McGough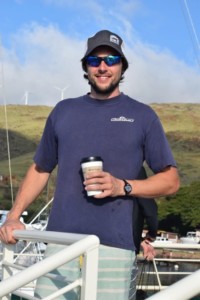 Will McGough is an international travel writer living on the island of O'ahu. He graduated from Virginia Tech and has written for a variety of publications, including Conde Nast Traveler, AFAR, Travel Channel, Outside Magazine, Men's Journal, Backpacker Magazine, Forbes, AAA, Alaska Airlines Magazine, and Popular Mechanics, among others.
You can read more of Will's writing on the Wake and Wander website, or in his recently published book: Swim, Bike, Bonk: Confessions of a Reluctant Triathlete.
Memberships and Certifications
Love Oʻahu is a proud member of the following local organizations to show support to a sustainable development of tourism to the Hawaiian islands:
---
Hawai'i Visitor & Convention Bureau
The Hawai'i Visitors & Convention Bureau is a private non-profit, member-based organization working to grow tourism sustainably and for the benefit of local communities, perpetuating our state's wealth of environmental and cultural resources so future generations can continue to enjoy them. You can find our listing on their website here.
Hawaiʻi Destination Specialist and Expert
We have been certified by the official Hawaii Tourism Authority to be Hawaii Destination Specialists & Experts.