Tour Summary: Go on an unforgettable horseback sunset trail ride along the iconic North Shore beaches of Hawaiʻi, suited for beginners and experts
Tour Highlights:
Small group ride along the beach (8 riders max)
Perfect for beginners - polo ponies are very well trained and schooled
Important: Check-in is 30 min beforehand, 8+ in age and 230 lbs (104 kg) weight limit.
Tour Information:
| Price: | Adult |
| --- | --- |
| (excluding taxes & fees) | $128 |
Tour Provider: Hawaii Polo Trail Rides
Activity: Horseback riding
Tour start time: Several slots between 9 am and 3 pm
Duration: 1.5 hours
Departure from: North Shore
Pick-up available? No
Included: Helmets are provided
Cancellations: 15 min prior to start time is the HARD arrival deadline with no refund. There is a 48-hour cancellation policy, meaning that if you cancel within 48 hours of your tour start time, there will be no refund given. Rainouts/cancellations due to weather are at company discretion.
Read more: about horseback riding on the Love Oʻahu website in our horseback riding guide.
# Book online here (instant confirmation)
Who wouldn't want to go on a horseback ride along the beach, especially it that beach is located on the iconic North Shore of Hawaiʻi? This ride is suited for both experienced riders or for guests who have never ridden a horse before – you will be riding real working polo ponies who will take very good care of you.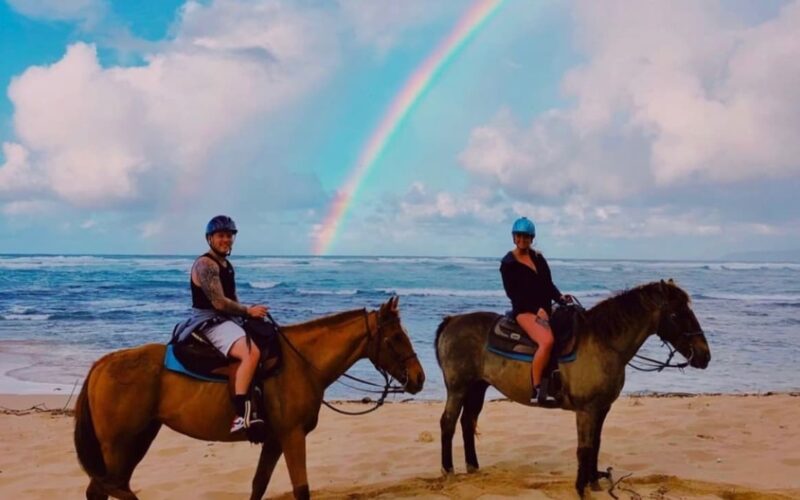 Unlike your typical landlocked ranch trail rides, experience an unforgettable tour of horseback riding in Oahu along the breathtaking coast of North Shore with expert guides.
Join us and enjoy the scenic beauty of the oceanfront with our Oahu horseback riding tours – whether you want to enjoy the scenery or want to learn the art of polo.
We are affiliate partners with Hawaii Polo Trail Rides meaning that we receive a percentage for each successful booking made through our website. This happens without any additional charge to you!
By booking tours through our website you support Love Oʻahu and help us to provide you and future visitors with free and high quality information about the Big Island. Thanks, you guys are amazing!