You'll no doubt spend your fair share of time near the water while visiting Hawai'i, and perhaps even go for a swim, kayak, or surf. But one thing people often forget about? Getting out on a boat! O'ahu is loaded with a variety of boat trips, from family-friend adventures to sunset sails to booze cruises to sightseeing and sporting trips.o
This is our rundown of the different types of boat tours you'll find and which ones to check out.
Table of Contents
Snorkeling boat tours
Snorkeling tours give you access to off-shore reefs, which are less-crowded and usually have better snorkeling conditions than most popular snorkeling spots. These tours also provide you with all the gear and instruction you need for a safe, memorable experience and some offer food and drink as well.
Snorkeling tours typically last 3 to 6 hours and use a boat to take you to their favorite snorkeling spots. Check out the offerings from companies like: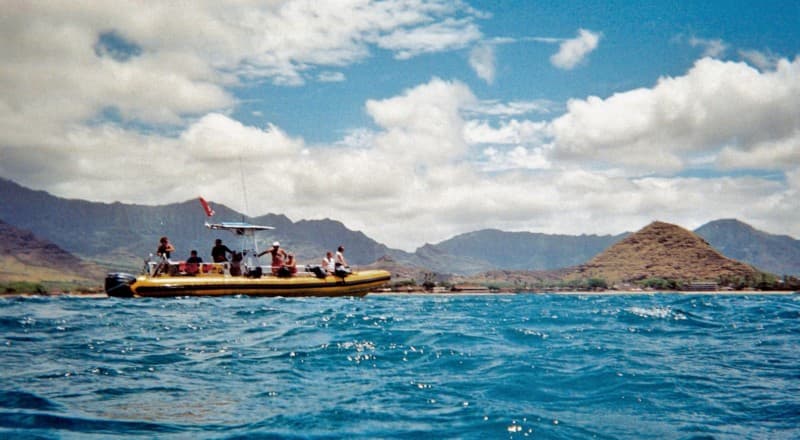 Fishing Charters
Fishing charters leave daily from a number of harbors around O'ahu and, while the end game of catching fish is the same, the details are all different: The size and model of the boat itself, the type of fish they're after, the amount of people they can hold, the price they charge, etc.
It's best to do a self-assessment of what you want out of your trip and relay that information to your hotel's concierge, who can then recommend a company that fits your needs. If you are not staying at a hotel (or if you want to see if you can find a good deal) you can also start browsing price-comparison websites such as Hawai'i Activities1.
Can you keep what you catch?
One big note, though: Be sure to ask each company about its policy on keeping fish.
By Hawai'i law, anything caught while sport fishing remains the property of the charter company, and it is at their discretion how and if they distribute the catch to guests (yes, even if you caught the fish yourself). This is an important thing to ask and talk about if keeping your catch is important to you. Many boats will only give you part of the fish and either keep or sell the rest. Some have very specific policies regarding the weight of the fish.
For example, the Play N Hooky will only share fish under 50lbs – the bigger ones will be kept and sold. Others don't specifically say and it's best to ask before booking.
Scuba Diving
Whether you're a certified diver or excited beginner, O'ahu's dive shops have a dive site for you, from shallow reefs to deep shipwrecks.
If you're a beginner, dive shops offer entry-level classes and even no-experience-needed dives at shallow reefs in Waikīkī. Each dives lasts about 30-40 minutes. With the boat ride out and back and time between dives, the total duration of an outing is usually three hours start to finish.
While the South Shore in and around Waikīkī is the main diving area on the island thanks to its abundance of reefs and wrecks, there are also dives that leave from Hawai'i Kai (Island Divers) and the North Shore (Bonzai Divers).
Most dive outings consist of two dives (called a two-tank dive). These dives take place in 60 feet of water or less. Deeper dives (100+ feet) to sunken ships are offered to certified and more-advanced divers.
Check out the dive schedules and sites offered by these companies:
Whale Watching (seasonal)
Whale season runs from late-November through March/April, when the gigantic humpback whales (on average 45 ft, but lengths up to 60 ft are possible) visit Hawai'i to give birth.
On O'ahu, humpback whales are often seen off the North Shore and southeast tip of the island, but by far the best way to see whales is as part of a whale watching cruise:
Catamaran Whale Watch from the North Shore
Join the only commercial sailing catamaran on the entire North Shore and get up close with breaching whales
from:
$85
What is a suggested tour?

Our suggested tours are hand-picked tours that receive consistent good reviews, give back to the community, and work hard to minimize their impact on the environment.
Read more in our complete guide to whale watching on Oahu and/or have a look at our list of whale watching tips.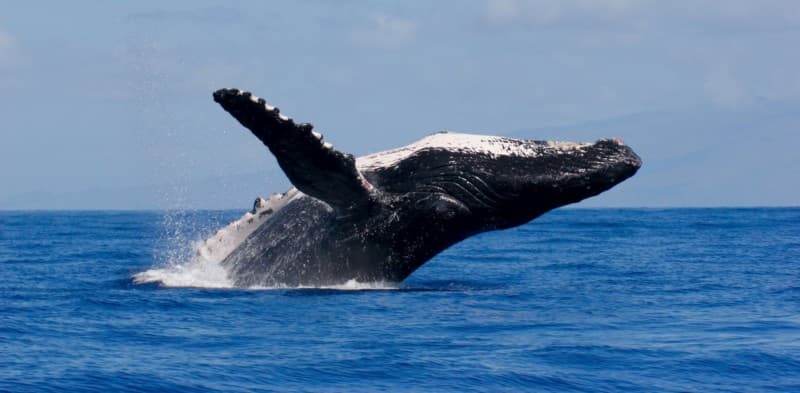 Sailing Charters
Getting out on the water is a great way to see the island from a different perspective, and you don't need to sign up for any of the above activities to enjoy the views. There are many companies offering sightseeing sailing cruises, sometimes in combination with food and drinks.
These tours are most often divided in tours running during the daytime or during sunset. There is also the (more expensive) option of chartering a boat for your group:
1: Day Sails (Sightseeing)
Many day sailings leave right from Waikīkī Beach, showcasing the Waikīkī skyline, the Koʻolau Mountains, and the Diamond Head Crater from the water. Most cruises during the day are family-friendly (such as the one below), but some are considered "booze cruises." Ask before booking so there are no surprises.
Catamaran Waikiki Day Sail
Board a catamaran and experience the beautiful Waikiki skyline from a catamaran - a great sailing experience for couples, families and groups!
from:
$35
What is a suggested tour?

Our suggested tours are hand-picked tours that receive consistent good reviews, give back to the community, and work hard to minimize their impact on the environment.
Check out these companies:
2: Sunset sails, dinner cruises, and night cruises
Not surprisingly, sunset is a preferred time to be out on the water, and almost every company offers some type of twilight/sunset sail. Some include full dinner service, but most stick to drinks. If you do not care about added food or drinks and just want a more affordable experience sailing out to see an unforgettable Waikiki sunset, try the following tour:
Catamaran Waikiki Sunset Sail
A great evening for couples, families and large groups! Board a catamaran and experience the night-lights and beautiful sunsets of Honolulu.
from:
$40
What is a suggested tour?

Our suggested tours are hand-picked tours that receive consistent good reviews, give back to the community, and work hard to minimize their impact on the environment.
Otherwise, check with your concierge about deals and availability, and also take a look at the following companies:

3: Private Charters
If you want to do your own thing out on the water you can consider hiring a private charter. The cost of such a charter typically starts at about $1000/hour depending on the duration of the tour, the type of boat, and extra services available.
You can see a collection of private boat charters to compare prices on for example the Hawai'i Activities website1.
---
1: We are part of the Hawai'iActivities affiliate program. We only partner up with organizations that we know can genuinely help our readers, and the Hawai'i Activities website is one of them. Using affiliate links helps us to maintain and improve our website by keeping it up to date and by researching and creating new content. ↩