With over 1.8 million visitors per year Pearl Harbor is one of the most visited place in all the Hawaiian Islands, and for good reason. People go to pay their respects to fallen heroes, and to learn more about what happened that fateful morning of December 7th, 1941. Here's everything you need to know about a visit.
Table of Contents
Everything to Know About Visiting Pearl Harbor
Though typically referred to as a single entity, Pearl Harbor is not just one activity or one site. It's a mix of free and pay-for activities that include museums, ship tours, and historical sites that, together, provide an overview of World War II and the impact it had on both the United States and Hawai'i.
The starting point of the experience is the Visitor Center at Pearl Harbor. Here, there are several free attractions, shops, information booths, and ticket counters.
Bag Policy: Pearl Harbor does not allow bags into its Visitor Center. There is a bag storage facility on-site where you can leave your belongings for $5 a bag. This is a very strict policy, and the lines for the bag claim can be long, so consider bringing only what you absolutely need (wallet, camera, water bottle) and leave non-essential items at home (exceptions are made for families with strollers and/or people with medical needs).
Etiquette: Please keep in mind that many people visit Pearl Harbor to pay their respects to fallen family members and honor deceased military members. Please show others courtesy and respect during your visit. Remember, Pearl Harbor is not just another attraction to be visited; it's a memorial where thousands of people lost their lives. Dress appropriately (no bathing suits).
Have a look at this 6:49 video by the National Park Service to get a feeling for what to expect when visiting Pearl Harbor:
After checking out the visitor center there are 5 major attractions you can visit:
WWII Valor in the Pacific (USS Arizona Memorial) + Film
Overview: The main attraction at Pearl Harbor is the Arizona Memorial. It honors the 1,177 people who lost their lives when the ship was bombed and sank. The experience is two fold: First, you'll watch a 25-minute movie that explains the buildup of U.S. involvement in World War II, and what led to increasing tensions with Japan. After the movie, you will board a boat and ride out to the Arizona Memorial, a stationary platform built over the sunken remains of the U.S.S. Arizona, where you will spend 15-20 minutes.
Tickets: Tickets for the movie and boat ride to the Arizona Memorial are free, but reservations are required. Reservations can be made online. Tour times are offered every 15 minutes from 7:30 a.m. to 3:00 p.m. If you reserve your movie and tour time online, you must pick up the tickets at least one hour before at the National Park Services' ticket counter at the Visitor Center.
If you don't make a reservation, you can still get a ticket. Each day, 1,300 free tickets are given out on a first-come, first-served basis. In this case, it's wise to arrive early, as the free tickets go fast. Gates open at 7:00 a.m.
If you don't have a ticket you can still see the U.S.S. Arizona as part of a (more expensive) guided tour.
Good to Know: In total, the Arizona Memorial experience takes about 90 minutes, on average, including the movie and trip out to the memorial.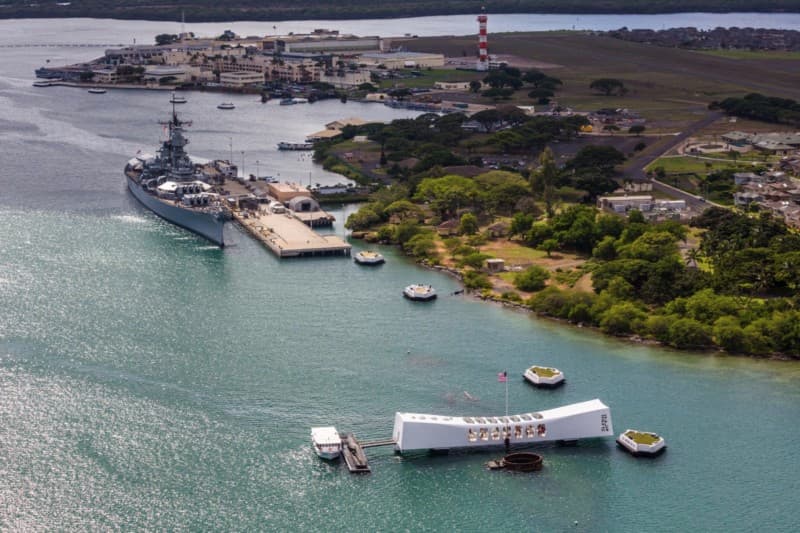 Audio Tour and Free Museums Associated With Arizona Memorial
Before you see the movie and take a ride out to the Memorial, we recommend taking an audio tour and visiting two free museums that will help you get the most understanding out of your visit.
There are two free museums at the Visitor Center: The Road to War Museum and the Attack Museum. The former lays out the road map of how Japan came to attack Pearl Harbor, and the latter shows, in great detail, what actually happened the morning their planes arrived on O'ahu. Together, they give a great overview of the big picture and help you understand the gravity of  what happened on December 7th, 1941 in regards to the attack on Pearl Harbor and the sinking of the U.S.S. Arizona. Both museums are free and do not require any ticket to visit.
The Arizona Memorial also has an audio tour attached to it that narrates what you see in the museums, on the boat, and at the Memorial itself. We recommend it to help the place come alive with details and additional stories. The cost is $7.50 and it can be done at your own pace.
See a preview of the audio tour here.

In addition to the Arizona Memorial, there are several other historical sites to visit at Pearl Harbor.
U.S.S. Missouri
Overview: The Battleship Missouri is located on nearby Ford Island and provides a nice, uplifting conclusion to a pensive day at Pearl Harbor. It was on the deck of this historic ship that Japan officially surrendered, ending World War II in September of 1945. History buffs will enjoy visiting that specific site, and naval admirers will like exploring the rest of the nearly 900-ft ship.
Tickets: Tickets start at $29.99 and can be purchased at the Pearl Harbor Visitor Center or online. Guided tours can be had for an additional $25.
Good to Know: Because Ford Island is an active military base, no private vehicles are allowed. There is a bus that transports visitors from the Visitor Center to Ford Island and the Missouri. The cost of the bus ride is included with your ticket.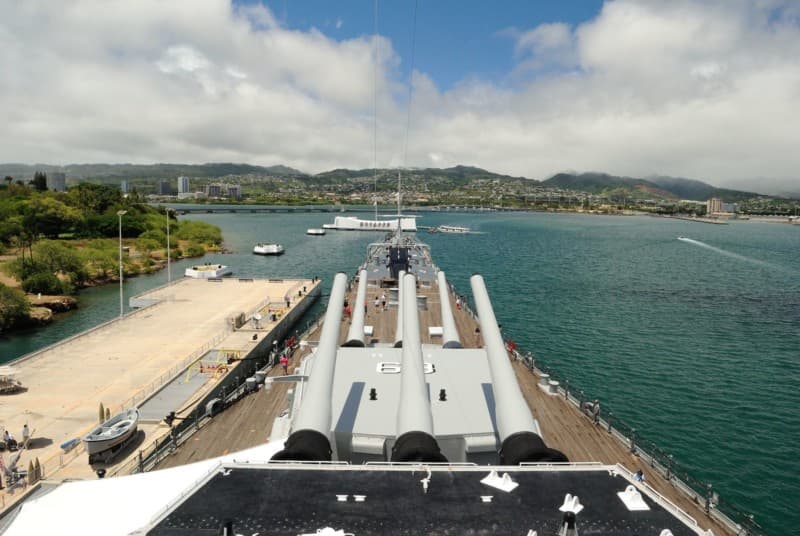 U.S.S. Bowfin Submarine
Overview: The U.S.S Bowfin Submarine Museum and Park is located at the Pearl Harbor Visitor Center. Nicknamed "the Pearl Harbor Avenger," the Bowfin was launched exactly one year after the attack on Pearl Harbor. Visitors can walk through the submarine to learn more about life aboard the small, underwater vessel, as well as its role in avenging the attack on Pearl Harbor.
Tickets: Entry to the U.S.S. Bowfin costs $15 and includes an audio tour and headset. Tickets can be bought online or on-site.
Good to Know: Life aboard a submarine is like none other. The self-guided tour takes you through many parts of the sub that are small and tight. Those uncomfortable with tight spaces should sit this one out.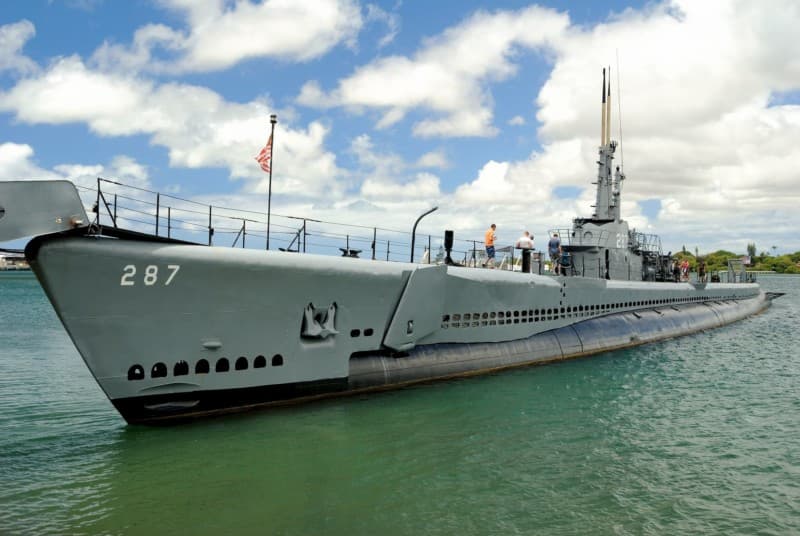 Pearl Harbor Aviation Museum
Overview: Also on Ford Island is the Pearl Harbor Aviation Museum. It's a must-visit for aircraft and military enthusiasts, as the museum boasts a collection of vintage aircraft used at Pearl Harbor. There are also short films, an audio tour, and simulators to experience.
Tickets: Entry to the museum costs $25 and can be purchased online.
Good to Know: For an extra ten dollars, you can upgrade to the guided "Legends Tour" that includes the chance to board a C-47 Transport plane and enter Lt. Ted Shealy's Restoration shop.
U.S.S Oklahoma Memorial
Overview: On the day of the Japanese attack, the U.S.S. Oklahoma was hit by torpedoes and capsized within 12 minutes. Less than a third of the Oklahoma's crew survived. The USS Oklahoma Memorial honors the crewmen and Marines of the Oklahoma and is one of the newer sites at Pearl Harbor (2007).
Tickets: No tickets are required to visit the memorial.
Good to Know: The memorial is located on Ford Island and is accessed by a shuttle. Shuttle tickets can be purchased at the USS Bowfin ticket counter at the Visitor Center. The shuttle includes transport to the Battleship Missouri Memorial Museum, the Pacific Aviation Museum, and the USS Oklahoma Memorial.
Ticket Packages and Tours
If you want to see everything there is to see at Pearl Harbor, you will need a full day (at least) to explore all the exhibits. In this case, consider buying the discounted "passport package" for $72 that includes the Arizona Memorial movie, boat ride, and audio tour, the U.S.S Missouri and Bowfin, and the Pacific Aviation Museum.
Organized Tours
There are many operators that organize tours to visit Pearl Harbor. These tours vary greatly in content, price, and quality, but all of them should include hotel pickup and transport, admission tickets to the U.S.S. Arizona, and professional narration. One example of a well-organized tour that includes hotel pickup and professional narration is this full-day Arizona Memorial & Missouri Battleship Tour.
Always read the tour description and inclusions carefully before booking to make sure the tour covers your interest.
Directions to Pearl Harbor
By Car: There is free parking at the Visitor Center. Spots are limited during the middle and busiest parts of the day.Make sure to double check your destination on your driving app (if you use one) because simply navigating to 'pearl harbor' can take you to the active military base, not the Pearl Harbor visitor center.
By Bus: From Waikīkī, you can take #20 or #42 bus to get to the Pearl Harbor Visitor Center. You can see more information on routes here.
Itinerary Suggestion
There is a lot to see at Pearl Harbor, and the content can be heavy at times, so be sure to show up rested and relaxed. How you schedule your day will be dependent upon your ticketed tour times. If you can arrange all your tickets in advance, you can avoid big gaps and efficiently see everything in a day. We recommend arriving and exploring early to avoid the heat of the day, if possible.
A good strategy is to schedule the Arizona Memorial Tour (and the two accompanying museums) in the morning, and then one other activity, like the U.S.S. Missouri, in the afternoon. There is a small food vendor at the Visitor Center that offers hot dogs and nachos, and pre-packaged sandwiches and drinks are for sale at another small kiosk.
For a real lunch, we recommend taking a short walk (5-10 minutes from Visitor Center) to Restaurant 604. It overlooks the Harbor itself, with a unique view of the historic waters, and offers great local plates (Kalua pork, fresh fish) and a full bar. It's a nice place to fuel up and escape the heat of the day while experiencing another side of Pearl Harbor.
Pearl Harbor History (starting in 1875!)
In 1875, the United States obtained Pearl Harbor in a deal known as the Reciprocity Treaty of 1875. Back then, Hawai'i was one of the world's leading producers of sugar cane, and the U.S. was looking for a naval base somewhere in the Pacific. The two came to an agreement: Hawai'i would get the rights to sell their sugar (and other exports) in the United States duty free, and the United States would get Pearl Harbor and the opportunity to set up a base there. It was initially used as a coal and repair station.
After Hawai'i became a U.S. territory in 1898, the military gradually increased its presence at Pearl Harbor and made adjustments, such as dredging the shallow entrance, to accommodate its fleet.
Some perspective that most people don't initially realize: Hawai'i was not even a state when Pearl Harbor was attacked in 1941. In fact, it wouldn't become one until 18 years later in 1959. Though much of what happened at Pearl Harbor is tied to the United States and its history as a nation, it's important to keep Hawai'i's position in mind as part of the bigger picture. You will certainly learn a lot about the historical and military history of the attack on Pearl Harbor, but you will also learn how it impacted the people of Hawai'i through various exhibits.
---
Banner image credit: Mass Communication Specialist 1st Class Daniel Barker (U.S. Navy)