Tour Summary: Ko Olina snorkel and sailing adventure on a beautiful catamaran. Swim with sea turtles, see spinner dolphins, and perhaps even whales (December through April)!
Tour Highlights:
Sail along Oahu's leeward coast and anchor at a pristine reef for the chance to swim with sea turtles
Free Tote Bag Included! Free tote bag is excluded with discounted prices. Must reserve two or more. One per party. Online only.
Important: Departs from Ko Olina Marina, a 45-minute drive from Waikiki. Parking is available at the marina. Pickup from Waikiki is also available.
Tour Information:
| Price: | Adult | Youth | Infant |
| --- | --- | --- | --- |
| (excluding taxes & fees) | $169 | $139 | $40 |
Tour Provider: Ko Olina Ocean Adventures
Activity: Snorkeling
Tour start time: 8:00 am, 12:30 pm
Duration: 3 hours
Departure from: Ko Olina
Pick-up available? Yes, pickup from Waikiki hotels is available for an additional $10 fee
Included: Snorkel gear, vests, and instruction, prepackaged sandwiches, 3 complimentary alcoholic drinks and unlimited soft drinks. Tables, Sunbathing cushions, freshwater shower, & bathrooms.
Cancellations: Customers will receive a full refund or credit with 48 hours notice of cancellation (excluding private charters). Customers will also receive a full refund or credit in case of operator cancellation due to weather or other unforeseen circumstances. Contact us by phone at (808) 396-2068 to cancel or inquire about a cancellation. No-shows will be charged the full price.
Read more: about snorkeling on the Love Oʻahu website in our snorkeling guide.
# Book online here (instant confirmation)
Swim with tropical reef fish and exotic marine life and enjoy a 2-hour sail on a 53-foot catamaran to explore the gorgeous Oʻahu leeward coast. Your captain knows which snorkel site will be the best for the day, but all visited sites are teeming with colorful fish, exotic ocean life, and are known to attract manta rays every now and then.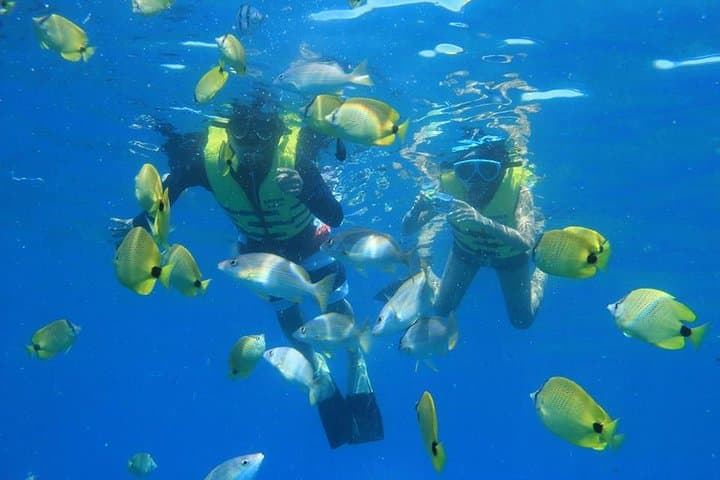 Seasonal bonus! enjoy seasonal humpback whale watching while sailing to your snorkeling spot from December thru March.
The crew is friendly and very helpful to beginner snorkelers. They provide detailed instructions, advice, and serve as lifeguards while you are in the water and, while they can't guarantee marine sightings, they will do their best to find them along their sailing route.
The Holole'a Kai Catamaran
Holole'a Kai means "to sail freely and with adventure on the ocean". This 53-foot swift and comfortable catamaran can hold up to 40 passengers and features a cushioned suntan deck, teak bar, restrooms, and an outdoor freshwater rinse-off.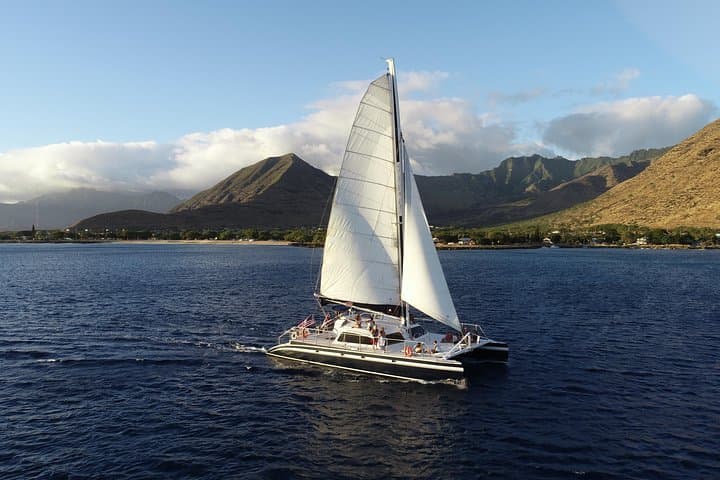 Getting to Ko Olina from Waikiki
This tour departs from the Ko Olina marina.
If you are staying in Waikiki you can either choose to be picked up from your hotel for an extra $10/pp charge or you can drive yourself. Driving time is about 45 minutes and parking at the marina is a daily flat rate charge of $15.00 plus taxes & fees. You can then spend your afternoon exploring the rugged and wild Oʻahu leeward coast.
Are there discounts?
Yes, local Kama'aina, military, and children/infant prices are available at checkout.
We are affiliate partners with Ko Olina Ocean Adventures meaning that we receive a percentage for each successful booking made through our website. This happens without any additional charge to you!
By booking tours through our website you support Love Oʻahu and help us to provide you and future visitors with free and high quality information about the Big Island. Thanks, you guys are amazing!