Snorkeling is one of the most popular, easily-accessible activities on Oʻahu. It's a fun, beginner-friendly way to experience the underwater world, with only a small learning curve required to enjoy it safely. With 112 miles of beautiful coastline and coral reefs full of tropical fish and sea turtles, you're never far from a good snorkeling spot here.
Table of Contents
Our guide starts with a few specific recommendations about the best snorkeling spots for families, beginners, etc. After that you can find a map and more in-depth descriptions of the snorkeling spots, some good-to-know local snorkeling tips, and our take on going on a snorkeling boat tour.
1: The best snorkeling spots on O'ahu for families, beginners, and to see turtles, fish, and corals.
The question "What is the best snorkeling spot?" has many answers! Sure, some spots such as Hanauma Bay are universally liked by almost everyone, but different people appreciate different things, which leads to many different "best" snorkeling spots.
To help you out on your quest to find the best places to go snorkeling we give you a few options for the following scenarios:
2: Map of snorkeling spots
For your orientation we list all snorkeling spots we mention in this guide on the following map. Click on any one for a short summary or scroll down on this page to find more in-depth information.
3: List of best snorkeling spots
While you can go snorkeling and see some fish almost everywhere in our oceans some places are better (and safer!) than others. The following 11 snorkeling spots are what we consider the best places to go on O'ahu.
Aweoweo Beach Park
Overview: Often overlooked, Aweoweo is a great, quiet spot on the North Shore that is known for its turtle sightings.
Good to know: Aweoweo is located in a residential neighborhood, so drive with care. Great for families, there are restrooms, picnic tables, a basketball court, a playground, and open green space.
Hanauma Bay
Overview: A nature preserve, Hanauma Bay is excellent for families with small kids who want to snorkel in a safe, beautiful environment. Calm, shallow, and regulated by the State, Hanauma Bay is home to some of O'ahu's best coral and sea life. Lifeguards are always on duty, and conditions are usually calm.
Good to know: Hanauma Bay can get very crowded, so it's best to arrive before 8 a.m. or after 2 p.m. Watching a 9-minute safety video and paying a $7.50 entry fee is required.
Read more in our complete visitor guide to Hanauma Bay.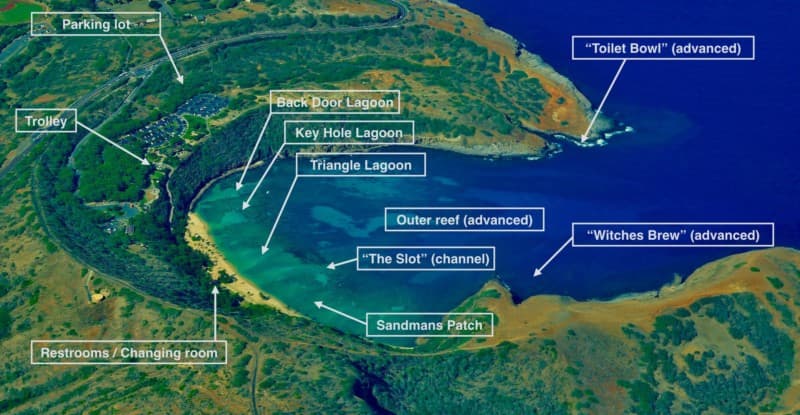 Shark's Cove
Overview: Shark's Cove is a naturally-protected swimming area that's home to many fish, coral, and rock formations. It gets its name not because it's overrun or frequented by sharks, but from the shape of the reef (apparently it looks like a shark from certain vantage points).
Sharks Cove is one of only three Marine Life Conservation Districts on O'ahu (the other two are Hanauma Bay and the Diamond Head end of Waikīkī Beach), which means that the site will be especially plentiful in aquatic life and that the fish here are in general less afraid of human visitors.
Good to know: Shark's Cove is a summer-only snorkel spot, as conditions in the winter tend to be very rough. It can get very crowded and it can be hard to park, so it's best to avoid arriving mid-day. Advanced snorkelers can go beyond the rock wall into deeper water to see bigger fish.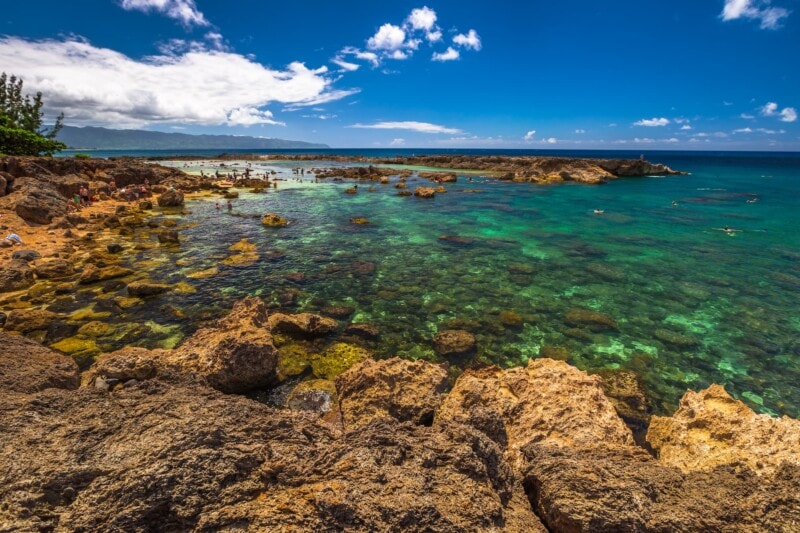 Kuilima Cove
Overview: Unlike most North Shore locations, Kuilima Cove is a year-round destination thanks to a protective rock wall that blocks many of the waves (as always, conditions can vary, so always double check with a lifeguard before entering the water).
Good to know: Kuilima is located adjacent to Turtle Bay Resort, filming site of several movies, including Forgetting Sarah Marshall.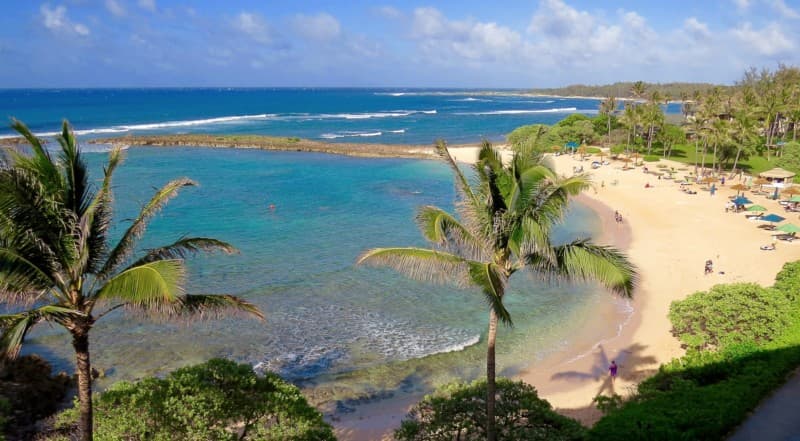 Turtle Canyon
Overview: Turtle Canyon is one of the most dependable places to see sea turtles on the south shore. It has many small dense coral formations and serves as a "cleaning station" for turtles, who come to have their shells cleaned by small fish.
Good to know: This area is located offshore of Waikīkī and is best visited via a catamaran or sailing tour (see below). The trip to the snorkeling spot is pretty standard and always offer great views. The biggest difference between providers is the boat (and group) size, which in turn influences the price. See for example the following 2 tours that use vessels with a 40 and 6 people max capacity:
Turtle Canyon Snorkel Excursion (large group, super affordable)
Enjoy a large group (super affordable!) snorkeling trip along the Waikiki Coast to the Turtle Canyons snorkel site.
from:
$75
What is a suggested tour?

Our suggested tours are hand-picked tours that receive consistent good reviews, give back to the community, and work hard to minimize their impact on the environment.
Turtle Canyon Snorkel (Small-Group Tour with 100% Turtle Guarantee)
If you're adventurous and like escaping the crowds - this is for you! Small (6 ppl max) group tours with Turtle Guarantee or Ride again Free.
from:
$129
What is a suggested tour?

Our suggested tours are hand-picked tours that receive consistent good reviews, give back to the community, and work hard to minimize their impact on the environment.
Ko Olina Lagoons
Overview: If you're staying on the west side, it's possible to snorkel in one of the four man-made lagoons at Koolina. The snorkeling areas are small and limited to the rocky sides, but they offer a safe, protected area for beginners and small children to see tropical fish.
Good to know: Because the lagoons are calm, it's a good place to practice fish identification. Bring a waterproof fish ID card with you.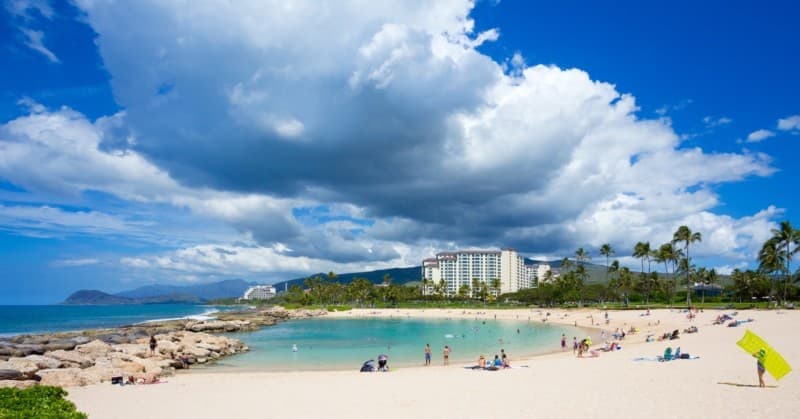 Ko Olina Snorkeling Boat Tours
The leeward coast offers some great and secluded but difficult-to-reach snorkeling spots. If you feel like keeping things easy you can opt for one of several snorkeling boat that depart from the Ko Olina harbor. A big bonus from these tours is that you get a great view of the panoramic west-Oʻahu coastline during your trip to the snorkeling spots. We really like the following 3-hour tour because of the beautiful and luxurious catamaran and their wonderful staff:
Snorkel & Sail on a Catamaran (Sunrise or Midday)
Ko Olina snorkel and sailing adventure on a beautiful catamaran. Swim with sea turtles, see spinner dolphins, and perhaps even whales (December through April)!
from:
$169
What is a suggested tour?

Our suggested tours are hand-picked tours that receive consistent good reviews, give back to the community, and work hard to minimize their impact on the environment.
Lanikai Beach
Overview: Lanikai is not a snorkeling destination per say, but there are some rocks and coral offshore, and the water is typically clear and calm. The best place to snorkel is near public beach accesses on Mokulua Drive at the intersections with Mokumanu Drive and Kaiolena Drive.
Good to know: Lanikai a nice spot for kids and beginners to practice and get a feel for the water, but most advanced snorkelers will be underwhelmed. Because of the fine white sand in the bay visibility can be low, and the best places to snorkel are
Read more about Laniki Beach on our website, or more snorkeling details at the Tropical Snorkeling website.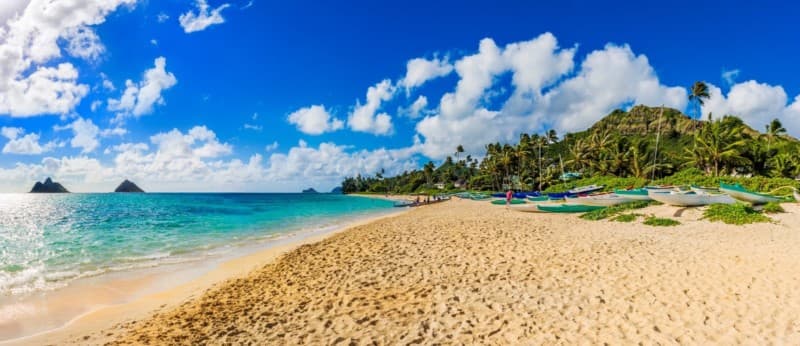 Waimea Bay
Overview: This infamous surfing bay can look as calm as a swimming pool on summer days, giving snorkelers the chance to explore the rocks surrounding both sides of the bay. It's part of the Pūpūkea Marine Life Conservation District, which limits the amount of fishing and protects the local aquatic life. Sometimes, dolphins can be spotted in the bay.
Good to know: Like Shark's Cove, Waimea Bay is only suitable for snorkeling during the summer months due to high surf during the winter.
Read more about Waimea Bay on our website.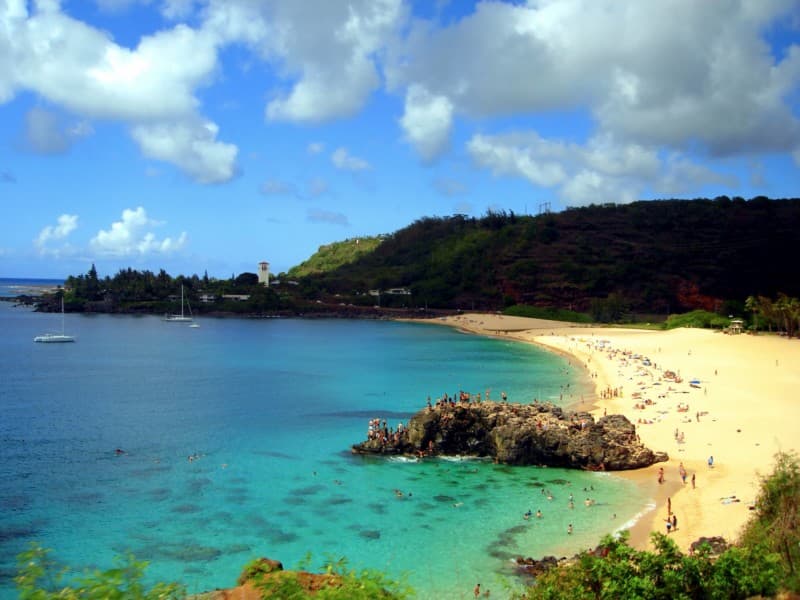 Sans Souci Beach (Waikīkī)
Overview: Sans Souci Beach is the best place to snorkel in Waikīkī. It is part of the Sans Souci Recreational Park, which includes a the protected Waikīkī Marine Life Conservation District. Fishing is not allowed here which means that there are more fish for you to admire, and that these fish are not as fearful of human presence as they may be at other places.
Good to know: Easily accessible for those staying in Waikīkī, this area is good for spotting tropical fish and turtles.
Read more about Sans Souci Beach on our website.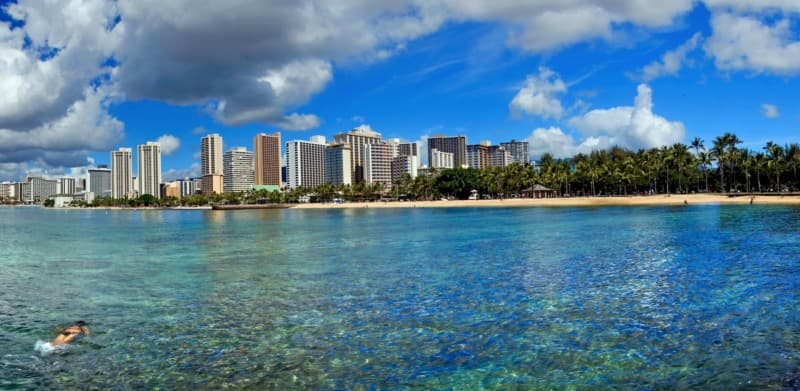 Electric Beach (Kahe Point)
Overview: The "Electric Beach" snorkeling site sits just in front of the power plant on O'ahu's west side. There's a long, underwater pipe that spits warm water from the plant into the ocean, a couple hundred yards offshore. The temperature difference attracts a wide range of wildlife, including large groupings of tropical fish and turtles, as well as the occasional shark.
Good to know: This spot is for experienced and advanced snorkelers only, as it requires a long swim offshore and is sometimes subject to strong currents.
Read more about Electric Beach on our website.
Ka'ena Point State Park
Overview: Ka'ena Point is loaded with rocky coastline, offering many chances to explore and snorkel. The abundance of wildlife is not as high as say, Electric Beach, but the pleasure is in the details at Ka'ena, where many small crustaceans and crabs can be spotted living in cracks of the rocks. The best place to access Ka'ena is from the western side of the island, at the end of Farrington Highway at Yokohama Beach.
Good to know: Swells and currents can converge here at the western/northern ends of the island, so pay extra attention to the surf before getting in the water.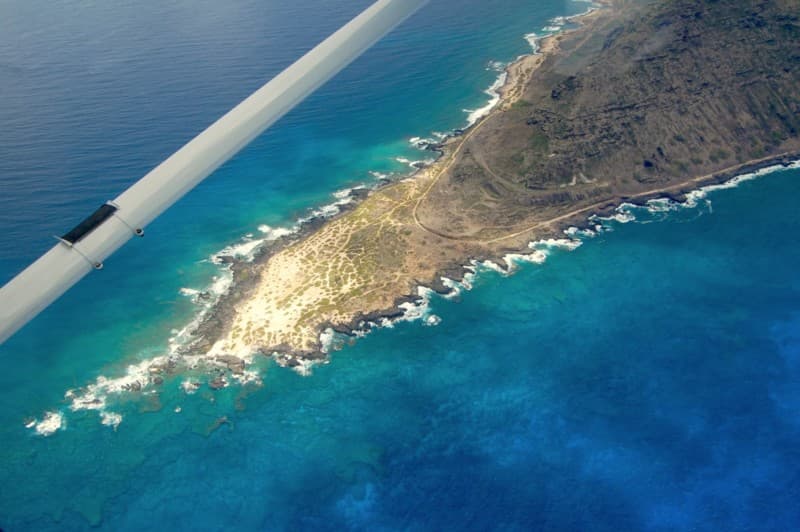 Related: best snorkeling spots on our neighbor islands
Many people visit Oʻahu and one or more of our neighbor islands. If this is you, and if you like our style, you might be interested in our collections of top snorkeling spots on the Big Island, Maui, and Kauaʻi:
4: Snorkeling Tours
There are several off-shore snorkeling spots that are best accessed by boat. Snorkeling tours allow you to access these spots, and also provide you with all the gear and instruction you need for a safe, memorable experience. Some tours offer food and drink as well.
These tours typically last 3 to 6 hours and use a boat to take you to their favorite snorkeling spots. Check out the offerings from companies like:
5: Snorkeling Essentials (O'ahu edition)
O'ahu is by far the most-populated and most-visited island, and the density of people has put pressure on its reefs and marine ecosystems. Still, there are some excellent snorkeling spots on O'ahu, sites that range in accessibility from beginner to advanced, with the chance to see a wide-range of tropical fish and wildlife.
Below, you will find a collection of (safety) tips to help you get the most from your adventure.
Snorkel gear rentals
If you plan to use your snorkeling gear at least a couple of times, it's more economical to buy a set at a local store. You can get them as cheap as $20 to $30 for a complete set. Buying has the big advantage that you don't have to return your rental gear at the end of the day, and, of course, it is yours to keep and use in the future. We recommend avoiding full-face masks, as they have been deemed dangerous.
If you prefer to rent your gear, there are many places to do so around the islands. If you're looking for the best possible gear, try a specialized store like Snorkel Bob. Otherwise, general snorkel gear can be rented from surf shops and small stores throughout Waikīkī. Some places will even deliver to your hotel. Expect to pay between $8 and $15 a day for a mask, snorkel, and fins.
5 Local snorkeling tips
Most beaches on the north shore have better snorkeling conditions in the summer months, when the waters are less rough. During the winter, the south shore is generally calmer.
The morning is generally a better time to snorkel than the afternoon, when the wind and water are calmer. Check local conditions before entering the water.
Wear protective water clothing, like a rash guard, when snorkeling. When using sunscreen, be sure it is reef safe. Don't be fooled by "reef safe" marketing. Check the ingredients to be sure there is nothing more than zinc oxide in it – don't use anything in the water that is made with oxybenzone, octinoxate, or avobenzone.
Fish need shelter and food, so the best place to look for them is near coral and the rocks. Be aware of incoming waves when snorkeling near rocks.
Pay attention when entering the water. Watch out for waves, coral, rocks, and sea urchins. A sandy strip is the best place to get into the water.
Snorkeling Safety
Whether you are a beginner or have snorkeled before, it's important to remember these things before getting in the water:
Be prepared. Use high-quality snorkel gear. Fins, mask, de-fogger and sun protection are a must. A fish ID card finishes of your gear nicely. Booties to protect your feet can help increase comfort.
Be careful: Never snorkel in high surf conditions unless you have ample experience in the water. If you are a beginner, start in shallow water and only venture farther out after getting comfortable. If you feel anxious, return to the coast.
Always snorkel with a buddy: Snorkeling with a companion is more fun and much safer. In the event of an emergency, your snorkel partner could save your life.
Use your gear properly: Ask the personnel at the rental shop if there is anything you need to know about the gear, be sure to ask how to clear your mask under water (generally: while floating with your feet down and your face up: exhale a burst of air through your mouth to blow the water out).
Time your snorkeling properly: Generally, the best time to snorkel or dive is in the morning. Water conditions are most clear, the wind is calm, and the fish are more active.
Be respectful and have fun: The reef is a living animal. It may look like plants and rocks, but in reality, it is made up out of millions of tiny animals. Only rest on the sandy bottom or bare rock.
Important: use reef-safe sunscreen
Sunscreen made with the harmful chemicals oxybenzone and octinoxate are banned in Hawaiʻi. Studies have shown that these two chemicals are particularly bad for coral and marine ecosystems. When purchasing sunscreen at home, it is important to check out the ingredients to see if they contain one or more of these. Look for a zinc-based cream without the above chemicals. Of course, you can also buy your sunscreen here on the islands to avoid those chemical altogether.
You can learn more about the why and how of this ban in the following 5:45 minute video:
Reefs At Risk - Hawaii bans sunscreens with oxybenzone