Tour Summary: Board a catamaran and experience the beautiful Waikiki skyline from a catamaran - a great sailing experience for couples, families and groups!
Tour Highlights:
Amazing oceanside views of Honolulu, Waikiki Beach, and Diamond Head.
Very affordable because of the relatively short duration.
No open bar means a more family-friendly experience. Drinks are available on board on a pay-per-drink basis.
30 guests maximum.
Important: You can bring your own food/drink, but please refrain from bringing any glass bottle abaord. Mahalo!
Tour Information:
| Price: | Adult | Youth |
| --- | --- | --- |
| (excluding taxes & fees) | $35 | $20 |
Tour Provider: Kepoikai
Activity: Sailing charter
Tour start time: 10:30 am, 12 pm, 1:30 pm, 3 pm
Duration: 1 hour
Departure from: Waikiki + Honolulu
Pick-up available? No
Cancellations: Customers will receive a full refund with 24 hours notice of cancellation. Customers will also receive a full refund in case of operator cancellation due to weather or other unforeseen circumstances. Please contact the operator via text or phone call at (808) 201-1534 to cancel or inquire about a cancellation. No-shows will be charged the full price! Beach loading, views of Honolulu, Waikiki Beach, and Diamond Head for a no frills sail. You can bring your own food/drink (just no glass)
Read more: about sailing charter on the Love Oʻahu website in our sailing charter guide.
# Book online here (instant confirmation)
This is a perfect tour to get out on the water to get amazing views of Diamond Head, Waikiki, and the Oahu Coast. Load safely and easily from the beach and you are off!
Compared to other sailing experiences this one is very affordable because of its relatively short duration (60 minutes) and because drinks are not included in the price. Drink are available on board for a pay-per-drink price (see the FAQ below), which makes this tour a more family-friendly option compared to other Waikiki Beach catamaran sailing tours with open bar.
Drinks are NOT included with the price of the sail. We have a small bar onboard with Mai Tais for $6.00 a piece, beers for $4.00 a piece, and Coke, Juice & Water available for $2.00 a piece.
Guests are always welcome to bring their own food / drink onboard. This includes alcoholic beverages. Please refrain from bringing any glass bottle abaord. Mahalo!
Dress in bathing suits, cover-ups, or shorts. Don't forget to bring a Towel! Please Note: Feet & Legs WILL get wet boarding the boat. If sitting up front on the nets you will get wet as well.
Yes, there is a small bathroom aboard in one of the hulls.
Unfortunately, we do not have any parking of our own, nor can we validate for parking. If you are going to drive, please plan to arrive early and park either at the Royal Hawaiian Center Parking Structure or the International Marketplace Parking Structure and walk down Waikiki Surf Alley to find us. You can also valet park at the Outrigger Waikiki or Royal Hawaiian.
Always arrive approximately 15 minutes before sail time. Just come to the blue and white catamaran on the beach. We also have a blue and white umbrella set up in front of the boat.
Kepoikai II is located on the beach fronting The Royal Hawaiian Hotel.
All daytime sails are approximately one hour long.
Children 3 years old and under are FREE! There is no age limit for children. Babies and toddlers are welcome!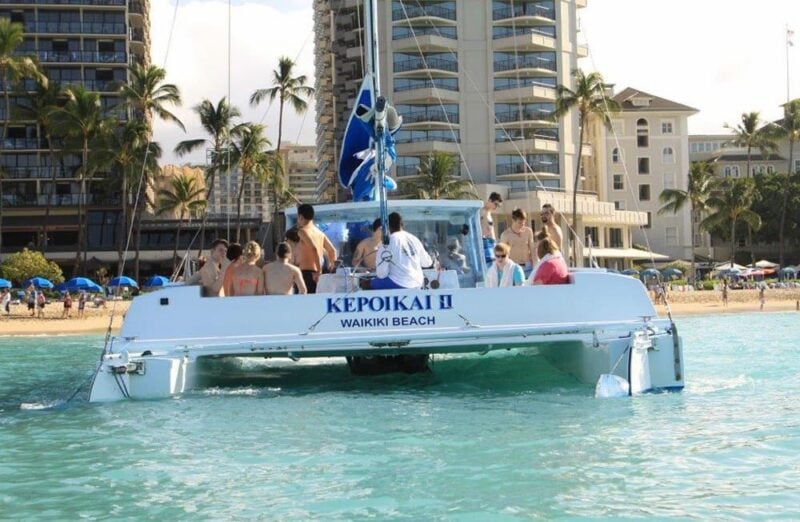 In the Hawaiian language, Kepoikai means "crest of the wave." Kepoikai II has been sailing the waters of Waikiki for 30 years, when it was designed and built by the late catamaran sailor and boat builder, Captain Don Lipton. Kepoikai II offers one hour sails from the white sandy beaches of Waikiki Beach with breathtaking views of Diamond Head and the Waikiki shore.
This tour gets consistently high reviews, with special mention of the friendly crew, and for the fun (possibly bumpy and fast) ride.
We are affiliate partners with Kepoikai meaning that we receive a percentage for each successful booking made through our website. This happens without any additional charge to you!
By booking tours through our website you support Love Oʻahu and help us to provide you and future visitors with free and high quality information about the Big Island. Thanks, you guys are amazing!