Tour Summary: Learn how to surf with personalized basic or advances classes that are customized to your age, skill level, and personal goals.
Tour Highlights:
Professional and friendly instructors make sure that you ge an exceptional learning experience
A team of expert, multilingual surfing pros are your instructors for your surf lesson in Waikiki
Important: Non-swimmers are required to take a private lesson & please inform us ahead of time. There are lifejackets available to wear to help non-swimmers feel more comfortable.
Tour Information:
| Price: | Adult |
| --- | --- |
| (excluding taxes & fees) | $90 |
Tour Provider: Ohana Surf Project
Activity: Surfing
Tour start time: 9 am, 12 pm, 3 pm
Duration: 1 to 2 hours
Departure from: Honolulu + Waikiki
Pick-up available? Yes, but limited to several pick up locations throughout Waikiki and from the Kahala Hotel.
Included: Water shoes, Rash guard, Surfboard, limited pickup from Waikiki.
Cancellations: Customers will receive a full refund with 48 hours notice of cancellation during our high traffic seasons* and/or when we specify, and we offer 24 hours notice of cancellation during the rest of the year. Large group bookings of 8 are more are subject to a 72 hour cancellation policy year round. Cancellations or inquiries about rescheduling must be made by phone at +1 808.599.7873 . No-shows and decreases in the number of students will be charged the full price. Rescheduling between 24 and 4 hours before your lesson will be subject to a rescheduling fee (must call by 6 pm the night before for any next day 9 am lesson times). Rescheduled lessons are no longer eligible for refunds once rescheduled. Lessons may only be rescheduled once.
Read more: about surfing on the Love Oʻahu website in our surfing guide.
The surfing lessons by the ʻOhana Surf Project are customized for all ability levels:  for the beginning surfer who wants to test the waters for the very first time, for the intermediate surfer looking to improve on fundamentals or take on more challenging waves and maneuvers, and for the advanced professional level surfer who is on the search for a competitive edge or simply to push themselves to their own personal limits.
Surf Classes
All students will receive instruction that acknowledges the mental, emotional, and spiritual elements that make surfing such a unique and beautiful sport. They'll learn how to connect with the ocean environment, understand the line up and the actions of surfers around you, and surf to express your personality.
All prices include surfboards and all the equipment you need to get up and ride. All you have to bring is is your swim suit or board shorts, towel, sunscreen and change of clothes. The lessons are customized to your skill level:
Beginner classes
Beginner surfers will learn the basic elements of the sport to get them up and riding — surfing etiquette, water safety, body positioning, board handling and positioning, paddling, and getting up on your feet.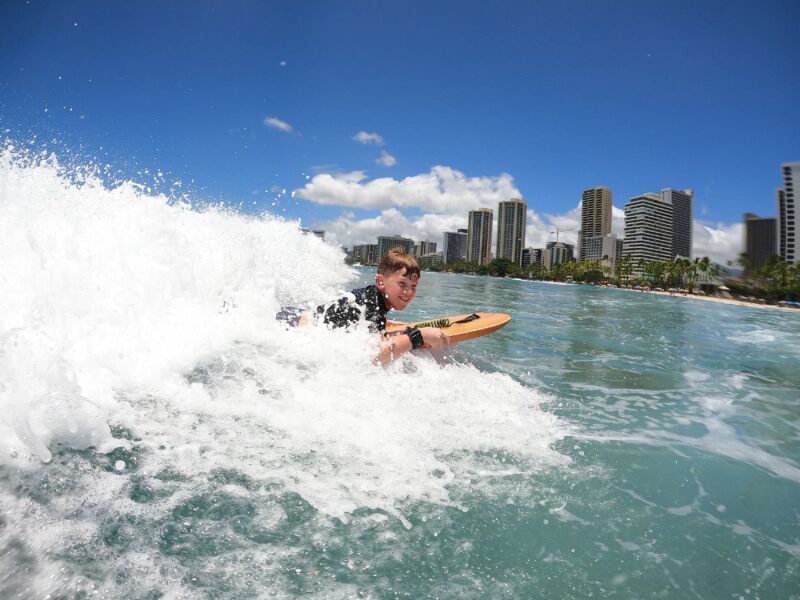 Intermediate + Advanced classes
For advanced students, the instruction takes on a refined direction that matches your riding style — correcting 'bad habits', identifying strengths and weaknesses in technique, competitive strategies, and surfing bigger waves.
Private, semi-private, and family lessons
There are several types of classes you can follow. There are group lessons for teens and up, private lessons and private group lessons for all ages, family packages for families with young children (under 13), and lessons with a pro if you're looking to take your skills or level of understanding to the next level.
We feature the Ohana Surf Project because of their consistent stellar review, for their focus on safety, and for their very efficient teaching methods. They hire professionals and provide them with a career and salary that they can be proud of knowing that in turn they will provide their students with much more than just a surfing lesson.
Finally, they also give back! Their instructors work and volunteer with the Make-A-Wish® Foundation, Wounded Warrior Project®, Mauli Ola Foundation, AccesSurf and our own organization, Ohana Surf Project's Foundation.
You can find out more about them in the following 3.5 minute video:
We are affiliate partners with Ohana Surf Project meaning that we receive a percentage for each successful booking made through our website. This happens without any additional charge to you!
By booking tours through our website you support Love Oʻahu and help us to provide you and future visitors with free and high quality information about the Big Island. Thanks, you guys are amazing!