If you're going to Hawai'i, you've probably thought about surfing one way or another – perhaps you want to learn, or at the very least, to watch the experts ride the big waves. Luckily, there's an abundance of opportunity for both on O'ahu.
Don't let the big city fool you – O'ahu is Hawai'i's best island for surfing. Featuring dozens of spots and several world-class competitions, there are multiple breaks for all abilities along O'ahu's shores. Below is everything you need to know about surfing on O'ahu.
Table of Contents
History of Surfing on O'ahu
To learn to surf on O'ahu is to relive history. Waikīkī was the stomping grounds of Duke Kahanamoku (whose statue graces Kuhio Beach), the Olympic champion swimmer from Hawai'i who popularized surfing around the world during the first half of the 20th century. Duke eventually became the Aloha Ambassador, teaching many public figures (and even ex-presidents) how to surf in Waikīkī. (Fun Fact: Duke's, the restaurant on Waikīkī Beach, is named after Duke Kahanamoku and has displays commemorating his life).
Up on the North Shore, it's Waimea Bay that stands out as a global surf destination. The break's popularity began back in the 50s, when O'ahu's original big wave surfers – including the iconic Eddie Aikau – pioneered the spot and introduced Hawaiian waves to the world. Today, Waimea Bay is considered the birthplace of big wave surfing.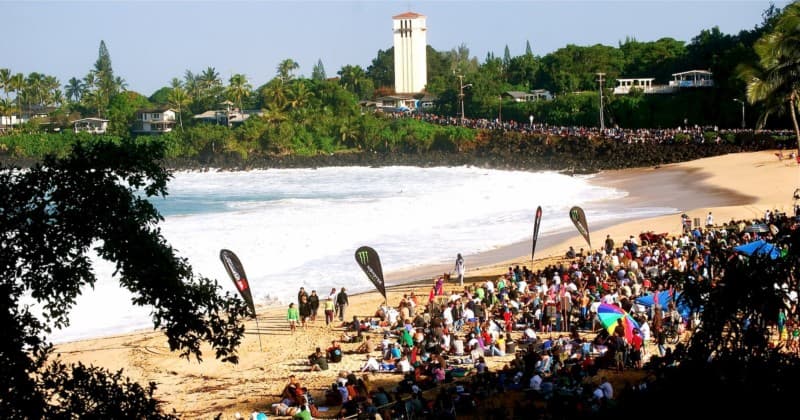 Surf rentals and classes
If you are a true beginner, we recommended you take a lesson, as a baseline of knowledge will help you enjoy the sport and avoid injury. There are many local surf shops around O'ahu, such as Hans Hedemann or Big Wave Dave, that offer group and private lessons. Be sure to call around and price check, and if there's a group of you, see if you can get a discount for multiple customers.
The price of renting a board can vary based on the type, but expect to pay about $25-$40 a day for an entry-level board.
Waikīkī
Thanks to consistent waves and an iconic setting, Waikīkī Beach is one of the most beginner-friendly places in the world to learn to surf. Though the surf is best in the summer, lessons are offered and viable all year round, both private and group. Expect to pay around $70-$90 for a group lesson and more than $150 for a private instruction. We definitely recommend taking at least one lesson, as learning the fundamentals will make surfing a much more pleasant experience overall.
Recommended schools in Waikīkī: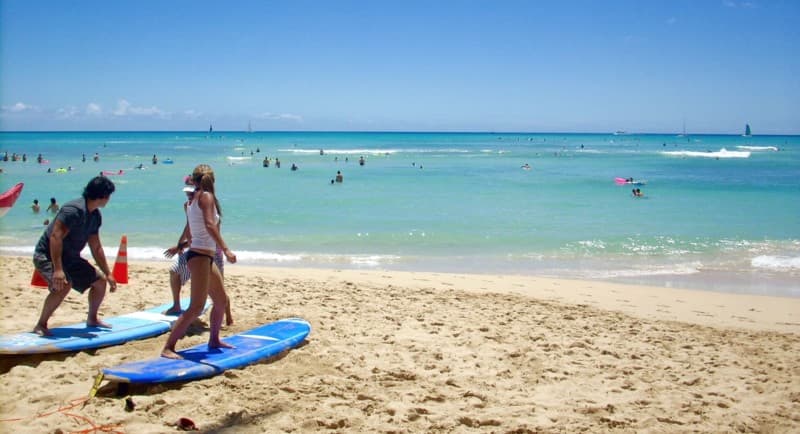 Haleiwa (North Shore)
Though known for its expert breaks (Waimea Bay, Sunset, Bonzai Pipeline), the North Shore does have some mellow surf for beginners to learn and take lessons in and around the town of Haleiwa, such as Pua'ena Point. It's a nice alternative to Waikīkī, in more of a beach-town environment.
Recommended schools in Haleiwa:
Surf Spots to Check Out
If you've already taken a lesson or know how to surf, here are some breaks to check out, based on your ability.
Beginner spots
These breaks typically have small waves (though not always, check local conditions) and are frequented by beginner surfers.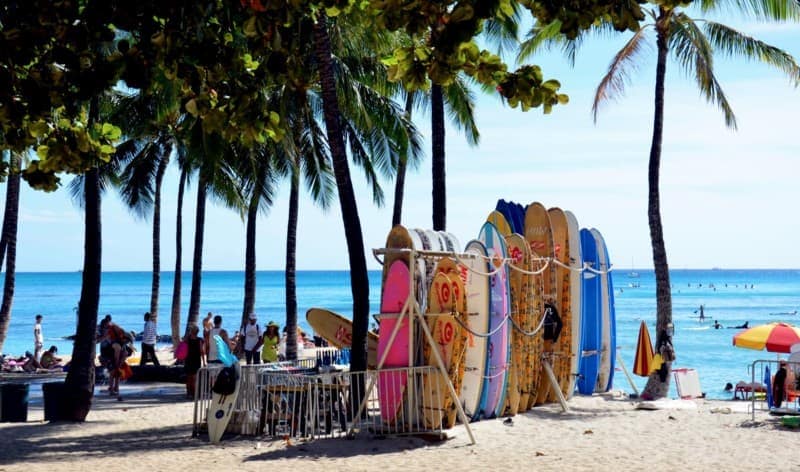 Intermediate and Advanced spots

Those with more experience should look into the following breaks. Check local conditions before going out, and beware of new and unseen hazards in the water (i.e. rocks, reef, etc).
For surf reports around O'ahu, check Surf Line.
Best places to watch other people surf (winter)
Every winter, O'ahu's North Shore is home to a variety of qualifying and championship events. While the exact dates are always dependent upon the swell and waves, competitions usually take place within a certain window every year and make for great entertainment. Before your trip, check out the World Surf League's schedule to see what's happening. Below are some events that take place each year.
When going to see a competition, prepare for a full day at the beach. Arrive early to secure parking, as well as your place in the sand. Bring a cooler with food and drinks to enjoy while you watch the show, and perhaps an umbrella for shade. Binoculars will enhance the experience by giving you an up-close look at the surfers as they ride the waves.
Surfing etiquette
Though it may seem like a free for all, there are guiding principles that help keep things organized at surf breaks. Follow these tips for the best, safest experience.
When paddling out, do not paddle directly into the surfing area. Instead, paddle around the outside, where the waves break less and you will not be "run over" by another surfer.
If someone is already on the wave, closer to the point of the break, then do not try to get on the wave. They have the "right of way." Breaking this rule is a surefire way of making you unpopular with other surfers, so do your best to avoid, as they say, "dropping in on someone."
Stay clear of anyone standing up on a board. When people fall, boards often turn into projectiles, and they can cause major injury (knock your teeth out, split your head open, etc). Keep your distance and be aware at all times.
Surf with aloha. Tensions can sometimes arise when the water is crowded and many people are competing for waves (which is essentially always the case in Hawai'i). Be courteous to others and remember it's a sport to be enjoyed.