This nature preserve is excellent for families with small kids who want to snorkel in a safe, beautiful environment. Calm and shallow, Hanauma Bay is home to some of O'ahu's best coral and sea life. Lifeguards are always on duty, and water conditions are usually calm.
Table of Contents
1: About Hanauma Bay
Why is the Hanauma Bay Nature Preserve so famous? Well, for one, it's the only dedicated snorkeling beach on O'ahu, run and regulated by the City & County of Honolulu (dept. of Parks & Recreation). There's an entry fee for nonresidents ($25) and a parking charge ($1 for residents / $3 for nonresidents), but along with that come dedicated lifeguards, clean bathroom facilities, environmental reef-safety programming, and access to the island's most calm, protected bay.
Some history
Hanauma Bay became a protected marine life conservation area and underwater park in 1967 but it wasn't until 1990 that real efforts to restore its neglected and over-visited reefs were made. When the City & County of Honolulu took over, its goal was to integrate public access, reef restoration, and education. It forbade feeding the fish (once a beloved activity among Hanauma's visitors) and incorporated educational programming about local marine life and reef ecosystems, which today are on display at the Visitor Center.
The bay itself is part of the Koʻolau Volcano (one of two volcanoes that make up O'ahu), and is the remnants of an old volcanic cone. Historically, the bay was an excellent area for fishing, and the Hawaiian royalty used Hanauma as a place of retreat.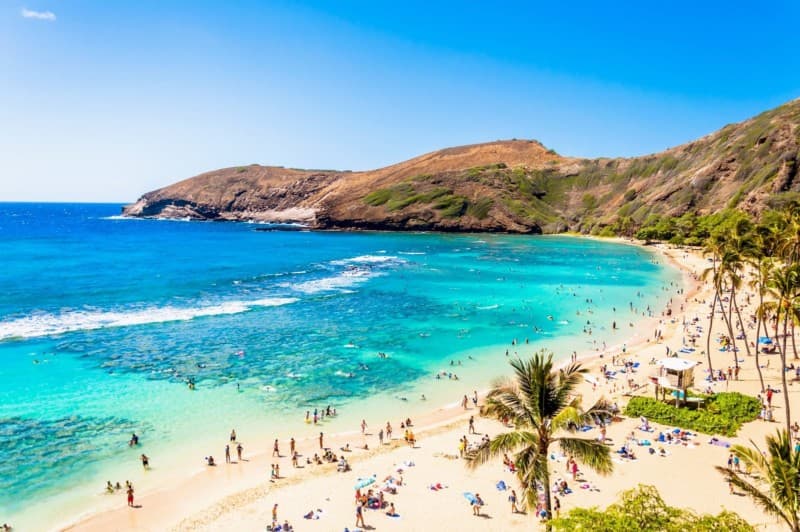 What to expect when visiting: mandatory safety video and beach access
Visitors who arrive at Hanauma Bay will have to watch a mandatory 9-minute safety video that educates about reef safety, proper snorkeling technique, and how visitors can avoid damaging the corals. Then, it's a short but steep 10-minute walk from the Visitor Center on the upper cliffs down to the beach. If you don't want to walk, there's a tram that offers rides for $1 going down, and $1.25 going up (tram runs continuously).
The beach
Hanauma Bay is lined by a beautiful white sand beach that in itself is worth the trip. Note that there are not that many shady on the beach, so be sure to pack extra sun protection such as hats, sunglasses, and umbrellas if you plan to hang out on the beach for a while.
2: Snorkeling
There are many good reasons Hanauma Bay has become one of the most popular places to snorkel in all of Hawai'i.
A major one is that you don't have to be a good swimmer enjoy snorkeling there. The water is typically very calm, and you can see quite a few fish just by wading in. There is a dense concentration of coral just offshore, a perfect fit for small children, who will be able to see many fish in shallow, calm water.
Fishing is not allowed in Hanauma Bay, and its marine population is as diverse as it gets in Hawai'i. Trigger fish (our state fish, which we call the humuhumunukunukuapua'a), yellow tang, angel fish, trumpet fish, parrot fish, and butterfly fish (including the fish with the honor of having the longest Hawaiian name: the lauwiliwilinukunukuʻoiʻoi) can all be found in the bay.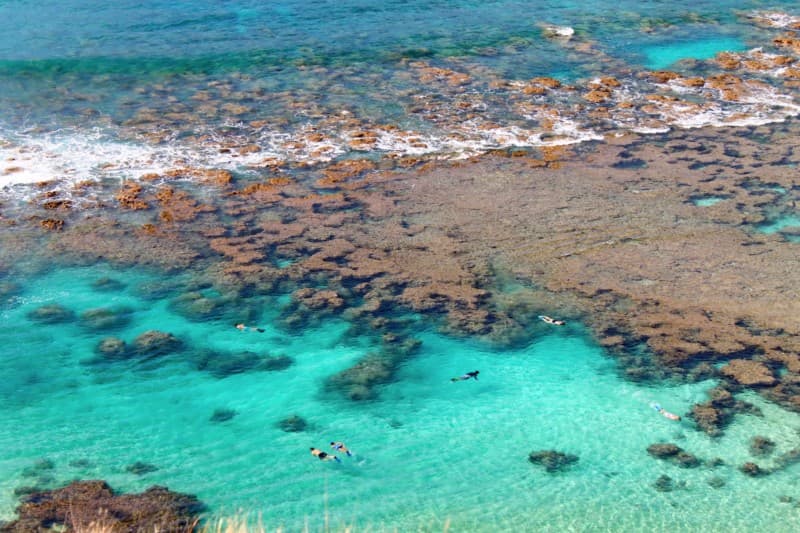 After snorkeling, there are showers to hose off the salt water and convenient restrooms. The walk back up the hill can be tiring after all the swimming, so instead, consider paying for the $1 shuttle ride back up to the visitors center.
Should you bring your own, or rent snorkel gear?
Snorkel gear is available for rent on the beach at Hanauma Bay, though it is significantly more expensive than renting it elsewhere (standard set for $20; premium for $40) and the line can be quite long. We always bring our own, so do consider buying your own gear (or renting it) in town, so you can skip the waiting line and save some money.
Where to snorkel?
The interior, shallow reef has some very good snorkeling spots (see map below) but can be very crowded during peek times (9 a.m. – 2 p.m.). We suggest going very early, or arriving in late afternoon, to best enjoy snorkeling this reef. Good places to check out for beginning and advanced snorkelers alike are Sandmans Patch and the 3 lagoons (Back Door, Key Hole and Triangle).
Outside the main reef, there are opportunities for advanced snorkelers to go out into deeper water, where bigger fish can be seen, as well as Hawaiian green sea turtles.
As always ocean conditions vary and so do the best places to snorkel. The staff can always help you out so when in doubt please ask them where the best place to snorkel is that day, and you'll be sorted.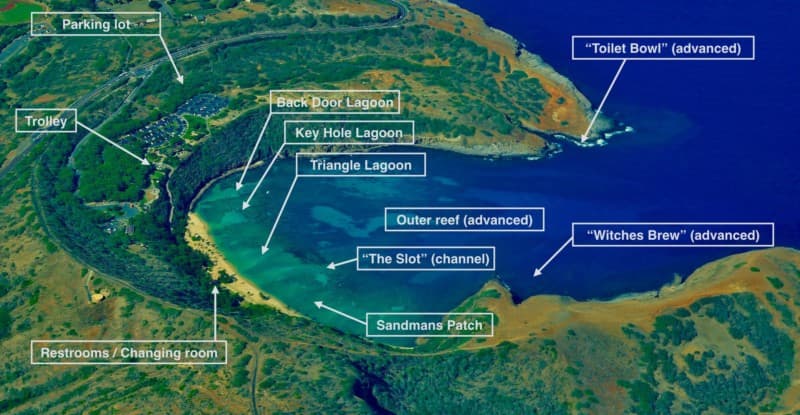 Snorkeling safety
Hanauma Bay is a very safe place to go snorkeling and lifeguards are on duty year round, but during rough water conditions some areas should be avoided. These areas are Witches' Brew, a small peninsula and cove on the right side of the bay, and Toilet Bowl (also called Queen's Bath), a small pool around the bay's left point.
Rip currents in the channel near the telephone cables ("The Slot" in the map above) can be strong, especially during low tide. A vast majority of all lifeguard rescues was performed here (source), so pay extra attention to the currents when snorkeling here.
The Moloka'i Express, a current near the left side of the bay's mouth, is also hazardous during these conditions.
3: Tours to visit Hanauma Bay
Permitted guides operating scuba/snorkel tours are allowed back into Hanauma Bay starting February 2023. (see the state-issued press release)
Tours to Hanauma Bay typically include pickup from hotels in Waikīkī and the use of snorkeling gear, but not the park entrance fee. Though they are called a "tour," and some snorkel instruction is included on dry land, there is no guided experience in the water – aka, snorkeling is on your own.
Tours to the bay are most suited to people looking for a friction-less snorkeling experience without having to worry about transport, parking, and reserving a ticket to Hanauma Bay through the online system.

4: Practicalities
Visiting Hanauma Bay is straightforward but requires planning. Here are the details about when best to go (days and time), how to get there, and what kind of facilities you can expect:
When to go
Hanauma Bay is open daily to visitors from 6:45 a.m. until 3:30 p.m. (but there is no entry to the park anymore after 1:30 p.m.) except for Mondays and Tuesdays, when the bay is closed to allow the reef and ecosystem to rest, free of human interference.
We recommend to arrive either very early, before 9 a.m., or after 12:30 p.m., to avoid the heaviest crowds.
How to make reservations
Reservations are mandatory for getting into the Hanauma Bay Nature Preserve. These reservations can be made starting at 7 a.m. two days prior to the desired visit (i.e. reservations for Wednesday can be made the Monday before at 7 a.m.) through the Department of Parks and Recreation website.
Only 1000 reservations can be made on any give day and spots sell out quickly so make sure you have your browser window open and are ready to book by 7 a.m. local time. Typically it only takes 5 to 10 minutes for all spots to fill up!
Limited Kamaʻaina access without reservations
Hawai'i residents with valid identification may access the nature preserve without a reservation from 6:45 a.m. to 9 a.m. Wednesdays through Sundays.
Getting there
Hanauma Bay is located just under 11 miles (17 km) from Waikīkī and there are many ways to get there. Your options include:
If you have a car, you can drive yourself. Parking is not expensive but there are limited spaces (about 300). If you're self-driving, it's best to arrive before 9 a.m., or after 1 p.m., to avoid heavy-use times.
Taxis from Waikīkī will cost you approximately $40 each way.
Tours 2023 update: As of January 2023 licensed motor vehicle carriers are welcome again at the commercial lot from 7:30 a.m. to 1:30 p.m.. Permitted guides operating scuba/snorkel tours will be allowed back into Hanauma Bay starting February 2023.
Local bus 22 has been permanently suspended. Line 1 is now the bus closest to the nature preserve with a stop at the Koko Marina shopping center at about 1 mile from the Hanauma Bay entrance. Bus fare is $2.75 one way, or you can buy a one-day pass for $5.50.
Facilities at Hanauma Bay
Restrooms
Beach Showers
Lifeguard on Duty
Parking lot: Paid ($1 for residents, $3 for non-residents) but limited availability. Arrive before 9 am or after 1 pm to avoid crowds.
Food Concession Stand
Picnic Tables
Mask, Snorkel & Fin Rentals
Locker Rentals
Gift Shop
Handicap Facilities
5: How to protect the coral
It is important to remember that you are interacting with a living organism when snorkeling at Hanauma Bay. Though thousands of people visit each day, the human impact on the reef can be minimized by following a few simple steps:
Use reef-safe sunscreen. Many sunscreens contain harmful chemicals that can kill the reef. Read up on the new Hawai'i sunscreen law, and ensure your sunscreen does not contain oxybenzone or octinoxate. [Don't be fooled by "reef safe" marketing. Check the label to ensure what's inside].
Don't step on coral. You'll be surprised by how many people you'll see standing on top of coral. Please be aware of where you are in the water, and what's underneath you. When you need to rest, stand on sand or bare rock only. Standing on the coral can harm or kill it.
Don't feed the fish. Feeding the fish used to be allowed in Hanauma, but is now forbidden. While feeding the fish may make for good snorkeling, it has a negative overall impact on the ecosystem. Anyone feeding the fish will be asked to leave, or fined.
Mahalo for helping taking care of the bay by keeping these things in mind while visiting!
6: Things to do close to Hanauma Bay
Visiting Hanauma Bay typically takes a bit less than half a day, so you have plenty of room in your schedule to add another fun thing (or two) to your day. There are many other attractions nearby Hanauma Bay that can be combined with a visit, for example: