O'ahu's beaches need no introduction. Waikīkī Beach. The North Shore. Lanikai. Makaha. Only one other island – Maui – can compare with the number of world-class beaches that O'ahu offers, long stretches of soft white sand, each with its own personality and vibe.
Table of Contents

Below, we start by listing some of our favorite beaches for special occasions. We then show all 25+ beaches around the island on a map, and give you highlights for all of the beaches to give you an idea of what to expect when going.
Our favorite beaches for …
Sometimes having a lot of choice can be overwhelming. We know because even while trying to narrow down a list of the best beaches that O'ahu has to offer, we still ended up with a list of 28 beaches!
So, if you don't feel like browsing our whole list and just want to see which beaches we think are best suited to your wants and needs, here you go:
Finally some common-sense tips about going to the beach in Hawai'i. Even though you are visiting our small slice of paradise you should keep the following in mind:
Never turn your back to the ocean (waves) while in the water.
Don't leave valuables unguarded on the beach – only pack what's necessary.
Don't make the most common mistake most tourists make in Hawaii: Bring reef-safe sunscreen and sun cover (hats, rash guards) and use it – the sun can be STRONG here.
Beach map
We list all beaches mentioned in our list in this interactive map to make planning your day a bit easier:
North Shore Beaches
The North Shore is famous around the world for its big waves and surf breaks during the winter months, and it's calm shores and great snorkeling during the summer. Many of its beaches are known throughout the world – Sunset, Bonzai, Waimea – and others still fly under the radar. Check out a few of them as you make your way.
Sunset Beach
Why Go: One of the three world-renown surfing beaches on the North Shore (Banzai and Waimea are the other two), Sunset Beach stretches two miles from Sunset point to Ehukai beach. It's an excellent spot to pull up a chair and watch surfers during the winter.
Added Bonus: During the summer, when the water is generally calm, Sunset is a great place to swim and snorkel.
Ehukai Beach (Banzai Pipeline)
Why Go: Besides the beautiful beige, wide-sandy beach, Banzai offers surfing spectators one of the most unique waves in the world, the infamous Banzai Pipeline, known for the way the waves break over a sharp and shallow reef into massive tubes (winter season).
Added Bonus: Worldwide contests, like the Triple Crown of Surfing and the Billabong Pipeline Masters, bring an international crowd to Ehukai.
Waimea Bay Beach Park
Why Go: Waimea Bay is large and horseshoe-shaped, perfect for a lazy summer afternoon of swimming and sunbathing. It was the birthplace of big wave surfing in Hawai'i, and during the winter, the bay brings in waves that top 30 feet in height.
Added Bonus: Across the road from the bay is Waimea Valley Cultural Center. Inside are cultural exhibits, a botanical garden, and a waterfall with a swimming pool.
Read more about visiting Waimea Bay on our website.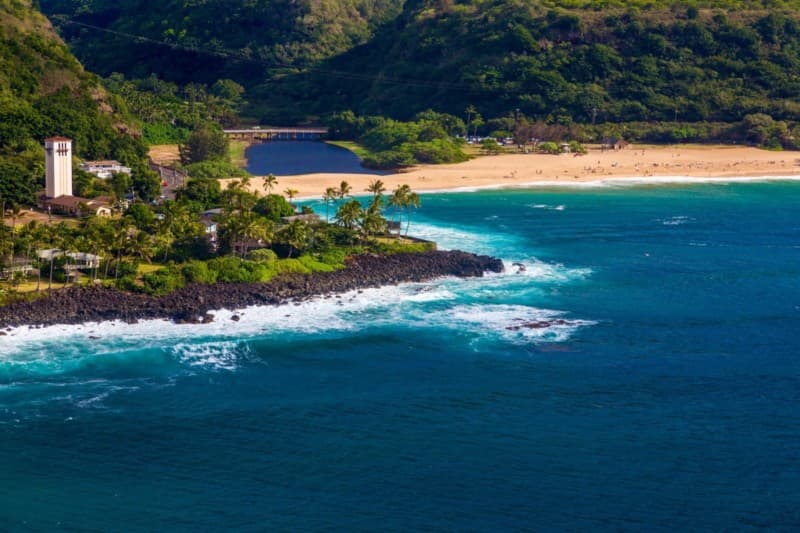 Haleiwa Beach Park
Why Go: Haleiwa is one of the beaches with calmer waters on the north shore. Try here if the winter surf is too unsafe for swimming at other places along the northern coast. It's also a great place to take a surf lesson.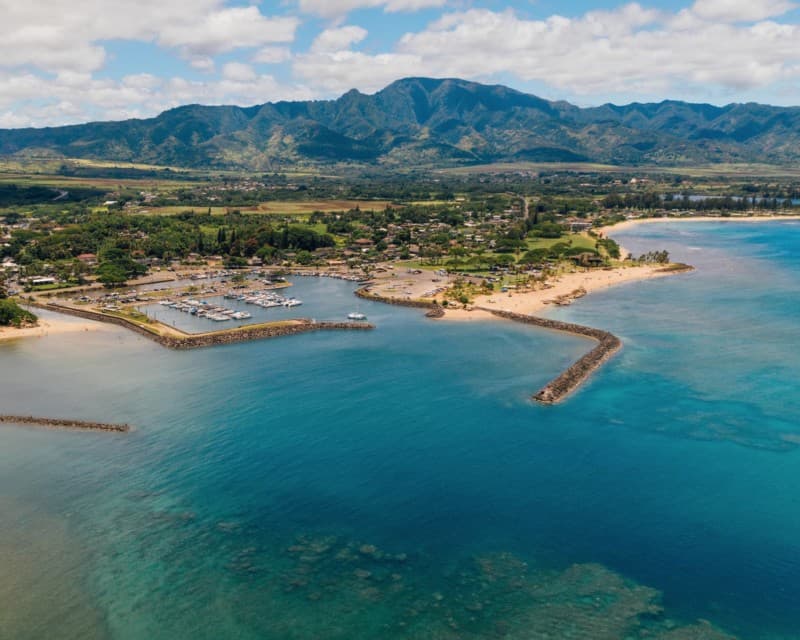 Added Bonus: Close to Haleiwa Town, it's easy to pop over and grab lunch or a local shave ice, or rent a surfboard or paddleboard.
Chun's reef (great for families, with tide pool for kids)
Why Go: Less trafficked than Waimea or Haleiwa, Chun's offers a glimpse of "everyday" surf culture – that is, daily surf life outside of the world-famous breaks – and an off-beat place to put your feet up. Its long stretch of white sand makes it good for walking, and a freshwater pond is the perfect place for families with small children.
Added Bonus: The rocks close to the shore form tidepools that are fun for families to play around (do keep your eye on the surf, as the rocks are sharp). Nearby is Uncle Bryan's Sunset Suratt Surf School for those that want to take a lesson.
Kawela Bay/Turtle Bay
Why Go: These side by side bays are more protected from waves than other North Shore beaches, making them good for snorkeling and swimming year round, even when the surf is big at other places along the North Shore. Kewela Bay Beach Park offers plenty of shade and a thick forest ironwood trees to complement its crystal blue waters and fine white sand.
Added Bonus: Nearby Turtle Bay Resort was the setting for several movies, including Forgetting Sarah Marshall.
Laniakea Beach
Why Go: Also known as "Turtle Beach," Laniakea often has a line of cars slowly passing by on the road, the passengers looking for turtles and, much to the dismay of the locals, holding up traffic. Rocky and close to the road, it's not the place to post up for a whole day, but it's a resting place for sea turtles and there's a high likelihood you'll see them if you stop and hang for a while.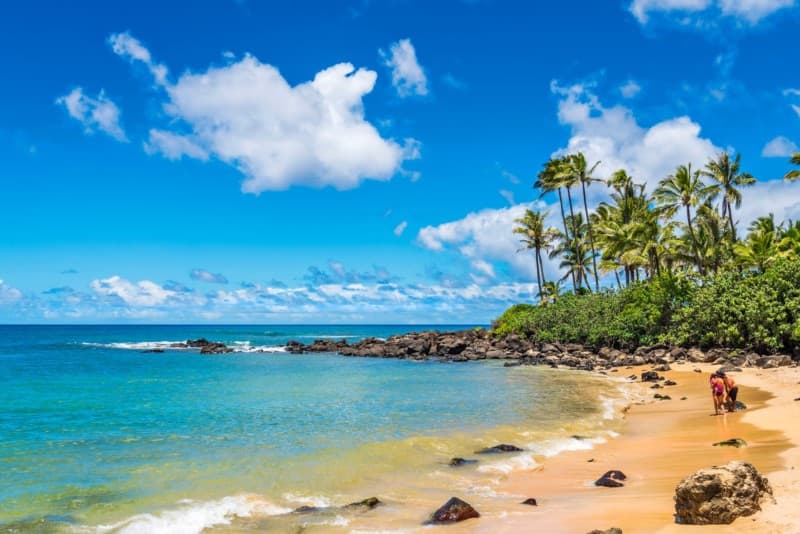 Added Bonus: Across the street from Laniakea is Kawailoa Ranch, which showcases the North Shore's horse and ranch life.
Pūpūkea Beach Park (Shark's Cove)
Why Go: Pūpūkea Beach Park is home to "Shark's Cove," one of the best areas for snorkeling and diving during the summer. A large protected cove is idea for families and beginner swimmers. Outside the cove, lava tubes, reef walls, and wildlife attract snorkelers, free divers, and scuba divers.
Added Bonus: Across from Pūpūkea Beach Park are several food trucks, including shrimp trucks and Pupukea Grill, which offers great poke bowls.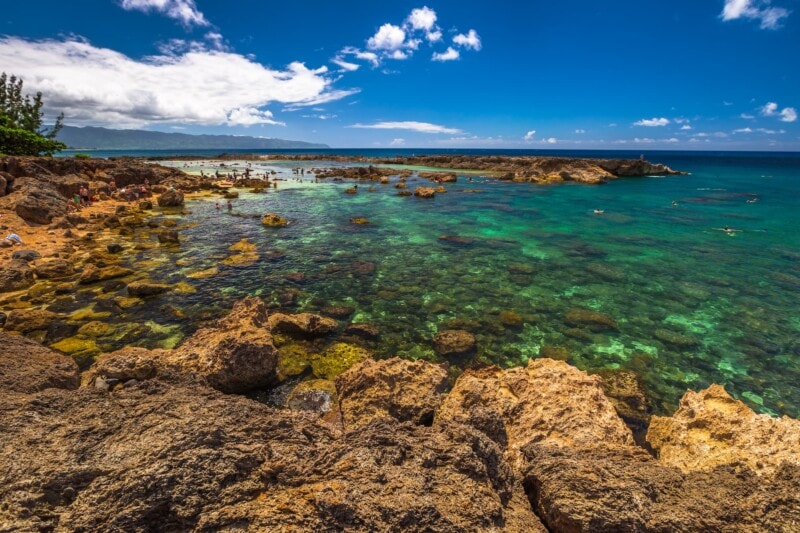 Windward Coast (east side) beaches
The hillsides of the Koʻolau mountains are lush and green, providing a gorgeous backdrop to the many white sand beaches you'll find on O'ahu's windward (east) coast. Some iconic (Lanikai), some super local (Maleakahana), you can find whatever you're looking for on this side of the island.
Kualoa Regional Park
Why Go: Beautiful beach park with spectacular views down the windward coast and the gorgeous, stunning cliffs of Kualoa Ranch behind. At low tide, you can just about walk out to the island of Mokoliʻi (also known as Chinaman's hat). Otherwise, it's an easy kayak.
Added Bonus: This beach park is located just across from Kualoa Ranch. Combine it with a movie tour, horseback ride, or ATV tour of the three valleys. Pick up some locally raised beef or oysters to go.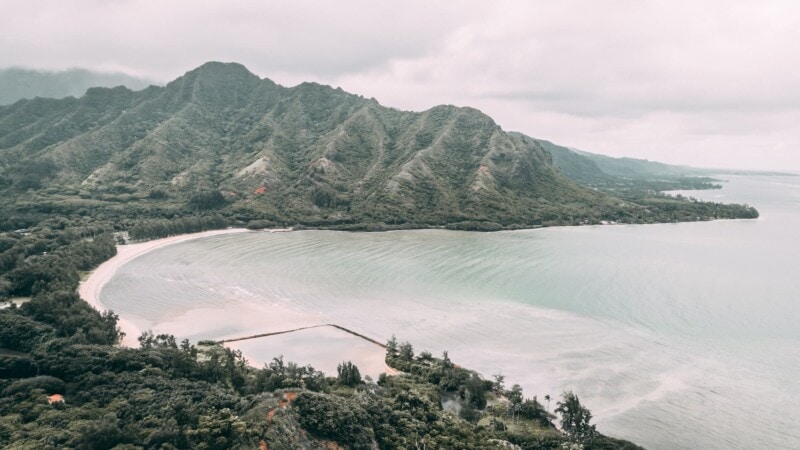 Waimanalo Beach Park
Why Go: Waimanalo Beach is one of the longest in Hawai'i, offering several miles of white sand to walk. It's not overly rough, but it does get mild waves along the shore, fun for active swimming. Popular with locals for fishing, barbecuing, and family hang outs.
Added Bonus: Bring your bodyboard. It's a good place for beginners.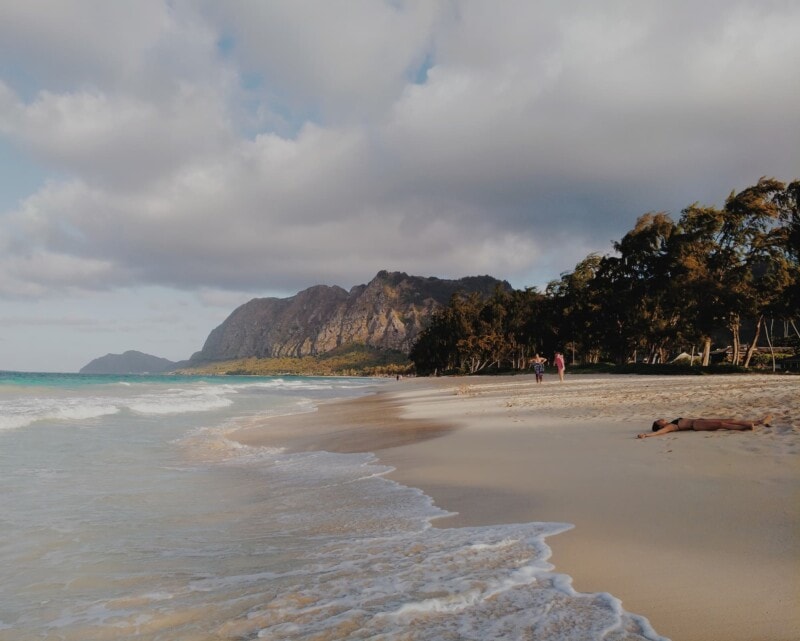 Kailua Beach Park
Why Go: Kailua Beach is similar to Waimanalo in that it is long, with fine white sand and reasonably calm waters. It has views of several offshore islands and has a lot of activities going on, including kayaking, kite surfing, wind surfing, fishing, and boating.
Added Bonus: Buzz's, one of the Windwardside's only beachside restaurants, is found just across from Kailua Beach Park. Go for happy hour on the front deck and enjoy appetizers and one of their famously stiff mai tais.

Good to know: It is easy to get confused between Kailua and Kailua Kona. Kailua is a town on Oʻahu which is fronted by Kailua beach, and Kailua Kona is a town on the Big Island. If you are here for the latter you should check out this list of Best Kona Beaches.
Makapuʻu Beach Park
Why Go: Backed by the tall cliffs of the Koʻolau Volcano, the surf is often large at Makapuʻu, attracting a youthful crowd of bodyboarders and beachgoers. You can see two islands off the coast, as well as the tall cliffs that support the Makapuʻu Lighthouse.
Added Bonus: Makapuʻu Lighthouse looms tall over the beach. Just south of the beach park is the entrance for the Makapuʻu Lighthouse Trail, an easy-going, paved trail that provides a fantastic view down O'ahu's windward coast.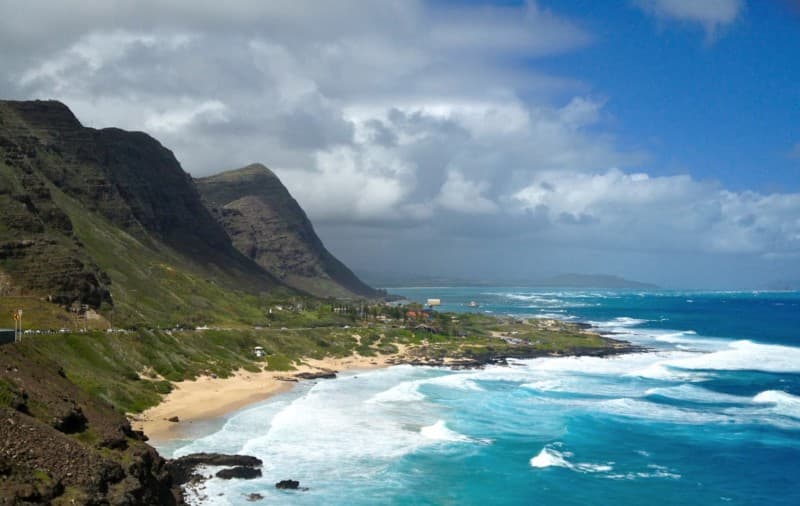 Lanikai Beach Park
Why Go: Lanikai has been ranked amongst the best beaches in the world, and it's easy to see why when you arrive. Powdery white sand, clear blue water, and a vantage point of two offshore islands, known locally as "the Mokes." The water here is as calm as it gets.
Added Bonus: Try out the Lanikai Pillbox Trail for an overview of the beach, the offshore islands, and the town of Kailua.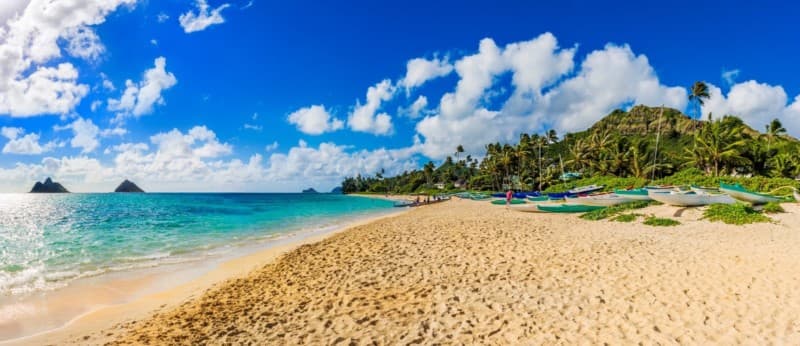 Kahana Bay Beach Park
Why Go: Completely out of the way on the upper windwardside, Kahana remains a nice local hangout, boxed in by tall, jagged cliffs and a large, horseshoe bay. It's not a great beach for swimming due to the runoff from the mountains, but it's a good place to hang out, stand up paddleboard, or walk the trails opposite the beach.
Added Bonus: There are camp sites available here (permit required). Consider spending the night in this unique valley.
Mālaekahana Beach
Why Go: This state park is popular with locals for camping and fishing. Beaches here are small but swimming is good in summer.
Added Bonus: In addition to tent camping, the Park also has plantation-style cabins to rent.
Bellows Field Beach Park
Why Go: An extension of Waimanalo Beach, Bellows is located on an active Air Force base but open to the public during weekends. There's lots of good shade thanks to the Ironwood trees, and lots of small surf for bodyboarding and swimming.
Added Bonus: Tent camping is available here by permit.
Learn more about The Beach Park | Camping reservations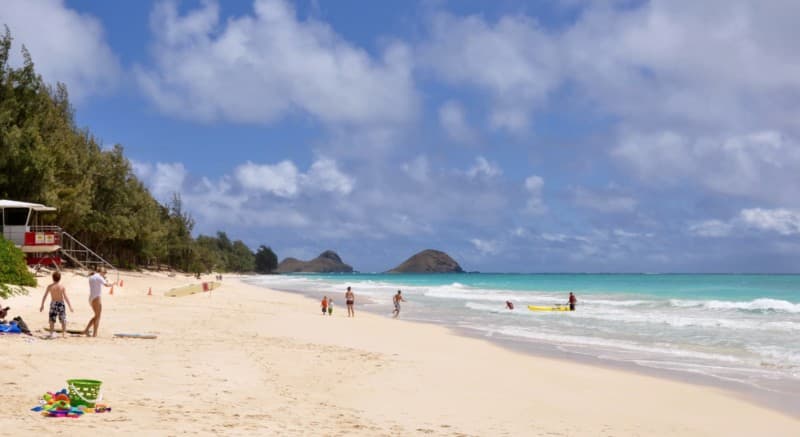 South shore: Honolulu + Waikīkī beaches
Some of O'ahu's most iconic beaches are located on the south shore, including Waikīkī Beach and Hanauma Bay, both of which are great for families. But the south shore is so much more than just those two. Don't miss the local side of things at beach parks like Ala Moana and surf breaks like Sandys.
Hanauma Bay
Why Go: Great snorkeling! Sure, the beach is also nice for sunbathing, but Hanauma, with its entry fee and reef safety video (required for entrance), is all about exploring the underwater world.
Added Bonus: This place can get crowded in the mid-morning and beyond. Go first thing when they open at 8 a.m. after catching the sunrise, and be done snorkeling by the time the crowds show up.
Learn more about Hanauma Bay.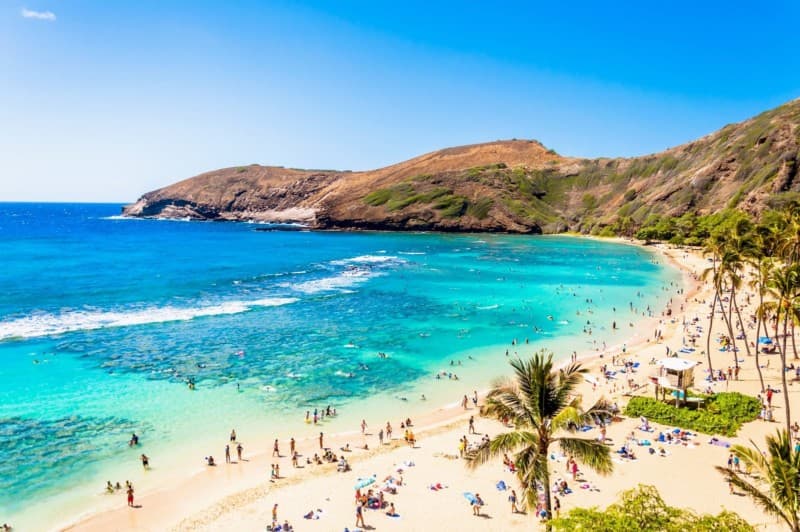 Waikīkī Beach
Why Go: The iconic beach of Hawai'i, with Diamond Head looming overhead. One of the most well-known beaches in the world and a legendary place to learn to surf.
Added Bonus: Waikīkī beachs is 2 miles long and breaks down into several parts. Try out the Queens Surf Beach or Kaimana Beach sections for a more local feel.
Learn more about the 7 sections of Waikīkī Beach.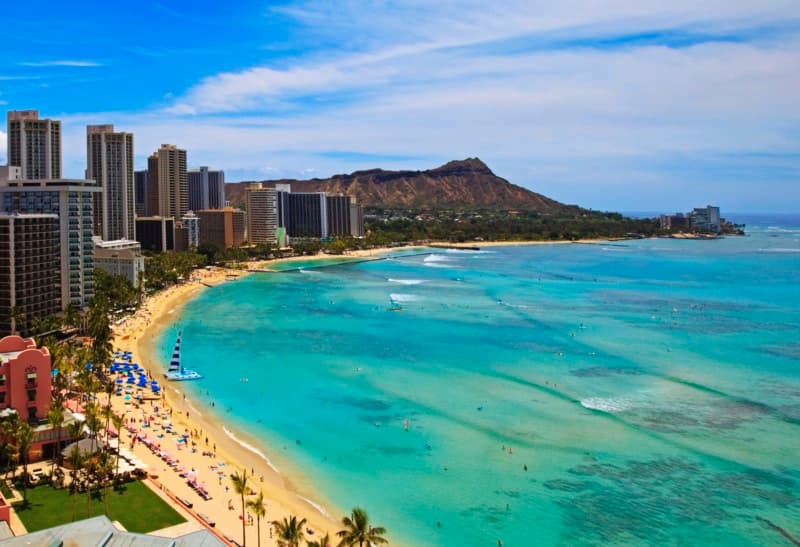 Ala Manoa Regional Park
Why Go: This locally-oriented beach park is huge, covering many city blocks and encompassing all different kinds of activities: Hawaiian paddling, yoga groups, runners, walkers, surfers, swimmers, and volleyball. A true neighborhood park, the waters are always calm thanks to an offshore barrier reef, beyond which you'll find the surfers.
Added Bonus: Go at sunset to watch the paddle groups go out from the Ala Wai Harbor.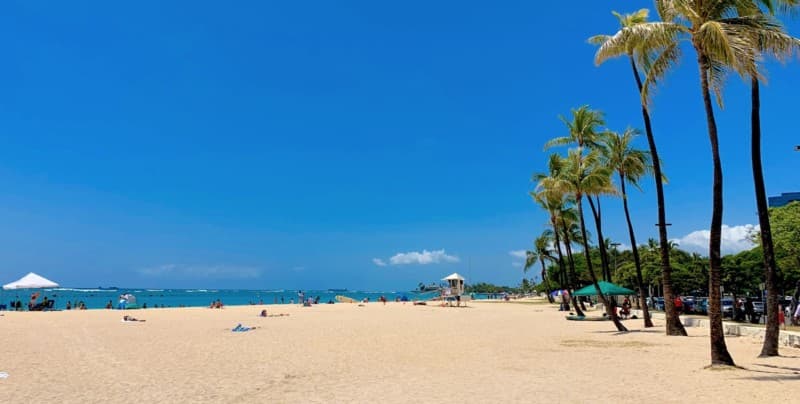 Magic Island Lagoon
Why Go: Magic Island is a man-made peninsula with large seawalls and a shallow lagoon, the latter a nice place for small children to play.
Added Bonus: Magic Island is a part of Ala Moana Park and is a great place to get a glimpse of local life. Grab a bench and hang out for a while.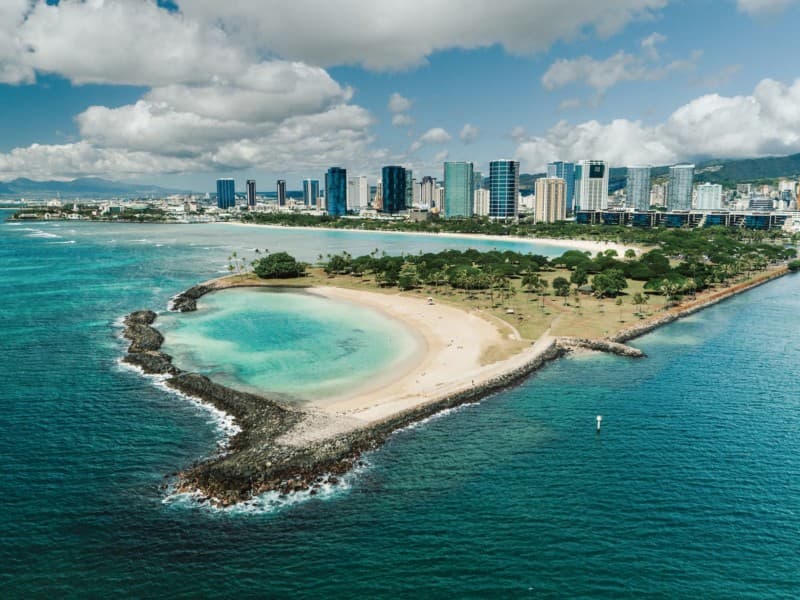 Halona Beach Cove
Why Go: Halona Beach Cove is one of the smallest beaches on O'ahu, offering a cozy setting between two rock outcroppings. Swimming is possible on very calm days, but it's mostly rocky, so not recommended. It can be easily reached via a short walk down from the Halona Blowhole overlook. The cove was made famous by the movie From Here to Eternity, filmed there in 1953.
Added Bonus: The beach cove is named after Halona Blow Hole, which is located on the front side of the cliffs above the beach cove. Check out its power on days with big surf.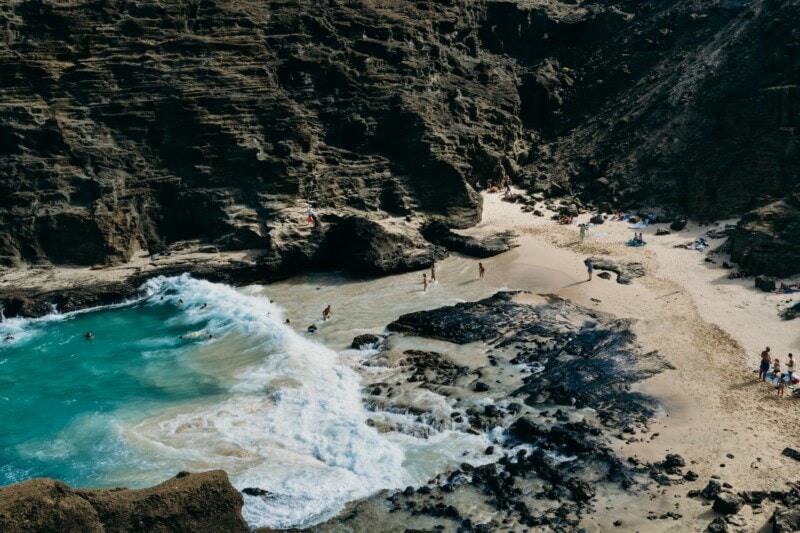 Sandy's Beach
Why Go: Just east of Halona Beach Cove is Sandy's beach. Featuring a number of surf breaks and one of the largest shore breaks on the island, Sandy's is a hub of activity and youth. Great for on-lookers, body boarders and surfers frequent this beach, so pull up a chair and hang out for a while. Check with the lifeguards before entering the water, as the conditions are often rough and dangerous.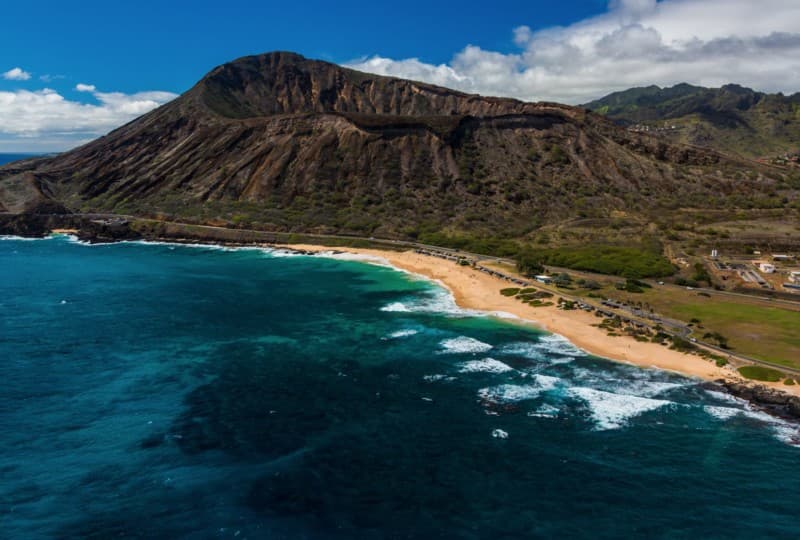 Added Bonus: If you're a family with small kids, Sandy's is one of the best places for kite flying. It's typically windy, and there's a large open field with an absence of trees. You'll often see locals flying kites here, as well as a handful of food trucks parked nearby.
Diamond Head Beach Park
Why Go: Diamond Head Beach requires a long walk down a steep cliff to reach, but it's typically very relaxed and uncrowded, at least on the beach (the water can get crowded with surfers). There's not great swimming here due to the rocks, but it's a nice beach for a walk or to find a slice of sand.
Added Bonus: Before hanging on the beach, hike to the top of Diamond Head Crater for a bird's eye view of the beach, an overlook of Honolulu, and a view of the south coast.
Ewa Beach / White Plains Beach (Kalaeloa)
Why Go: Ewa Beach is a long, narrow beach that covers most of the southwest coast of the island. Along it you will find a five-acre beach park (Ewa Beach) and a beginner surf break (White Plains). Families will love the green space, picnic areas, and residential vibe at Ewa Beach proper; surfers will enjoy the small, beginner-friendly waves at White Plains.
Added Bonus: From White Plains, you can get a unique, removed, long-distance vantage point of Honolulu, with a perspective looking east all the way back to the tall buildings of the city.
Leeward Coast Beaches (west side)
Don't go west expecting fanfare – quite the opposite. The west side is where you'll find O'ahu's most remote, local beaches, and outside of Koolina, it is undeveloped, raw, and local – which is good news for off-beat travelers, this combination of world-class beauty and unpretentious spirit. Don't miss the world-renowned surf break at Mahaka, or the end-of-the-road seclusion of Yokohama.
Ko Olina Resort
Why Go: Four man-made lagoons created for the Ko Olina Resort community are perfect for families with small children.
Added Bonus: Ko Olina is a private community that offers hotels, shops, restaurants, and golf.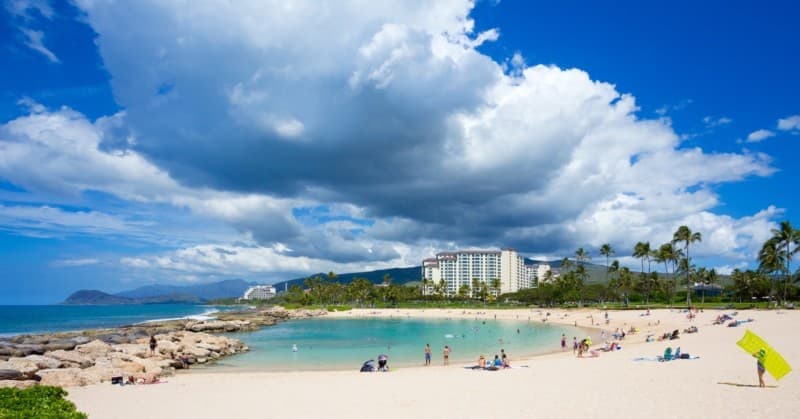 Depot Beach Park
Why Go: Adjacent to Nanakuli, this long stretch of white sand is a local hangout for fishing and barbecuing.
Added Bonus: Located nearby are the Mermaid Caves – caverns carved in the rocks along the shore. Do not attempt to swim inside; instead, simply look down in.
Makaha Beach Park
Why Go: If you're looking for surf culture on the west side, check out Makaha, home to another world-renown break. It's not recommended for all swimmers, as the undertow can get quite strong. But, it's a great place to post up and watch the surf from shore.
Added Bonus: When the water is calm, Makaha's reefs offer great scuba diving.
Keawaula Beach (Yokohama Beach)
Why Go: A steep-sloped beach with turquoise waters, Yokohama, or "Yokes" as it is called by locals, is a great place to snorkel when it's calm, thanks to big rocks along the ocean entrance. Locals like to barbecue here.
Added Bonus: Located at the end of the road, Yokes is the last sandy stretch on the Leeward Coast. At the north end of the beach is the trail to Ka'ena point, a bird sanctuary with great views of the ocean and coast.
More beaches?
Among the Hawaiian islands Maui and Oʻahu are most famous for their beaches, but that doesn't mean you should go to the beach on the other islands. Have a look at our other beach guides to get to know our favorite beaches in Hawaiʻi: