As the second-oldest island in the present-day chain (2-3 million years old), O'ahu has aged beautifully. Millions of years of erosion have whittled away at its volcanoes, creating the dramatic, spine-like peaks and ridges we see today. Some lush and shaded, others dry and exposed, Hawai'i's micro-climates create a diverse range of ecosystems to walk through, many with, of course, ocean views.m
To help you find the right hike for you and your traveling companions, we break down some of the island's best hikes below, into groups of easy, intermediate, and advanced.
Table of Contents
Related guides: Most people coming to Hawaiʻi visit multiple islands to make the most of the long trip needed to get here. If this is you and you are into hiking, we highly recommend our hiking series for the other islands.
Map
We show the trailheads of all 15 hikes discussed here on the map below. Keep reading for descriptions, directions and specific tips for each of the hikes.
5 Easy hikes
What do we mean with an "easy" hike? In this case, it means that the hike is mellow, doable for the everyday person and families with kids.
Some of the best bang-for-buck hikes on O'ahu fall under this category, like the Makapuʻu Lighthouse Trail and the Lanikai Pillbox – great for all abilities, with views that rival any advanced trail. Our 5 favorite easy hikes are:
Makapuʻu Lighthouse Trail (2.0 miles)
Description: This paved trail is great for families. It's a mellow climb to the Makapuʻu Lighthouse and an overlook of the southeast part of the island, one of the best bang-for-buck hikes in terms of its accessibility and payoff. On clear days, you can see the islands of Molokai, Lanai, and Maui in the distance.
Why we like this hike: For the breathtaking coastal views from a well-paved trail leading to a cliffside lighthouse.
Directions: Pass through Hawai'i Kai going east on the Kalanianaole Highway and park at the Kaiwi State Scenic Shoreline parking lot.
Local grinds: Head back into Hawai'i Kai for a snack, drinks, and harbor views at Liko's Tap & Table.
Read more: on the DNLR website.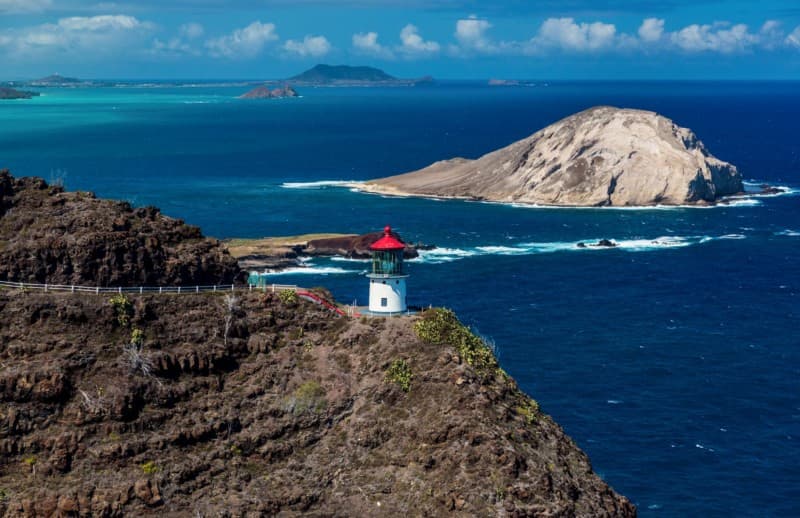 Lanikai Pillbox (1.8 miles)
Description: Also known as the Kaiwa Ridge Trail, the Pillbox hike gets its name from the leftover army bunkers that sit atop the hillside. The short but sweet trail gives you an overlook of Lanikai beach, Kailua beach, Waimanalo beach, and the Koʻolau coast.

Directions: Park in the Lanikai neighborhood (follow parking signs, as it is strictly enforced) and find the trailhead across from the Mid Pacific Country Club on Kaelepulu Driver.
Local grinds: Pop over to Lanikai Brewery after the hike for a local beer and a bite from one of its rotating food trucks.
Read more: on the Alltrails website.
See also the following informative 5-minute video by local Youtuber Sean Kaleponi describing the hike and a possible extension for if you want to get away from the crowds but keep the views.
Lanikai Pillbox Hike: Everything You Need To Know + Extension
Manoa Falls Trail (1.7 miles)
Description: An easy out and back trail that ends at the 150-foot Manoa Falls waterfall in the heart of the lush Manoa Valley.
Directions: The trailhead is located at the end of Manoa Road adjacent to the Lyon Arboretum. Expect to pay a $5 parking fee.
Local grinds: Check out Chef Jon Matsubara's restaurant, Feast, in Manoa Valley featuring Hawaiian-style burgers and sandwiches.
Good to know: The trail is has recently (June 2021) reopened after being closed for 2 years.
Read more: on the Alltrails website.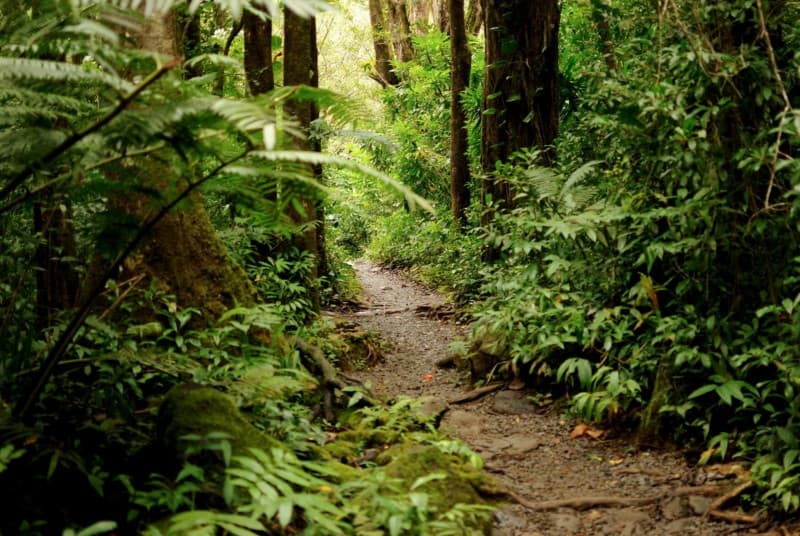 Ka'ena Point Trail (3.5 miles)
Description: This trail follows an old dirt road along the rocky coast. It leads to a remote, protected seabird sanctuary and provides great views of the Waianae Mountains. Along the way, there are places to hang out, fish, and picnic. Whales are often sighted (Nov-March) as well as Hawaiian monk seals.
Why we like this hike: Enjoy vast ocean views and a wide variety of wildlife along the coast.
Directions: You can access Ka'ena Point from the west side (Yokohama Beach) or the end of Farrington Highway on the North Shore.
Local grinds: Pop into Haleiwa Town and try the famous shrimp truck, Giovanni's.
Read more: on the DNLR website.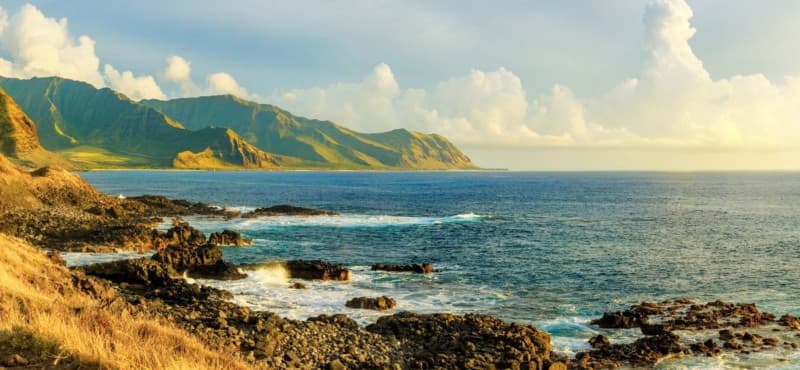 Waimea Valley (1.9 miles)
Description: This shaded, paved walk takes you through a curated, outdoor botanical garden in pristine Waimea Valley, ending at a 45-foot waterfall where you can swim (lifeguards on duty, lifejackets provided).
Why we like this hike: It is a well-maintained botanical trail leading to a picturesque waterfall and swimming/wading pool.
Waimea Valley Botanical Gardens + Waterfall Swim
You can buy admission to Waimea Valley online to skip the line when you arrive
from:
$25
What is a suggested tour?

Our suggested tours are hand-picked tours that receive consistent good reviews, give back to the community, and work hard to minimize their impact on the environment.
Directions: Waimea Valley is located on the North Shore, across from Waimea Bay. Entry fee required.
Local grinds: Stay inside Waimea Valley to enjoy the serenity and have a local plate lunch or burger at the café.
Read more: on the Waimea Valley website.
5 Intermediate hikes
An "intermediate hike" means that the trail has some small challenges and that you should be in decent athletic shape and have some previous hiking experience before attempting. A little more effort, though, translates into a little better vantage point.
These hikes range from a classic – Diamond Head – to waterfall and ridge hikes. Our 5 favorite intermediate hikes are:
Diamond Head / Lēʻahi (1.6 miles)
Description: This iconic, heavily trafficked route goes to the top of Diamond Head on a paved road. Near the top, stair climbing is required. The payoff are sweeping views of the Koʻolau Range, the south shore, and a fantastic overlook of Waikīkī and Honolulu. Though it is paved and often completed by kids and families, the end is a steep climb and the temperature tends to be warm (no shade).
Why we like this hike: For the postcard-worthy views overlooking Waikīkī beach and Honolulu.
Directions: The Diamond Head trailhead is located inside Diamond Head State Monument. Entry fee required.
Local grinds: After, head to the Rainbow Drive in on Kapahulu Avenue for a local plate lunch.
Read more: about the summit trail on the DNLR website or see our complete Diamond Head visitor guide here.

Maunawili Falls (2.4 miles)
July 2021 update: The Maunawili Falls Trailhead will be closed for 2 years for a long-term management and improvement project. The Maunawili falls are still accessible through other, more strenuous, trails.
Description: This hike winds its way through the Windward side jungles to a small waterfall with a swimming pool. It is typically wet, soggy, and muddy, so dress accordingly. Wear a bathing suit to swim at the falls.
Why we like this hike: Because you get to take a dip in a secluded swimming hole at the bottom of a small waterfall.
Directions: The trail begins in a residential neighborhood in Maunawili Valley at the end of Maunawili Road.
Local grinds: Cruise down into Kailua for a dip in the ocean and some seaside appetizers at Buzz's.
Read more: on the Alltrails website.
Kuliʻouʻou Ridge Trail (4 miles)
Description: This trail climbs 1,600 feet via switchbacks to a ridge overlooking Waimanalo and the Windward side. Usually dry, the landscape offers Ironwood forests and lots of shade. The views at the end are spectacular. Many locals use this as a trail run.
Why we like this hike: Because it is a rainforest trek through the heart of Oahu with expansive views of the island's western half.
Directions: The trailhead is located at the end of Kalaau Place just west of Hawai'i Kai.
Local grinds: Refresh after with some local Vietnamese cuisine at the Ba-Le Sandwich shop in Hawai'i Kai.
Read more: on the Alltrails website.
Ehukai Pillboxes (2.1 miles)
Description: The trail is short but steep, gaining almost 700 feet in about a mile. From the two pillboxes, or old war bunkers, you get a great view of the North Shore as well as the Banzai Pipeline and Sunset Beach surf breaks.
Directions: The trailhead is located adjacent to the Sunset Beach Elementary School, across from Ehukai Beach park.
Local grinds: After the hike, head to Pupukea Grill across from Shark's Cove for a local poke bowl.
Read more: on the Alltrails website.
Waimano Falls (2.8) miles
Description: This trail is unique in that it starts at the top of a ridge and you hike down to the waterfall, which has deep pools and a rope swing. The return is where you'll work your legs, climbing back up the steep hill.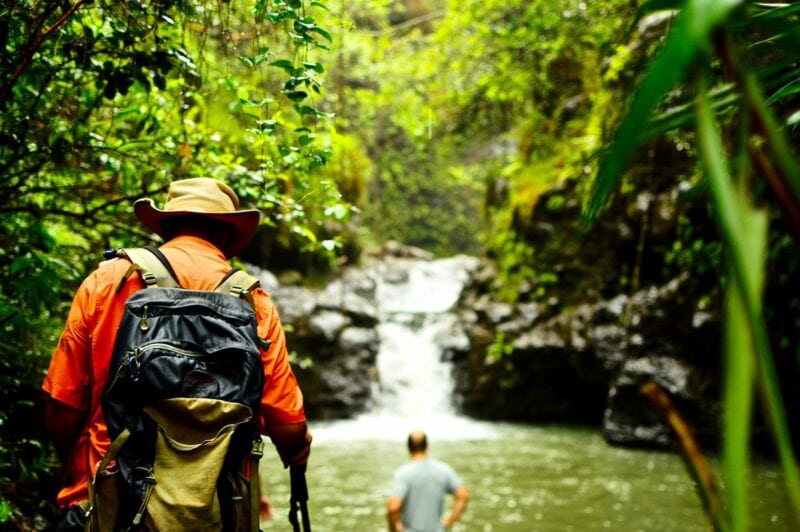 Why we like this hike: Because it is a challenging hike to a hidden waterfall and several swimming holes.
Directions: The trail beings at the end of Komo Mai Drive above Pacific Palisades.
Local grinds: Cruise down to Pearl Harbor for a big meal and local beer at Restaurant 604. It's second-floor, open-aired dining area overlooks Pearl Harbor.
Read more: on the Alltrails website.
5 difficult (but rewarding!) hikes
If you're looking for a physical challenge and a longer day on the trail, this section is for you. "Difficult" means you should be in above-average athletic shape, have previous hiking experience, and be ready to spend most of the day on the trail.
Though the distances are not extremely long, the elevation gain and trail conditions (mud, rocks) can make things challenging. But those willing will be treated to some of O'ahu's most rugged and beautiful wilderness, including the highest peak on the island, Mt. Ka'ala.
Our 5 favorite difficult hikes are:
Mt Olympus (5.2 miles)
Description: This big, demanding hike climbs more than 2,000 vertical feet to reach the top of Mt. Olympus and its beautiful valley views. Often wet and slippery, ropes are found on the trail to assist in climbing and descending.
Directions: Start at the Waahila Ridge State Recreation Area and take the Waahila Ridge Trail. When the trail splits, stay right towards the top.
Local grinds: Head down into Kaimuki for some ribs at the Surfing Pig.
Read more: on the Alltrails website.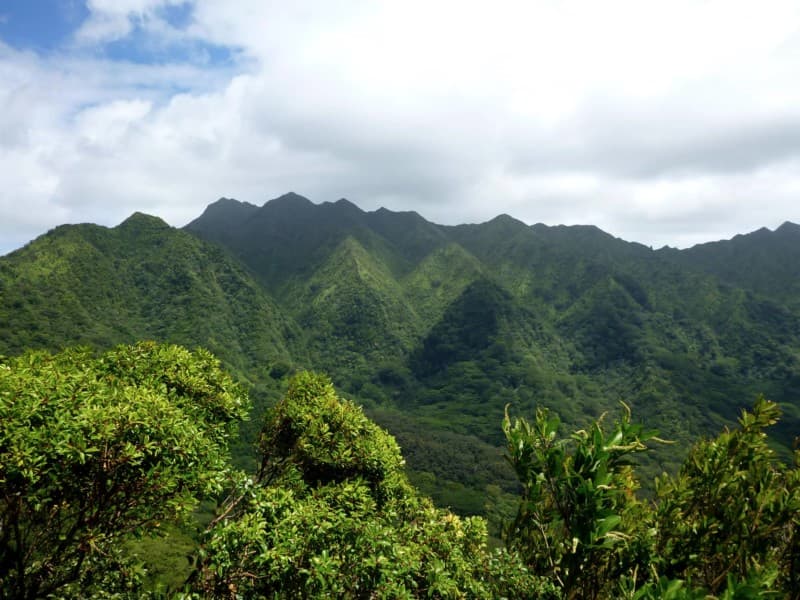 Olomana (4.4 miles)
Description: This steep trail gains almost 2,000 feet on your way up to the first of three peaks that rise above the Windwardside. The views from the first two peaks offer the best vantage points of the Koʻolau range and the coast. While the first two peaks are relatively safe, peak three is very dangerous and it is not recommended to summit.
Why we like this hike: You get to summit a trio of steep peaks for personal glory (and unrivaled magnificent mountain views).
Directions: There is no parking at the trailhead for this hike. Park on Auloa Street (pay attention to parking signs) and then walk down Loop Drive. The trailhead is past the entrance to the Royal Hawaiian Golf Club.
Local grinds: After this leg burning hike, kick back at Kalapawai Grill in Kailua for sandwiches and local plates.
Warning: The part of the Olomana trail from the first to the third peak is probably the most dangerous trail on Oʻahu, and officials say that on average, there's some sort of rescue at Olomana about once a week. Only progress past the first peak if you are a confident and experienced hiker and use proper judgement at all times.
Read more: on the Alltrails website.
The Olomana Trail: 3 Peaks Climb - Oahu, Hawaii
Koko Head (1.8 miles)
Description: Don't let the distance fool you. This hike goes straight up, gain nearly 1,000 feet in less than a mile, and the trail is composed of old railway planks. Very popular with locals as an evening workout, avoid the heat of the day as there is no shade.
Directions: The trailhead is located in Koko Head District Park. Note that the park parking lot is closed overnight (see hours here), so try to not to show up too early.
Local grinds: Completion of this hike deserves a beer (or two)! Head down the street to Kona Brewery by the marina for a recovery meal.
Read more: on the Alltrails website.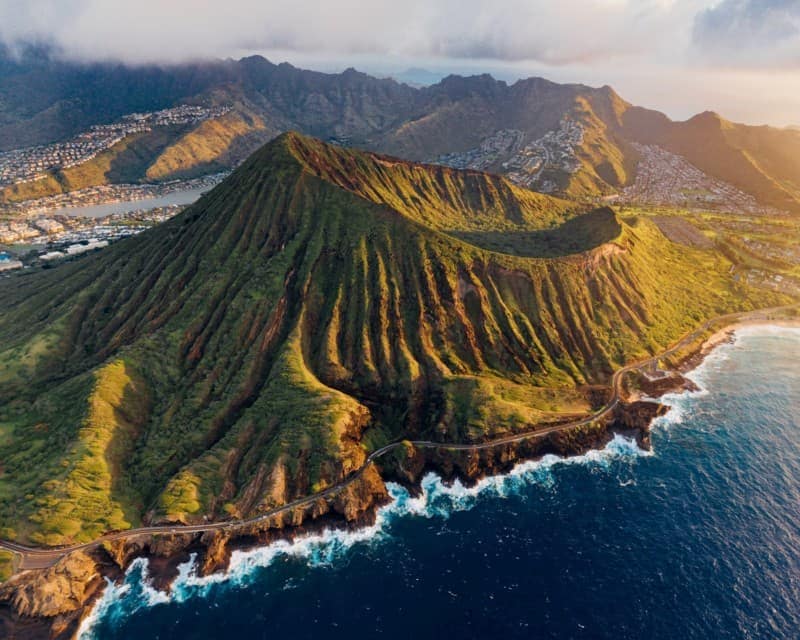 Mt. Ka'ala (7 miles)
Description: This trail accesses the highest point on O'ahu, Mt. Ka'ala (4,026 feet). This hike requires a steep climb up the dry hillsides of Waianae and gains more than 3,500 feet of gain. The views along the way are spectacular, but there is no true summit with a view. At the top is a cloud forest, accessible via boardwalk, that contains a high concentration of native plants, and some of the only ohia trees left on O'ahu. 
Directions: The trailhead is located on the west side of O'ahu, at the end of Waianae Valley Road.
Local grinds: Stop by Kahumana Organic Farms for a locally-sourced lunch at its café.
Read more: on the Alltrails website.
Wiliwilinui Trail (4.5 miles)
Description: This ridge hike is not super long, but it's steep, especially at the end, climbing more than a thousand feet to the top of the Koʻolau Mountain Range. The view is spectacular, an overlook of the entire Windwardside.
Directions: The trailhead is located at the end of Okoa Street.
Local grinds: Pop down into Kaimuki for sandwiches at Kaimuki Superette.
Read more: on the Alltrails website.
Local Youtuber Sean Kalopani made a very informative video about hiking the Wiliwilinui ride trail. If you like his style be sure to follow him on Youtube and Instagram.
Epic Hiking Trail in Oahu, Hawaii│Wiliwilinui Ridge [FULL GUIDE] Best Trail
Hiking and safety tips
We rate our recommended hikes in general terms and, as with any outdoor activity, one should be aware of their own limitations and abilities before attempting. Please be respectful of local residents when hiking. Don't trespass, don't park illegally, and don't leave valuables in your car. Bring plenty of water and snacks on the trail, wear proper footwear, and watch the weather, as conditions can change rapidly (we recommend always bringing a rain jacket).
The Haʻikū Stairs / Stairway to Heaven hike (temporarily? closed)
When researching the best and most popular hikes on O'ahu you are bound to find mention of the Stairway to Heaven hike. This is a steep hiking trail including 3,922 steps span along O'ahu's Koʻolau mountain range.
Legal access to this hike is has been impossible for a few years now because of land use rights issues, but it remains a popular "forbidden" hike regardless. If you attempt to hike here, expect to be turned away or cited by Honolulu Police.
While the state is working on a way to make this hike a public attraction again, we ask that for now you don't put this hike on your to-do list, but choose one of the other stunning hikes we list below.