If you have hopes of doing some shopping on Oʻahu, you're not alone. It's one of the cornerstones of what Waikīkī offers, and there are ample opportunities all over the island to browse shops and markets, big and small, with many local options.
Whether you're looking for high-end luxury shops or simply a good place to find a genuine souvenir, we've got you covered below with a breakdown of where to go.
Table of Contents
Good to know: not mentioned in the rest of this guide, Chinatown in downtown Honolulu is also a GREAT place to browse up-and-coming local shops. See e.g. this list for an impression.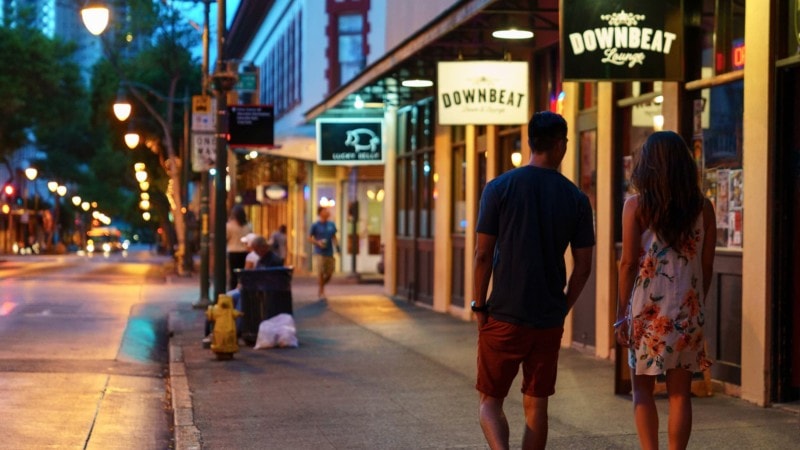 Small local shops and stores
Shopping at locally-owned stores is one of the best way to support the island's economy. If you're adamant about shopping local – which we hope you are – you'll find this Shop Small Hawaiʻi directory extremely useful. You can browse a variety of categories – apparel, gifts, health, art – to find a small local shop that sells what you're looking for. Keep in mind this list is not exhaustive and that there are many other locally-owned shops as well.
Below, we highlight some of our favorites, a mix of small shops and local institutions:
Where to buy Cultural Products
Nā Mea Hawaiʻi
If you're looking for an authentic Hawaiian store where you can find a wide range of products, including clothes, homeware, and gifts that are culturally respectful and oriented, Nā Mea Hawaiʻi is the place to go.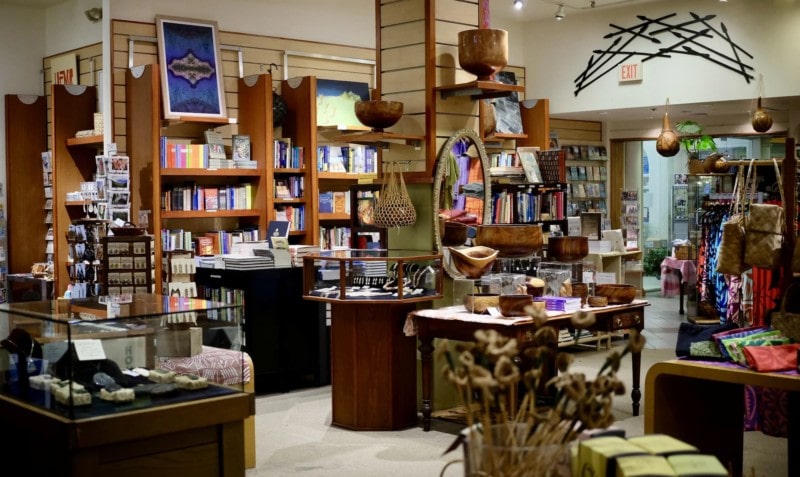 Native Books Hawaiʻi
Native Books Hawaiʻi is another arm of Nā Mea Hawaiʻi, and it's where you can find local authors and cultural/historical texts of Hawaiʻi. For example, shopping for a children's book from Hawaiʻi is an excellent souvenir or gift.
Where to shop for Local Clothing
Aloha shirts are the business-casual attire of choice in Hawaiʻi, and they are a great, functional take-home gift that will remind you of your trip every time you put it on.
Bailey's Antiques and Aloha Shirts
For the largest selection Aloha Shirts, Bailey's is the place. It has been around since 1980 and sells new, used, vintage, and specialty Aloha Shirts for low-and-high end shoppers alike.
Roberta Oaks
For a boutique shop that focuses more on modern styles, Roberta Oaks has a variety of Aloha Shirts, dresses, and other clothing for both men and women. They also have women's accessories, like handbags.
Wimini
This small boutique shop offers nature-inspired shirts, bags, and accessories.
Best places to get artistic gifts
Here are some places to go if you're looking for a musical or artistic gift.
Kamaka Ukulele
The Ukulele is actually a Portuguese instrument, brought to Hawaiʻi in the 1800s. But it's a full part of the culture now, and many ukuleles are hand-made in Hawaiʻi. Kamaka has a long-standing reputation for its production.
Haleʻiwa Art Gallery
If you'd like to check out locally-made and island-focused art, check out Haleʻiwa Art Gallery on the north shore. They have paintings, photography, sculptures, and embroidery that captures life in Hawaiʻi. Check the website for its monthly art walk.
Places to Window Shop
If you're not looking for anything in particular and just want a place to browse, head to Waikīkī.
Waikiki Strip
Kalākaua Avenue in Waikīkī is famous for its high-end designer shops, which are extremely popular with Japanese tourists (these brands tend to be even more expensive in Japan), as well as its overall volume of stores. Waikīkī is a great place to wander if you like to window shop, as stores can be found mixed in all over the place on Kalākaua, Kūhiō, and various side streets.
Malls/Outlets/Markets
For a traditional shopping mall or market, here's what we recommend:
Ala Moana Shopping Center
There are many malls on Oʻahu – one in almost every corner of the island – so if you need something practical, you're never far. However, there's only one we recommend for a casual visit: The Ala Moana Shopping Center. It's hailed as the largest open-air mall in the world, and in addition to nearly 300 shops, it has about 80 dining venues, including the locally-beloved Shirokiya Japan Village Walk.
Just west of Waikīkī, the Ala Moana Center can be reached via a free shuttle (ask your hotel for info, or see the Ala Manoa website) and is a convenient place to wait out a rainy day, should one occur.
International Marketplace
Ask a bunch of locals about the International Marketplace, and it may draw mixed reviews. Long story short, the old International Marketplace was more akin to a Polynesian craft market, while the new International Marketplace, renovated and opened in 2016, features vendors like Rolex and Tesla.
Regardless of your opinion on the stores themselves, the Marketplace as a venue is beautiful, with stone walking paths alongside manicured gardens underneath large banyan trees (including a tree house). In the center, there's a live stage for performances, which feature Hawaiian dancing and other cultural displays. Food vendors include Kona Coffee Purveyors, where you can try some local coffee.
Aloha Stadium Swap Meet
Every Wednesday, Saturday, and Sunday, about 400 vendors come together at Aloha Stadium (where the Pro Bowl used to be held) for a budget-friendly market of crafts, clothing, souvenirs, and gifts, including works by local artists. Bargaining is part of the game here, so come ready to make a deal.
Farmer's Markets
Farmer's markets happen across the island and are a great way to find local products. See our guide to Oʻahu's farmer's markets here.
What kind of souvenirs are best to take home from Hawaii?
If you're looking for gifts to take home, here's what we recommend:
For the Fashionista: Aloha Shirts
For the Foodie: Hawaiian Coffee/Macadamia Nuts
For the Musician/Artist: Ukulele