Like its population, O'ahu is a culinary melting pot, offering a wide variety of cuisines and local products. Traditional Hawaiian dishes, fresh fruits and vegetables, sashimi-grade fish, and locally-raised livestock are just a small part of what makes O'ahu a paradise for food lovers.
Table of Contents
On this page we summarize our preferred farmers markets and food-related activities, after which we highlight some local food any visiting foodie really should try.
Related: Culinary activities on Maui, Kauaʻi and the Big Island
Are you planning to also visit other islands in the state and do you like our style? Then the following guides might be a good place to start your culinary trip planning:
Map of O'ahu for Foodies
We have included enough culinary activities and hot spots in this guide to keep you well-fed for weeks. To make planning your snacks easier we have included all farmers markets, farm tours, and restaurants mentioned on this page on the following map:
Farmers markets
Farmer's markets in Hawai'i not only provide the chance to taste hard-to-find local fruits, vegetables, and products, but it also offers a showcase of the community. Attendees have the opportunity to meet local farmers and interact with local businesses at their booths, invoking a stronger connection between what the land provides and what appears on your plate.
Here's a list of the largest farmer's markets on O'ahu.
Kailua Farmer's Market (Thursday, Sunday)
Where: 609 Kailua Rd., Thursdays, 5:00 pm – 7:30 pm; Kailua Elementary School, Sundays, 9:00 am – 1:00 pm
What to Expect: Windwardside farmers converge in downtown Kailua on Thursday nights and Sunday mornings, with many food vendors as well as farm products.
Website: Kailua Farmer's Market
Kaka'ako Farmer's Market (Saturday)
Where: Ward Warehouse, Saturdays, 8:00 am – 12:00 noon
What to Expect: Eleven new vendors recently joined this farmer's market in the heart of Kaka'ako, Hawai'i's fast-changing, artistic, industrial neighborhoods.
Website: Kaka'ako Farmer's Market
KCC Farmer's Market  (Tuesday, Saturday)
Where: Kapiolani Community College 4303 Diamond Head Rd., Saturdays, 7:30 am – 11:00 am; Tuesdays, 4:00 p.m. to 7:00 p.m.
What to Expect: Located at the local community college, this tightly-packed farmer's market offers fresh produce from all over the island as well as an abundance of food vendors and local products, including beef and baked goods.
Website: KCC Farmer's Market
Pearlridge Farmer's Market  (Saturday)
Where: Pearlridge Center, Saturdays, 8:00 am – 12:00 noon
What to Expect: More than 40 vendors put on this farmer's market in Pearlridge. It's often heralded as having the most variety of products.
Website: Pearlridge Farmer's Market
Honolulu Farmer's Market (Wednesday)
Where: 777 Ward Ave., Wednesdays, 4:00 pm – 7:00 pm
What to Expect: In addition to fresh produce, you can try one of Honolulu's best restaurants, the Pig and the Lady, at their pop-up tent.
Website: Honolulu Farmer's Market
Haliewa Farmer's Market (Thursday)
Where: Waimea Valley 59-864 Kamehameha Hwy, Thursdays, 2:00-6:00 pm
What to Expect: This market takes place in Waimea Valley, an enormous botanical garden with walking paths and a swimmable waterfall. Make plans to check it out.
Website: Haliewa Farmer's Market
People's Open Market program (all days of the week)
There are also many smaller markets where you can buy local produce (no souvenirs!) called "People's Open Markets" that serve as a contact point between local producers and customers. There are 25 such markets spread over the island every week, you can find the current schedule on the POM website.
Farm Tours
Farm tours are a great way to get closer to your food, and Hawai'i is full of flavor. Whether itʻs pineapples, coffee, or local fruits and veggies, visiting the farm will educate you about how food is produced in Hawai'i, and more specifically, it will create a connection between you, the food, and the hands that made it. Below are some suggestions for local farms to visit on Oahu.
Pineapple Plantation
Despite not being a native fruit, pineapple has become synonymous with Hawai'i. Learn about its long history as one of Hawai'i's major agricultural industries by visiting the Dole Pineapple Plantation. There, you will find a plantation train tour, gift shop, and many family-friendly activities, like pineapple cutting demos and a garden maze.
See also our blog for a great article about pineapples, including 14 fruity facts!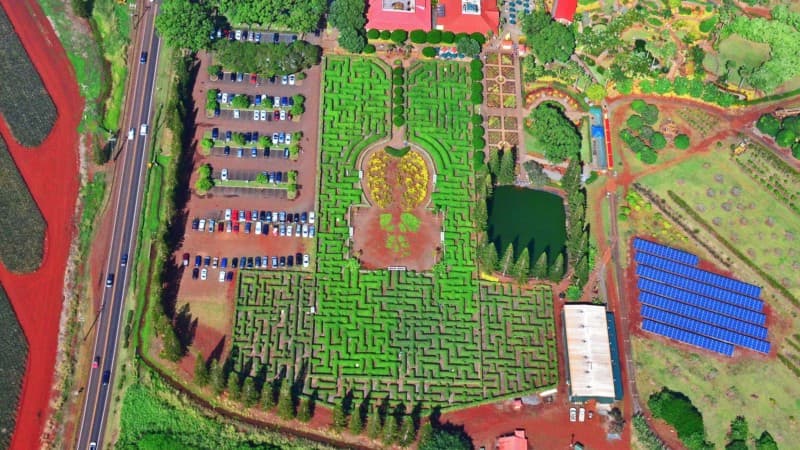 Macadamia Nut Farm
Macadamia Nuts, originally from Australia, made their way to Hawai'i in 1881. The first plantings occurred on the Big Island. Today, mac nut farms can be found across Hawai'i, and the nut has become an integral part of Hawaiian cuisine. Take a tour of the farm for many free samples and to learn more about how it's grown, cracked, and roasted.
Coffee Farms
Coffee is another top agricultural product in Hawai'i, best known on the Big Island within the infamous Kona Cofee region. But coffee is grown on every island, and each region produces a different flavor. Pop into one of the local coffee farms on O'ahu for a tour and tasting.
Chocolate Orchards
Though not a major export, cacao is grown throughout Hawai'i, producing various forms of local chocolate. A farm tour and tasting will show you how cacao is grown and made into chocolate.
Fun fact: Thanks to its tropical climate Hawai'i is the only one of the 50 states where chocolate can be made with only locally produced ingredients!
Other Local Farms and Tours
If you're interested in how those local fruits, veggies, and foods go from the farm fields to the supermarket shelves, consider taking a general farm tour at an independently-run, family-owned farm. Here, you will see how local favorites are grown, the process of getting them to market, and the lifestyle of a Hawaiian farmer through the eyes of a local family.
Or, consider a tour of a fishpond, where ancient methods of natural, sustainable fish harvesting are being restored to the islands.
Kahuku Farms
Learn the history of the farm and discover all the fruits and veggies the country has to offer. Ride through the commercial fields and see what it takes for farmers to put fresh food on our local supermarket shelves. Tours are offered Monday, Wednesday and Friday at 1pm and typically lasts about 1 hour. Includes a sampling of our farm fruits.
Lokoea Farms
This is a family-run 8-acre tropical fruit farm in Hale'iwa on the North Shore. The farm tour includes an exploration of their orchards to harvest some fruits in season, getting up and close with their vanilla plants, and even helping feed their (in their own words "hilarious") ducks and chickens. The tour ends with a picnic where you can taste the farm-grown exotic tropical fruit and nuts, and learn how to husk (and eat!) coconuts.

Kualoa Ranch
Consists of guided tour at the Kualoa Ranch through the fragrant fruit trees and tropical flowers and a ride on a Polynesian canoe over an 800-year-old Hawaiian fish pond while your guide discusses the region's aquaculture and sailing traditions.
website, look for the Taste of Kualoa Farm Trolley Tour.
He'eia Fishpond
Experience what takes place at a traditional loko i'a. Learn about this fishpond and its remarkable characteristics, become a part of its rich history, and connect with the storied landscape in the ahupua`a.
Kahumana Farm-to-Table tour
Meet the farmers behind your food during a small group guided walking tour of their 25 acre farm before enjoying a 3-course meal at the café beneath sweeping views of the Waianae Mountains.
Food tours, Cooking classes, and Farm-to-Table Restaurants
There are a variety of opportunities for foodies to dig deeper on O'ahu. Here are a few of our favorites:
Food Tours
A food tour is a great way to try a variety of cuisines in a short amount of time. Each tour takes on a different theme, sometimes with a particular area of focus (for example, Best of Chinatown). Most are walking tours. Prices range from $100 to $200 per person, typically for a 2 or 2.5-hour tour.
Hawaiian Cooking Classes
One way to get a better feel for local ingredients is to actually cook with them. There are a range of cooking classes available on O'ahu. Some are conducted in a professional kitchen; others are in locals' homes. Either way, you'll return home with a better understanding of Hawaiian cuisine and recipe ideas.
Farm-to-table Restaurants
Though O'ahu is the most populated island, it still supports a large agriculture and farming community that supplies directly to local restaurants. One way to experience this abundance is to check out a farm-to-table restaurant, eateries that go out of their way to feature local ingredients.
Other Food and Drink Experiences
Local foods (and where to try them)
When browsing farmer's markets and food menus, there are a handful of Hawaiian staples that you'll want to keep an eye out for. Here's what we recommend you try:
Kalua Pork
Kalua pork is Hawai'i's version of pulled pork. Traditionally, the pig was cooked in an underground oven called an imu. Simple in its preparation, the pork is slow-cooked with salt and served dry, without sauce. Locals often dip the pork into poi (see below).
Recommended restaurants:
Poi
Poi is one of the most traditional and important foods of Hawai'i. Once a staple of the Hawaiian diet, poi still exists in the modern era, although it's one of those love/hate things amongst visitors to the island. Poi is a simple food – it is taro, pounded down into a paste. Sometimes it is served bland, other times tangy. It is mostly served as a side dish at restaurants, accompanying fish or pork dishes.
Below, we recommend some restaurants where you can find it, but also list local farms that sell it to-go. The latter is a great way to support local agriculture, buy a larger amount, and incorporate poi into your own barbecue or beach picnic.
Recommended restaurants: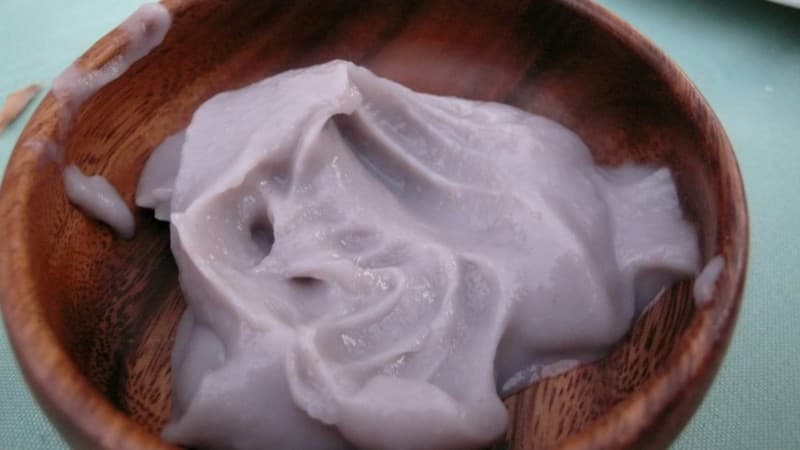 Poke
One of the most popular local dishes in Hawai'i is now sweeping the mainland in a very trendy way, as poke shops pop up across America. There's nothing like trying this fresh-fish dish from the source, though.
Recommended restaurants: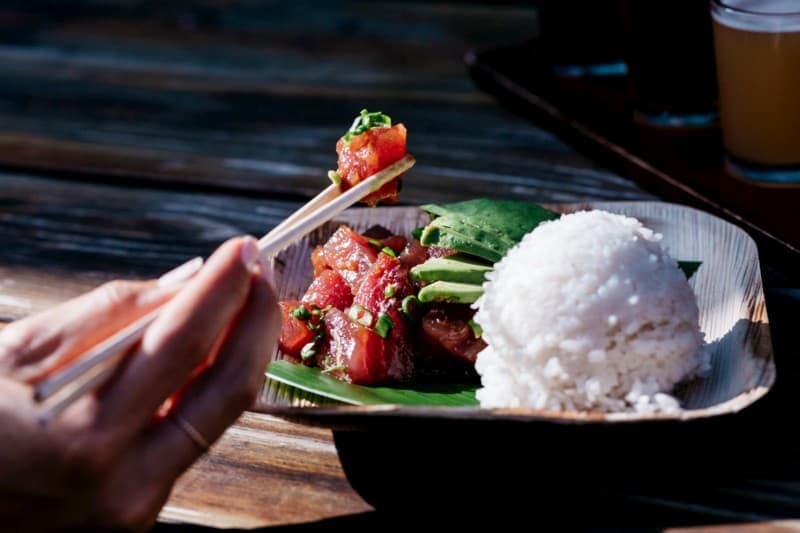 Laulau 
Another very traditional dish, laulua is meat, fish, or vegetables (or a combination) wrapped up and steamed in a taro leaf.
Recommended restaurant(s):
North Shore Shrimp
The shrimp craze continues on O'ahu, featuring locally-raised shrimp sold from food trucks. You'll see many styles and locations along the north and eastern shores of O'ahu.
Recommended restaurant(s):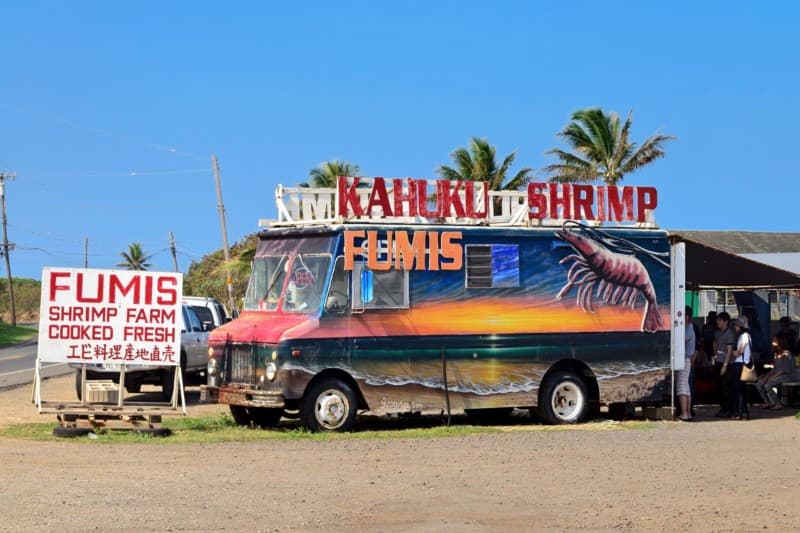 Shave Ice
A great treat to cool off from the heat. You'll see it spelled two ways (Shave Ice and Shaved Ice), and the debate rages on about which is correct (and don't you dare call it a snow cone!). At the end of the day, it's finely chopped/shaved ice with sweet syrup poured over top. Some syrup is artificial; other places use fresh fruit.
Recommended restaurants: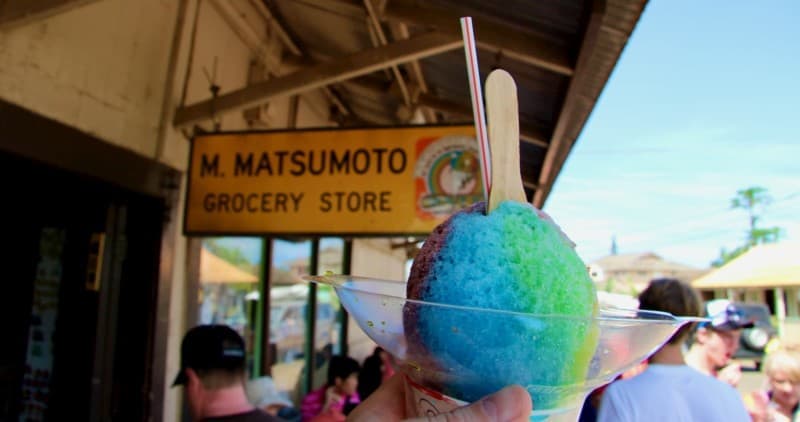 Malasadas
A malasada is a Portuguese donut, fried and coated in sugar and sometimes cinnamon. If you bring a box of malasadas into an office building in Hawai'i, you are simultaneously loved and hated – loved because they are so good, hated because it will test everyone's will power.
Recommended restaurant: Leonard's Bakery (Kapahulu)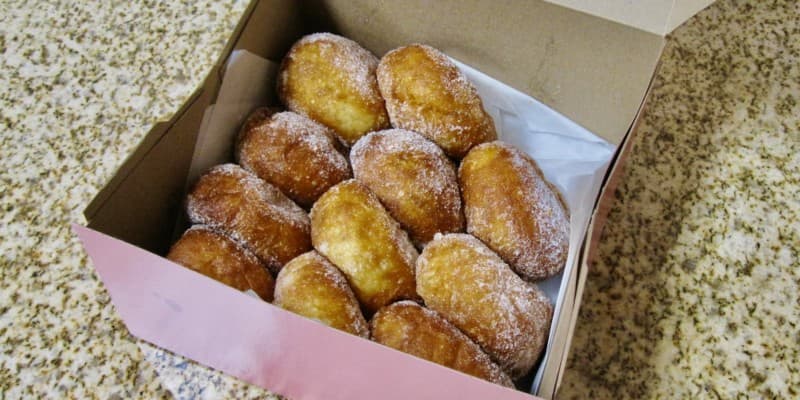 Haupia 
Haupia is a type of coconut pudding, sometimes eaten alone and other times used as a topping on larger desserts. It is a favorite amongst locals and luaus and gatherings.
Recommended restaurants: