The same magical scenery that makes O'ahu so inviting from the ground – long sandy beaches, jagged mountain ranges, volcanic craters, gushing waterfalls, endless ocean – is the same stuff that makes an aerial tour paof the island so special. From high above, you are treated to a new perspective of the island. Not only can you see farther, but you can access otherwise hard-to-reach places, like inland waterfalls.
O'ahu is particularly good for air tours because of its wide range of terrain and things to see. You have the metropolitan skylines of Waikīkī and Honolulu, two volcanic mountain ranges (Koʻolau and Waianae), agricultural fields (central O'ahu), big wave surfing (North Shore), remote waterfalls (Sacred Valley), and historical areas, like Pearl Harbor. All of these add up to a tour full of variety and context.
Table of Contents
Flights and experiences of all kinds depart from the Honolulu Airport on the south shore, Dillingham Airfield and Turtle Bay on the north shore, and Koolina and Kapolei on the west side. Below, we provide information on tour agencies and the options for exploring the skies above O'ahu.
Helicopter tours
When it comes to scenic flights, helicopter tours are the most popular option in Hawai'i, and for good reason. You can cover a lot ground relativity quickly, and helicopters have the ability to hover in place, meaning your pilot can provide extra time in especially scenic places and access areas that other aircraft cannot, such as inland waterfalls.
We break our information about helicopter tours up in the following 3 topics:
Different types of helicopter tours
What to expect on a helicopter tour
Helicopter tour company recommendations
6 different types of Helicopter Tours
Here are the most common flight types that you'll find across all companies:
Circle Island Flights
These tours offer a general overview of the island, and as the name suggests, take you around the island in a big circle. On this tour, you'll spend about the same time in each area, and get a general overview of the top points of interest, such as Honolulu, Diamond Head, Pearl Harbor, the North Shore, and parts of the eastern/western coastlines.
Every helicopter company will offer such a tour, but routes vary slightly, so look for specifics when booking. For example, some tours may cut out the west coast in favor of flying over the center of the island.
Doors Off Flights
Some companies offer the chance to fly without doors, known as a "doors off" tour. This option is good for people who want an extra shot of adrenaline, and for photographers who don't want to shoot through the glass windows.
Special Focus Tours
Many companies offer more specialized tours that hone in on one particular theme or one specific part of the island. For example, they may focus on a certain part of the island, such as the Windwardside or Waikīkī and Honolulu. Special focus can also be on a topic, such as for example the Magnum PI helicopter tour by Magnum Helicopters (see below).
Sunset Tours
These tours take place during what is arguably the most scenic times of day in Hawai'i: sunset. If you've seen the sunset from the beach, and from a boat, it's time to see it from the air.
Romantic Landings
If you're looking for an idea as a couple, you might want to check out the "romantic" offerings from helicopter companies, where a landing/picnic is arranged at scenic locations.
Private Tours
Most helicopter companies offer the option of a private tour, where you can curate the flight to your liking. These tours, no surprise, tend to be the most expensive.
What to Expect on a Helicopter Tour
There are many companies that offer tours on O'ahu. Though the categories of flights are fairly straightforward, and most companies visit the same sites, each company adds its own twist, and prices can vary. Tours typically start at about $250 per person for a 60-minute flight, and go up from there, depending on the itinerary and length of flight. Many offer free shuttle services, so be sure to ask when booking.
For those of you who are first-timers, here are some things that you can expect on a helicopter ride:
You will receive a check-in presentation in which safety procedures are explained before you board the helicopter
Tour helicopters don't fly close to the ground. Since 1994 the FAA has implemented a 500 ft. altitude restriction, but this likely soon will be changed to 1500 ft. Make sure to inquire with your tour company of choice how low they fly if that is an important consideration for you.
Helicopter rides can be bumpy, and those prone to motion sickness may find parts of the experience uncomfortable. If you fit that bill, we recommend choosing the middle seat and/or taking a motion-sickness preventative. Ginger pills are a common choice for those who want to avoid drowsy medication.
Helicopter rides can be noisy. However, you will be wearing a headset during the flight to minimize the noise and to allow you to clearly communicate with your fellow passengers and the pilot.
Recommended Helicopter Tour Companies
The following companies receive consistently good reviews and have a good flight-safety history.
Paradise Helicopters
Paradise Helicopters is a locally-owned and operated helicopter tour company offering air adventures departing from O'ahu and the Big Island
Departs From: Turtle Bay; Kapolei
Tour offerings: Circle Island, North Shore (Specialized), Diamond Head (Specialized), West O'ahu (Specialized), Sunset
Best for: Their Magnum PI tour and the Sunset flight. Not many companies offer sunset tours, making it one of the most unique rides you can take on O'ahu.
Website: Paradise Helicopters
Magnum Helicopters
Founded in 1988 as Makani Kai,  Magnum Helicopters is O'ahu's oldest and most experienced helicopter tour company.
Departs From: Lagoon Drive (Honolulu)
Tour offerings: Doors Off, Circle Island.
Best for: The Magnum PI Helicopter. If you are a fan of the reboot of the show Magnum P.I., you'll likely recognize the chopper. On Magnum's tours, you'll fly in the same helicopter that was filmed in the show.
Website: Magnum Helicopters
Blue Hawaiian Helicopters
Blue Hawaiian Helicopters is one of the more affordable helicopter tour companies, and operates on all four main Hawaiian islands.
Departs From: HNL Airport; Koolina
Tour offerings: Circle Island, Private Charters
Best for: Reputation. Blue Hawaiian has operations on almost every island and has earned a strong marks for its tours, safety, and guest experience.
Website: Blue Hawaiian Helicopters
Mauna Loa Helicopters
Mauna Loa Helicopters has been offering private sightseeing tours over Kauai since 2006, and recently expanded their tour operations to include O'ahu and the Big Island.
Departs From: Lagoon Drive (Honolulu)
Tour offerings: Circle Island, Doors Off, Romantic Landings, Private Charters
Best for: Photography flight. One hour highly customizable flight for professionals that lets you decide where to go — choose your altitude, angle, and location for that perfect shot.
Website: Mauna Loa Helicopters
Small Airplane Tours
Small airplane tours are another option for getting up in the air. They can't hover like helicopters, and aren't as agile, but that may be a good thing for those prone to motion sickness. The experience is more akin to flying in a normal airplane, with a smoother flight path. You won't see all the nooks and crannies you do in a helicopter, but you will see a lot, and overall, it's a more gentle experience. These air tours are also typically cheaper than chopper tours, more in the range of $200 a person.
Gyroplane Tours
As predecessor of the modern helicopter,  a gyroplane uses an unpowered rotor in autorotation to develop lift. See the video below to see what this looks like:
Flying in a Gyroplane on Oahu's North Shore - Filmed on Insta360 X3
Skyland Air
Recommended small airplane tours:
Mokulele Airlines (temporarily suspended)
Mokulele has more to offer in terms of inter-island tours (see below), but it also offers a fly-over tour of O'ahu.
Departs From: HNL Airport
Offerings: O'ahu Scenic Air Tour (at the moment (?) not available)
Best For: O'ahu Scenic Air Tour (at the moment (?) not available)
Website: Mokulele Airlines
Mokulele Air Tours Oct 2018
Glider Tours
Glider Tours are also popular in the islands. These aircraft come either with or without an engine. The unpowered versions are pulled up into the air by another aircraft, then, at about 3,000 feet, are released so they can "glide" through the air for a peaceful, scenic flight and descent.
Technically, these are the cheapest way to sail the friendly skies, but the experience is not as long or extensive. Generally, a 15-minute flight can cost in the $100-$130 range.
Unpowered Glider Tours
There are two companies that offer commercial scenic flights out of Dillingham Airfield on the North Shore:
Honolulu Soaring
The Honolulu Soaring Club, Inc. was formed in 1970 and has operated continuously from Dillingham Airfield on O'ahu's North Shore since.
Departs From: Dillingham Airfield
Price: 15 minutes for $130
website: Honolulu Soaring
Acro Flights Hawaiʻi
Powered Hang Gliding Tours
Paradise Air Hang Gliding
Skydiving and Paragliding
Skydiving
Skydiving is offered on the North Shore of O'ahu. What makes this a great experience is obvious on several fronts: 1) You get to jump out of a plane and 2) You get to do it over O'ahu, where you'll see a mix of landscapes and color – the ocean, the mountains, and the beaches.
Recommended Skydiving Companies
Prices vary from company to company based on the altitude and free-fall time. Be sure to read the details when comparing prices.
Skydive Hawai'i
Skydive Hawai'i is Hawai'i's oldest and largest skydiving company. Also operates daily shuttles from Waikīkī hotels to the airfield.
Departs From: Dillingham Airfield
Price: Starting at $250
website: Skydive Hawai'i
The following video shows what it's like to go skydiving with Skydive Hawai'i:
SKYDIVE IN OAHU, HAWAII || 14,000 ft
Pacific Skydiving
Pacific Skydiving offers skydiving jumps from helicopters or small airplanes.
Paragliding
Paragliding is a skydiving alternative that's more mellow (no free fall) but still offers a rush of adrenaline. You and an instructor will "fly" off the side of a mountain and float to the ground using a parachute (controlled by your instructor). While the beginning of the experience – i.e. jumping off the side of the mountain – can be scary, most of the experience is very gentle and peaceful as you glide through the air and slowly float down to the ground.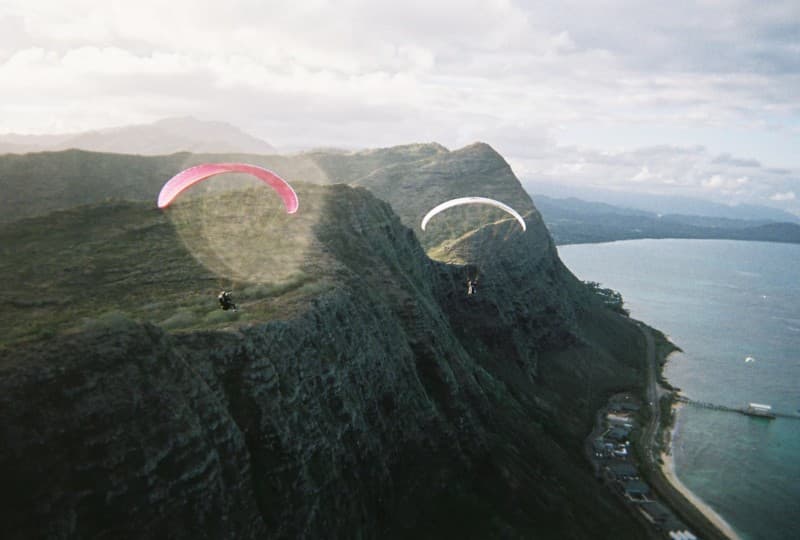 Recommended Paragliding Companies
Both the below companies operate from the Windwardside of Oʻahu, typically from the southeastern shore near Makapuʻu (if you go to Makapuʻu Beach, you can often see local paragliders jumping from the nearby mountains). The exact launch location depends on the winds, and because the sport is weather dependent, you should be aware that your outing may be rescheduled in the event of weather. If you are really excited about paragliding, you should schedule your flight early in your trip, so you have some backup days in case the weather fails to cooperate.
Gravity Hawai'i
If there's any question about whether Lead Guide Pete Michelmore takes safety seriously, just read his cautionary tale about his first experiences with paragliding in California back in 1988. Now living on O'ahu as a humble and passionate instructor, Pete has flown more than 5,000 accident-free flights and provides his guests a cautious yet exhilarating experience.
Departs From: Windwardside/Kailua/Waimanalo
Price: $250 for 45 minute flight
website: Gravity Hawai'i
Oʻahu Hawai'i Tandem Paragliding Flights
Oʻahu Tandem is run by an Oʻahu resident named Doug. He is known for his safe approach, enthusiastic spirit, and strong customer service skills. He regularly works with people who are afraid of heights, and receives rave reviews for his patience.
Departs From: Waimanalo (South-East O'ahu)
Price: Available upon request (similar to the prices of Gravity Hawai'i)
website: O'ahu Tandem Paragliding
Day-trips to other islands
All four main Hawaiian islands (Oʻahu, Maui, the Big Island, and Kauaʻi) are unique in their own ways and have their own distinct vibes and attractions. If you are limited in your time but really want to explore more than just O'ahu, taking a day trip to another island is a possibility.
Companies offer the opportunity to fly over to another island for the day – via chopper or plane – and embark on a tour. Some are simply scenic flights over other islands, and some land and offer on-the-ground tours as well. For visitors who plan to spend their entire time on O'ahu, this can be a nice way to mix in a visit to another island. The tours are long – sometimes 12 hours – but you can see another island without packing your bags.
Recommended Tours to Other Islands
Unfortunately there are currently no air tours to neighboring islands we recommend ever since Mokulele discontinued their tours.
Air Tours on the other Hawaiian islands
Don't forget to check out our air tour overviews for the neighboring islands if you are traveling there: