Ziplining is a popular activity for visitors of all ages, combining a rush of adrenaline with scenic beauty. O'ahu has four zipline courses spread out across the island, and each offers something different in terms of its location, size, stature, and extracurricular activities.
Table of Contents
What is ziplining?
As the name suggests, ziplining consists of riding (zipping) down one or more cables, experience the thrill of flight at sometimes considerable speed thanks to the force of gravity. Zip line courses can be split in roughly two categories: those designed for speed (adrenaline rush!) or those designed for the scenic views that let you enjoy the natural surroundings such as our lush rainforest and/or waterfalls.
What to expect on a zipline tour
Zipline tours generally start with a safety instruction that includes getting you a well-fitting safety harness. Afterwards you are transported to the first zipline and you can start zipping. You hike or drive between the different ziplines, and depending on which tour you choose extra stops are made to explain interesting things about local culture and/or history.
In total, these tours take between 2 and 3 hours. Some other things that are good to know about ziplining are:
Ziplining is always done with the assistance of professional guides.
"Dual-track" ziplines are very popular now, but why? Dual-track simply means that there are two lines (tracks) next to each other, which means that two people can ride side-by-side at the same time. Sharing the zip with family or friends is a lot of fun!
You will wear a safety harness during ziplining. These harnesses only come in limited sizes which means size and/or weight restrictions are part of ziplining.
No personal gear or prior experience is necessary to zipline. Helmets and gloves are provided, but you are required to wear closed-toed footwear (sneakers, hiking boots, crocs, etc.). We also recommend you wear some comfy clothes (nothing too loose or baggy) and to tie your hair back if it's long.
Complete list of Zipline Tours on O'ahu
There are 4 ziplines on O'ahu. 3 of those offer multiple-hour "adventures", while the 4th one (the Bayview Zipline) lets you buy rides on a per-zip basis. The number of lines differs for each location with an average of ~ 6 ziplines, the longest of which is 2400 feet (730 meters)! The speeds you can reach while soaring down depend on a lot of variables (including your weight) but speeds up to 35 mph are reachable.
We list the most important differences between the zipline tours in the table above. Keep reading for a more in-depth description for each one.
Climbworks Keana Farms
Best For: Thrill Seekers
Climbworks offers the longest tour by time, and has the longest and highest line on O'ahu, making it the clear choice for those who prioritize an adrenaline rush above all else. Though not as dramatic as Kualoa, Keana Farms boasts its fair share of scenic beauty.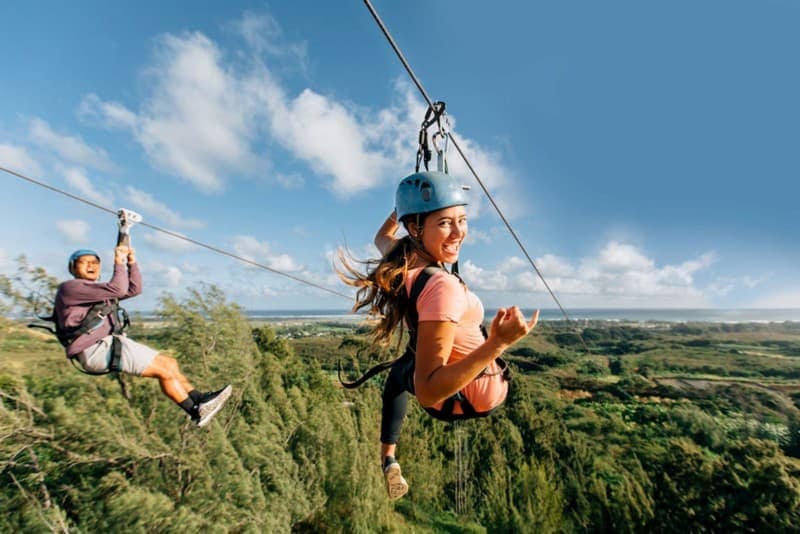 A working ranch along the North Shore, it offers views of the ocean from its lines. Educational exhibits on Hawai'i history, culture, and farming are also included in the tour.
ZIPLINE OAHU, HAWAII – CLIMB Works Keana Farms
Kualoa Ranch – Jurassic Ziplines
Best For: Scenery
Kualoa Ranch is located on one of the best-preserved ahupua'a (land division) on O'ahu, with jagged mountain peaks and wide open valleys. It's no surprise, then, that it has been the film location for dozens of movies throughout the decades, and the stunning scenery also makes it a wonderful place to horseback ride.
Zipline Tour at Kualoa Ranch
While not the longest or the highest, this zipline course's location ensures you'll get equal doses of scenic beauty and adrenaline-driven adventure. Plus, there's a whole lot more to see on the Ranch afterwards, including a cafe selling the ranch's own beef, chicken, and oysters.
Coral Crater Adventure Park
Best For: Families
Coral Crater is a family adventure park that features a short (as compared to Climbworks and Kualoa) zipline course and an array of other activities, such as off-roading, climbing, and an adventure tower. One key differentiation is that Coral Crater offers after-dark zipline tours, something that's popular with families.
Coral Crater Adventure Park Hawaii
Located in a small lot in Kapolei, it does not offer the same sense of place that you'll find at Kualoa and Climbworks.
Bayview Mini Putt and Zipline
Best For: Beginners and Budget Conscious
Located in Kaneohe, Bayview is a small family center that has a modest 3-line zipline course. The smallest and lowest course on the island, this entry-level experience is for true beginners simply looking to get their feet wet. Because it is not a guided canopy tour, the cost is significantly cheaper, and you can pay by the ride.

Zipline Tours on other Hawaiian islands
Because of the tropical nature, waterfalls, and volcanoes, ziplining is a popular activity on all Hawaiian islands. We have written comparisons of all zipline offerings in the state: