If you've been browsing the Internet for tours and activities on Oʻahu, you've probably come across Kualoa Ranch. Without question, it's one of the largest and most reputable tour operations on the island, offering a wide selection of family-friendly tours, the quantity of which is unrivaled anywhere else in Hawaiʻi.
It is best known as the filming location for the Jurassic Park series, and you may hear it referred to as Jurassic Park or Jurassic Valley by other visitors.
Table of Contents
Dozens of tours go out each day, including movie, UTV, e-bike, sailing, horseback, and farm tours, among others. But there are lots of places on Oʻahu that offer such tours.
So, what makes Kualoa different?
Why people keep going to the Kualoa Ranch
Many working ranches in Hawaiʻi turn to tourism to help sustain themselves, but no one has done it quite as successfully as Kualoa Ranch. If you're in the market for a tour, there's nowhere that can match its variety, organization, and reputation, and while there are many movie locations to visit around Hawaii, no place can match the quantity of Kualoa Ranch. For years, it has been considered one of the top operations on Oʻahu thanks to its beautiful scenery, professionalism, and Hollywood intrigue.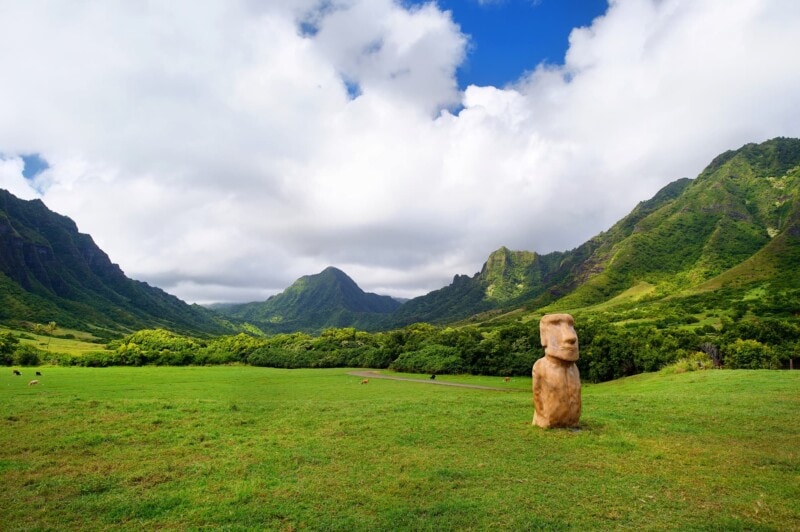 In that sense, Kualoa Ranch certainly has a lot going on, but don't write it off as a tourist trap. You'll be happy with the quality of the tours you find there, and the scenery is absolutely top notch. And if you dig even deeper, you'll see that Kualoa is still a living, breathing place, with lots of agricultural, cultural, and historical value.
Though the "frontcountry" and visitor center area of Kualoa can sometimes feel like a bee hive, tourism has not changed the integrity of the natural landscape, nor has it erased its historical or modern-day significance.
Most tours visit the same area – the infamous Kaʻaʻawa Valley – so regardless of whether youʻre on an ATV, an open-aired trolley, or an e-bike, you'll forge a deep connection with the jagged peaks, tumbling waterfalls, expansive valleys, and thick jungles. Your guide will educate you on the stories, legends, and past uses of the area, first as a sacred land division for Native Hawaiians and later as a working ranch in more modern times.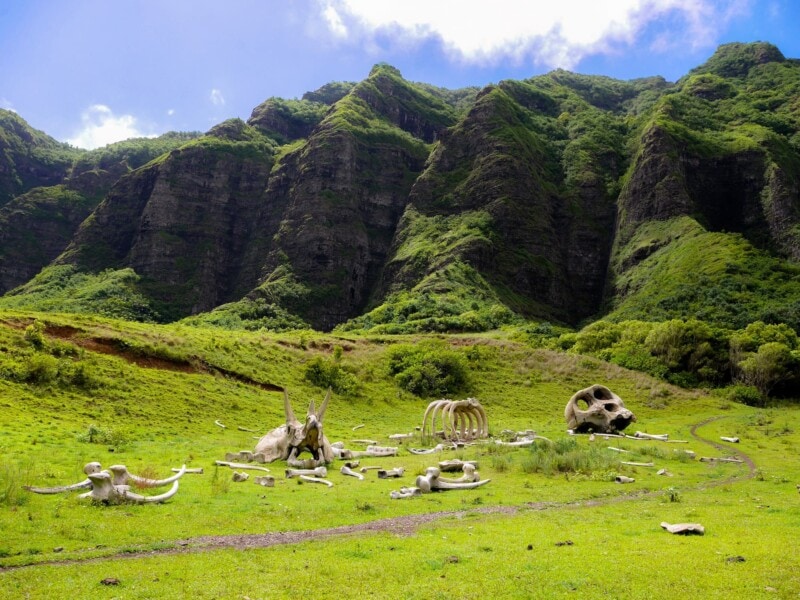 Practicalities – Getting There
There are two ways to get to Kualoa Ranch, by car and by shuttle.
By Car
Kualoa Ranch is located on Oʻahu's windwardside, north of Kāneʻohe. From Waikīkī/Honolulu, the drive will be 35-40 minutes.
By Shuttle
Transportation can be added on to tours for an additional $30 per person plus tax, with pickups at specific, set locations in Waikīkī. Pickups occur between 7:00 and 7:45 a.m. and return is approximately 3:15 p.m. The pickup locations are the Aston Waikīkī Beach Hotel, Sheraton Waikīkī Hotel, and The Modern Honolulu. Not all tours qualify for pickup; when booking, looking for the option to add-on the shuttle service.
Short Breakdown of Suggested Activities
Here's a rundown of our favorite things at Kualoa. Tours not on this list can still be fun for families and those with specific interests – be sure to check them out in our FAQ section.
Movie Tours
If you're a movie buff, visiting Kualoa Ranch is an absolute must. Hundreds of movies and television shows have been filmed in its valleys, and you can visit quite a few of them via the 90-minute Hollywood Movie Sites Tours. Guide narration will explain where things were filmed, and you'll even see old props left behind after filming, such as the boneyard from Skull Island and memorability from television shows, like LOST.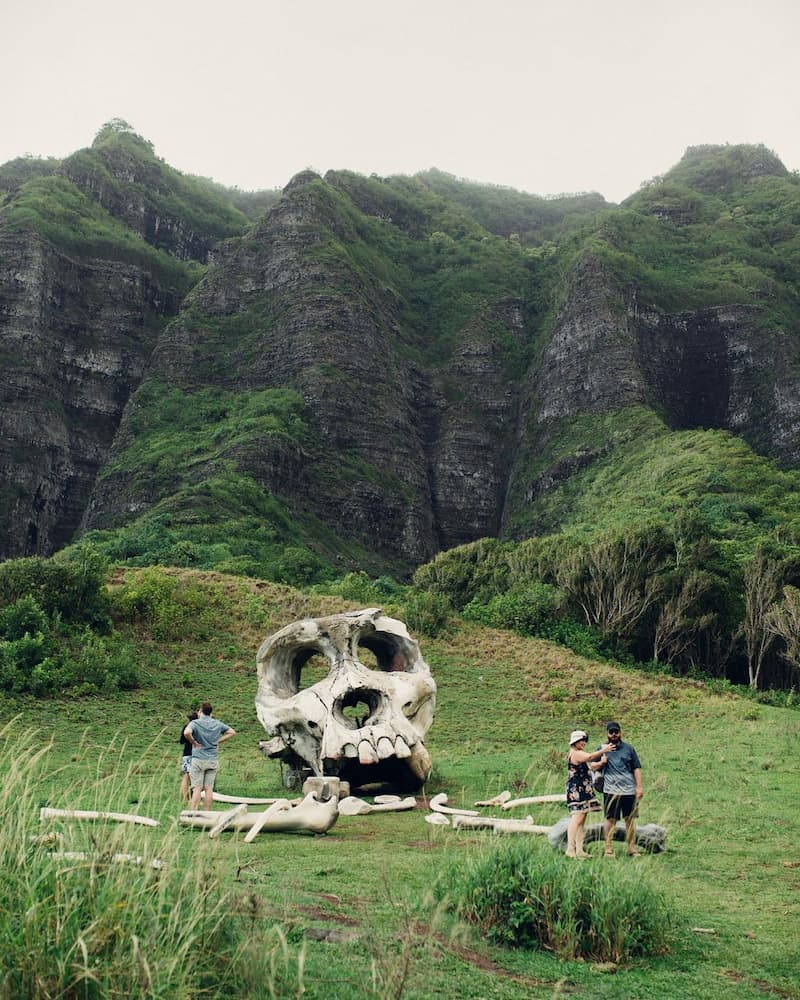 If you want to focus specifically on Jurassic Park, try the Jurassic Adventure Tour.
UTV Tours
If you're looking for a place to blast around, Kualoa's wide, spacious valleys and dense rainforests are one of the best places on island for an UTV tour. Two hours in length, it takes you deep into "Jurassic Valley" and the surrounding forests, allowing you to explore the far reaches of the property. It also includes narration as you pass by Hollywood movie sites.
See also: our list of recommended ATV tours on Oʻahu.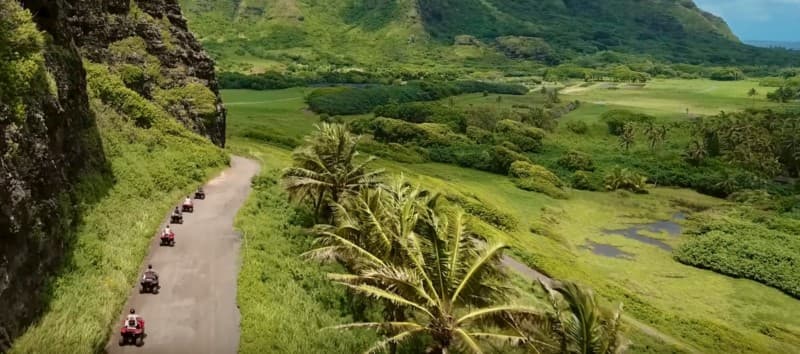 Farm & Cultural Tours
If you want to go a little deeper and learn more about Kualoa as a working ranch, we recommend either the Malama Experience or the Aloha Aina Tour. Both are education-based and give you a better idea of how Kualoa still operates as a working ranch.
The Malama Experience requires you to get your hands really dirty – so buyer beware there – but the Aloha Aina Tour is more traditional, where a trolley takes you around to visit the tropical fruit and flowers gardens and, perhaps more significantly, to visit a 153-acre ancient Hawaiian fishpond that the ranch is restoring. Fishponds are an amazing site to see, revered for their ingenuity and sustainability in raising wild fish.
If you want to see a different, more local side of Kualoa, these are the tours you want to go with.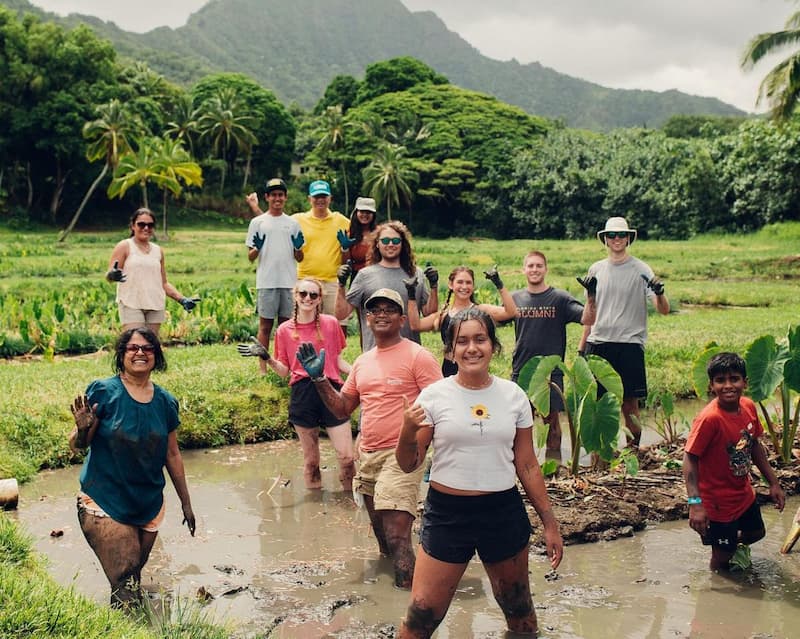 See also: our list of Farm tours on Oʻahu.
Cafe + Market
Typically, on-site cafes at busy tourist attractions are not ones we recommend. However, Kualoa is a big-time exception, with an abundance of good food options that are grown or raised right there on the ranch.
At Aunty Pat's Cafe, you'll want to try one of the burgers, made with grass-fed Kualoa beef, or a kalua pork plate lunch, make from their own pork. Try to get a table outside, where you have a good view of the jagged mountains and the impeccable, colorful landscaping of the visitor center area.
If you have the ability to cook at your accommodation, we recommend picking up a few seasonal gems from the  KualoaGrown Market. About 60 different crops are grown on site at the ranch (flowers, too), and they raise beef, pork, shrimp, tilapia, and even oysters – all of which can be purchased at the KualoaGrown Market.
Selection varies with the season, but there should be no problem finding something special to take away with you. We highly recommend it!
FAQ: Our Favorite Activities at Kualoa For…
The sheer amount of things to do on the Kualoa ranch is even for us overwhelming. This is why we have compiled the following frequently asked questions which hopefully can point you in the right direction.
When stopping at the ranch you can visit the immediate area around it (including Aunty Pat's Cafe). However, to experience the valleys, you need to book a tour.
The Hollywood Movie Sites and Ranch Tour will provide plenty of intrigue to adults, as will the ATV Tour, E-bike Tour, and the Jurassic Adventure Tour.
Families will enjoy the Secret Island Beach Adventure, Jurassic Valley Zip Line, ATV Tour, and the Hollywood Movie Sites and Ranch Tour.
Yes. The Ocean Voyage Adventure is a 90-minute sail in Kāneʻohe Bay (with beautiful views looking back on Kualoa's mountains), and the Secret Island Beach Adventure amounts to a half-day beach hangout with access to paddleboards, kayaks, and other toys.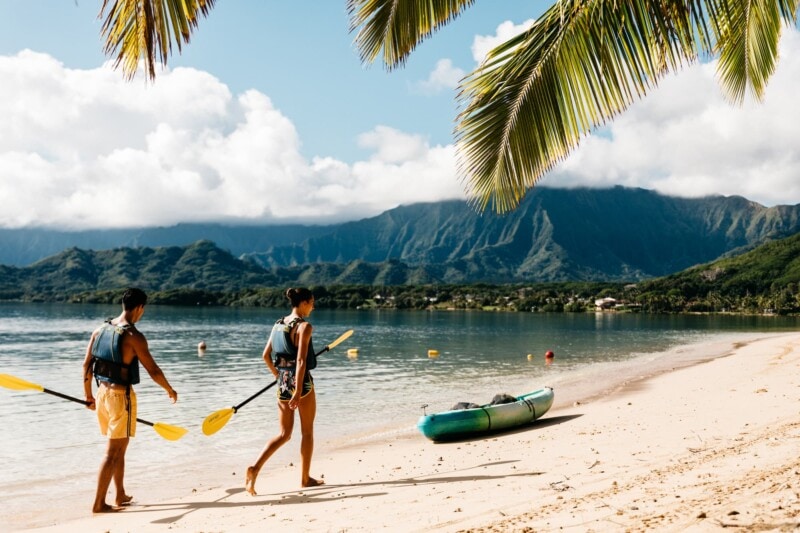 You can rent kayaks and explore Kāneʻohe Bay at secret island. Credit: Hawaii Tourism Authority (HTA) / Ben Ono.
Hundreds! Kualoa Ranch's Kaʻaʻawa Valley has been featured in many major Hollywood blockbuster movies and television shows, including Jurassic Park, Lost, 50 First Dates, Hawaiʻi 5-0… you can see a full list here.
Nearly every tour at Kualoa will, in some way, showcase the filming locations of the Jurassic Park movies. However, the main ones are the Jurassic Adventure Tour, the Hollywood Movie Sites and Ranch Tour, and the Jungle Expedition Tour.
While Kualoa Ranch is a beautiful place to horseback ride in theory, we don't necessarily recommend it. It would be fine in a pinch, but the horseback tour utilizes the same valley as the trolley and ATV tours, so while the scenery is spectacular, you are mixed in with motorized vehicles. We recommend choosing another horseback riding tour on Oʻahu where there's less commotion.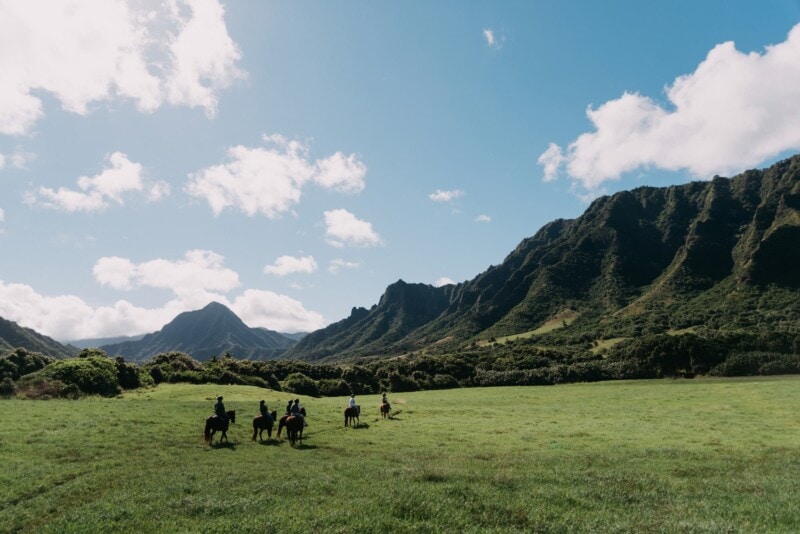 Horseback riding tour at Kualoa Ranch. Credit: Hawaii Tourism Authority (HTA) / Ben Ono
If you want to see a different, more local side of Kualoa, we recommend either the Malama Experience or the Aloha Aina Tour, which focus on the ranch's farming efforts and offer insight into the cultural and historical significance of the valley.