Located on Oʻahu's southwest coast, Electric Beach is a hub of adventure, with opportunities for snorkeling, diving, and coastal exploration, complete with a long, white-sand beach for walking, sunbathing, or taking a nap.
Table of Contents
Below is our guide to Electric Beach, with suggestions for activities and some important practicalities for spending time there.
About Electric Beach
Electric Beach is easy to reach, located not far beyond where the H1 turns into the two-lane highway, just north of Ko olina.
There are some other names this area is know as. Most importantly, the southernmost small beach is known as Kahe Point Beach Park. This is where you will find parking and amenities. There are also some old railroad tracks  along the road more towards the north, leading this part to be known as "Tracks Beach".
The whole area however, is often called "Electric Beach" for the nearby power plant on the mauka (mountain) side of the adjacent Farrington Highway.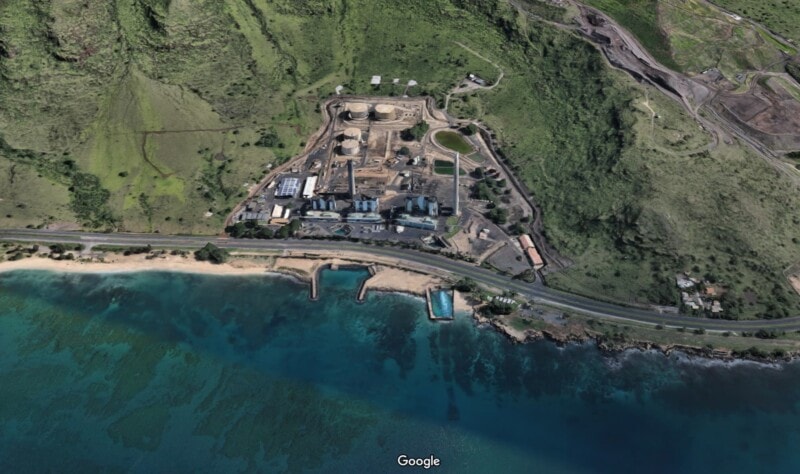 Why is electric beach so well-known for snorkeling and diving?
What makes this snorkeling spot special ties back into the electrical plant.
A pipe runs along the sea floor from the power plant, intermixing with the reef and eventually discharging warm water through a large opening about 200 yards offshore (the water is used to cool the power plant, and when discharged, it's warmer than the sea water). This outpouring of warm water attracts a lot of wildlife, mostly large groups of tropical fish and sea turtles. At times, sea turtles can even be seen riding the current coming out of the pipe!
Electric Beach Activities
Here's the rundown of what you can do at Electric Beach:
Scuba Diving + Snorkeling (experienced snorkelers/divers only)
The southern portion of Electric Beach, known as Kahe Point, is a popular place for scuba diving, snorkeling, and free diving due to its abundance of fish and other wildlife, including sea turtles and sharks.
This site is for experienced divers, snorkelers, and swimmers only. A small sandy beach allows for easy access into the water, but the shore break can be a little rough going out, and the current strong at times. The reef is well offshore, about a 100-200 yard (meter) swim into deep water ranging from 20-40 feet (7 to 14 meters).
The journey is worth it, though!
Snorkeling Electric Beach 2021 - (Oahu, Hawaii)
There are lots of opportunities for exploring, free diving, and scuba here, but again, this spot is for strong and experienced swimmers only. No matter your experience, never attempt to swim into the pipe, and always swim with a buddy. Bring a flotation device if you aren't confident in your stamina, and keep an eye on the current, which can pick up without warning.
Check out our favorite Oʻahu snorkeling spots for more places to explore underwater, and this dive guide for more practical information on where to enter the water at electric beach and what to see.
A local Surf break
Adjacent to Electric Beach to the north is Tracks surf break. This is a very local spot, beginner to intermediate in ability depending on the conditions. When visiting Tracks (or any other surf break in Hawaiʻi), always conduct yourself with respect and, when in doubt, give preference to locals. If you don't know the rules and etiquette of surfing, it's best to brush up on them beforehand.
Read more about local surf spots for beginners and surf etiquette on our website.
Mermaid Caves
A little bit north of Electric Beach and Tracks is an area referred to as the Mermaid Caves. It is technically out of the Electric Beach jurisdiction, but, we mention it here because it's a place you may want to check out while you're in the area. The Mermaid Caves could be the coolest place you see during your visit to Hawaiʻi, or depending upon how seriously you take it, it could be the last.
The area consists of half-submerged sea caves, accessible through skylights in the rocky coastline. They can be viewed from above through the skylights, or explored internally by climbing down into them. On most days, the caves are partially filled with water, ranging from knee to waist to overhead depths, depending on the tide.
Only during calm conditions and low tide, it is possible to safely enter the Mermaid Caves and explore around. If you've never been in a sea cave, the experience is very cool and rewarding! However, great caution and care must be taken. One surge of current or oversized wave, and the caves can unexpectedly fill with water, sometimes with great force.
If in doubt about the current conditions or overall safety, we recommend staying on top of the caves and enjoying the view from above. If you do decide to enter, do so with one eye always watching the conditions.
Going to the Beach
Because Kahe Point, Tracks, and the Mermaid Caves are so flashy in what they offer, some people forget all about the good old beach. As a long beach with white sand, it's a great place for swimming and snorkeling closer to shore. If you're a beginner snorkeler, the reefs here are a great place to practice. It's also nice for walking and picnicking. If you keep walking north on Electric Beach, you'll end up at Tracks.
See out list of best beaches on Oʻahu for nearby beaches (the Ko Olina Lagoons to the south and Depot Beach park to the north are the closest ones).
Practicalities
Here's what you need to know about getting to Electric Beach and other tips.
Parking + Theft
There is parking to be found all over this area, both in beach lots and along the sides of the road. Do not leave anything of value in your car. Criminals in this area can be quite aggressive and brazen, working on a look-out system.
We ourselves were robbed here in 2018. We opened our trunk, then walked about 50 yards away to check out the surf conditions. When we turned back, our trunk had been ambushed, our packs stolen, in a grab-and-go dash.
Please learn from our mistakes. Be aware of your surroundings, and always keep an eye on your valuables, both in your car and on the beach.
Amenities/Facilities
There are bathrooms and showers at the Kahe Point Beach Park and at Tracks.
Spending the Day at Electric Beach
We recommend spending at least a half day in the Electric Beach area. Bring everything you might need for the day, including towels, a change of clothes, snacks, and plenty of water. If you won't need it that day, leave it at home (especially valuables).
Snorkeling and diving is best in the morning, when conditions tend to be calm. Tackle the snorkeling at Kahe Point first, while you are full of energy, then spend some time on Electric Beach or Tracks recovering, enjoying a snack or packed lunch. Then, head over to see the Mermaid Caves when its at or near low tide (check the daily tide reports).
If you want to continue exploring, you can check out nearby Nānākuli Beach or grab lunch in Waiʻanae.