Waimea Bay is one of the most iconic areas on O'ahu's North Shore. In the summer, it offers visitors a beautiful white sand beach to lounge and blue-green water to swim. During winter, it's one of the world's most historical surf breaks.
Table of Contents
Below is everything you need to know about a visit.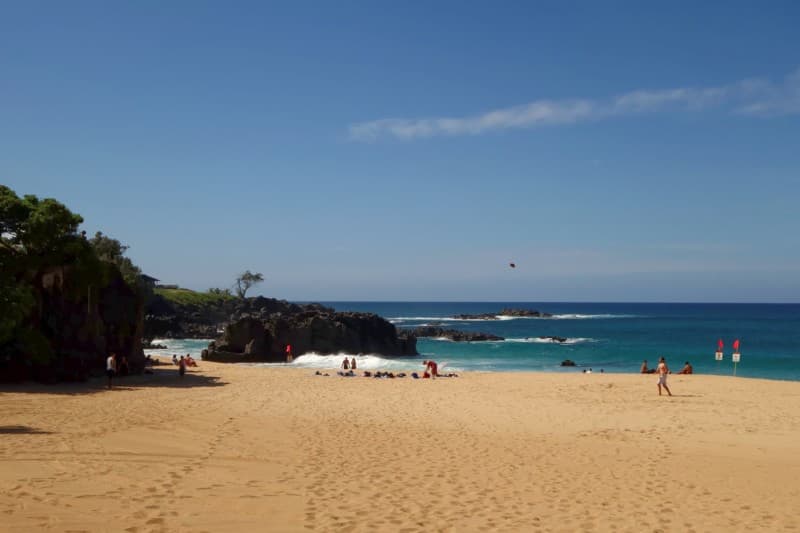 Beach activities
Waimea is a beach that has a little bit of everything so there is little chance you'll get bored. Swimming, snorkeling, and urfing on small waves (or watching people surf on the big waves) are amongst the most popular pastimes.
Surfing
Waimea Bay's history as a global surf destination started back in the 50s, when O'ahu's original big wave surfers – including the immortalized Eddie Aikau – pioneered the spot and introduced Hawaiian waves to the world. Today, Waimea Bay is considered the birthplace of big wave surfing.
The big sets still roll into Waimea every winter and it remains a spot for experts only. This is not a place to learn how to surf and beginners should stick to the shore. The best way to enjoy surfing at the bay is to and check out local competitions and events, such as the Eddie Aikau Big Wave Invitational.
The follow video by Tad Tamura shows what Waimea Bay can look like during BIG winter swells:
Waimea Bay surf Big Wednesday 1-27-16
Swimming and Snorkeling
While it's rough in winter, Waimea Bay can be as calm as a swimming pool on summer days, giving swimmers a chance to enjoy the sparkling water and snorkelers the opportunity to explore the rocks surrounding both sides of the bay. It's part of the Pūpūkea Marine Life Conservation District, which limits the amount of fishing and protects the local aquatic life.
There are no snorkel rentals at Waimea Bay – you must bring your own. Try for example one of several watersports shops in close-by Haleiwa where you can rent or buy equipment. You can read more about snorkeling at Waimea Bay on our website.
See the Hawai'i Ocean Safety website for up-to-date ocean conditions and safety alerts.
Cliff Jumping 
When the surf is calm, it's possible to jump into the water from the rocks in the bay. This is a very popular activity for both locals and visitors, and you are more than likely to see people jumping when you visit.
There are lifeguards at Waimea, but jumping from the rocks happens at your own risk. Regardless of what you see other people do, check the water depth, as it varies with the tide. Of course, if there's any doubt of your ability, you should not jump, even from a small distance. Rocks can be slippery and often lead to accidents.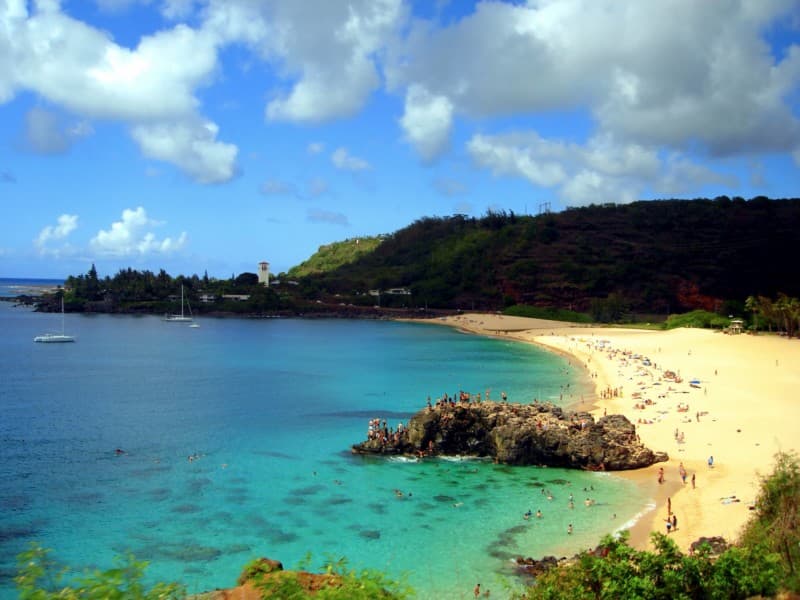 A Waterfall Hike, Cultural Center, and Botanical Gardens
Across the street from Waimea Bay is Waimea Valley, a botanical garden and cultural center tucked away in a lush, tropical valley.
To get out of the sun and cool down, visit the valley and take a shaded walk (1.5-miles roundtrip) to a 45-foot waterfall. Swimming beneath the falls is allowed (life jackets required and provided), and lifeguards are always on duty. In addition to the falls, Waimea Valley has cultural and biological programming.
Entrance to Waimea Valley is $25 for adults and $14 for children, no entry fee is required to eat at the cafe.
Waimea Valley Botanical Gardens + Waterfall Swim
Home to Oʻahu's only life-guarded, swim-safe waterfall, the Waimea Valley Botanical Gardens are a large tropical and lush botanical garden.
from:
$25
What is a suggested tour?

Our suggested tours are hand-picked tours that receive consistent good reviews, give back to the community, and work hard to minimize their impact on the environment.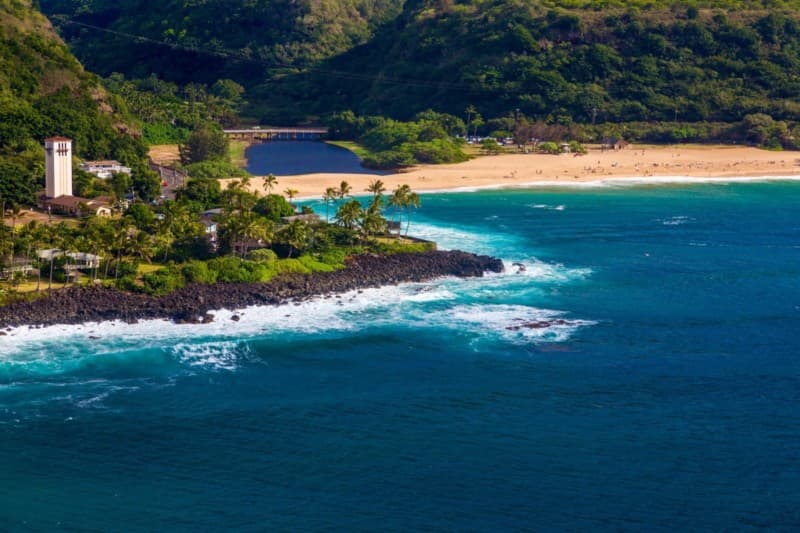 Practicalities
If you are planning to go to Waimea Bay but have never been, the following things are good to know:
Services and Amenities
There are few services at Waimea Bay, so come prepared for the day with chairs, umbrellas, and water gear. Lifeguards are on duty daily, and the following public amenities are present:
Restrooms
Parking lot
Showers
Picnic Tables
Food and Drinks
Food and drinks can be purchased across the street at the Na Mea Ono Grill at Waimea Valley (no entry fee is required to eat at the cafe). There are local specialties to try, like plate lunches and taro burgers, and it is close enough to walk.
Alternatively, you can pick something up at one of the many restaurants in Haleiwa if you prefer to pack your lunch.
Parking
There is a dedicated parking lot for Waimea Bay, but it fills up very quickly, especially on weekends, and spills over onto the roadway and street parking. Be careful when parking and walking along the road, as it is highly trafficked.
Waimea Bay is a destination for many visitors to O'ahu, as well as a local hangout for families. It's best to arrive early (before 10 a.m.) or later (after 4 p.m.) to avoid the most crowded parts of the day.
Directions
By car:
Waimea Bay is located approximately 4.5 miles northeast of Haleiwa on Kamehameha Highway. Honolulu, on the other side of the island, is a 34 mile (45 minute without traffic) drive away.
By bus:
Waimea can be reached via public transit on Bus Route 60 from Haleiwa. Taking the bus from Waikīkī to Waimea Bay is possible, but not recommended, as it will take between two and three hours.