Most people like flowers and gardens, yet because Hawaiʻi is so naturally full of them – from wild hiking trails to professionally-manicured resort properties – its botanical gardens tend to go overlooked by most visitors, leaving them under-visited and locally-oriented.
For the off-beat traveler, this is a good thing. Each of Oʻahu's botanical gardens are unique and work towards their own mission – and in some cases they can be quite unique, such as the Hālawa Xeriscape Garden, which aims to educated residents about water-conscious landscaping. Others, like Waimea Valley and the Lyon Arboretum, provide hundreds of acres in which to wander and explore endemic species. Places like the Manoa Heritage Center strive to combine natural and cultural preservation.
Table of Contents
List + map of Botanical Gardens
Most botanical gardens are located in South Oʻahu, but you can also find one in central Oʻahu and one on the North shore. Below, we highlight what's special about each botanical garden and include tips on how to incorporate a visit into your trip.
Map of all Oʻahu botanical gardens
There are botanical gardens spread all over the Big Island, and you will very likely pass close by a couple of them during your travels on the island. On the following map, botanical gardens are marked as red flowers and arboretums are marked with a dark green palm tree. Each of them is also described in more detail below the map.
Hoʻomaluhia Botanical Garden
Description and Highlights: The Hoʻomaluhia Botanical Garden is located on Oʻahu's Windwardside in Kāneʻohe. It's extremely enchanting, with the jagged, dramatic Koʻolau Mountains hovering overhead and a large reservoir in the center of the complex. In terms of plants, it breaks down its tropical offerings by world region: Philippines, Malaysia, Tropical America, India & Sri Lanka, Melanesia, Hawaiʻi, Polynesia, and Africa. When visiting, stop by the Visitor Center and ask about the origins of the garden. It was built in 1982 by the U.S. Army as a way to protect Kaneohe from flooding.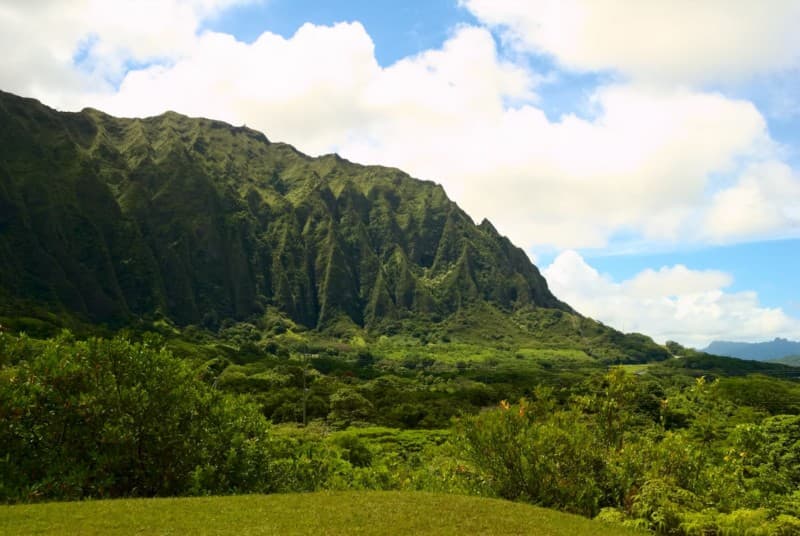 Suggested Visit: Half day. Hoʻomaluhia will put you at ease with it's beauty. If you have small children, try one of the garden's activities, like bamboo-pole fishing.
Don't miss/Combine With: With an on-site campground, Hoʻomaluhia is unique because you can spend the night. If camping isn't your thing, combine it with a tour of the nearby Heʻeia Fishpond.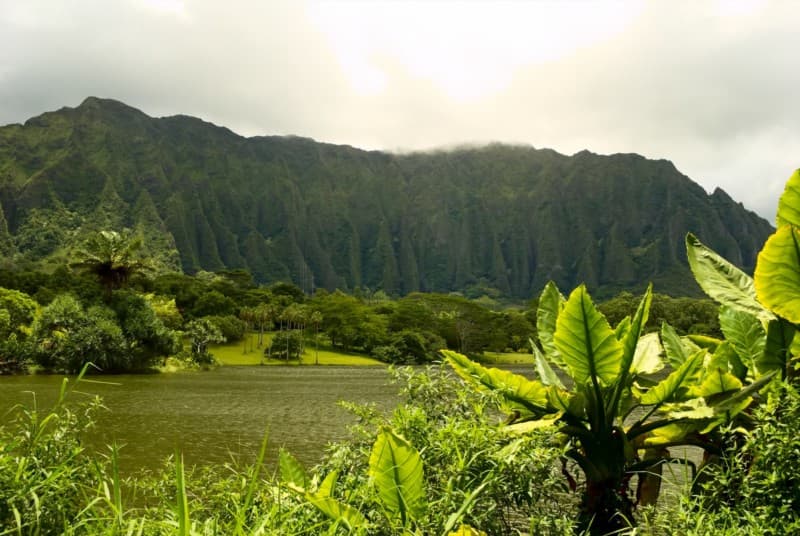 Waimea Valley
Description and Highlights: Waimea Valley is a botanical garden and cultural center located in a lush, narrow valley. Most people come here because it is home to Oʻahu's only life-guarded, swim-safe waterfall, and, blinded by that light, they walk right through the botanical gardens without giving it much of a second thought.
You could be different, however.  Sure, check out the waterfall, but don't miss the bigger picture. Waimea Valley is huge, with many walking paths to explore, and the experience is akin to exploring a natural valley, so much so that if it weren't for the paved walking path and the small signs, you might forget you're in a botanical garden altogether. It sprawls nearly a mile back into the valley and features 52 themed outdoor gardens and more than 5,000 types of native Hawaiian and globally endangered plants.
Suggested Visit: Half day. Entrance is $25 for adults and $14 for kids. Check out the tour schedule, which varies by day.
Waimea Valley Botanical Gardens + Waterfall Swim
You can buy admission to Waimea Valley online and skip the line when you arrive
from:
$25
What is a suggested tour?

Our suggested tours are hand-picked tours that receive consistent good reviews, give back to the community, and work hard to minimize their impact on the environment.
Combine With: Across the street from Waimea Valley is Waimea Bay. It is famous for its big-wave surfing during the winter, but during the summer months, it is very calm and great for swimming and sunbathing.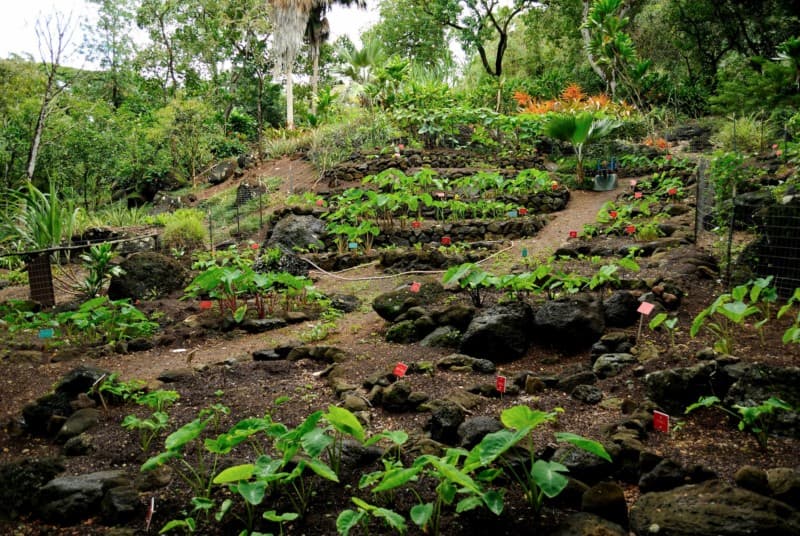 Koko Crater Botanical Gardens
Description and Highlights: Located on the slopes of Koko Crater, the Koko Crater Botanical Gardens is known for its volcanic, dryland plants. The garden occupies sixty-acres of the crater's inner slopes and basins and focuses on xeriscaping – that is, cultivating plants that require very little water. The fact that it's on a volcanic crater adds to the intrigue.
Suggested Visit: One hour. Admission is free. A self-guided tour takes you on a 2-mile loop through the gardens. Guided tours are available but must be made by special appointment. Call 808-768-7135 for more information.
Why we like this garden: You get to see rare dryland plants in the desert-like interior of the crater.
Combine With: Now that you've seen the inside of the crater, perhaps you'd like to check out the top. If you have the energy, try out the tough climb to the Koko Crater summit. If not, cool off with a beer at Kona Brewing at the beautiful Koko Marina.
Foster Botanical Garden
Description and Highlights: The appeal of the 14-acre Foster Botanical Garden is its location in downtown Honolulu, near Chinatown, in an otherwise busy and populated area. The tall, towering trees date back to the 1850s, as Foster was the first of what is now five botanical gardens run by the city and county of Honolulu.
Suggested Visit: Pass through when exploring downtown Honolulu and Chinatown – it's the perfect place to find some shade and relax. Admission is $5.
Combine With: Foster is adjacent to Liliʻuokalani Botanical Gardens (see below), so consider visiting there as well. Chinatown is just blocks away, so explore its shops and markets before making your way to Foster for a break.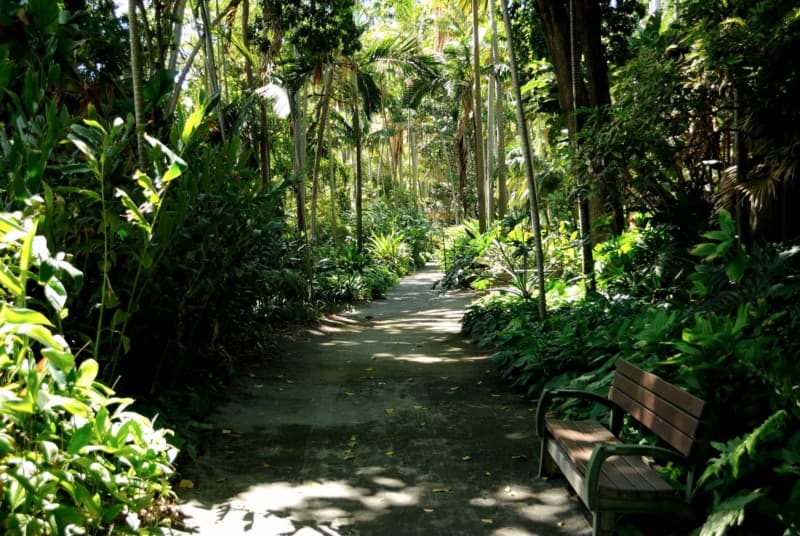 Moanalua Gardens
Description and Highlights: Moanalua Gardens carries a strong historical tale, dating all the way back to the Hawaiian monarchy. Blessed with huge, umbrella-like Monkeypod trees that steal the show, there's a strong cultural component, too, not only with native plants but historic buildings, such as Kamehameha V's summer cottage.
Suggested Visit: Stop by for an hour to see the Monkeypod trees and explore the property. Entry is $5 for adults. To bring the visit to life, take a docent-led tour.
Don't miss/Combine With: Moanalua is close to Pearl Harbor, so considering stopping by on your way to or from.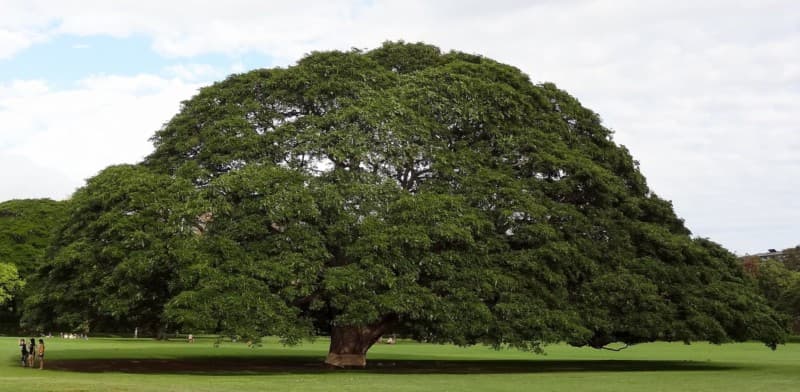 Liliʻuokalani Botanical Garden
Description and Highlights: Devoted to native Hawaiian plants, Liliʻuokalani is a small, 7.5-acre garden on the former Queen's property, which is now owned and operated by the city. It sits adjacent to the Nuʻuanu Stream, providing peaceful, calming water and small waterfalls.
Suggested Visit: Stop by for a moment's peace by the running water. Admission is free and the garden is small.
Combine With: Combine with a visit to Foster Botanical Garden, which is nearby and much larger, or as a respite from other activities in nearby Chinatown.
Mānoa Heritage Center
Description and Highlights: The Manoa Heritage Center has five small gardens that feature native Hawaiian and Polynesian plants, including a plumeria garden. But the main draw here is not the gardens alone; its the Center as a whole. The Mānoa Heritage Center aims to teach preservation and understanding of cultural and natural heritage to students and guests, with a variety of programming and events.
Suggested Visit: Tours of the complex include the botanical gardens as well as an overview of the Center's other endeavors, such as a rebuilt Hawaiian temple. Cost is $20 per adult.
Combine With: The Mānoa Heritage Center is not far from the Lyon Arboretum (see below), and it's also close to the trailhead for the 150-foot Mānoa Falls.
Halawa Xeriscape Garden
Description and Highlights: The Board of Water Supply puts on this "dry" garden in an attempt to show that beautiful landscaping does not require a lot of water. Displayed in a residential setting, it was designed as "a way to educate Oʻahu residents on ways to save water in lawns, gardens, and landscaped areas."
The garden itself has a walking path and lots of different types of stone (instead of grass). Those looking to learn more about how to garden with "dry" plants in tropical settings will find a visit to this garden interesting, especially when experienced within the context of a tour.
Suggested Visit: The garden is open on Wednesdays and Saturdays from 9 a.m. to 3 p.m. To schedule a tour, email t[email protected] with your request at least three weeks in advance.
Don't miss/Combine With: The Hālawa Xeriscape Garden is not far from Pearl Harbor.
Wahiawā Botanical Garden
Description and Highlights: The Wahiawā Botanical Garden, once an experimental arboretum for sugar cane plantation owners back in the 1930s, is today a hidden gem of Central Oʻahu. Twenty-seven acres in size and explored via a paved walking path, it offers an abundance of shade and grows trees and plants that thrive in the cooler upland environment of Central Oʻahu, where a shady, humid habitat creates a tropical rainforest.
Suggested Visit: One hour walk. Admission is free. You can stop by on your way to or from the North Shore.
Don't miss/Combine With: There are many things to do in Central Oʻahu that are off the main tourist route. For ideas, see our guide to Central Oʻahu.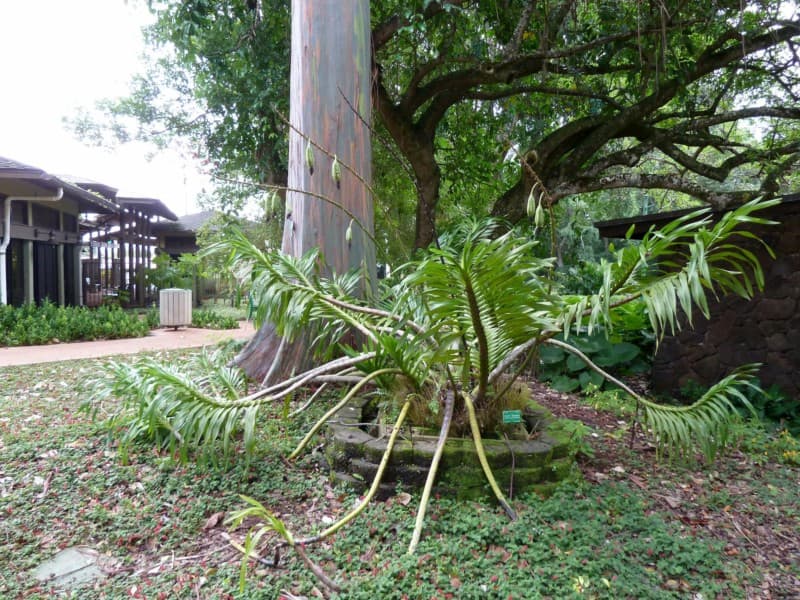 Lyon Arboretum
Description and Highlights: Part of the University of Hawaiʻi, the Lyon Arboretum is the largest botanical garden on Oʻahu's south shore, and provides an extensive network of paths and trails to explore. In total, the 200-acre Lyon Arboretum has more than seven miles of hiking trails and 6,000 species of tropical and sub-tropical plants, and because of its size, it truly transports you into a world of nature.
Suggested Visit: Because of the extensive trail network, you'll want to pencil in a half day to explore the arboretum. Admission is free.
Don't miss/Combine With: Located in Mānoa Valley, the Lyon Arboretum is located adjacent to the Mānoa Falls Trail, a family-friendly, well-maintained trail to a 150-foot waterfall.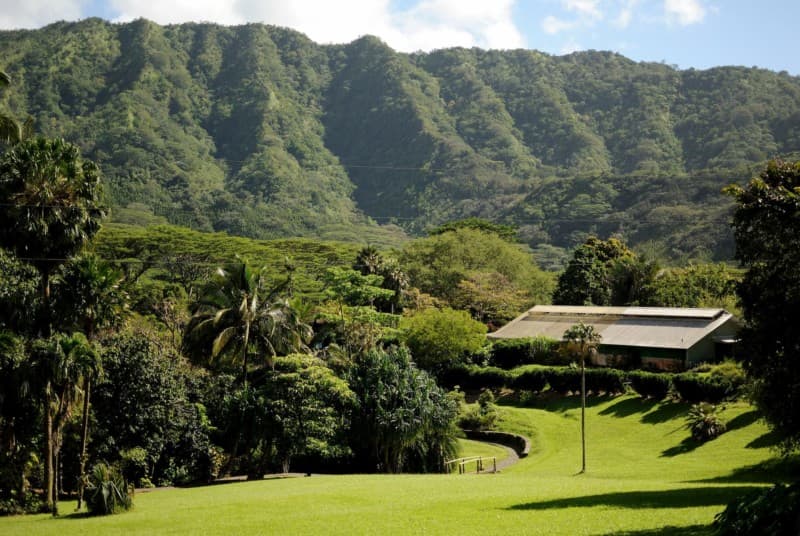 Favorites
Still can't decide where to go? Here's our recommendations to help you choose.
The Hoʻomaluhia Botanical Garden are a great place to visit for couples because of its scenery. The majestic views of the Koʻolau Range will turn this visit into a romantic experience. It's also a great place for couples' photos.
Families wishing to explore Oʻahu's botanical gardens should check out Waimea Valley and/or  Hoʻomaluhia Botanical Garden. Waimea Valley has a swimmable waterfall, which kids love, and Hoʻomaluhia has a campground, fishing lake, lots of space to spread out, and heavy doses of tranquil scenery.
We consider the Wahiawā Botanical Garden a hidden gem in Central Oʻahu, meaning they are a great botanical garden to escape the crowds.
For educational value head out to the Mānoa Heritage Center, as it strives to teach its guests about the preservation and understanding of cultural and natural heritage.