Waikīkī is the ever-iconic, ever-popular beach of Hawai'i, worthy of a postcard image with the city skyline and Diamond Head Crater looming overhead in the background. It is one of the most well-known beaches in the world and a legendary place to learn to surf, sitting at the heart of the hotel and commerce district of Honolulu.
Table of Contents
The 7 Sections of Waikīkī Beach
Though described collectively as "Waikīkī Beach" to the world, locals break down the area into many sections, each offering a little different vibe, activities, and accessibility. Together these beaches span 2 miles (3.2 km), and they are flanked by Magic Island and the Ala Manoa Beach Park on the northwestern side and the Diamond Head State Monument on the southeastern side.
We describe all these beaches in more detail below.
Note that there is one section of Waikīkī that we won't mention: Gray's Beach. This section of the beach, located between Fort Derussy and Royal Hawaiian beach, is often inundated with water at high tide because a seawall in front of the hotel is speeding up beach erosion.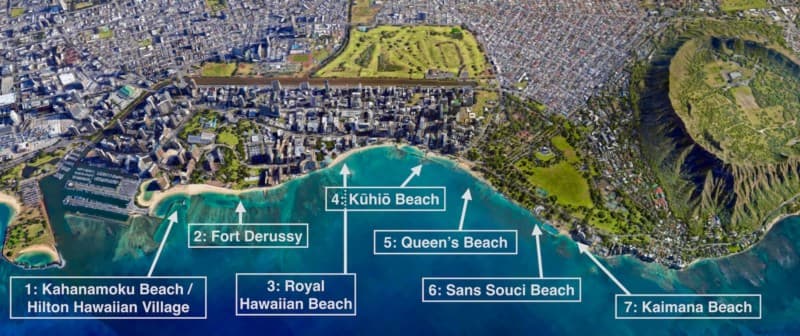 1) Kahanamoku Beach/Hilton Hawaiian Village
(Duke) Kahanamoku Beach is located in front of the Hilton Hawaiian Village and is comprised of white sand, calm water, and a separate, man-made lagoon. It benefits from a special vantage point, on the far end of west Waikīkī looking back towards Diamond Head.
The lagoon is perfect for families with small children, so expect that kind of crowd. Beach-goers there have access to the Hilton Hawaiian Village and its bars/restaurants, and there's a nice walking path that leads east into a relatively undeveloped section of beach by Fort Derussy.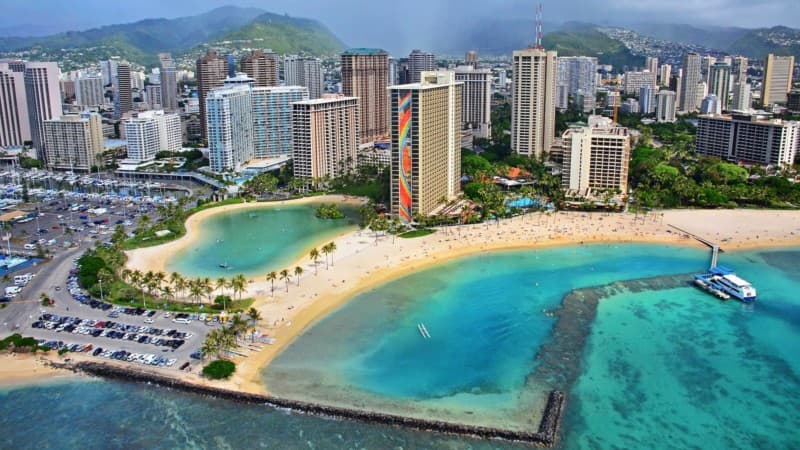 2) Fort Derussy Beach
Named after an old army installation, Fort Derussy is a relatively undeveloped section of beach. It's calm, both on the sand and in the water, a good place for floating and relaxing (do beware of rocks and reef in the shallows, though).  It has a beach-side park with lots of shade and a volleyball court, and is home to several beach-side bars, Hale Koa Barefoot Beach Bar and the Koa Oasis Beach Bar. There are also beach vendors that rent stand up paddleboards and the like.
Despite the bars, this beach is away from the hustle and crowds of the main sections of Waikīkī (see below), and there's a walking path, connecting Kahanamoku and Royal Hawaiian beaches, that runs right through it, perfect for a sunset stroll.
3) Royal Hawaiian Beach
If you're looking for the heart of activity in Waikīkī, these next two beaches are where you'll find it.
Royal Hawaiian Beach begins just in front of the Royal Hawaiian Hotel – the second hotel ever built in Waikīkī – and heads east. It begins the major hotel strip in Waikīkī, and as a result, it is typically busy. Sure, you need to get out early to stake your claim, but it's busy in a good way, too. Catamarans pull right up on the beach, surf lessons go out multiple times a day, and food and drink staples – like Duke's – are right there.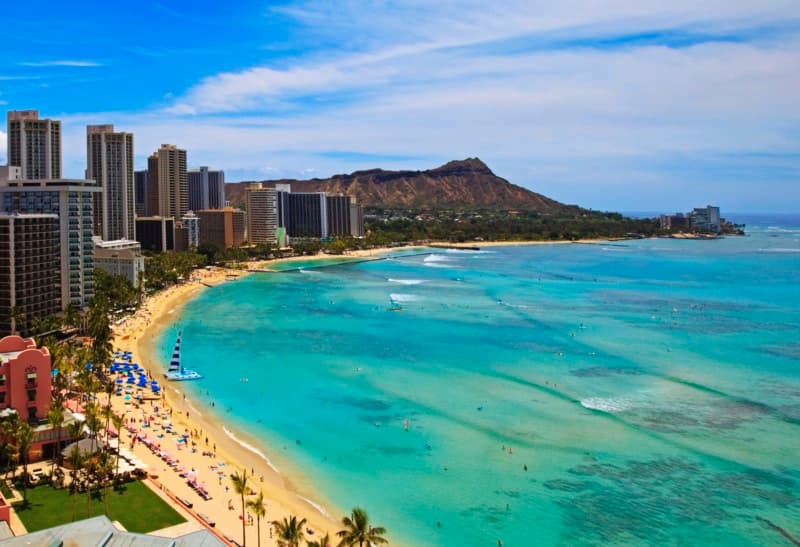 4) Kuhio Beach
Royal Hawaiian Beach spills over into Kuhio, where you'll also find plenty of sunbathers and surfers (the popular surf break, Canoes, is out in front of the Moana Hotel).
Though the beach is small in places along Kuhio, it makes up for it with a series of "swim walls" that create small, protected swimming areas, great for families with children. Palms trees provide the chance for shade, and small public parks line the street, as well as a walking path.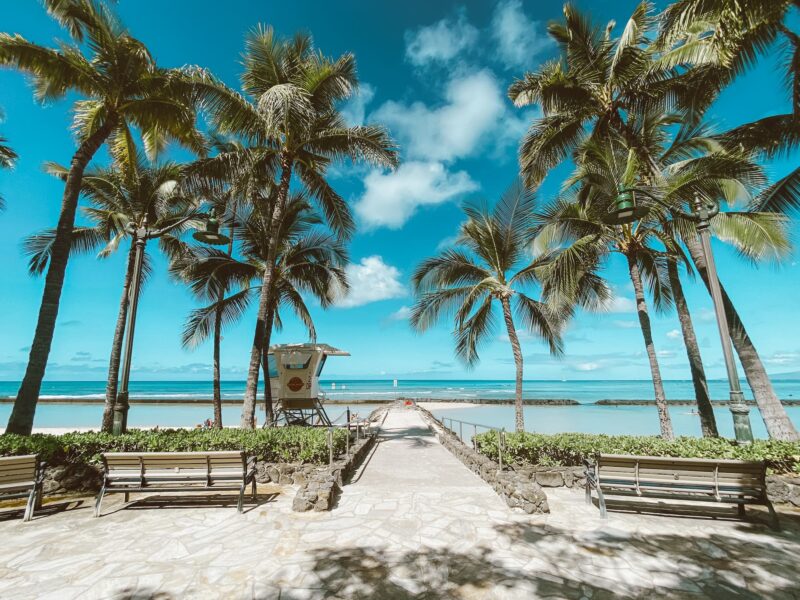 5) Queen Kapiʻolani (Queen's) Beach
Once you exit Kuhio Beach on the walking path and continue east, things start to mellow out a little bit. There's a break in the development, with big hotels and buildings giving way to public parks and green space. Sure, it's still Waikīkī and there's still a bustle, but there's less people overall, and more locals.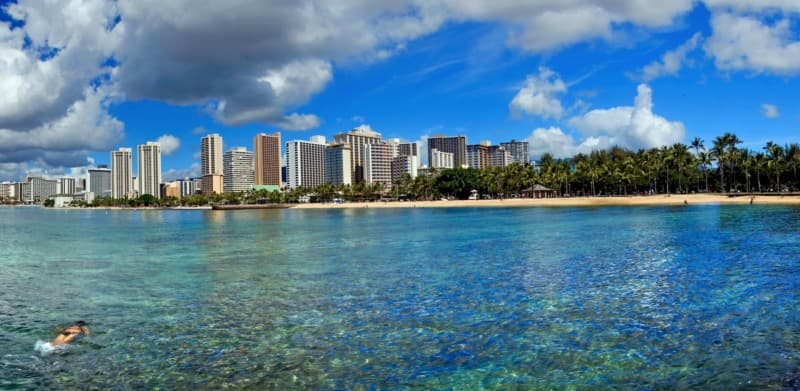 Queen's Beach, named after Queen Kapiolani, is popular with surfers and bodyboarders for its offshore breaks. The "Waikīkī Wall" is popular with local families; the kids like to jump off the pier into the water. There are often volleyball matches and live musical performances on the stage at Queen's Beach.
You will also see this part of the beach referred to as Kapiʻolani Beach Park, as it occupies most of shore bordering Kapiʻolani Park.
Surf Lessons
Queens Beach also features a good surf spot called "Publics". The Ohana Surf Project organizes excellent surfing lessons here:
Waikiki Surf Lessons
Learn how to surf with personalized basic or advances classes that are customized to your age, skill level, and personal goals.
from:
$90
What is a suggested tour?

Our suggested tours are hand-picked tours that receive consistent good reviews, give back to the community, and work hard to minimize their impact on the environment.
6) Sans Souci Beach
Sans Souci Beach is the best place to snorkel in Waikīkī. It is part of the Sans Souci Recreational Park, which includes a protected marine area. Check conditions, but feel free to explore around here to see tropical fish and turtles.
The walking path from Queen's continues through Sans Souci and turns into somewhat of a promenade, raised a bit above the beach and running alongside Queen Kapiolani Park. Though mostly undeveloped, the Barefoot Beach Cafe serves food and drink, and the Waikīkī Aquarium is a good stop for families and marine lovers.
Sans Souci lacks a true beach, as the tide typically comes up to the promenade wall (with some small exceptions). Take an evening walk through this area, check out the park, and enjoy the views looking west back on the skyline of Waikīkī.
Fun fact: This section of the beach was first called "sans souci" in 1893. Sans souci is French for "without worries".
7) Kaimana's Beach
The last beach going east in Waikīkī is Kaimana's Beach, located beside the old, shuttered natatorium. It's a mix of locals and tourists here. Parking is easier nearby, so it tends to draw more locals, but there are a couple hotels as well.
Kaimana's is a small beach without much fanfare. There are no vendors or sporting equipment for rent, and though the hotels have a restaurant or two, there isn't much in the way of beach grub or drinks (bring your own). It also is a popular launching point for surfers, and mostly calm near the shore thanks to a large, protective reef. Offshore currents can be strong here, so check with a lifeguard before swimming too far out.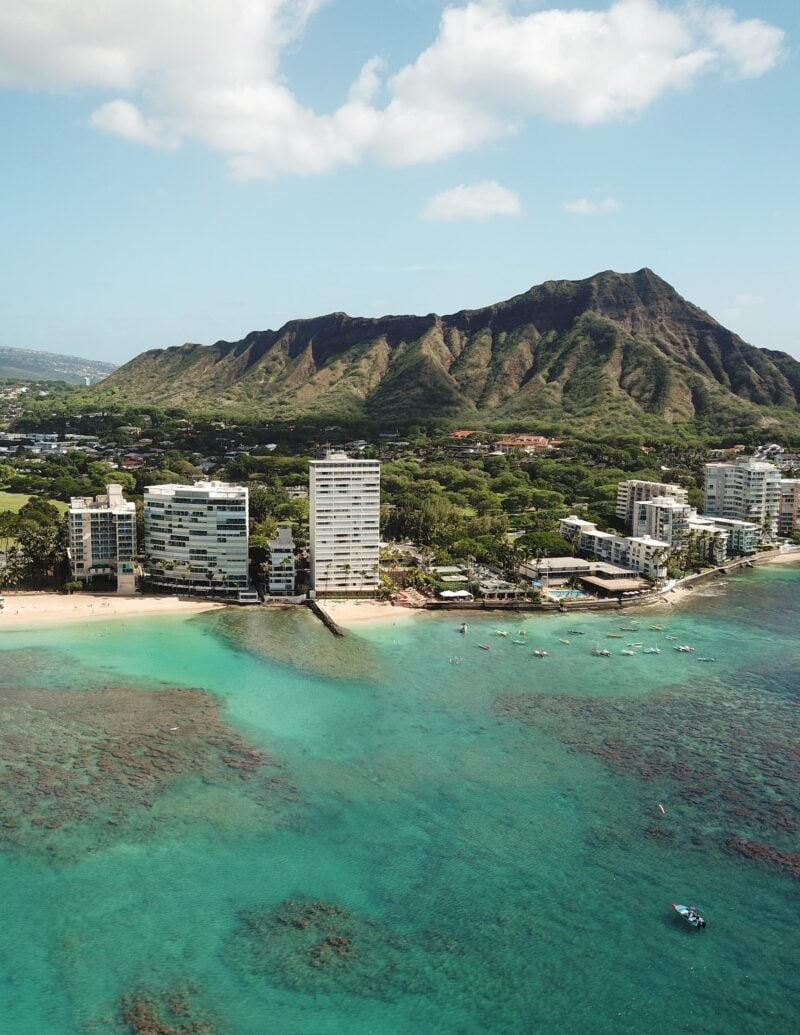 Beach Activities
Next to laying on the sand or taking a swim there are many other things you can do on the beach if you want to be active. Here is our roundup of the most common things to do at Waikīkī:
1: Surfing
Waikīkī Beach is one of the friendliest and most iconic places in the world to learn to surf. Though wave size can increase in certain areas during the summer, the surf is relatively stable in Waikīkī, offering beginners a safe area to learn. Surf schools offer lessons all year round, both private and group, at many of the breaks. If you can't find a place to rent a surfboard, then you've obviously wandered outside of Waikīkī.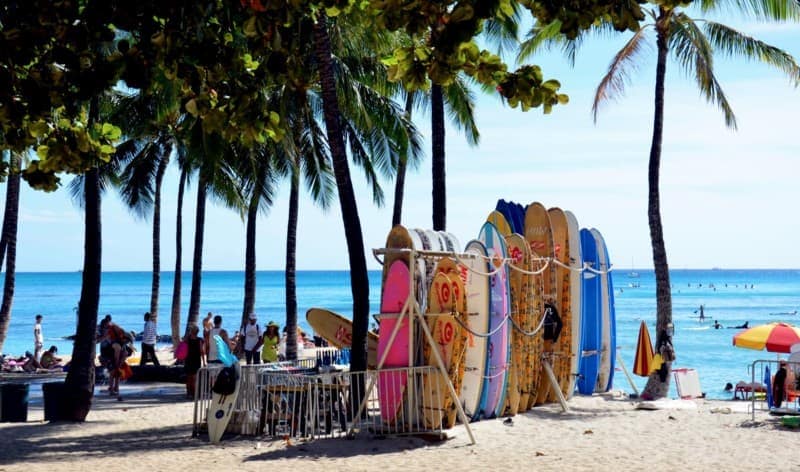 Surf lessons: If you are a true beginner, it's recommended you take a lesson, as a baseline of knowledge will help you enjoy the sport a lot more. There are a myriad of good local surf shops, such as Hans Hedemann or Big Wave Dave. Be sure to call around and price check, and if there's a group of you, see if you can get a discount for multiple customers.
To learn to surf in Waikīkī is to relive history. It was the old stomping grounds of Duke Kahanamoku (whose statue graces Kuhio Beach), the Olympic champion swimmer from Hawai'i who popularized surfing around the world. Duke became the Aloha Ambassador, teaching many public figures (and even ex-presidents) how to surf in Waikīkī.
Check out our surfing guide for more places to go surfing on O'ahu.
Waikiki Surf Lessons
Learn how to surf with personalized basic or advances classes that are customized to your age, skill level, and personal goals.
from:
$90
What is a suggested tour?

Our suggested tours are hand-picked tours that receive consistent good reviews, give back to the community, and work hard to minimize their impact on the environment.
2: Snorkeling
Snorkeling is one of the easiest, most relaxing activities to try in Waikīkī, and equipment is widely available for rent or purchase from ocean sport shops (like Snorkel Bob's) and convenience stores. The best place to snorkel in Waikīkī is at the Waikīkī Marine Life Conservation District in front of Queen's Beach, running east toward Kaimana's, where you will find colorful fish and sea turtles (more info).
As always, use reef-safe sunscreen and check ocean conditions before getting in the water.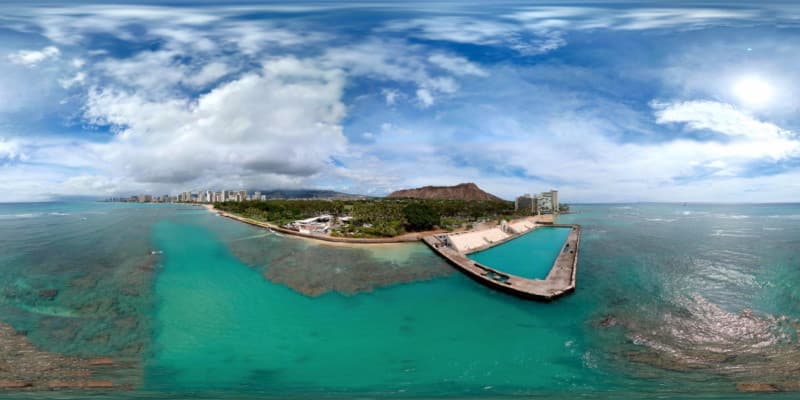 3: Sailing (and snorkeling) tours
The view of Waikīkī as you stand on the beach is beautiful, but don't miss out on the perspective from the water. Catamarans depart daily right from the beach and provide a look back on the Waikīkī skyline and Diamond Head Crater. Sails during the day are typically family friendly, with an emphasis on marine life and general sailing. Sunset hour sails revolve around an open bar.
There are many different companies, such as Maitai Catamaran, that combines an open bar with sailing and snorkeling, or more affordable ones laser-focused on showing their guests the best sunset (foregoing  snorkeling and the open bar experience):
Catamaran Waikiki Sunset Sail
A great evening for couples, families and large groups! Board a catamaran and experience the night-lights and beautiful sunsets of Honolulu.
from:
$40
What is a suggested tour?

Our suggested tours are hand-picked tours that receive consistent good reviews, give back to the community, and work hard to minimize their impact on the environment.
Price check around for the best deals.
4: Outrigger Canoe Paddling + Surfing (local tip)
The outrigger canoe is the most revered form of water transportation within Hawaiian culture. It was the main way to get around in historical times, and the tradition continues today. All around the island, you'll find canoe clubs that practice "paddling," and compete in year-round races.
Faith Surf School offers canoe surfing to guests, the chance to paddle a traditional canoe and catch some Waikīkī waves.
5: Stand-Up Paddleboarding
SUPing, or stand-up paddleboarding, is possible, depending on conditions, almost anywhere in Waikīkī. You can rent the boards at almost any surf shop. Check with the shop for the best point of entry given the current conditions.
6: … and more ocean activities
There are many other one-off activities to try in Waikīkī. For example:
You can take a submarine ride with Atlantis Adventures – think of it as scuba diving for non-scuba divers – or
You can jump on one of the "party vessels," if you're looking for a little action (many are BYOB).
Practicalities
Here are a few useful things to know if you are planning to go to Waikīkī beach:
Facilities on the beaches
Almost every section of Waikīkī has public restrooms and outdoor showers available. Given the density of Waikīkī, you're never far from small shops and convenience stores.
Shade and Cover
Overall, shade is at a premium in Waikīkī. In the early part of the day, the buildings will block the sun. In the afternoon, there is very little shade on most parts of Waikīkī Beach. Beach umbrellas are readily available for rent, or you can bring your own.
Getting There + Parking
Most visitors to Waikīkī Beach are staying in the area and thus have easy access by foot.
If you're coming from somewhere else, consider taking the bus. Parking is very difficult (i.e. limited) and expensive in Waikīkī, so to avoid the hassle, use public transportation. There are several buses that run through Waikīkī, just check out the schedule or ask a local. Ride share services (Uber/Lyft) are also abundant on O'ahu and are a better alternative than (paying for) parking.
There are a few exceptions. If you're planning to visit Queen's, Sans Souci, or Kaimana's, you can often find parking near Queen Kapiolani Park or at the Honolulu Zoo. Additionally, if headed to Kahanamoku Beach, there is public parking at the Ala Wai Harbor. Just be warned – traffic and a lack of parking can be frustrating in Waikīkī.