Though one or two of its major attractions are highlighted in visitors guides, Central O'ahu as a whole is not discussed or promoted too often. There's no "major" hub, there are no hotels or famous restaurants, and a lot of it is made up of fields and farms, which, while beautiful, don't necessarily tempt tourists.
Most people simply pass right on through Central O'ahu as they travel the H2 between the north and south shores, stopping only for a brief time at the Dole Pineapple Plantation – the area's main attraction.
Savvy travelers, however, will find there's much more than pineapples. While you won't spend the night or even an entire day, there are many rich, engaging stops to make in Central O'ahu, and the fact that many are located just off H2 makes it all the more convenient.
Table of Contents
Below, we break down Central O'ahu, including some lesser-known points of interest that will help you dive into the local life in this somewhat-forgotten area of the island.
What is Central O'ahu like?
Central O'ahu is an agricultural-based region located, naturally, in the middle of the island. Locals refer to Central O'ahu as the area surrounding the two towns of Wahiawā and Mililani, and its beauty is underrated, combining views of the Wai'anae Range to the west with the local communities tucked in and around the gentle expanse of pineapple, coffee, and other agricultural fields.
Things to do & Places to See
Despite its lack of marketing, Central O'ahu has a lot to see and do, a nice mix of history, culture, and fun. Here's what there is to see and do:
Dole Pineapple Plantation
In the tourism world, the Dole Pineapple Plantation is the crown jewel of Central O'ahu. It is a major roadside attraction for people driving between the north and south shores, and it is a major tour bus stop. At first view it is an oversized gift shop, with everything you could possible imagine relating to pineapple – clothes, candy, art, jewel, etc. There's a café that serves a very popular pineapple ice cream called Dole Whip, a gigantic garden maze (for kids), and some live demonstrations, such as how to properly slice a pineapple.
But there's a little more to the place if you dig in. The Historic Train Tour, for example, provides a look back on the island's pineapple industry, explaining some of its roots as you ride the tracks through the fields. Those same tracks once transported pineapples from Central O'ahu down to the processing plants in Honolulu.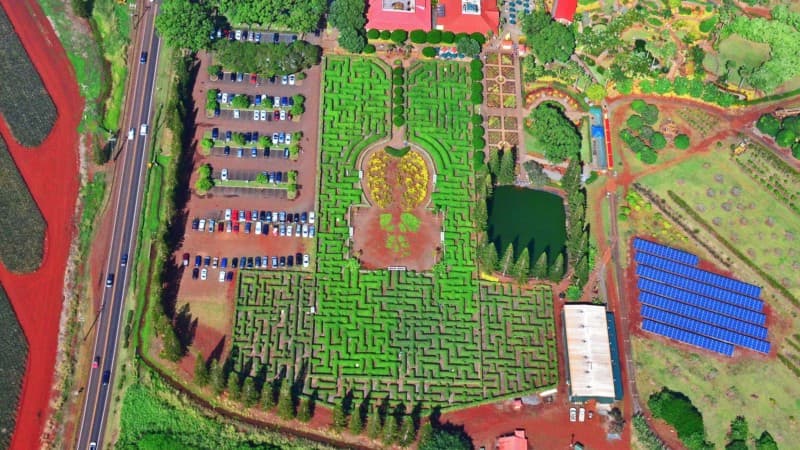 Learn more about pineapples: Did you know pineapples originate from Brazil and came to Hawai'i mostly because they prevented scurvy on long ocean voyages? Read 13 more fun pineapple facts and learn about the history of the Hawaiian pineapples in our definitive guide to pineapples.
Kūkaniloko Birth Stones
Back in ancient times, Hawai'i's believed that stones – pōhaku – contained a large amount of mana, or power. In fact, Hawaiian wahine (women) gave birth on stones, partly because of their power, and partly because they provided a convenient, sloped place to lay back and push. Located outside of Wahiawā is Kūkaniloko, a five-acre park that contains a grouping of birth stones where Hawaiian Royalty were born.
This is one of our recommended archaeological sites  and we suggest reading up on its history before visiting, as there is no signage on site.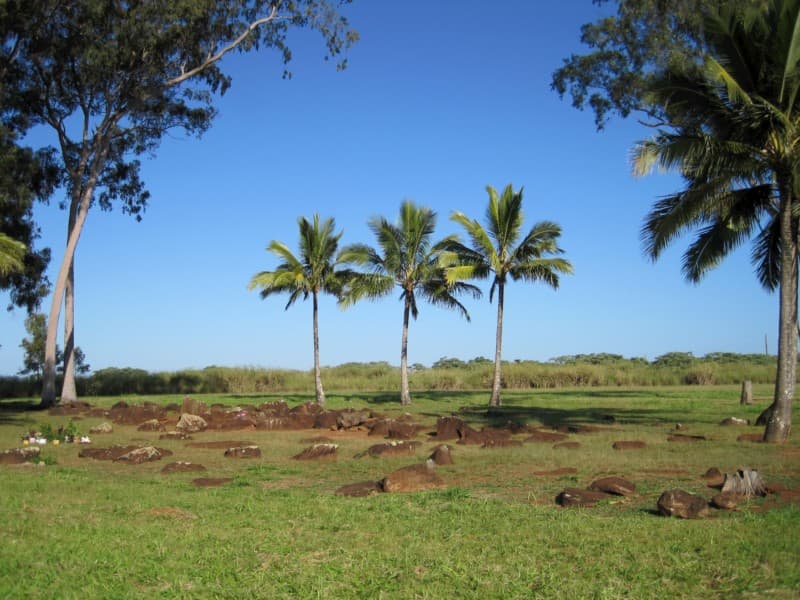 Green World Coffee Farm
The Kona District on the Big Island gets all the love in the media, but every island in Hawai'i grows good coffee. On O'ahu, the majority of it is grown in the center of the island, and driving through, as you approach the North Shore, you will see plenty of fields.
A stop at Green World Coffee, either for a tour or simply a cup of joe, will introduce you to this often-overlooked side of O'ahu. While most visitors flock to the ABC Stores of Waikīkī to purchase generic Hawaiian coffee, Green World is where you can find not only a great selection of local coffee, but where you can make a connection with the one you decide to bring home.
Kōhana Distillers
Located at the base of the Wai'anae Range, KōHana Distillers produces local argicole rum. You'll learn more as you sample its impressive line of rums on a tour and tasting, but in a nutshell, the appeal here is two-fold.
The first is a bit of a history lesson. When the sugar cane industry took off in Hawai'i in the 1850s, commercial operators weeded out all the native varietals of sugar cane and replaced them with hybrids that produced greater yields (it was all about the bottom line, of course). Native varietals didn't go away completely, however. A couple years ago, Owner Robert Dawson began collecting native varietals he located around the island – in backyards, in botanical gardens – and began growing them in his fields in Kunia. He thought, why not put them to good use, and make some rum?
The second part is how he processes those varietals he collected. Agricole rum is made very differently from most commercial rums, which add molasses to the fermentation. KōHana, however, simply presses the cane juice and ferments it – as you might grapes with wine – allowing each distinct style of sugar cane to represent its own flavor within the rum.
Golf
There are three public golf courses in greater Central O'ahu: the Mililani Golf Course, the Hawai'i Country Club, and the Royal Kunia Country Club.
All three are similarly priced for visitors and offer a combination of scenery, including the Waianae range, palm trees and Norfolk pines, and tend to be lesser-visited than courses on the south and east shores.
Military History
As you drive through Central O'ahu, you'll pass Schofield Barracks and Wheeler Army Air Force Base, both of which were bombed during the attack on Pearl Harbor. On Schofield, you'll also find the Tropic Lightning Museum. It contains artifacts related to the history of both bases. Anyone interested in military history on O'ahu should stop by and take a look.
Wahiawā Botanical Gardens
This free botanical garden is 27 acres in size and dates back to the 1930s, when it was once an experimental arboretum for sugar cane plantation owners. A paved walking path makes it accessible, and its abundance of shade makes it pleasant even in the middle of the day.
Places to Eat/Drink
When traveling through Central O'ahu, here's where we recommend you stop for a bite to eat.
Dole Pineapple Plantation
As mentioned, Dole has a café on site called the Plantation Grille. Its menu includes local plate lunches, including teriyaki chicken, kalua pork, loco mocos, etc. The Dole Whip is a crowd-pleaser, too. If you have a family or bigger group, it's a place where everyone can find something they want, and it will be relatively quick.
Shige's Saimin Stand
This family-owned and operated noodle institution has been around for more than 20 years in Wahiawā. It's best known for its homemade saimin noodles, which are served up as a Ramen-esk soup. Saimin is very local to Hawai'i, so if you're looking for a local noodle dish or soup, Shige's is a great place to check out when passing through Central O'ahu.
Kiani's Original Guava Chicken
Hungry for a plate lunch? Pop in to this local favorite, Kiani's, for glazed guava chicken, located right in the heart of downtown Wahiawā. You can get chicken breast, thighs, or legs served with rice and mac salad, or you can opt for the chicken burger. They also have fish and other options as well.
The Uber Factory
One of the most unique and local dessert shops in all of O'ahu, the Uber Factory, is located in Wahiawā. Its tart-like pastries are known throughout the island and are highly addictive (in the best way possible). It has limited hours, the menu is always changing, and they often sell out, so follow its Facebook page for the latest updates and offerings.
Sample itinerary for Central O'ahu
You could certainly visit Central O'ahu specifically for any one of the above attractions or establishments, depending on your specific interest. For example, you could head up there, play a round of golf, and then hit a restaurant or rum tasting. You could also hit one or two attractions as you travel between the north and south shores (nothing wrong with that!). But, if you want to take the full Central O'ahu tour and dedicate a day, here's what we recommend:
Arrive at Green World Coffee mid-morning for a tour and coffee tasting. Learn about the local agriculture, and pick up some coffee to bring home as a souvenir (the best souvenirs are the ones you can eat and drink).
Now that you're energized, visit the Kūkaniloko Birth Stones. Take in the views, understand its cultural significance, and snap some photos from this scenic location. Depending on your interests, we suggest taking a walk in the botanical garden, visiting the Tropic Lightning Museum, or taking the train tour at Dole.
Next, head into Wahiawā for lunch at Kiani's or Shige's and, afterward, get dessert at the Uber Factory (we also recommending getting an extra order to take back to your hotel).
Make your final stop the Kō Hana Distillery. Take the sugar cane tour and learn more about its unique, local agricole rum. Grab a bottle for the hotel room, and one for your suitcase. Plan to head back to wherever you're staying for the sunset.
Central O'ahu is not a place explored by many, but if you do it right, you'll have a collection of locally made goods to show for it, and will have seen a side of the island that most overlook.
More itineraries for O'ahu:
See our customizable 7 day itinerary and 5 more "1 day in …" itineraries for O'ahu, which are all very useful to start planning your trip: