Compared to the Big Island and Maui, whose size and elevations are much greater, O'ahu's waterfall scene may seem limited. While that's generally the case – you won't find the same quantity – there are several beautiful, quality waterfalls to visit on O'ahu, many of them accessible for families. Below, we provide general information as well as descriptions of each waterfall to help you plan your visit.
Table of Contents
FAQ: What are the best waterfalls to visit for…
You probably couldn't visit all of our waterfalls even if you wanted to, so we have listed some of our favorites below. The following falls are best for swimming, good to take your family (kids), and there is even a waterfall that doesn't require hiking (though you certainly can if you want).
Related waterfall guides
Do you like waterfalls a LOT and are you also visiting another island in the Hawaiian island chain? If that is the case you should definitely have a look at our lists of waterfalls for the other islands:
Waterfall Map for Oʻahu
As you can see on the following map, all waterfalls are located on the Koʻolau mountain range (the one running from the North to the South East), and most are reachable by a (short) hike and close to Honolulu.
List of accessible Oʻahu waterfalls
The following 10 waterfalls are your best options if you'd like to get under a waterfall on O'ahu:
Access to the following waterfalls is not possible anymore and you should not attempt to visit them, regardless of what other advice you may find on the internet and social medias.
Aihualama Falls
Description: Aihiulama Falls is located inside the Lyon Arboretum and accessed via a well-kept, two-mile round trip trail. The falls itself is small and flows best when it rains, but it is a safe, enjoyable hike for people of all experience and fitness levels.
Good to Know: Signs along the way identify Hawai'i's plants and biodiversity, turning this waterfall hike into an educational nature trail. You can find a trail map including many points of interest on the Lyon Arboretum website.
Jackass Ginger Pool
Description: The appeal of this small waterfall (10-foot at max) is its swimming hole, which is easily accessible off the Pali Highway.
Good to Know: The Ginger Pool is located along the Judd Trail across the Lulumahu Stream. Take a hike on the nearby Nuuanu Trail and cool off afterwards in the Ginger Pool.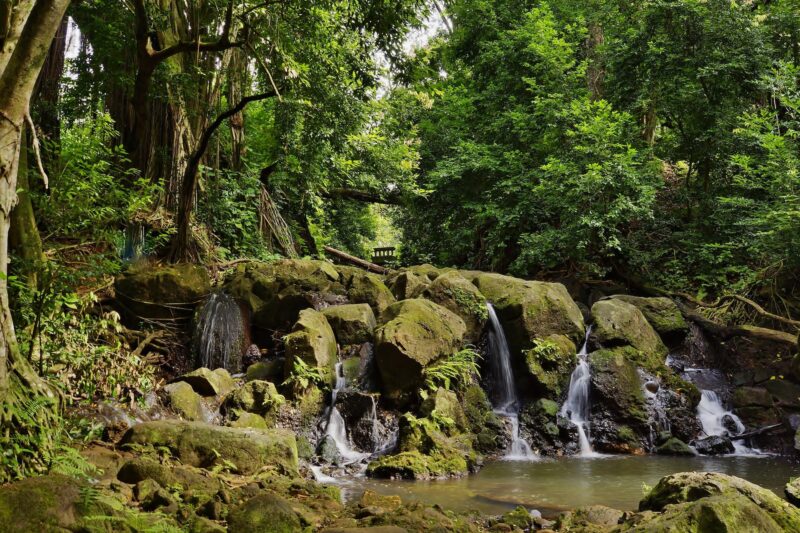 Waimea Falls
Description: Located inside Waimea Valley Botanical Gardens on the North Shore, the 40-foot Waimea Falls is the safest, most reliable and accessible waterfall for swimming thanks to its paved walking trail (1.5 miles round trip), shuttle service option ($8 round trip from visitor center to falls), and lifeguarded swimming area (lifejackets are required and provided). It's the perfect waterfall for families with small children.
Waimea Valley Botanical Gardens + Waterfall Swim
Buy your admission ticket to Waimea Valley online and skip the line when you arrive
from:
$25
What is a suggested tour?

Our suggested tours are hand-picked tours that receive consistent good reviews, give back to the community, and work hard to minimize their impact on the environment.
Good to Know: To access the waterfall, the entry fee for the botanical gardens must be paid ($25 adults/$12 kids). Consider extending your stay to check out the gardens and cultural exhibits within the valley. Across the street is Waimea Bay, one of the North Shore's most iconic beaches.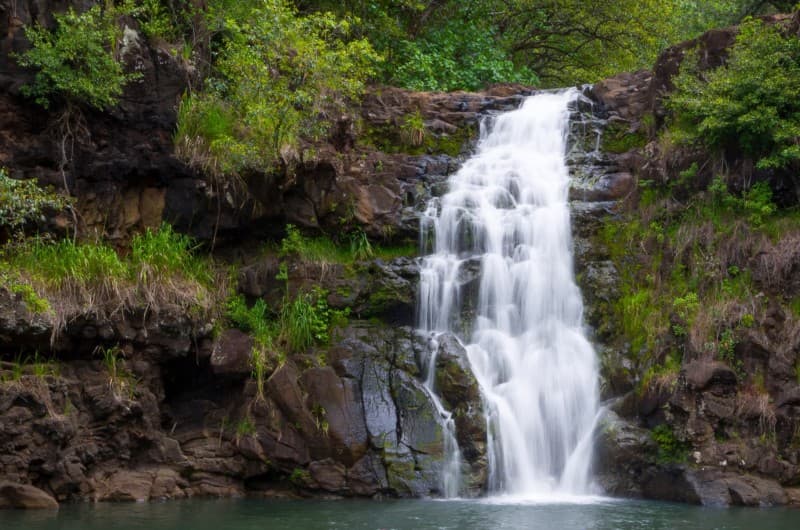 Kapena Falls
Description: The cool thing about Kapena Falls is that it transports you into another world in a matter of minutes. Located just off the Pali Highway and amongst the development of the South Shore, the short walk to this 15-foot waterfall will have you thinking you've left Honolulu entirely.
Good to Know: Access the Kapena Falls Trail via the Nuuanu Memorial Park. The half-mile walk to the falls is often littered with trash. Swimming at the falls is not recommended as a result.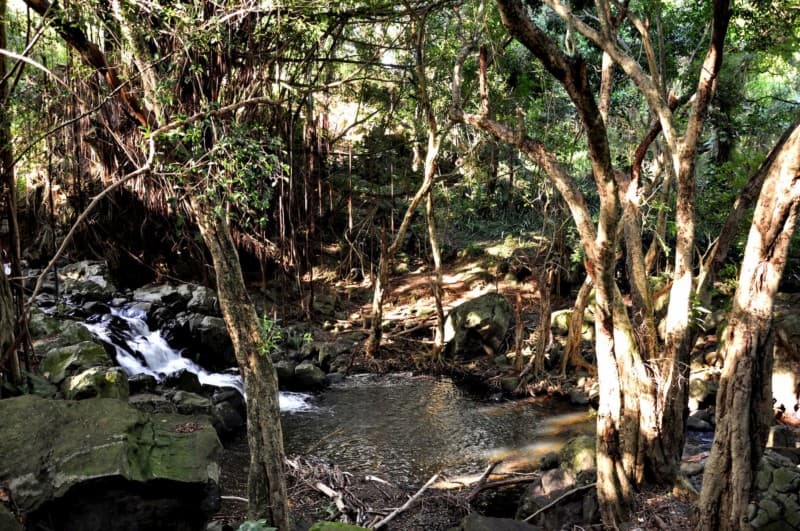 Laʻie Falls
Description: Lāʻie Falls is a solid option for anyone looking for a more remote waterfall. Far away from Honolulu on the windward shore, the waterfall is not that big – about 15 feet – but the combination of trail length (7 miles round trip plus several stream crossings), elevation gain (1000 feet), and permit process (see below) keep it from being over-visited.
Good to Know: A free permit is required to access this trail. You can download an application here. It must be taken to the HRI office in Lāʻie to be signed and processed.
Likeke Falls
Description: Known as the Old Pali Highway Falls, Likeke Falls sits at the end of a rocky, 0.8-mile trail. Topping out at 15-feet, it half falls/half slides down the rock face, which allows for close inspection.
Good to Know: Access this trailhead from the Ko'olau Golf Course parking lot. You can find directions here. Accessing the waterfall from the top of the Pali Lookout is not recommended, as it requires a steep hike back uphill.
Lulumahu Falls
Description: This 50-foot tall falls can be seen from the Pali Highway, enticing the adventurous off the road and into the jungle. Though sometimes overgrown, the trail is moderately-trafficked and about 2.5-miles round trip. As one of the larger approachable waterfalls on O'ahu, it should be high on your list. Check out this blog post by local photographer Noah Lang for an in-depth description of the route including pictures.
Good to Know: Lulumahu Falls is on private property and the Hawai'i Division of Forestry & Wildlife requires that hikers obtain a day permit.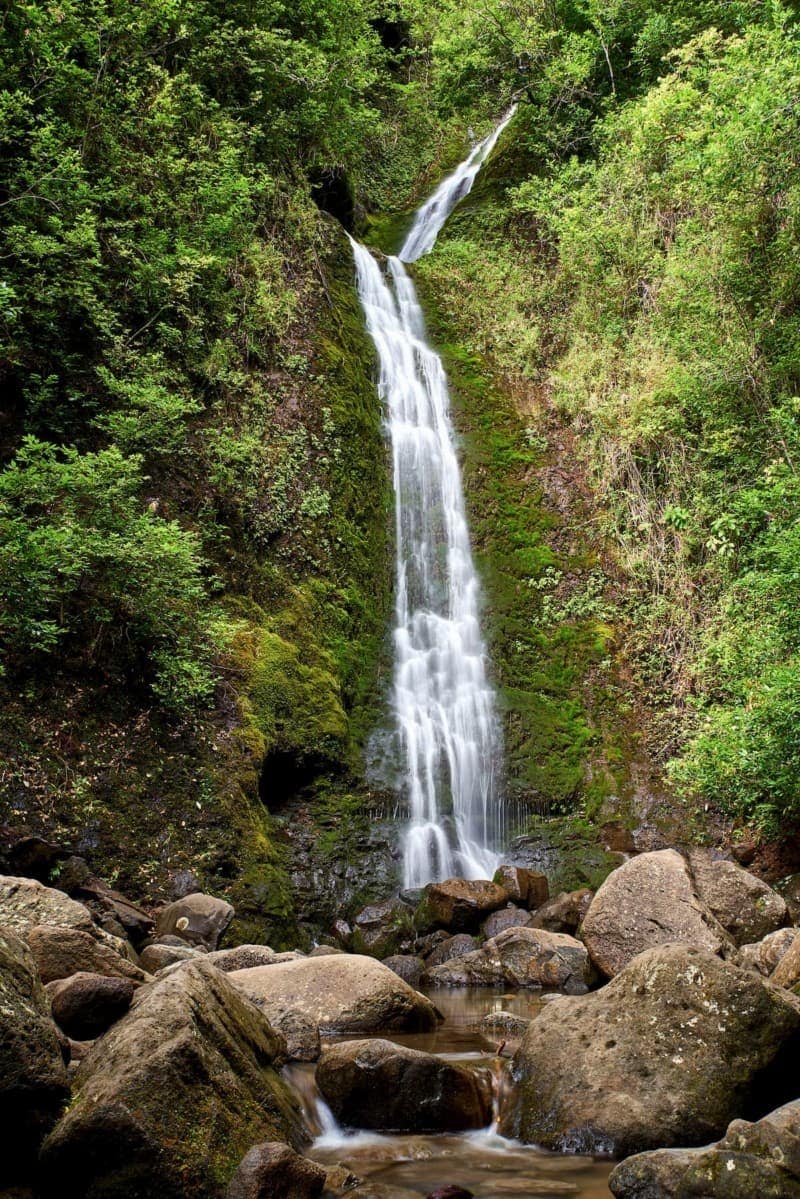 Manoa Falls
Description: The most popular waterfall hike on O'ahu, Manoa Falls is an easy 20-minute drive from downtown Honolulu and Waikīkī, and at more than 150-feet tall (conditions vary season-to-season), it's the best bang-for-buck waterfall on O'ahu. Accessible via a well-kept, less-than-two-mile round trip trail, families will enjoy this easy stroll through Manoa Valley's lush jungles and the towering payoff at the end.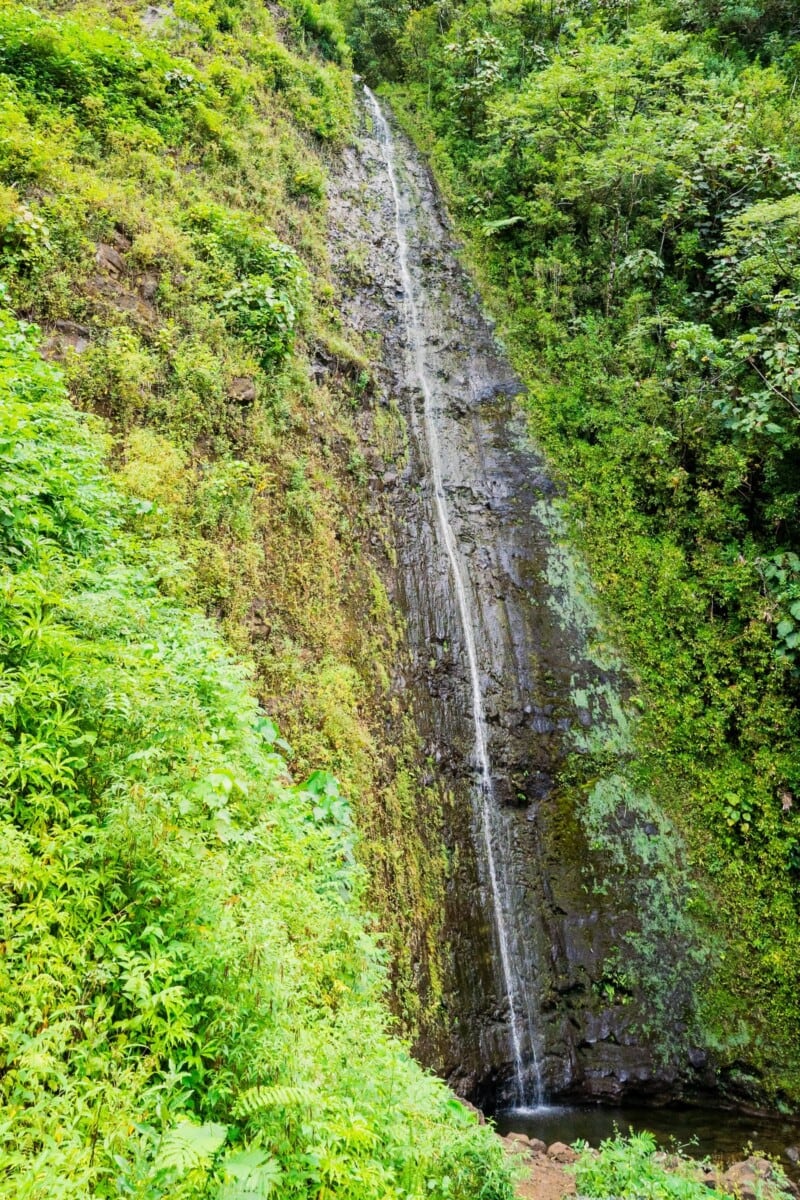 Good to Know: The falls itself provides an excellent backdrop for photos, but bring your patience – many visitors will have the same idea. Swimming is not permitted at Manoa Falls. Please respect this policy, regardless of what others do.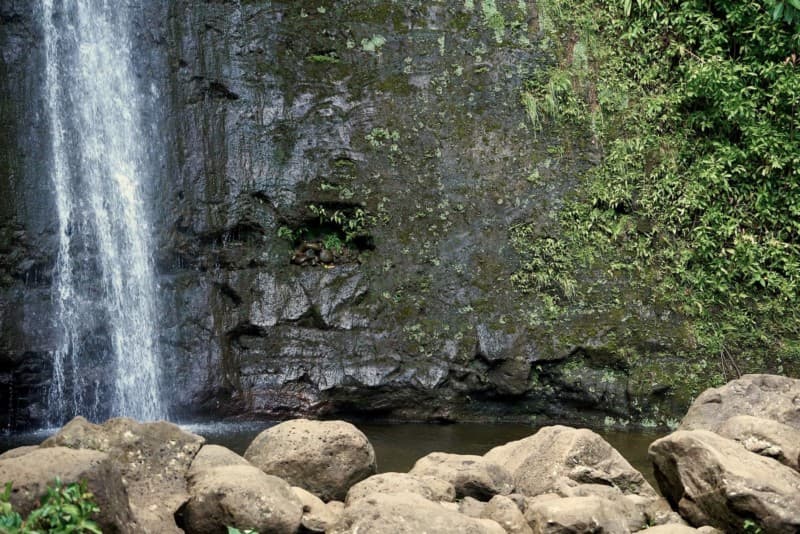 Maunawili Falls
The Maunawili Falls trail is closed until mid-2023, but the falls are still accessible
The Maunawili Falls Trail had been closed for trail maintenance and several improvements. This means that the "easy" way to get to the falls is not available anymore. There is, however, a more strenuous hike that will get you to the falls and back in ~4 hours. Note that this option is for experienced hikes only.
For access to this hike park at Pali lookout, walk down the old Pali road to meet up with the Maunawili Trail (not the same as Maunawili Falls Trail which is currently closed), and follow Maunawili Trail until you get to a 3-way with a trail heading down to the valley. It will have a sign to the waterfalls. Walk back to your car the same way as you walked in.