Regardless of whether you're a first timer or an experienced rider, you're going to love exploring O'ahu via horseback. There's perhaps no better way to escape the metropolitan vibe of the south shore than by visiting the North Shore or Windwardside for a relaxed, scenic ride through O'ahu's sprawling ranch land.
Table of Contents
The island's horseback tours take you through open land, through majestic valleys, and even along the ocean. The journey will transport you into a different world, one that harbors deep respect and an abundance of history.
Frequently asked questions about horseback tours on Oʻahu
Before we start, here are some of the most frequently asked questions about horseback tours on Oʻahu:
Check out the tours by the Hawai'i Polo Club if you like panoramic ocean views and/or if you'd like to ride your horse through white sand next to the ocean.
While not the cheapest, the Kualoa Ranch offers tour packages that combine multiple tours on their ranch for a very affordable price.
Horseback rides are available for kids from 6-8 years old (depending on the tour operator), but the tours organized at Turtle Bay and the Gunstock Ranch have pony rides available for the youngest kids (ages 2-6).
What to Expect on a Horseback Tour
While all tours are unique they share many similarities. Here are some things you can typically expect from our local horseback tours:
Rides take between 1 and 2 hours.
No experience is needed to go on a horseback riding tour. However, some outfitters offer separate tours specifically for experienced riders (see below).
All rides take place in groups. Each tour will have a different group size.
The main differentiating factor between tours is their location. One may traverse private ranch land in the foothills and offer distant views of the ocean; others will take you directly beside the ocean. When choosing a tour, be sure to understand the terrain and itinerary so you can set reasonable expectations.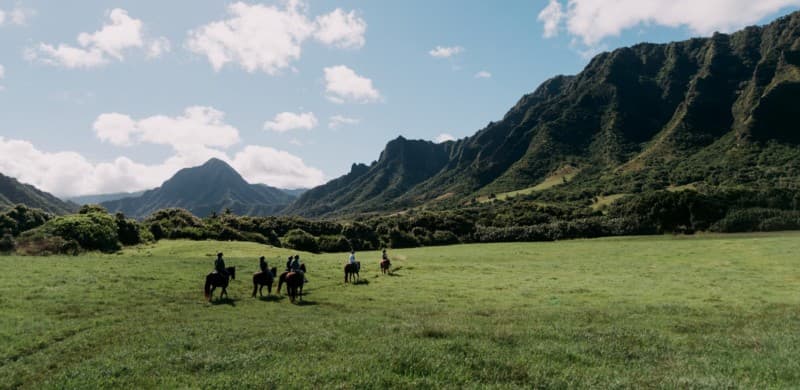 Horseback Tours on O'ahu
Here's a list of our favorite local horseback riding outfitters and tours. Keep in mind that each outfitter has different age limits for children, and different weight limits for adults, when choosing your preferred tour.
Hawai'i Polo Oceanfront Trail Rides
Best For: Scenic and sunset beach rides
Hawai'i Polo Oceanfront Trail Rides has one thing that separates its from the rest: It is the only horseback tour on O'ahu to actually take riders onto the beach! Turtle Bay's experience (see below) takes you on trails beside the beach, but not on the beach itself.
Sunset Horseback Ride on the famous North Shore
Go on a sunset horseback beach ride along the iconic North Shore of Hawaiʻi! suited for guests who have never ridden a horse before and experts, this is an unforgettable experience for everybody that likes horseback riding.
from:
$148
What is a suggested tour?

Our suggested tours are hand-picked tours that receive consistent good reviews, give back to the community, and work hard to minimize their impact on the environment.
Run by the Hawai'i Polo Club, guests will get an inside-look at this unique sport and its place in Hawai'i (lessons are available for those interested), and the field itself is located adjacent to the beach on the North Shore. For those who dream of riding a horse through the white sand, this is the tour for you.
Rides Offered: 1.5-2 hour general ride ($128); 1.5-2 hour private ride ($158); Sunset ride ($148)
Age Minimum: 8 years old
Weight Maximum: 250 lbs
Turtle Bay Resort Horseback Rides
Best For: Rides with young kids
The horseback rides at Turtle Bay are the only ones to be offered at a resort on O'ahu, and for guests of the resort, it doesn't get much more convenient (non-guests are welcome to book as well, though). If you've been dreaming of a horseback ride beside the water with ocean views, this one will not disappoint – rides take place right there on the resort grounds, mostly upon the 12-miles of oceanfront and seaside trails (important: the ride is not directly on the beach, but on the trails just beside the beach, see video below).
Tours focus on the scenic beauty as well as some movie history, including visits to filming locations for LOST and Pirates of the Caribbean.
Rides Offered: Pony Experience (must call for price); 45-minute general ride ($100); 1-hour Private/Advanced Ride ($225); 75-minute Sunset Ride ($175)
Age Minimum: Pony Experience (ages 2-6); General rides (7 and up)
Weight Maximum: 225 lbs
Horseback Riding at Turtle Bay, Hawaii 2021
Gunstock Ranch Horseback Rides
Best For: Rides with young kids
Gunstock Ranch offers the most extensive lineup of riding experiences, from kids' pony rides to advanced private trail rides. They also offer specially timed rides during sunset, dinner rides, and private romantic rides. While most of the scenery will be of the Gunstock Ranch – a perfect opportunity to learn more about the paniolo lifestyle – you will also get distant views of the ocean.
Rides Offered: 1-hour Pony Ride for kids ($65); 1-hour general ride ($97); 1.5 hour general ride ($109); and more.
Age Minimum: Pony Ride (ages 2-7); General Rides (7 and up)
Weight Maximum: 240 lbs
Kualoa Ranch
Best For: Scenic rides and good-value combo packages
Kualoa Ranch is known for its gorgeous location and myriad of tour offerings. No surprise, it's a great place to embark on a horseback ride, thanks to the jagged Ko'olau Mountains, the vast valleys, partial ocean views, and the company's commitment to cultural education and preservation.
That said, don't expect the solitude at Kualoa that you may find on other horseback tours. Kualoa is a busy place, with many tours of different kinds that overlap at some point in the valleys.
But, it does offer a lot of convenience. Round trip transportation is available from Waikīkī, and there are many other tours organized at the Kualoa Ranch such as the Hollywood Movie Site Tour and the Taste of Kualoa Farm Tour. If you're looking for value, Kualoa has it in abundance.
Rides Offered: 2-hour tour ($144)
Age Minimum: 10 years old (with a minimum height of 4'6″)
Weight Maximum: 230 lbs
The Long and Interesting History of Hawaiian Cowboys
While horseback riding might seem like just another thing to do in Hawai'i, it actually has a strong cultural component to it. Hawai'i has a long history of ranching, beginning back in the 1830s, and the people who tend these ranches are known as "Paniolos," or Hawaiian cowboys.
King Kamehameha III was instrumental in sparking the movement. The royal monarchy had received gifts of cattle from foreign visitors, but no one was quite sure how to handle them. The King recruited Mexican-Spanish vaqueros to come teach the Hawaiians roping, herding, breaking, and other skills.
Today, Paniolo culture survives on every island, although it is most prevalent on the Big Island and Kaua'i. On O'ahu, there are a number of working ranches where visitors are welcome to come take a ride and learn more about Paniolo history and lifestyle. Below, we break down everything you need to know about horseback riding tours on O'ahu.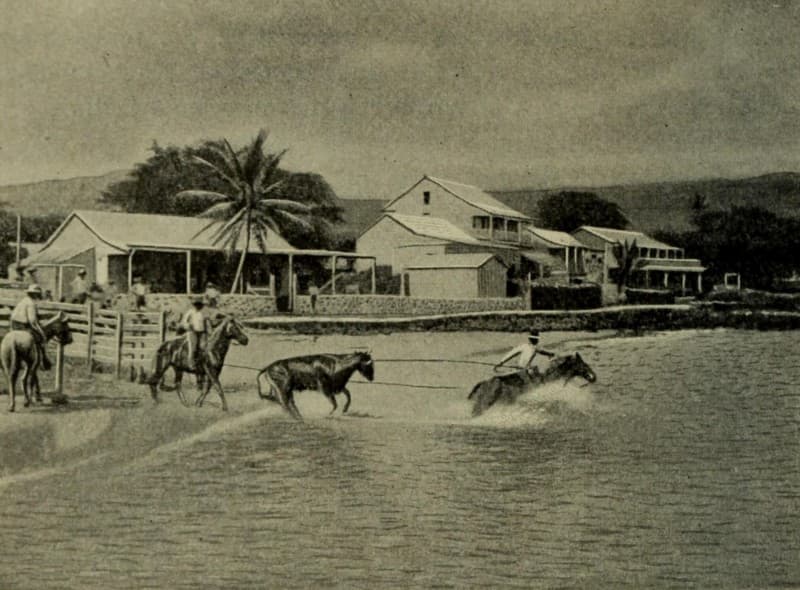 Go deeper: The Archaeological society of America is a good resource to learn more about Paniolo history.