If you're headed to Hawai'i, you probably have the beach on your mind, with a lot of time penciled in to simply sit, relax, and look at the ocean. Fair enough. But do us one favor: Make sure you also schedule some time to get in, or on, the water.
We have written this guide to help you avoid one of the most common mistakes visitors here make: forgetting that hanging out at the beach and getting out on the water are two separate activities. You wouldn't want to wake up on your last day in Hawai'i and realize you haven't ventured beyond the shore, especially on an island like O'ahu, where there are endless opportunities.
Whether it's a sunset dinner cruise or a north shore cage dive, there's something for everyone. Below, we highlight some of our favorite activities.
Table of Contents
Related Guides: Looking for a comprehensive and honest overview of water activities on the other Hawaiian islands? We got you! Check out the following guides:
Snorkeling
Snorkeling is probably the most popular water activity for visitors to Hawai'i, and for good reason. It's a healthy, active, exciting way to get up close and personal with the underwater world, and so long as the condition are calm, you don't have to be an expert to give it a try.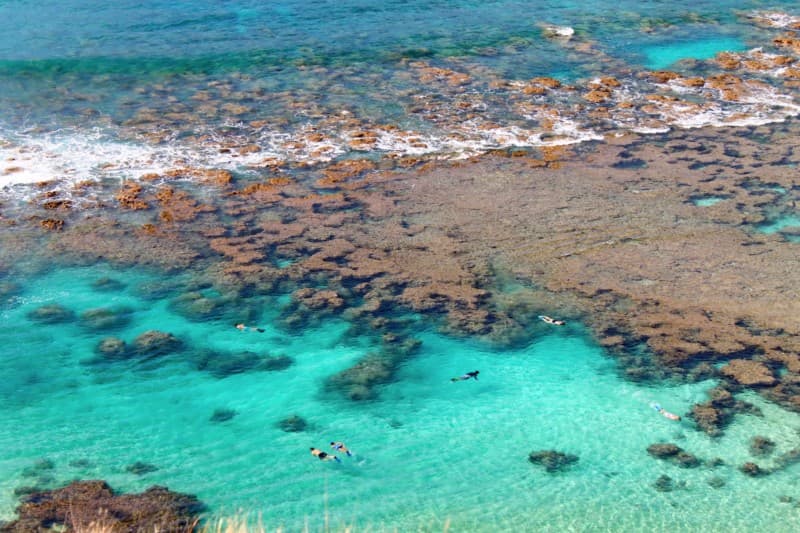 Along O'ahu's shores, a little bit of quality is traded for a lot of convenience. While many of O'ahu's reefs are suffering because of the high population pressure, many are accessible from shore and do not require a boat to reach them. Hanauma Bay is the most popular and perfect for families with small children, and the Waikīkī Marine Life Conservation District sits just in front of Sans Souci State Recreational Park on the southeast end of Waikīkī Beach.
Of course, if you're willing to spend a bit more, you can jump on a boat tour that will take you farther offshore. On these tours, you can snorkel in deeper water, in areas known for their fish and turtle populations. A good example of this is the snorkel tour that takes you from Waikiki to one of the most reliable turtle spotting snorkel spot on the island: Turtle Town.
Turtle Canyon Snorkel (Small-Group Tour with 100% Turtle Guarantee)
If you're adventurous and like escaping the crowds - this is for you! Small (6 ppl max) group tours with Turtle Guarantee or Ride again Free.
from:
$129
What is a suggested tour?

Our suggested tours are hand-picked tours that receive consistent good reviews, give back to the community, and work hard to minimize their impact on the environment.
Read more: You can find a complete list of local snorkeling spots, together with a map, snorkeling tips, and some recommendations for snorkeling tours, in our guide to snorkeling on O'ahu.
Surfing
Although all the Hawaiian islands evoke a surf culture and offer plenty of surf breaks, O'ahu has, by far, the highest number of breaks and the longest history of surf culture. Each year, millions of people descend on Waikīkī Beach with the intention of standing up on a surf board for the first time. Meanwhile, the pros flock to the North Shore to experience its iconic big-wave breaks, like Pipeline, Waimea Bay, and Sunset Beach. It may surprise some people, given the island's population and metropolitan vibe, but O'ahu and surfing are synonymous.
As a beginner, the best place to learn to surf is Waikīkī Beach, thanks to its gentle waves, mostly sandy-bottom, ease-of-access, and numerous surf schools.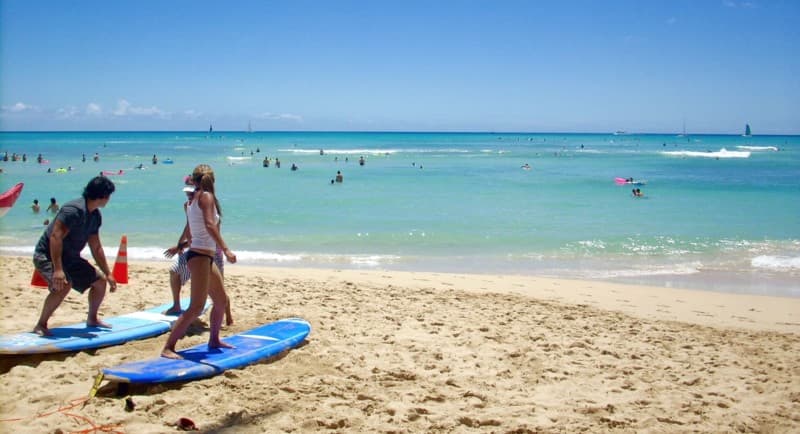 Read more: To learn more about the different surf areas on O'ahu, revisit its surf history, and get recommendations for surf schools, check out our guide to surfing on O'ahu
Scuba Diving
O'ahu presents ample opportunity for scuba divers of all skill levels. There are three main areas for dive centers and boat trips:
Honululu/Waikīkī Beach (Kewalo Basin),
Hawai'i Kai (Maunalua Bay), and
Hale'iwa (North Shore).
Scuba diving Hawai'i's reefs allows one the opportunity to spot a variety of wildlife, including tropical fish, turtles, dolphins, sharks, octopus, and many others. However, one should not expect to see the same type of colorful coral found in the Caribbean or Southeast Asia. Hawaiian reefs, even when healthy, are typically dark brown and light beige, with mostly muted colors. Waving sea fans and other soft forms of coral will also be absent, as the strong currents around Hawai'i don't allow it to flourish. This is not necessarily a discouraging reality, but it is a reality, and one should incorporate it into his or her expectations.
That said, dive trips to sunken ships and turtle cleaning stations are what island dreams are made of. The Honolulu Scuba Co. (Kaka'ako), Island Divers (Hawai'i Kai), and Hawai'i Eco Divers (North Shore and Waikīkī) are all great places to start.
Dive spots
See the Zentacle list of dive spots on Oʻahu for an overview of popular diving locations.
Whale Watching
From November to March, humpback whales are present in Hawai'i. More than 10,000 migrate from Alaska each winter to give birth, preferring the warm waters of the south Pacific to the icy winter up north (can you blame them?). While most of the whales end up in the 'Au'au Channel off the west coast of Maui, there can be sightings off any island during those months, including O'ahu.
Seeing whales from the shore
On land, areas such as Ka'ena Point on the West Side/North Shore and Makapu'u Lighthouse Trail in the South East have frequent sightings. The best way to see whales, however, is from the water with a boat tour, and O'ahu has no shortage of those.
Whale watching boat tours
We recommend choosing a small-boat tour that holds 10 people or less. While a small boat may not have all the bells and whistles of a bigger boat (most notably, a bathroom), it does put you closer to the action. Small boats sit lower in the water, allowing you an un-skewed perspective on the whales and their size. These tours also tend to be more intimate, with a strong focus on teaching and a respect for the environment. Companies we recommend for this small-boat experience are Nani Kai Ocean Adventures in Hale'iwa and Pink Sails Waikīkī.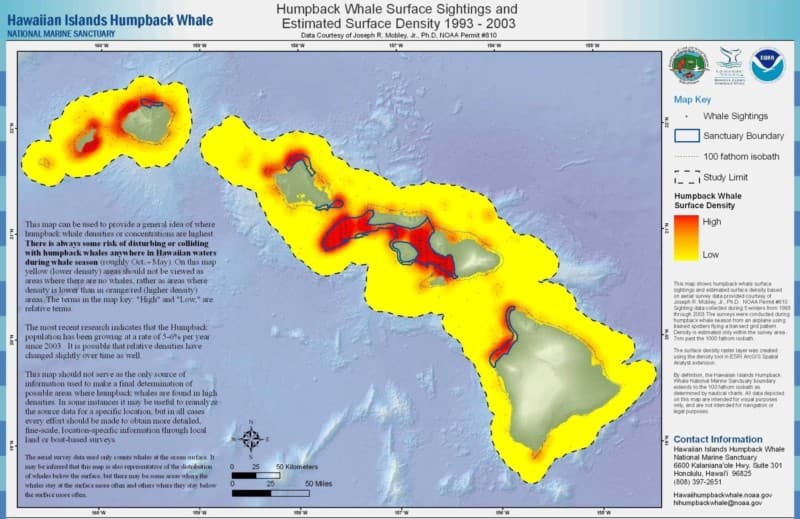 Read more: Of course, there are larger boats with more conveniences, and also boats somewhere in the middle. You can read all about the whale migration to Hawai'i and get other tour recommendations on our whale watching guide.
Sailing (tours)
It doesn't get any more "island-style" than getting out on a sailboat. The views back toward land, the wildlife sightings, and the power of the wind are all experienced on such a journey, and we recommend taking at least one sail when visiting O'ahu.
Catamaran Waikiki Day Sail
Board a catamaran and experience the beautiful Waikiki skyline from a catamaran - a great sailing experience for couples, families and groups!
from:
$35
What is a suggested tour?

Our suggested tours are hand-picked tours that receive consistent good reviews, give back to the community, and work hard to minimize their impact on the environment.
From Waikīkī Beach, you can simply step out of the sand and onto a catamaran. The calm waters provide a tranquil setting to enjoy a morning cruise or a sunset happy hour, with views of the Ko'olau Mountains, Diamond Head, and the Honolulu skyline all competing for your attention.
Catamaran Waikiki Sunset Sail
A great evening for couples, families and large groups! Board a catamaran and experience the night-lights and beautiful sunsets of Honolulu.
from:
$40
What is a suggested tour?

Our suggested tours are hand-picked tours that receive consistent good reviews, give back to the community, and work hard to minimize their impact on the environment.
Read more: See our guide to sailing charters for a more in-depth discussion of your sailing choices, and to read about some of our recommended tours.

Kayaking
Kayaking is a very popular activity thanks to its accessibility and affordability. They are reasonable to rent (price varies, but less than $100 per day) and require only entry-level skill to operate. Cruising in a kayak is a wonderful way to explore the waters around Hawai'i, and on O'ahu, there is a wonderful mix of shallow reefs, calm water, playful waves, and off shore islands to experience.
One of our favorite kayaking areas is Kailua Beach. You can rent one from Kailua Beach Adventures – located just across the street from the beach – and there's something for everyone offshore. The Mokulua Islands, better known as the Mokes, are about a mile paddle from Kailua Beach, and Popoi'a Island (Flat Island) is even closer. If you've never paddled out to an offshore island before and landed on its beach, this is a great opportunity, with the jagged Ko'olau range looming over Kailua. If you don't feel comfortable going by yourself, you can jump on a guided tour.
Waikīkī is also a great place to kayak, especially if you want to ride some small waves (just make sure you stay far away from surfers). Out beyond the break, it's a treat to paddle the calm water and look back at the Honolulu skyline.
Another place we recommend is Kualoa Beach Park. Located in the calm waters of Kane'ohe Bay, you can paddle out to the nearby Mokoliʻi Island (also called Chinaman's Hat), or cruise down the coast past "Secret Beach" (part of Kualoa Ranch).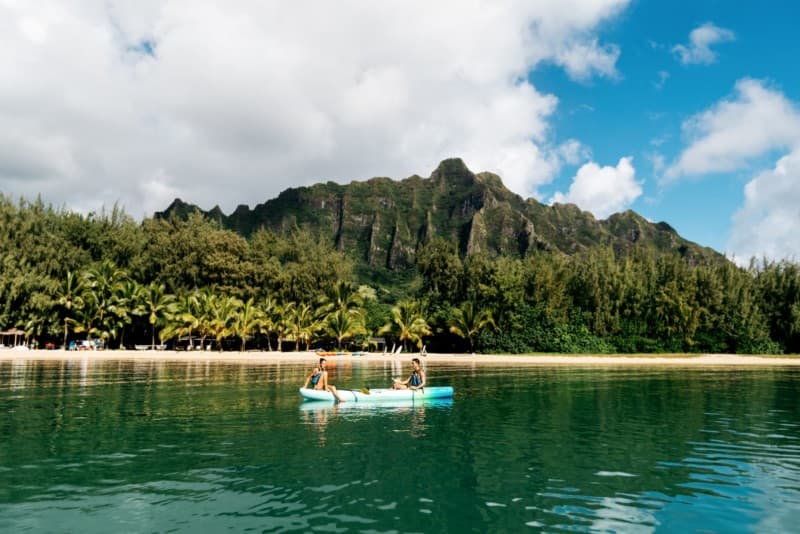 Fishing charters
Fishing is a very popular activity with locals, and it's no surprise why. O'ahu is surrounded by a combination of shallow reefs and deep ocean, and many fish migrate or hang out in the channels between the islands. It's possible to catch tuna, wahoo, marlin, mahi mahi, shark, snapper, mackerel, and many other species off Hawai'i's shores.
If you just want to fish from the shore, no permit is required, and it won't be hard to find a local fisherman if you need some advice (they are everywhere). But, if you're looking to catch bigger fish, you may want to consider jumping on board a deep-sea fishing charter. You can either rent out a private charter for some serious sport fishing, or you can jump aboard a more mellow public trip, such as this one from Captain Tiger.
Read more: Be sure to see our guide to fishing charters to learn more about fishing on O'ahu. There are many specifics to be aware of, including the size of the boat, and perhaps most significantly, policies about keeping your own fish (believe it or not, most boats keep the fish for themselves, even if you catch it).
Fishing with the family: The Hoʻomaluhia Botanical Garden has a catch-and-release program that is fun for the whole family and includes a scenic 20-minute hike to the fishing area. Held every weekend there are only limited spots available that are distributed on a first come, first served, basis. Read more here.
Swim with dolphins
Activities that focus on being close to dolphins are frowned upon because some tour operators ignore regulations that have been put in place to protect the dolphins. If you want to swim and/or interact with dolphins responsibly you have two options:
Choose a dolphin (snorkeling) tour operator that adheres to the dolphin SMART guidelines, or
Interact with captive dolphins in a pool/aquarium.
1: See dolphins in the wild (and the dolphin S.M.A.R.T. guidelines)

Swimming with spinner dolphins in their natural environment – that is, out in the ocean – is something that can potentially harm the dolphins. The best and most responsible way to see wild dolphins is to see them from a boat, as they often approach passing boat and sometimes even swim along. We only recommend charters that adhere to the dolphin SMART guidelines (explained below):
Ocean Joy cruises takes you to the unspoiled Waianae coastline where dolphins, turtles and other Hawaiian sea life play and flourish. The tour includes ~1 hour of snorkeling.
Port Waikīkī Cruises organizes highly rated snorkeling tours that have a high probability of seeing dolphins while you are sailing.
Hawai'i Nautical offers a dolphin guarantee (or come again for free) on their Dolphin Snorkel Sail tour. They stress that you'll see the dolphins from the boat while it's sailing, and won't be swimming with dolphins.
Some operators offer dolphin tours where they track dolphins with their boat to put people in the water in front of the moving pod. Following and chasing a pod of dolphins is stressful and can disrupt the natural feeding/sleeping cycle of these animals. Please refrain from supporting these kind of practices and choose a more sustainable way of seeing dolphins. Mahalo!
The dolphin SMART program
Dolphin SMART is a unique voluntary recognition and education program encouraging responsible viewing of wild dolphins. It includes the following 5 guidelines:
Stay back at least 50 yards (1/2 a football field) from dolphins.
Move away cautiously if dolphins show signs of disturbance
Always put your engine in neutral when dolphins are near.
Refrain from feeding, touching, or swimming with wild dolphins
Teach others to be dolphin SMART.
You can find more information at the dolphin SMART and the NOAA "protect dolphins campaign" websites. Please stay safe and treat the dolphins with aloha – observe them from a distance
2: Interact with dolphins in the pool/aquarium
If getting close to dolphins and perhaps even interacting with them is a bucket-list item for you, going to see captive dolphins in a pool or aquarium is the way to go. The pool setting is a fun, family-friendly, controlled activity for small children or inexperienced swimmers. The experience generally involves well-trained dolphins that interact with guests, responding to commands from its trainer.
Sea Life Park offers three different dolphin experiences. In the Dolphin Aloha adventure ($89.99), you stand outside the pool, learn about the dolphins, and observe. In the Dolphin Encounter experience ($149.99), you hang out in waist deep water, and the dolphins come up to you. The Dolphin Exploration program ($199.99) is for people who want a really close encounter. In this experience, you get a "belly" ride from a dolphin.
Dolphin Quest at the Kahala Hotel is another aquarium offering multiple avenues for dolphin interaction. Here, the 30-minute dolphin encounter will cost you $229.
Shark Swim & Cage Diving
If dolphins don't provide enough adrenaline, perhaps you'd be pumped to go swimming with sharks. There are many tour operators that can fulfill this wish, most located on the North Shore near Hale'iwa.
If cage diving has always been on your bucket list, there are several operators that can deliver. North Shore Shark Adventures ($120), Haleiwa Shark Tours ($130), and Hawai'i Shark Encounters ($115) all curate cage-diving experiences. Many offer online discounts, so be sure to check the websites before booking, and double check the amount of time you will receive in the cage. This can differ greatly company to company.
If you like the idea of swimming with sharks outside of the cage better, that can be arranged as well. Hawai'i Adventure Diving offers snorkeling and free diving tours ($150), as does Island View Hawai'i ($150). The tours go about three miles offshore into waters up to 25o feet deep, so these tours are not for the skittish. But don't underestimate their educational side. Both will help you understand sharks better, and perhaps even convince you that they are misunderstood.