Considered one of the best beaches on O'ahu and in all of Hawai'i, Lanikai has everything that paradise seekers are looking for – fine white sand, clear blue water, calm surf, off-shore islands, and a laid-back, family atmosphere. Lacking a parking lot, signage, or any other infrastructure, Lanikai Beach is truly just that – a beach – and there are a few things to know before you go.
Table of Contents
Lanikai Beach
Lanikai Beach is found on the windwardside of O'ahu in Kailua, just south of Kailua Beach Park. Though they essentially sit side-by-side and are adjacent to one another, Lanikai and Kailua Beach are not connected. In fact, because of the turn of the coast and the residential houses, you cannot even see Lanikai from Kailua Beach, despite the fact that they are, as the crow flies, less than a mile apart. There is no walking path between them.
This is what keeps Lanikai Beach a special place. Yes, it's been written about in every magazine and is by no means a secret, but the logistics of going to Lanikai have helped it maintain a neighborhood feel. After all, there is no parking lot or facilities, or big signs or concessions. There's just a small neighborhood with street parking, and beach access is via pedestrian walkways that pass between the residential waterfront properties.
But, emerging from the path onto the beach, one is greeted by all that makes Lanikai famous: Powdery white sand, clear blue water, and a vantage point of two offshore islands, known locally as "the Mokes."
Mokulua Islands
The two islands you see from Lanikai Beach are the Mokulua Islands, or "the Mokes." Widely regarded as local icons, you'll see them printed on just about everything – t-shirts, bumper stickers, and even beer bottles. Both islands are protected sea bird sanctuaries and are mostly off limits to humans, but the Northern Moke has a small beach that is permissible to land on and a small walking path.
Most people reach the Mokes by kayak. If you bring your own, you can launch from Lanikai Beach, which is the most direct and closest point. But, many people launch from Kailua Beach because it's where the rental shops are located.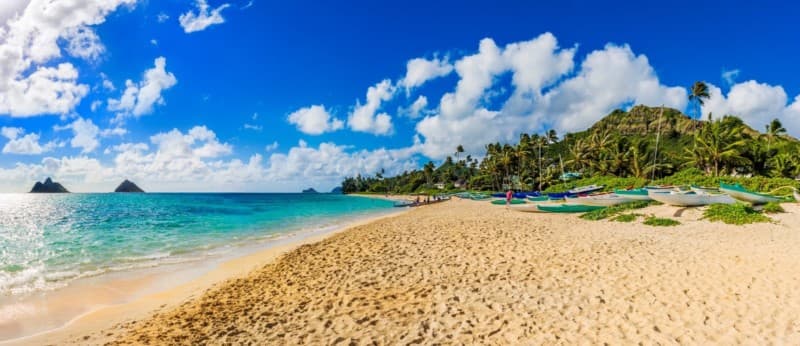 Things to do:
There are many things to do at Lanikai Beach other than sunbathe. The calm waters and outer islands make this a prime beach to engage in kayaking or other paddle sports, and the coral in the bay also make it a suitable spot to go snorkeling.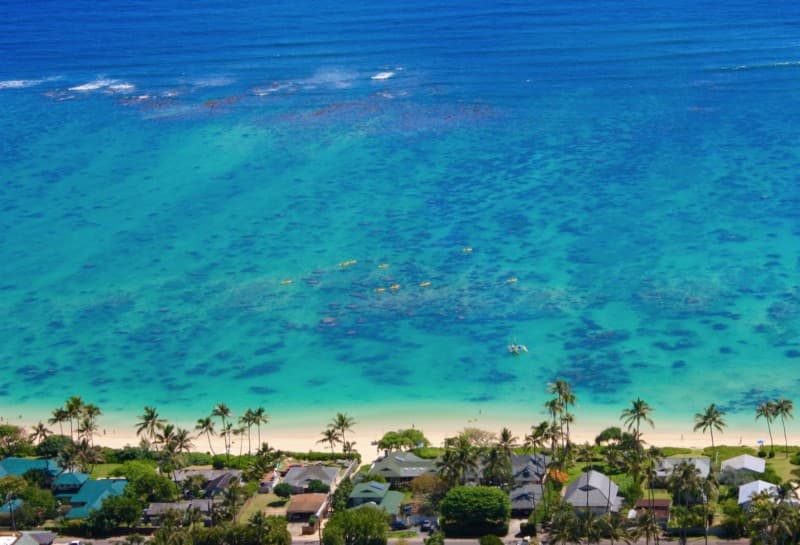 Kayaking + Paddleboarding
Laniaki's calm waters, mountain backdrop, and offshore islands make it a wonderful place to kayak or paddleboard. Many people take kayaks all the way out to the islands. The Southern island is off-limits but the Northern island has a small beach on which you are permitted to land your kayak and take a stroll in a small walking path.
Note that you can't rent kayaks from Lanikai but that you have to go "next door" to Kailua Bay to rent one and then paddle your way back to Lanikai. Bonus point: the trade winds will help push you back to Kailua when it's time to return your rental!
Pillbox Hike
Behind the Lanikai neighborhood is the trailhead for the Lanikai Pillbox Hike, one of the most scenic and popular hikes on O'ahu.
A short but steep one-mile climb brings you to a set of leftover army bunkers and gives you an overlook of Lanikai Beach, Kailua Town, and the Koʻolau coast.  Many people tackle this hike in the early morning to watch the sun rise off the coast.

Snorkeling
Lanikai is not a renowned snorkeling spot by any means, but there is some coral offshore, and with the water typically calm, it's a nice spot for kids and beginners to get a feel for the water. Bring your own gear because there is no snorkel rental on the beach.
Read more about snorkeling at Lanikai.
Paddling
Many local canoe and paddling clubs practice off the coast of Lanikai. You can see most of them out on the water after working hours. As before, there are no canoe/SUP rental shots at Lanikai so head out to Kailua Beach (and paddle back) if you want to give this a try.
See the Sunrise
Lanikai is a great place for an early-morning walk or photography as the sun rises just off the coast. Sunrise visits and a hike up the pillbox (see above) are a great combination!
You can look up the exact sunrise time for Lanikai at the Time and Date website.
Practicalities
Part of the charm of Lanikai is the lack of facilities. However, this means that a visit here needs a bit more preparation than usual.
Amenities and facilities
There are no lifeguards or other facilities of any kind at Lanikai Beach. The closest restrooms and showers are located at Kailua Beach Park, about a mile away. There is no walking path between them so you need to go there by road (walking or driving).
Bring everything (water, snacks, sunscreen, water!) you need for the day when visiting Lanikai.
Directions
By car: From Honolulu, the drive to Lanikai will take 30-45 minutes without traffic. There is no parking lot for Lanikai Beach, only street parking (it's free). Pay attention to parking signs that limit where visitors can park, as you will get towed or ticketed for parking illegally. Be respectful of local residents and do not park anywhere that impedes their day-to-day life. Parking is limited, so arrive early on weekends.
By bus: From Waikīkī, it will take about an hour and a half to reach Lanikai Beach by bus. There are various routes to take, but the most common is Route 19 or 20 from Waikīkī to downtown Honolulu, then Route 66 to Kailua, then Route 671 to Lanikai. The total cost will be $5.50 each way.
Spending the day at Lanikai Beach
This is going to be a full beach day!
To get the full Lanikai experience, consider getting up early and arriving to watch the sunrise. Many people hike the Lanikai Pillbox during this time, but you'd be surprised how tranquil the beach is, just locals walking their dogs.
Since there are no services of any kind at Lanikai Beach, you'll want to bring a packed lunch. Check out the Kalapawai Market near Kailua Beach Park for to-go sandwiches, or consider stopping by Buzz's for one of their famous mai-tais and a couple appetizers.