If you're looking for a tropical Hawai'i that's more low-key than Honolulu but not quite as sleepy as the North Shore, head to the east side, or windward side, of the island. Here you will find lush jungles and an excellent string of beaches surrounding the town of Kailua.
The lifestyle here feels more like a beach town than a city, but it also has enough going on to entertain you in the evening. This is our rundown of what to do when you're spending the day in Kailua.
Table of Contents
2 beautiful Beaches
O'ahu is blessed with white sandy beaches, and no visit to Kailua is complete without a visit to one of the nearby beaches. Two favorites are Kailua Beach and Lanikai Beach.
Kailua Beach
Kailua Beach is 2.5 miles long, perfect for walks any time of day, but especially in the early morning (the sun rises offshore) and during the evening twilight. The beach is easily accessible and has great people watching but can get crowded in front of the main beach park area, where kayaks, boats, wind surfers, kite surfers, and stand-up paddlers launch and head out towards the offshore islands (see below).
If you're seeking something more relaxed, the crowd thins out as you head north along the beach. Considering entering at the Kalama or Oneawa beach parks if you want more room to breathe.

Lanikai Beach
Lanikai Beach is just south of Kailua Beach, although you cannot get there along the coast by foot. Drive into Lanikai neighborhood, park on the street (please be respectful of local residents), and enter at one of the many public beach access walkways.
You'll get a great view of the offshore Mokulua islands from Lanikai, referred to locally as "The Mokes," and the water at Lanikai is usually very calm, creating a serene and safe environment for swimming and snorkeling.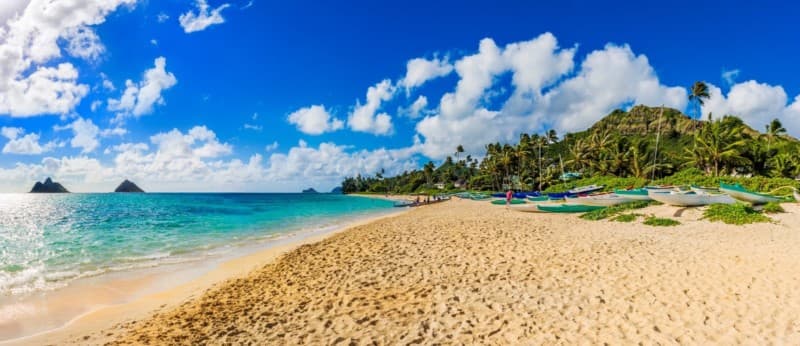 Activities / Adventures
There are many local ways of life in Kailua besides going to the beach, and they all take place outside. The following is a small list of things to do while in town:
In the following video shot on Christmas day 2017 by Gemini Connect you can see an abridged version of the Lanikai Pillbox hike:
Lanikai Pillbox Hike - The Best Hawaii Hiking Trail?
Get a taste of the local life (eating, drinking and farmers markets)
Eating and drinking like a local is one of our favorite things to do while on holiday, and this is extremely easy while in Kailua.
Farmers Markets in Kailua
There are three farmers markets in Kailua but you have to be visiting on Thursday or Sunday to see them:
The People's Open Market every Thursday morning at Kailua District Park;
The Hawai'i Farm Bureau Market every Thursday evening at the Kailua Town Center parking garage; and
The Lōkahi Kailua Market every Sunday on Uluniu Street.
These markets are a great way to see a dose of local life, to buy local products, and to try delicious foods from local vendors.
Places to eat in Kailua
Kailua may be a small town, but it does have a lot to offer in the way of tasty local fare:
Finally, Lanikai Juice is a good place for if you're just looking for a refreshing smoothie or acai bowl snack, and if you're planning on grilling out on the beach you should pick up marinated meats at Hibachi.
Kailua Bars and Cafes (great places to grab a drink)
After a long day outside, there are plenty of local places to grab a drink:
Otherwise, the aforementioned patio at Buzz's is a great place for a mai tai (heralded as the best and strongest in town, mind you). And, believe it or not, the Windward Bar at Whole Foods is a popular hangout for locals.
Kailua doesn't have many upscale nightlife experiences, but it does have a small, jazzy speakeasy called Gaslamp if you're looking for a reason to spruce up a bit.
Putting it all together: a sample 1-day itinerary for Kailua:
You should now have more than enough ideas for things to do and places to see to spend not one but three full days in Kailua. We propose the following 1-day itinerary for you if you don't want to make the hard choices (those of removing things from your itinerary) yourself.
Start out early with a coffee-in-hand, sunrise stroll on Lanikai or Kailua Beach, then hit Lanikai Juice for a healthy breakfast (smoothie or acai bowl). Head to Kailua Beach Adventures and hop on a kayak tour out to the offshore islands, then grab sandwiches from Kalapawai Market (Kailua Beach location) and eat them on the beach, relaxing for the rest of the afternoon.
Go to the deck at Buzz's for happy hour during the sunset hour for mai tais and appetizers, and explore the town later that night for dinner and a local beer.
More 1-day itineraries for O'ahu
Kailua is also part of our sample one week itinerary for the island. See also the other "1 day in …" itineraries for O'ahu we made to make start planning your trip easier: