A fun adventure for off-road driving fans, ATV tours are an often muddy adventure where you get to explore especially scenic parts of the island. These tours typically take you on a several mile drive through private lands with stops on the way at scenic points and historic sites.
Table of Contents
An introduction: what are ATV Tours like?
ATV tours are fun rain or shine, and a good option for people looking for excitement and the outdoors. During an ATV tour you obviously get to ride in an ATV, but how this happens, and where, differs per tour.
The tours where you get to do the driving yourself start with a safety briefing and a short crash course (pun intended) on how to drive an ATV. The drive itself is controlled and easy to do, even without previous experience. To drive an ATV you need to be at least 16 years old, and children can often be brought along with the tour in ATV buggies.
After the introduction the driving part of the tour will start. You will follow the tour guide in your ATV and stop at several  scenic points along the way. During some of these stops you will be provided with snacks, and get an explanation about relevant Hawaiian history.
Location is another important part of ATV tours. Most ATV tours are focused on gorgeous views and take place on scenic private ranches. The one offered at the Coral Crater adventure park however has as main focus crossing along dirt tracks and as such takes place on an adventure course.
What should you bring/wear on an ATV tour?
The tours themselves provide safety equipment such as helmets, but you should consider bringing the following items yourself:
Closed-toe shoes (essential!)
Long pants
Sun glasses (to keep the mud out of your eyes)
Sunscreen
Bug spray
A clean change of clothes for after the tour (you may get dirty and/or rained on)
List + Comparison of ATV Tours on O'ahu
There are 3 ATV tours to choose from on our island that are all pretty different. We note the main differences between them in the following table, and give a more in-depth description below.
| | Price | Duration | Good to know |
| --- | --- | --- | --- |
| Gunstock Ranch | $99 | 1.5 hours | Only passenger rides offered |
| Kualoa Ranch | $145 | 2 hours | Most scenic option |
| Coral Crater | $289 | 1 hour | Lower prices available half drive / half passenger combo |
Gunstock Ranch
The Gunstock Ranch is a 45-year-old, family-owned horse and cattle ranch ranch on O'ahu's picturesque North Shore. They offer several 1.5+ hour off-road tours that take you through mountain trails to the top of the ranch, where you'll enjoy a local picnic lunch with gorgeous views the north shore. You'll also get to see "Hawai'i 5-0" filming locations and explore the Hidden Cave. Throughout the tour their guides include stories and history of the 'aina (land) to make the journey come to life.
Important: for this tour a guide will drive you around, meaning that you are not allowed to drive the UTV yourself.
Good to know: The Gunstock Ranch is also home to O'ahu's first Hawaiian Legacy Forest, which you can also explore on horseback, or as part of a hike or walking tour.
Gunstock Ranch - Oahu, Hawaii - Off-Road Adventures
Kualoa Ranch
The Kualoa Ranch is located at an incredibly scenic spot and offers by far the most popular ATV tour. You get to drive your own ATV for the tour, and guests from different parties are not mixed on the same vehicle. Tours last 2 hours, and take you through scenic valleys and remote areas rarely visited by others to visit movie sites located on the beautiful 1,000-acre Kaʻaʻawa "Jurassic" Valley.
Good to know: more information and bookings here.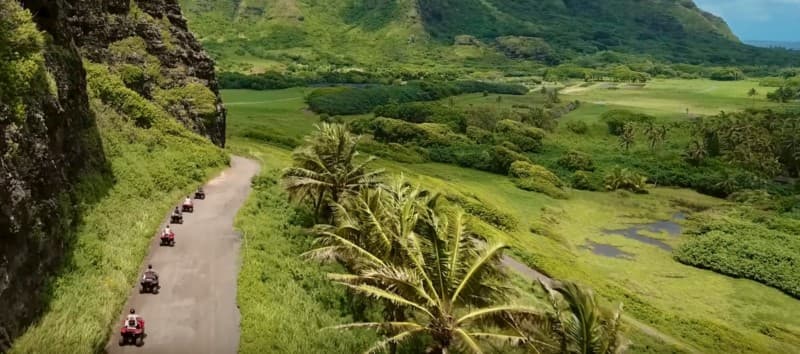 Check out the video below for a snapshot of what to expect:
Coral Crater Adventure Park
The Coral Crater Adventure Park is just that – an adventure park. This means that the ATV tours here are different compared to the other two tours mentioned on this page because it takes place on a technical dirt course. Instead of exploring scenic nature trails you'll get instructed in basic off-road techniques and of course you also get to apply those lessons and let the dirt fly on the track.
If you feel adventurous you can also combine the ATV tour with a Zipline adventure at Coral Crater.
Coral Crater ATV Off Road Adventure
ATV tours on the other Hawaiian islands
You can join an ATV tour on any of the other main Hawaiian islands.
ATV tours on the Big Island
The Big Island offers by far the greatest diversity of ATV tours in Hawaiʻi. Options range from getting dirty on muddy tracks and washing up at a private on-property waterfall to a more paced exploration of a traditional farm, and many things in between.
Read more about all options in our guide to ATV tours on the Big Island.
ATV tours on Kauaʻi
Kauaʻi features two ATV tours that can be considered to be the "full package" and include beach walks, waterfall visits, and touring through the only tunnel on Kauaʻi! Of course, you also get to explore many miles of dirt roads on private lands by ATV.
Read more about all options in our guide to ATV tours on Kauaʻi.
ATV tours on Maui
Like Kauaʻi, Maui also has 2 ATV tours: Maui Mountain Activities and Maui Off-Road Adventures. We compare their tour offerings in our complete guide to ATV tours on Maui.