Every winter, thousands of humpback whales travel 3.000 miles south from their polar feeding grounds off Alaska to the warm and safe Hawaiian waters to give birth to new calves and raise them. Seeing these magnificent animals from up close is a memorable experience for adults and children alike.
Table of Contents
Our guide to whale watching teaches you about the different ways you can spot the humpback whales while on Oʻahu.
DIY whale watching: best places on Oʻahu to see whales from the shore
Whale watching cruises are the most well-known way to get close to our humpback whales, but there are other ways to see or otherwise experience them!  We discuss three ways below:
See the whales from the shore
Listen to the whales while you are under water
Volunteer for the Sanctuary Ocean Count
See the humpback whales from the shore
You can see humpback whales from the shore during the winter months if you know where to look and what to look for. There are three important ingredients for shoreline whale spotting:
A good location where you can oversee a lot of ocean for a while
Calm surf: if there are too many waves breaking it becomes difficult recognizing whales in the water.
Patience.
The thing that will most often attract your attention is a big spout of water from the ocean surface. This spout comes from a whale breathing in and out again and is visible from large distances. Keep your eyes trained near this spot and you are likely to see more whale action. You can also spot whales by their flukes or fins flapping at the surface.
Good places to see humpback whales from the shore on Oʻahu are:
The Makapuʻu Lighthouse trail. The best place to stop and scan for whales is at the whale informative sign about 2/3 of the way to the lighthouse. If you don't see any whales after 15 minutes continue hiking to the lighthouse while keeping half an eye on the ocean and stop again at the whale informative sign on your way back for a quick 15-minute scan.
The Diamond Head lookout (not to be confused with the Diamond Head summit) between the Diamond Head crater and the ocean gives a reasonably good vantage point to scan the ocean for whales.
The most western point of Oʻahu in the Ka'ena Point state park is another good place to see whales. Note that you'll need to hike in 2+ miles from the parking lot (one way) to make it to the point.
Aerial surveys for whales, such as the one shown below, elegantly illustrate which places are best for whale spotting. As you can see the North Shore is another popular hangout spot for humpback whales. While there are no places on land that stand out for their whale-watching qualities, it can never hurt to cast an eye to the ocean every now and then if you are relaxing at the beach or are watching the surf during whale season.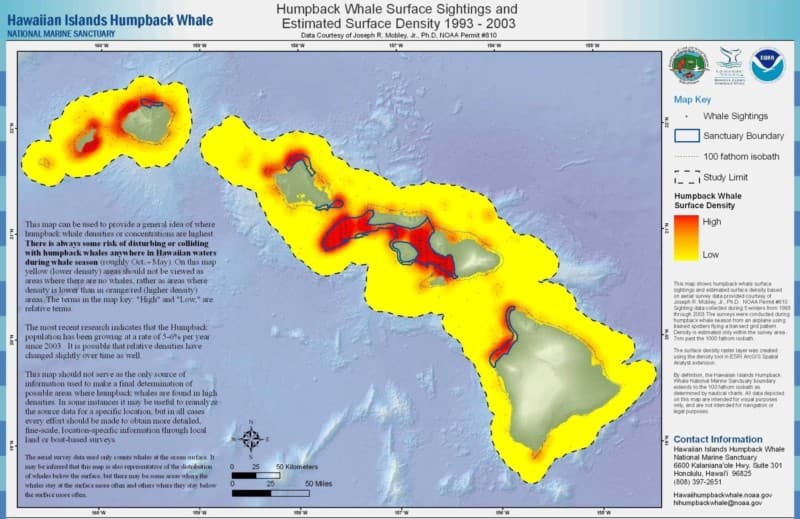 Listen to the whale songs while under water
Because sound carries further under water than on land you can hear whales singing even if they are quite far away. If you are near the water and lucky enough to see whales out in the ocean, do the following:
Listen to the whales while swimming
Wade out into the ocean, just past the point where the surf breaks. (careful, only do this when you are together with someone else, in absence of strong ocean currents, and only if you are a strong swimmer).
Take a deep breath and swim to the bottom and dig your hands in the sand (or hold onto something under water like a rock).
"Clear" your ears by closing your nose with your fingers while trying to blow air out of your nose.
Listen to the whales while snorkeling
Snorkeling makes listening to the whale songs much easier because it's easy to get away from the noise of the breaking waves. Here's what you need to do:
Find a spot away from the surf. Deeper waters or a sandy ocean floor are preferred.
Take a deep breath of air, dive down to the ocean floor and hold onto something.
Clear your ears by closing your nose with your fingers while trying to blow air out of your nose. You should hear your ears "pop".
Help count whales as volunteer
If you are on Hawai'i during the last Saturday of January, February or March and want to help out our humpback whales, you can!
The Sanctuary Ocean Count is an outreach and citizen science project created to promote public awareness about humpback whales, the sanctuary, and shore-based whale watching opportunities on the Hawaiian Islands. As volunteer you participate with the count from selected locations on Oʻahu to tally humpback whale sightings and to document the animals' surface behavior.
Read more about about how to volunteer on the Sanctuary Ocean Count website.
Whale Watching Tours
Whale watching tours are fascinating and fun and provide a great source of education on humpback whales for all ages. These tours typically last 1.5 to 2 hours, and most tours include some form of narration or discussion directly with the captain. Some tours even have a hydrophone on board with which you can listen to the whales!
Whale watching tours are generally offered between December and May, and personally we always opt for an early morning tour (if available) when seas are calm and before the afternoon heat sets in. However, the most important thing to pay attention to when choosing a whale cruise is the size of the tour vessel (discussed below).
Tour (boat) size
To help you pick the right tour for your preference we discuss this below, and give with some recommended tour operators for each vessel size.
To get close to the whales you obviously need to be on the water, but it doesn't really matter on what vessel you do so. A good rule of thumb about boat size is realizing that the larger the vessels are more stable and can accommodate more people and amenities. Smaller vessels offer a more private experience but people prone to seasickness should stay away from them.
Very large single hull and multi-level 'mega boats'. These boats can accommodate hundreds of visitors making them the most affordable option. Example: Star of Honolulu.
Moderately sized Catamarans that can quickly sail by Oahu's shoreline looking for whales. Example: Hawai'i Nautical (see below for their very affordable Waikiki tour).
Smaller boats for groups between 6-10 people. For example: Nani Kai Ocean Adventures operating from the North Shore or Pink Sails Waikīkī.
Waikiki Whale Watch with a Sailing Catamaran
See humpback whales during their annual migration in the waters off Oʻahu from a catamaran on a whale-watching cruise from Waikiki. Enjoy great photo ops of these massive mammals as well as panoramic views of Honolulu and Diamond Head
from:
$75
What is a suggested tour?

Our suggested tours are hand-picked tours that receive consistent good reviews, give back to the community, and work hard to minimize their impact on the environment.
You can of course also charter a boat for yourself and your group/family to go whale watching. Read more in our guide on Sailing Charters.
Things to ask when considering different whale watching tours
Here are some questions to ask to prospective tour operators if you are not sure about which tour to book yet:
Does your tour include narration by an on-board specialist and/or is a hydrophone present so we can listen to the whales?
Does your tour offer a whale-sighting guarantee (i.e. can I come again for free if no whale is seen during the tour)?
Humpback Whale 101
An easy way to make seeing humpback whales *even* more memorable is by learning more about them. In this section we explain some things that are good to know when trying to see whales while visiting Hawaiʻi.
Humpback whales are amazing animals, and learning more about them and their behaviors will only help
A short introduction to Humpback Whales
The humpback whale (Megaptera novaeangliae) is a species of baleen whale about the size of a school bus. Humpback whales were nearly hunted to extinction in the last century but have been making a strong comeback in the second half of the twentieth century, making them now a common sight in the waters around Hawaiʻi during wintertime.
The humpback whales you will see in Hawai'i belong to the Hawaiian North Pacific humpback whale pacific population, which migrates 3.000 miles twice a year between the nutrient-rich waters off the Alaskan coast (where they feed) and the warm and shallow waters around Hawai'i (where the mate and raise their young).
You can read more about theses whales in our humpback whale 101 guide, and/or by watching this 4:09 minute clip from the Netflix documentary "Our Planet":
Our Planet | Humpback Whales | Clip | Netflix
When is whale season on Hawai'i?
With whale season we mean the time of year when the humpback whales are visiting Hawaiʻi. The rest of the year they are either visiting their feeding grounds off the Alaskan coast or "commuting" between Hawaiʻi and Alaska.
The first wales typically arrive in Hawaiʻi by the end of October but whale sightings late October and early November are few and far between. Most of the wales will have arrived by mid-December, which is when tour operators will start offering whale watching tours. January, February and March are the best months to see whales on Hawai'i.
By mid-March the first of the wales will start migrating north, and while April and May are still considered part of whale season, your chances to see whales will become less as the season ends.
To summarize: Whale season in Hawai'i runs from December to May, and the best months to see humpback whales are January, February, and March.
Whale songs
Whale songs are probably the most famous of all (underwater) vocalizations of the animal kingdom, and hearing one "in the wild" is a fantastic experience.
Only some species of baleen whales sing, and the song of the humpback whale – the ones you can find here – is the most complex of all whale songs. People that have heard humpback whales sing describe their songs as a composition of moans, snores, chirps and cries, that sounds almost otherworldly.
Fun facts: did you know that sound moves about four times faster in water than in air? That most marine mammals communicate using sound? And that you can hear whale songs while in Hawai'i? Use the following resources to learn more about whale songs:
Why do whales sing? - Stephanie Sardelis