Thanks to its diversity of cultures, history, and environments, O'ahu's list of state-run parks is truly impressive. There are more than 20 sites on the island and they span a variety of interests – monuments, parks, recreation areas, cultural sites, and scenic coastlines. Some names, like the Iolani Palace, are recognizable; Others, like Waʻahila Ridge State Recreation Area, remain hidden gems and local playgrounds.
Table of Contents
Below, we break down all parks, include highlights, and recommend some nearby things to see and/or do.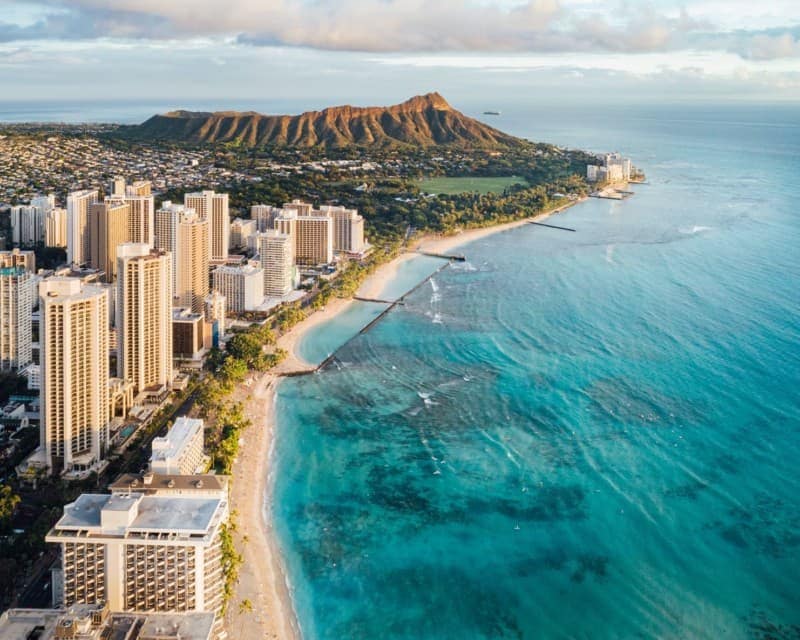 Map of State Parks
Many parks belonging to the state wayside parks, the state scenic shorelines, and the state recreation areas categories, are wonderful for a short stop if you are passing by anyhow, but they may not have enough to offer to the out-of-state visitor with only a limited amount of time to explore O'ahu.
To make fitting a visit to a park into your itinerary easier we show all state parks included in our guide on the map below.
State Monuments
There are a handful of state monuments in Hawai'i that preserve places of historical, cultural, and natural interest, including two of the most well known points of interest on the south shore, the Iolani Palace, and Diamond Head.
Iolani Palace State Monument
Park Description and Highlights: The Iolani Palace, built in 1882, is the former royal residence of the Hawaiian Monarchy. Though it only served its designed purpose for about 10 years – when the Kingdom was overthrown, the Palace was turned into an administrative office for the U.S.-led provincial government – it has remained a symbol and icon of the former Hawaiian Kingdom, modeled after the great palaces then-King Kalakaua encountered on his travels in Europe. It is the only royal palace in the United States.
Suggested Visit: A docent-led tour ($27) takes you through the Palace and explains the history from its completion in 1882 until the overthrow of the Hawaiian Monarchy in 1893.
Don't Miss: Across the street is another important dedication to Hawaiian history, the King Kamehameha Statue. Walk over and check it out.
Da Best Hawaii Iolani Palace
Diamond Head State Monument
Park Description and Highlights: Diamond Head State Monument is the official name for the protected natural area in and around Diamond Head volcanic crater. Iconic in its formation, and for the way it seems to hang above Waikīkī, Diamond Head is the most famous and recognized landmark in the Hawaiian Islands.
If you are going for a visit we highly recommend you check out our complete guide to visiting Diamond Head.
Suggested Visit: Half day. There's a very popular hike that goes to the top of Diamond Head. You won't find solitude up there, but you will find an incredible view of the South Shore, including the skyline of Waikīkī and Honolulu. Consider reading this book by a local author before visiting for an overview of Diamond Head's place in Hawaiian culture and its former roles as a military base and concert venue.
Don't Miss: Diamond Head is fun to visit up close. But it's also an incredible backdrop. Notice the different perspectives you get on it from different beaches on the South Shore. Seeing it from the water, whether it be from a surf board or a sunset sail, is highly recommended.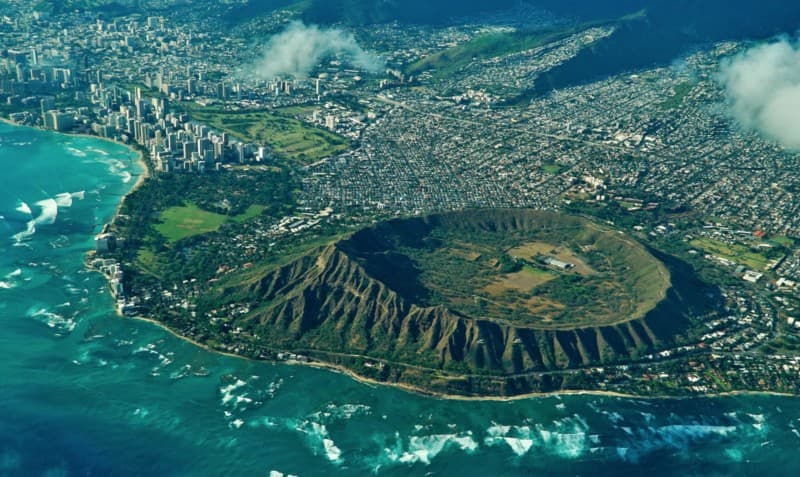 Royal Mausoleum State Monument (Mauna ʻAla)
Park Description and Highlights: The Royal Mausoleum is a burial site for Hawaiian royalty and once was the resting place for members of the Kamehameha and Kalakaua bloodlines. Built in 1865, the mausoleum was eventually converted to a small chapel, and the caskets were relocated to other tombs.
Suggested Visit: Quick stop. History buffs will enjoy a walk around this property, but there are no activities and limited signage on site.
Don't Miss: Consider combining a visit to the Mausoleum with a short walk on the Kapena Falls Trail, which begins just behind the monument. It's a short walk to a small jungle oasis in Honolulu.
State Parks
Most of the state parks on O'ahu protect natural areas and provide an opportunity for people to enjoy them. The biggest difference between a state park and a recreation area (see below) is infrastructure – state parks tend to be more strictly managed and provide more amenities, like bathrooms, campgrounds, picnic areas, bird sanctuaries, etc. (this is not true in all cases, but generally speaking).
Kaʻena Point State Park
Park Description and Highlights: Kaʻena Point State Park occupies the northwest corner of O'ahu, with access points from both the north shore and the leeward side. It is a wonderful out-of-the-way recreation area, with opportunities for whale watching (Nov-Mar), hiking, snorkeling, fishing, and exploring tide pools. The Hawaiian monk seal is also known to rest in this area.
Suggested Visit: Half day. Park at Yokohama Beach on the west side and hike out to the point from there. Enjoy time at the beach before and after.
Don't Miss: Partially a bird sanctuary and ground-nesting area, Kaʻena Point is a great place for birders, or anyone interested in getting up close and personal with wildlife. During nesting season, nearly 2,000 seabirds build nests, lay eggs, and hatch their young at Kaʻena Point.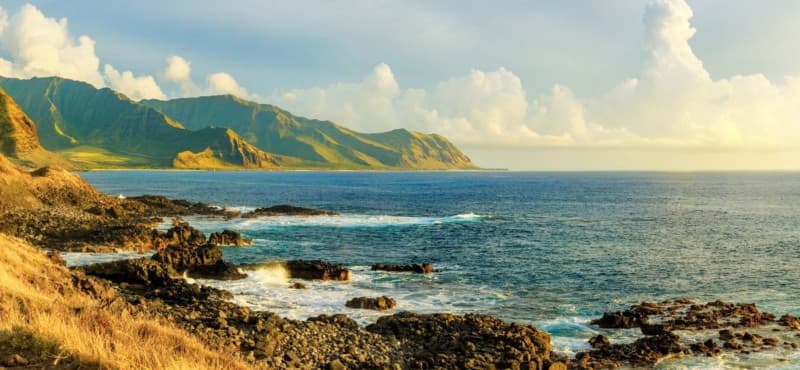 Ahupuaʻa ʻO Kahana State Park
Park Description and Highlights: Ahupuaʻa ʻO Kahana State Park, better and more casually known as Kahana Valley, is tucked away on the rural Windwardside, about 30 minutes north of Kanehoe.
Suggested Visit: Half Day. Most people gasp for their breath when driving through Kahana, but, in the face of other priorities (like heading up to Polynesian Cultural Center, or taking a circle island tour), they don't stop to enjoy it. Take a short hike on some of its trails, then go to the beach and dig your toes in the sand for a picnic lunch.
Don't Miss: Beach camping. Kahana State Park has a small, beachside campground. Though the weather can be rainy on this part of the island, the scenery makes up for it in a hurry.

Heʻeia State Park
Park Description and Highlights: Heʻeia State Park sits on the northern edge of Kaneohe. A small peninsula, it juts out into Kaneohe Bay, providing really nice views of the bay and the windward coastline. It is small and well-regulated, with a closed-in pavilion, visitor's kiosk, bathrooms, and event space.
Suggested Visit: Picnic lunch. If you're driving up the east coast, consider pulling in for a pit stop. He'eia has ocean-view picnic tables and open space at the far end of the peninsula, a rather scenic, under-the-radar spot for a quick picnic lunch.
Don't Miss: The tour of He'eia Fishpond. Adjacent to He'eia State Park peninsula, visible from the grounds, is the He'eia Fishpond restoration project. The fishpond is under the stewardship of local nonprofit Paepae o He'eia, who welcomes visitors to learn more about this ancient food source.
Ke'ehi Lagoon Memorial State Park
Park Description and Highlights: Ke'ehi Lagoon Memorial State Park is a small, green park in between downtown and the airport. Local paddling groups launch from here, and there are tennis courts as well as open green space, picnic tables, and a curvy, sandy beach. The water is protected and calm, making it a popular after-work spot for locals.
Suggested Visit: Last stop before the airport. This little slice of paradise is located right next to the runways at Honolulu Airport. Stop, take a breath, and say goodbye to the island – for now – before dropping your rental car.
Don't Miss: Don't forget the photography aspect of being close to the airport. Aviation fans should pull up a chair.
State Wayside Parks
A wayside park is small road-side area, typically scenic in nature, that has been curated as a pull-off or picnic spot for passers by. There are many unofficial waysides in Hawai'i – try finding a place to pull over that's not scenic – but the State also manages a handful. Here are some to check out:
Lāʻie Point State Wayside
Park Description and Highlights: This picturesque peninsula provides beautiful views of the ocean, Koʻolau Mountains, and an off shore seabird sanctuary.
Suggested Visit: Check it out as a minor detour when traveling up the east side, or when visiting the Polynesian Cultural Center.
Don't Miss: Movie buffs will remember a scene in Forgetting Sarah Marshall where the main characters "hike" to La'ie Point. As you will see, the difficulty and remoteness of the journey was greatly embellished. Please respect nearby residents.

Nuʻuanu Pali State Wayside
Park Description and Highlights: The Nu'uanu Pali Wayside is one of the most popular overlooks in all of Hawai'i, and for good reason. It's accessible by car, and from its perch near the top of the Koʻolau mountains, right atop the steep cliffs, you get panoramic views of the Koʻolau range and the entire Kaneohe/Kailua region.
Suggested Visit: Detour. Check it out any time you're going between Honolulu and the Windwardside on the Pali Highway.
Don't Miss: The signage. This is where the Battle of Nu'uanu was waged, in which Kamehameha the Great defeated O'ahu forces and brought the island under his rule. Look for descriptions of the battle and the old roadway on informational signs.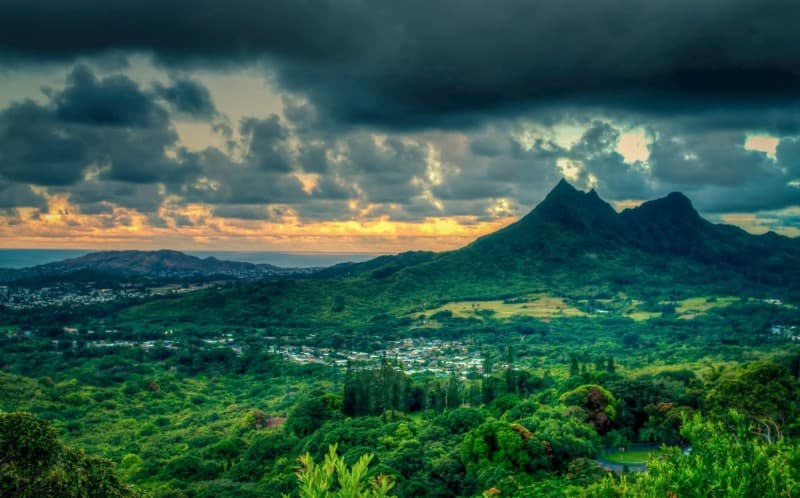 Puʻu ʻUalakaʻa State Wayside (Tantalus Lookout)
Park Description and Highlights: This small park is better known as the Tantalus Lookout, popular with both locals and visitors for its sprawling views of the city. It gets especially beautiful during sunset.
Suggested Visit: Sunset. If sharing the space with others won't bother you, enjoy the views as the sun goes down from this bird's nest above the city.
Don't Miss: Check out the family friendly Ualakaa Trail for a short walk through the forest. The trailhead is right there in the wayside.
See the following short video of the short walk from the parking lot to the lookout to see why the Tantalus lookout is such a popular stop:
Tantalus Lookout Oahu Hawaii
State Historic Sites
State Historic Sites are – wait for it – places of historic interest that are managed and preserved by the State. In Hawai'i, many historic sites also carry great cultural significance. Consider these spots:
Puʻu O Mahuka Heiau State Historic Site
Park Description and Highlights: This heiau, or ancient temple, is the largest one on O'ahu. It's perched high above Waimea Bay on the North Shore. It offers not only great cultural and historical significance – it was used for social, religious, and political purposes for at least two centuries – but also killer views of the bay below.
Suggested Visit: Half hour stop. Since the remains of the heiau don't give much away, you'll want to read up on its history before visiting. Stop to appreciate it, and take in the views, as you cruise the North Shore.
Don't Miss: A visit to Pu'u o Mahuka should be combined with some time down at sea level at Waimea Bay, one of the world's most prominent big wave surf spots (winter). Across the street is Waimea Valley, where you can swim in a waterfall.
Ulupō Heiau State Historic Site
Park Description and Highlights: So many people pass by this ancient site without even knowing. Tucked away behind the local YMCA in Kailua along the edge of the Kawai Nui marsh, it's a former 400-acre fishpond that once provided food for Hawai'i's chiefs and commoners.
Suggested Visit: Scenic lookout. Again, you have to know your history to fully appreciate it.
Don't Miss: On the other side of the Kawai Nui marsh is Na Pohaku o Hauwahine, a cultural and reforestation project that offers perhaps even better views of the marsh, the town of Kailua, and the ocean.
State Recreation Areas
These State-protected areas are intended to be used as outdoor playgrounds. Here's a few to check out:
Waʻahila Ridge State Recreation Area
Park Description and Highlights: This local secret provides a beautiful place for walking, hiking, and picnicking thanks to its position on the slopes overlooking Honolulu and the surrounding valleys.
Suggested Visit: The Waʻahila Ridge Trail. A spectacular ridge hike on the south shore, but don't underestimate it. This is for intermediate and advanced hikers only.
Don't Miss: The tall Norfolk pine trees. One legend has it that sailors brought these trees to the islands so they could be harvested for replacement masts. Enjoy them in abundance at Waʻahila.
Wahiawā Freshwater State Recreation Area
Park Description and Highlights: If you're looking to blend in with the local fishermen, and have an 0ff-beat experience in Hawai'i's "backwaters," check out Wahiawa, pretty much smack dab in the middle of the island.
Suggested Visit: If you want to Kayak or go freshwater fishing, stop by when traveling between the north and south shores. Note that the fishing is catch-and-release only, see the following video for a short introduction to the lake:
Did you know...there is freshwater bass fishing in Hawaii ?
Don't Miss: In the nearby town of Wahiawa, check out one of O'ahu's most unique dessert shops, the Uber Factory.
Sand Island State Recreation Area
Park Description and Highlights: Sand Island is a happening community park that shows off Honolulu's metro/beach combination. A walking path helps you explore its large amount of green space, long sandy beach, and ocean and city views. A partially protected lagoon encourages swimming, and ball fields ensure the park's place in every day local life.
Suggested Visit: Surfing or sunset. A popular local break, you can check out a surf session off Sand Island, or simply stop by for the sunset. Located in an otherwise industrial area, this beach tends to be very local.
Don't Miss: If you have a tent, you can camp for the night at Sand Island for $12/site (weekends only).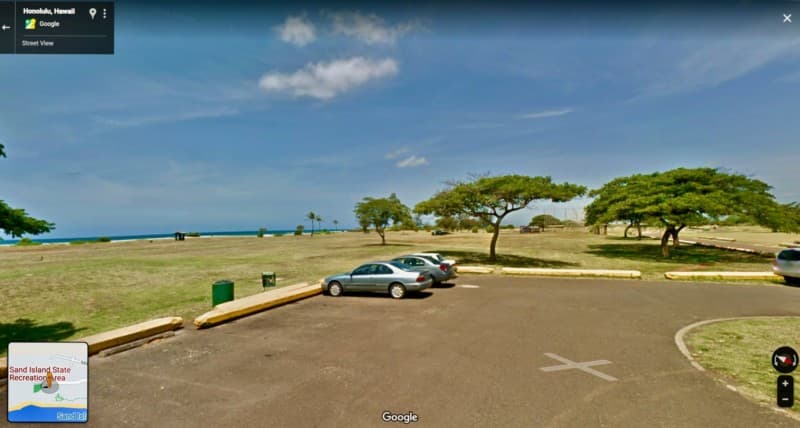 Mālaekahana State Recreation Area
Park Description and Highlights: Located up in the northeast corner, Mālaekahana provides an opportunity to see a less talked about part of the island. With small wooded areas and sandy beaches, it remains very local (off the main tourist radar). It's popular for beach activities, camping, and picnics.
Suggested Visit: Beach day. The weather in this area can be finicky, but you'll be rewarded with less crowds.
Don't Miss: Just offshore is Goat Island, which makes for a fun, easy kayak.
Keaīwa Heiau State Recreation Area
Park Description and Highlights: This forested area in Aiea is home to the Keaiwa Heiau, hiking trails, picnic areas, and campsites. Situated in a residential neighborhood, it's most used by local residents.
Suggested Visit: The 'Aiea Loop Trail. This is a fantastic, after-work type hike for locals that takes you into the rolling hills behind the residential area.
Don't Miss: From the Loop Trail, there is a unique overlook of the H3 Interstate. From this vantage point, the perspective on its construction is delightful.
The ʻAiea Loop Trail is #8 on this list of amazing hiking trails on Oʻahu. Make sure to give Sean a follow on his Instagram for more Oʻahu-related content if you like his style.
10 Amazing Hiking Trails throughout the Island of Oahu, Hawaii [a complete hiking guide]
ʻAiea Bay State Recreation Area
Park Description and Highlights: Located on the shores of Pearl Harbor, this small green space is a simple, bay-side place for quiet walk or picnic lunch. 'Aiea Bay is the kind of place a worker might take his lunch break, more akin to a wayside than a recreation area.
Suggested Visit: Picnic lunch. With views of Pearl Harbor and the Arizona Memorial, it's a fine place for a quiet lunch.
Don't Miss: Nearby Restaurant 604 provides good views of Pearl Harbor and solid local specialties in an open-aired atmosphere.
State Scenic Shoreline + Summer Palace
Here are a few other sites to discover:
Kaiwi State Scenic Shoreline
Park Description and Highlights: Located on O'ahu's lesser-developed southeast corner, the Kaiwi shoreline has a lot to offer, including hiking trails, tide pools, and small, rocky beaches. During the winter, it is an excellent place to whale watch on O'ahu. On clear days, you can see Molokai, Maui, and Lanai from this shoreline.
Suggested Visit: Makapu'u Lighthouse Trail. A gentle, paved, 1-mile trail leads to the base of the Makapu'u Lighthouse and provides amazing views of the Windwardside.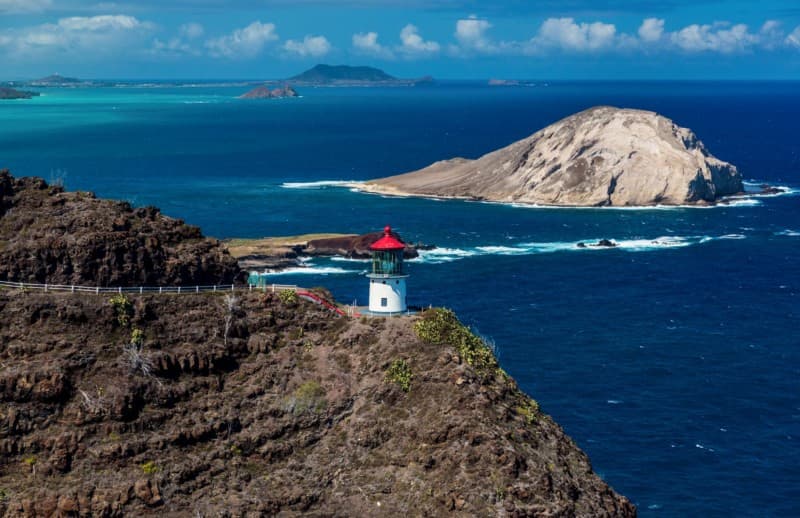 Don't Miss: Nearby Makapu'u Beach is a youthful, fun beach with views of the lighthouse and cliffs. It's a popular bodyboarding spot and good for people watching.
Queen Emma Summer Palace
Park Description and Highlights: The Queen Emma Summer Palace was once a country retreat house for Hawaiian Royalty. Today, it's preserved as a museum and historic landmark.
Suggested Visit: Take the historical tour. Run by a non-profit, a tour supports the preservation of the estate.
Don't Miss: You can pair a visit to the Summer Palace nicely with the nearby Lulumahu Falls hike.
The following video by local TV station KITV takes you through the summer palace:
A Day at Queen Emma Summer Palace