Though it is often overshadowed by the "vacation in paradise" branding of the islands, Hawai'i has a deep, fascinating history and a culture that's rich in Polynesian wisdom and teachings. Forget Pearl Harbor – that's American history. In this section, we're focusing on attractions that showcase actual Hawaiian history, the time before, during, and immediately following western contact in 1778.
Table of Contents
Archaeologically significant sites like religious temples (known as a heiau); museums that showcase life and death in old Hawai'i; traditional dances, native skills, and sustainable living; below are just a few of the many educational and cultural opportunities on O'ahu.
Museums
Interested in checking out a few exhibits? Try these museums:
Bishop Museum
The Bishop Museum (website) tells the story of Hawai'i's natural and cultural history with an emphasis on Polynesian migration, life during the Hawaiian monarchy, and environmental pursuits like volcanology and oceanology. It is widely considered to be Hawai'i's premier museum for history and culture on a whole.
Recommended visit: Half to full day.

Honolulu Museum of Art
Though it hosts international exhibits and artists, the Honolulu Museum of Art (website) often has cultural showings and displays from local artists. Art classes and workshops are also available from local teachers.
Recommended visit: Half day.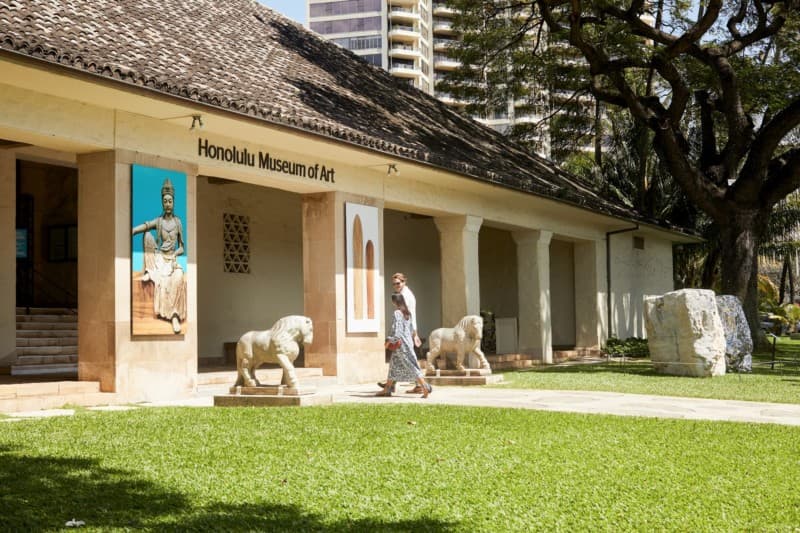 Hawai'i Plantation Village
From the 1850s until the 1950s, sugar was the number one cash crop in Hawai'i, and the plantations are a big reason why the islands have such a diverse population – many immigrants, from the Filipinos to the Portuguese – came to work the fields. Hawai'i Plantation Village (website) walks you through what life was like back then and traces its influence into modern-day Hawai'i.
Recommended visit: Guided tours are 1 to 1.5 hours.
Historic Palaces / Places
Hawai'i's unique history as a formerly independent kingdom that now is a part of the United States makes the three palaces remaining from the Hawaiian Kingdom the only royal palaces in the U.S. Two of these palaces are located on O'ahu (the other one is Hulihe'e Palace on the Big Island), and are among Hawai'i's most extraordinary historical museums.
Find more historic places on our list of State Parks on O'ahu.
'Iolani Palace
Built in 1882 by King Kalakaua, the 'Iolani Palace (website) was envisioned as the home for the royal monarch, and was a grand undertaking for its time (it was inspired by European castles and palaces and actually had electricity before the White House). Unfortunately, the monarchy was overthrown just ten years after the Palace's completion, derailing its original purpose. Tours showcase the architecture, history, and mixed use of the Palace over the last century.
Recommended visit: Two hours. Take a self-guided audio tour, or a guided tour.
Da Best Hawaii Iolani Palace
Queen Emma Summer Palace (Hānaiakamalama)
A bygone era comes alive at Hānaiakamalama (named after the southern cross constellation) in Nu'uanu Valley (website). Also known as Queen Emma Summer Palace, Hānaiakamalama was used by Emma and her family as a retreat from the rigors of court life in mid-19th-century Honolulu. It contains a collection of Queen Emma's personal belongings and furnishings, as well as background on who she was (wife of Kamehameha IV) and the role of the Queen in the Hawaiian monarchy.
Recommended visit: One to two hours, guided or self-guided tour.
Washington Place
To learn more about the overthrow of the Hawaiian monarchy and the time before, during, and after, visit Washington Place in Honolulu (website). It was the private home of Queen Liliuokalani, the last queen of Hawai'i, who was imprisoned and forced to surrender to the United States.
Recommended visit: Tours are every Thursday at 10 a.m. Advanced reservations are required.
Washington Place Experience
Hawaiian Mission Houses Historic Site and Archives
Perhaps no group of outsiders changed the face of Hawai'i more than the Missionaries, who arrived in Hawai'i in 1820 and promptly began to change the religious outlook of the islands. The Hawaiian Missions Houses (website) includes two of the oldest dwellings in Hawai'i and insight into the arrival and impact of the missionaries, including the establishment of a written language, western medicine, and choral music.
Recommended visit: Tours are offered Tuesday, Thursday, and Saturdays.
Cultural Experiences
Some good places to experience Hawaiian culture in a more immersive way are the following:
Polynesian Cultural Center
The "Epcot of Hawai'i," the Polynesian Cultural Center (website, or see our simplified guide to the PCC) provides a theme-park-esque atmosphere perfect for families looking to learn more about Polynesian culture. Broken up into villages representing the island nations of the Pacific (Hawai'i, Samoa, Fiji, etc), the park has exhibits, live shows, games, canoe rides, luaus, and performances that highlight the multi-cultural influences found throughout Hawai'i.
Recommended visit: Full day or more.
Voyage Deeper: Feel the spirit of Hawaii & Polynesia
He'eia Fishpond
Fishponds were once a staple of Hawaiian sustainability. By creating a natural enclosed pond, capable of growing seaweed and providing a habitat for fish, Hawaiians were able to maintain a sustainable source of food for communities throughout the island (at one time, there were nearly 500 fishponds in Hawai'i). Though most have been destroyed by time or development, there are several fishponds being restored, including He'eia on the windwardside of O'ahu. A visit provides a look into this fascinating, ingenious environmental feat.
Recommended visit: Take a 60-minute tour of He'eia or volunteer for the day.
See also our description of the adjacent He'eia State Park.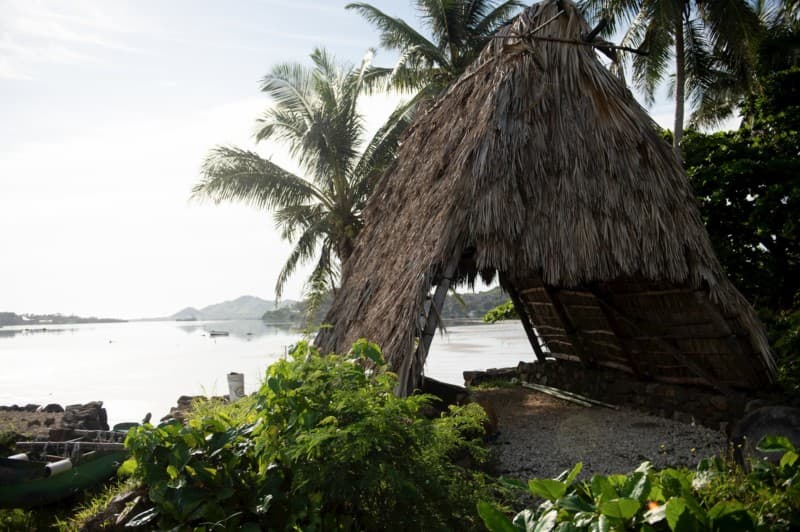 Good to know: you can also pay a virtual visit to the fishpond using the free Loko I'a app.
Waimea Valley
Located on the Ma Uka (mountain) side of Waimea Bay, Waimea Valley is known for its cultural and biological programming, featuring a large botanical garden and revolving cultural exhibits.
Recommended visit: Spend a half day exploring the gardens and cultural exhibits, then take a dip in O'ahu's only lifeguarded waterfall. You can learn more by reading our guide to Waimea Bay.
Waimea Valley : Where Hawaii Comes Alive
Luau Shows
While some luau shows prioritize entertainment over culture, most involve traditional dances and storytelling. Check out our article about the luaus on O'ahu to find the best fit.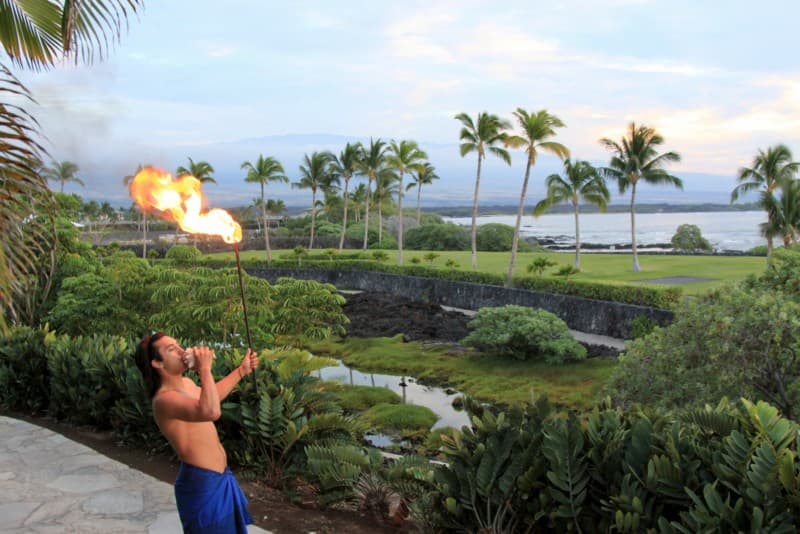 Archaeological Sites
A heiau is a temple or place of worship. They are very sacred in Hawaiian culture and come in different shapes and sizes, ranging from stone platforms a few feet across to complexes stretching hundreds of feet with a variety of structures. Most are difficult to access but there are a few that are easy to access.
Pu'u o Mahuka Heiau
Located on the scenic cliffs above Waimea Valley and Bay, Pu'u o Mahuka is the largest religious temple (heiau) on the island of O'ahu (website). Though entrance into the heiau itself is forbidden (kapu) due to deterioration, one can easily grasp its significance from its size, and the view overlooking Waimea Valley are worth the visit in itself.
Recommended visit: Stop by for a look during a day on the North Shore.
See also our full listing for the Pu'u o Mahuka State Historic Site.
Kūkaʻōʻō Heiau
Kūkaʻōʻō Heiau in Honolulu's Manoa Valley Heritage Center (website) is an ancient agricultural temple, originally build centuries ago but restored in 1933. A visit explores the agricultural history of Manoa Valley, and how religion and worship of the gods were intertwined into daily life and sustainable living. A visit provides an interesting, historic contrast to Manoa Valley today, which has been mostly developed and is the home of the University of Hawai'i.
Recommended visit: Take a one-hour guided tour.
Kukaniloko Birth Site
Also know as the Kukaniloko Birth Stones State Monument (website / information sheet), it is a simple park with a storied history located in Central O'ahu near Wahiawa town. It contains a large collection lava-rock "birthstones" that – In Old Hawai'i – were used in childbirth, the woman lying on them for delivery. Estimated at about 900 years old, Kukaniloko was once used as a royal birth site and is believed to contain a lot of "mana," or power.
Recommended visit: Stop for thirty minutes or an hour on your way to or from the North Shore.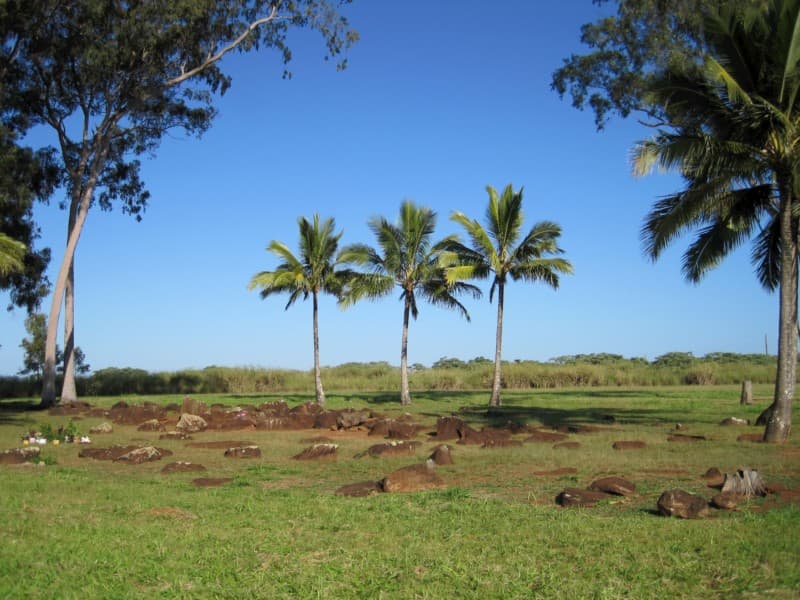 State Parks
O'ahu boasts a long list of state-run parks, that contains over 20 sites on the island spaning a variety of interests – monuments, parks, recreation areas, cultural sites, and scenic coastlines. Some of those places, like the 'Iolani Palace and the He'eia Fishpond, have already appeared on this page. However, there are more state monuments, state historic sites, and state parks, that carry a cultural significance.
Read more about all of these places on our dedicated guide to all O'ahu State Parks.
Map
Use the map below to orient and find all historic and cultural sights and attractions mentioned on this page:
If you want to add this map to your Google Maps account for easy access, click the 'star' icon next to the map name. You can then view it on your cell phone or computer by heading to your Google Maps account, click the menu and add it to 'Your Places'.
Cultural and historical experiences on the other Hawaiian islands
If you want to know more about discovering the rich historical heritage on the other Hawaiian islands we recommend our following guides: