Luaus are a celebration of Hawaiian and Polynesian culture. The stories, songs, and dances seen at the shows also incorporate the traditions of Samoa, Fiji, Tahiti, and more.
The word "luau" refers to a gathering, or feast. In its simplest form, a luau could be a backyard barbecue. However, in Hawai'i tourism, they manifest themselves as a cultural show, with audiences of various sizes. All include storytelling and dancing (such as hula and fire-dancing), an all-you-can-eat buffet (centered around a pig roast), and some sort of bar arrangement (sometimes open, sometimes cash). Audience participation is often a part as well.
Table of Contents
What to Expect From a Luau
Attending a modern-day luau is a one-of-a-kind, fun, entertaining, and delicious experience that celebrates Hawai'i. What better way to learn about the Hawaiian and Polynesian people in good company? There are however a few things that are good to know  about attending a luau:
1: A Luau typically lasts two and a half to three hours
Prior to dinner and the show, smaller, family-friendly cultural demonstrations, crafts, and games occur on the luau grounds, so families should arrive early to let the little ones partake. Most luaus will also feature an imu (underground oven) ceremony and conclude with fire-dancing, so try not to leave early!
2: Luaus usually accommodate a couple hundred people
Which means that you'll most likely be sharing a table with strangers. Premium packages that include preferred seating get you closer to the stage, but not your own table.
3: Prices for most luaus will be more than $100 a person
Premium tickets will cost more. Child tickets are (ballpark) three quarters the price of an adult ticket.
4: Parking may not be included in the price of the ticket
So make sure to factor the price of parking into your decision if cost is important to you. Some Luaus offer shuttle transportation to and from Waikīkī.
5: Most luaus offer both basic and premium seating/packages
And some go as far to offer "drinks only" tickets. Premium seating typically includes extras, like a lei greeting and a priority buffet line. Check with each luau for what their basic and premium tickets offer.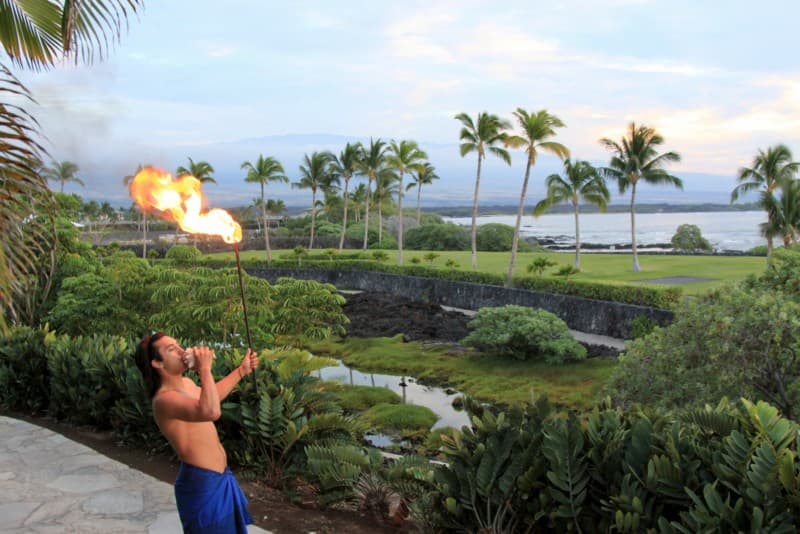 Things to consider when choosing a Luau
Luaus vary in size, but most accommodate a couple hundred people. What distinguishes one from the other is the quality of the dancing, the cultural integrity, the setting, and the food.
Before choosing which luau to attend, consider what you want to get out of the experience. Are you looking for the one with the best dancing and cultural integrity, or are you more interested in one that's on the beach, during the sunset, with an open bar?
Many luaus land somewhere in between, but being honest about what you want will help you narrow down the field. Below, we provide a rundown of the luaus on O'ahu.
List of Luau shows on O'ahu
There are many luaus that take place around O'ahu. Big picture, they're very similar; yet each has its strengths and weaknesses. Below, we break down what you can expect.
Chief's Luau
Chief's Luau might have received the most international attention of any luau in Hawai'i. Headed by the infamous Chief Sielu Avea, it has been filmed for shows on the Oprah Winfrey Network, Comedy Central, and Oxygen. Chief's combination of cultural knowledge, fire-knife dancing, and emcee skills result in a lot of fanfare.
When? Sunday and Wednesday
Where? Wet 'n' Wild Hawai'i (Kapolei)
Shuttle available? Yes.
Price Range: $99 (basic) to $180 (premium)
Website: Chief's Luau
Aha Aina Luau
Though it is one of the most expensive luaus, it's reflected in the quality of the food, service, and entertainment. Its venue, the Royal Hawaiian, was the second hotel ever built in Waikīkī, all the way back in 1927, so the Aha Aina takes its history and culture seriously. A smaller audience puts you closer to the show, and the open bar doesn't hurt either.
When? Monday and Thursday
Where? Royal Hawaiian Hotel
Shuttle available? No.
Price Range: $83 (drinks only) to $199 (premium)
Website: Aha Aina Luau
Ali'i Luau
Run by the Polynesian Culture Center (PCC), the Ali'i Luau offers some of the highest quality performance and production quality. There are trade-offs, though:
The Polynesian Cultural Center is about an hour's drive from Waikīkī, so it makes sense only when combined with a longer visit to PCC.
There is no alcohol served at PCC, as it is run by the Mormon Church.
When? Monday, Tuesday, Thursday, Friday, Saturday
Where? Polynesian Cultural Center
Shuttle available? Yes.
Price Range: $123 (basic) to $242 (VIP)
Website: Alii Luau
Video: You can get a good impression of the experience with this video for the Ali'i Luau made by the Polynesian Cultural Center:
Polynesian Cultural Center 360 4K! - Luau
Paradise Cove Luau
It's a little bit of a drive – 45 minutes from Waikīkī – but Paradise Cove's oceanfront location on the west side of the island puts you in prime position for the sunset. Paradise Cove tends to be a more mellow experience, with romance and relaxing taking center stage.
When? Everyday.
Where? Koolina
Shuttle Available? Yes
Price Range: $107 (basic) to $195 (deluxe)
Website: Paradise Cove Luau
Video: the following 5:29 review by Youtube user Peter Von Panda  gives a good overview of the whole Paradise Luau experience:
Paradise Cove Luau in Hawaii Review
Germaine's Luau
Another west side luau, Germaine's venue has a small beach on its premise that makes for a wonderful sunset and great photo opportunities, especially if you've dressed up for the occasion. High energy, it's all about having fun at Germaine's.
When? Tuesday, Wednesday, Thursday, Friday, Saturday
Where? Barber's Point
Shuttle Available? Yes
Price Range: $94 (basic) to $164 (deluxe)
Website: Germaine's Luau
Ka Wa'a Luau
If you're looking for a kid-friendly environment, look no farther than the Ka Wa'a Luau at Disney's Aulani Resort. The show incorporates a lot of pre-luau cultural activities for kids – lei making and poi making among them – and like all Disney productions, the production value is top notch and the focus is on the storytelling and characters.
When? Wednesday and Saturday
Where? Disney's Aulani Resort
Shuttle Available? No.
Price Range: $144 (basic) to $184 (VIP)
Website: Ka W'aa Luau
Video: The following video by the Disney Parks Blog introduces the Luua and highlights some of the delicious menu items:
A Culinary Feast at KA WA'A, a Luau at Aulani, A Disney Resort & Spa
Waikīkī Starlight Luau
Set on a rooftop, the Starlight Luau is unique in that you are surrounded by the tall buildings of Waikīkī as you watch the show, which some city-lovers may find magical.
When? Sunday, Monday, Tuesday, Wednesday, Thursday
Where? Hilton Hawaiian Village
Shuttle Available? No.
Price Range: $111 (general) to $171 (premier)
Website: Waikīkī Starlight Luau
Diamond Head Farm to Table Luau
Known for sourcing its food locally, the Diamond Head Luau combines a great location along the water near Kapiolani Park with a smaller audience and an obsession for fresh ingredients in its food.
When? Sunday, Monday, Thursday, Friday
Where? Adjacent to Waikīkī Aquarium
Shuttle Available? No.
Price Range: $159 (regular) to $189 (premium)
Website: Diamond Head Farm to Table Luau
Video: The following promotional video made by the Diamond Head Luau shows some of the highlights of their Luau (including fire dancers!).
Diamond Head Luau - Farm To Table Experience
Ka Moana Luau
Ka Moana features the beautiful scenery of the Windward Side, held across from the Makapuʻu Lighthouse on the mountainside in Waimanalo. It's been applauded for its dancing and showmanship; however, because it's on the east side, there's more risk of rain than the shows in Waikīkī or on the west side.
When? Sunday, Monday, Tuesday, Wednesday, Friday
Where? Sea Life Park (Waimanalo)
Shuttle Available? Yes.
Price Range: $99 (classic) to $159 (celebrity)
Website: Ka Moana Luau
Video: The following video gives an impression of the Ka Moana Luau through short interviews with the staff and some luau highlights:
Ka Moana Luau in Hawaii - Inside Look
Toa Luau
Founded in 2017 the Toa Luau is the newest Luau on the island. They pride themselves on being a family-run and (relatively) small operation. They are located in Waimea Valley on the North Shore which means that even thought they are a bit far from Honolulu, the setting of the show is gorgeous. Even better: entry to the Waimea Valley Botanical Gardens is included with the Luau ticket, so do show up a few hours early to explore the botanical garden and, if you feel like it, to take a swim under the waterfall towards the back of the gardens.
family run experience. It's located in the Waimea Valley and you can spend the day exploring the valley and swimming under the waterfall
When? Monday, Wednesday (all year); Tuesday (June to August); Friday (January to May)
Where? Waimea Valley (the North Shore)
Shuttle Available? No.
Price Range: $115 (silver) to $175 (VIP)
Website: Toa Luau
Video: The following testimonial uploaded by the Toa Luau themselves showcases some of the cultural activities organized together with a glowing review:
Luau Suggestions
To help you on your way we answer some of the most frequently asked questions about our Luaus below:
Luau shows on Maui and the Big Island
Lūʻaus are so typical to Hawaiʻi that you can find them on any island! If you are also visiting other islands and would rather visit a Luau there, you should have a look at our guides to Lūʻau shows on the Big Island and Lūʻau shows on Maui to read our recommendations for the other islands.