Located in Oʻahu's northeast corner in the town of Lāʻie, the Polynesian Cultural Center is one of the island's top cultural attractions. It is an intriguing place for anyone interested in Polynesian Culture, but it is especially popular with families, who are drawn to its array of kid-friendly activities and fun, educational opportunities.
Below, we provide a look at what the Polynesian Cultural Center (PCC) has to offer, and answer some of the most common questions to help you plan (or not plan) your visit.
Table of Contents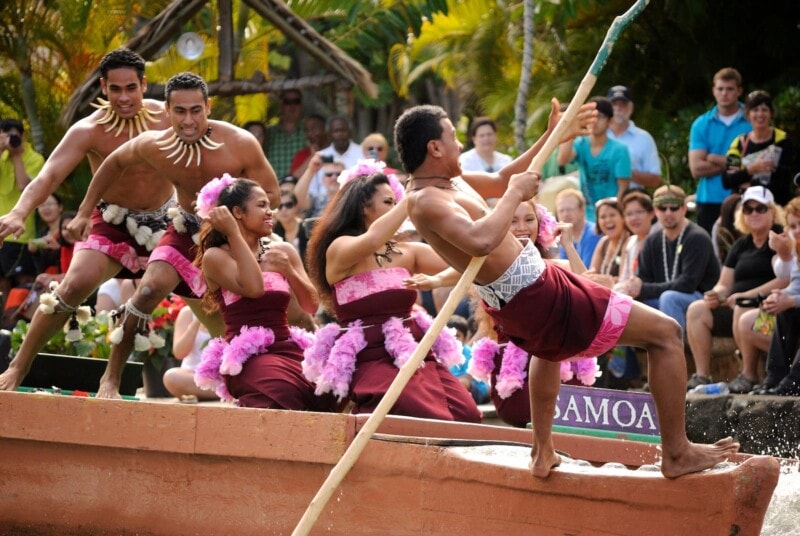 Our Favorite Activities at PCC For… (FAQ)
If you'd like to dive right in without reading our complete guide we offer you our take, and recommendations, expressed in answers to some common questions:
The cultural presentations of the island nations are usually informative and full of crowd-pleasing jokes. The Polynesian Football Hall of Fame is very small, but interesting for NFL fans. The evening show, Hā Breath of Life, is an entertaining Hawaiian musical, although it doesn't end until 9 p.m., and the one-hour drive back to the south shore afterwards is a drag.
No. Due to Mormon ownership, there is no alcohol served anywhere on the PCC campus, including inside the park and at the lūʻau, buffet, and show.
When visiting the island nations, the best way to experience them is to sit down and watch the shows. While there are small displays to peruse at some, the nation areas need to be brought to life. That is to say, there's nothing to be gained from walking or breezing through – to get something out of it, you need to watch the cultural performances and engage with the demonstrations. They take place throughout the day; you'll get a schedule when you enter, and you can also see it online. If you don't want to sit through the performances, there is no sense in going.
Families will enjoy the island nations' cultural performances and demonstrations, and the (free) canoe rides on the man-made river. Ukulele lessons are given in the Ukulele Experience & Shop, which also has a walk-through display about how a ukulele is made (no ticket is needed to visit this store, as it is located outside the ticket gate. See below for more information on tickets).
Kids will enjoy the hands-on demonstrations that take place at each island nation. They vary and range in content, but usually include ancient games, dancing, cooking techniques, weapon making, crafting, etc.
There is limited shade at PCC, and because the island nation performances all take place in the afternoon (12:45 p.m. – 5:30 p.m.), it can be very hot. Bring sunscreen and drink lots of water (backpacks are allowed). Because shade and shelter is limited, we also recommend bringing a light rainjacket, just in case.
Between visiting all the exhibits and attending an evening lūʻau, many people spend up to eight or nine hours at PCC. Personally, we feel a half day is sufficient, and recommend visiting right when the island nations open at 12:45 p.m. There's nothing wrong with the lūʻaus at PCC, but they don't serve any alcohol, and even still, we don't like the idea of tacking it onto the end of a long day. We recommend attending a lūʻau on an evening when you can be more relaxed, dress up a bit, take pictures with the sunset, have a drink, make it a special occasion, don't have to drive an hour afterwards, etc.
The performances and demonstrations are more interactive and engaging than they are academic. You will learn something, of course, but the idea at PCC is to have fun. Serious museum folks and those in search of in-depth academic knowledge should head to one of our Oʻahu top-3 museums instead.
About the Polynesian Cultural Center
We like to describe the Polynesian Cultural Center (official website) as the Epcot of Hawaiʻi. It's an imperfect comparison, mostly because the Polynesian Cultural Center does not sell alcohol (sorry, no beers in strollers here), nor does it offer country-by-country cuisine or boast the economic backing of Disney. However, at their core, the two experiences are similar. At Epcot, you go "around the world" to visit the different countries. At the Polynesian Cultural Center, you go around Polynesia to visit the six different island nations that make it up.
The six island nations
Each of the six island nations has its own sense of place, tucked in between palm trees beside the park's man-made river and lagoon. Each has its own stage/performance and activity areas, where performers play music, dance, and host interactive workshops and demonstrations – dancing, cooking, traditional skills, and games. Performances take place on a rotating schedule, so you can catch them all over the course of a few hours.

Read more about the six islands and their main attractions here.
The beginning of the Polynesian Cultural Center
The Polynesian Cultural Center was started in 1963 by the Mormon Church "as a way for students at the adjacent Church College of Hawaiʻi (now Brigham Young University Hawaii) to earn money for their education and as a means to preserve and portray the cultures, art and crafts of the people of Polynesia." Today, that tradition still stands, as most of the workers and performers at PCC attend BYU, many from the island nations represented at the park.
Beyond the island exhibits, the Polynesian Cultural Center has evolved into a huge attraction. It now has a marketplace, restaurant, theater, and event spaces.
A Short Breakdown of the Main Attractions
Here's what you need to know about the different attractions at the Polynesian Cultural Center.
6 Island Villages
There are six island villages that make up the ticketed portion of the park. You can read up on them before visiting to get an idea of what to expect. The basic entry fee to visit the villages is $69.95 and is good from 12:45 p.m. to 5:30 p.m. The six nations are Tonga, Tahiti, Samoa, Aotearoa (New Zealand), Fiji, and Hawaiʻi. You can read a short description on each of the villages below, or see a more in-depth description on the PCC website.
Islands of Hawaii
In the Hawaiian Village, talented villagers share the beauty of the islands through dance and song while hula lessons are provided throughout the day under a magnificent shade tree. You can also try your hand at our ancient Hawaiian games or participate in interactive demonstrations as you taste freshly prepared poi and/or discover the art of lauhala weaving.
You can explore the village of Hawaiʻi in this 360 degrees video (you can drag the screen around!) by the PCC:
Polynesian Cultural Center 360 4K! - Hawaii
Islands of Aotearoa (NZ)
The Maori of New Zealand have built their culture around the strength of family.
Your Maori experience begins with a formal welcome to the village including harmonic songs and the powerful Maori war-dance: the Haka. You can test your agility (or lack thereof) by learning ancient games of skill still taught to Maori school children, watch skilled artisans carve deadly looking weapons, discover some of the more interesting cooking and food preservation methods (dried and oiled bird sound good to you?) and learn about a type of facial tattoo that was definitely only for the brave!
Islands of Fiji
The Fijian culture is a unique combination of amusement, sincerity and etiquette where formality begins with the language and villagers are all considered family.
Feel the power as Fijian warriors give you an enthusiastic welcome while the women entertain with traditional dance. Then get your Fijian groove on pounding a derua (bamboo stick.)  You can also learn how to be a time traveler in Fiji by stepping from here to there! Confused? It will all make sense in the Fijian Village where you can learn how to make coconut oil, get a tattoo (temporary style, of course) and gaze up, up, up at the awe inspiring 6 story temple.
Islands of Samoa
The people of Samoa know how to have fun, in fact, their sense of humor is well known throughout Polynesia. But the root of that wit is based on love, respect, and generosity.
In the village of Samoa you get to feel the heat, show some muscle, enjoy Samoan song and dance and marvel as a young warrior climbs a 40-foot coconut tree-in his bare feet. Become a part of the 'happy people' at the Samoan village.
Islands of Tahiti
Love is in the air in Tahiti. It's reflected in the beautiful faces of the villagers, their lilting voices and the mesmerizing moves of the Ori Tahiti, a dance famous for its speed and agility.
The Tahitians really know how to swing their hips, not to mention their knees. See for yourself. In the process, they'll get you shaking and shimmying yourself. And don't miss the special wedding ceremony, where you will discover romance with an island beat. Other experience include sampling a delightful bite of melt-in-your-mouth coconut bread, trying your hand at pole fishing from a little pier, and practicing throwing a spear at a coconut.
Island Villages: Tahiti | Polynesian Cultural Center
Islands of Tonga
In Tonga, every day is a happy occasion.
Learn how to dance sitting down, enjoy some foot-stomping island music and watch audience volunteers morph in to mighty drummers during the lively cultural performance held throughout the day. You can also paddle a native-style outrigger canoe like the islanders used centuries ago, play the Tongan shuffleboard game called lafo and test your skills throwing spears.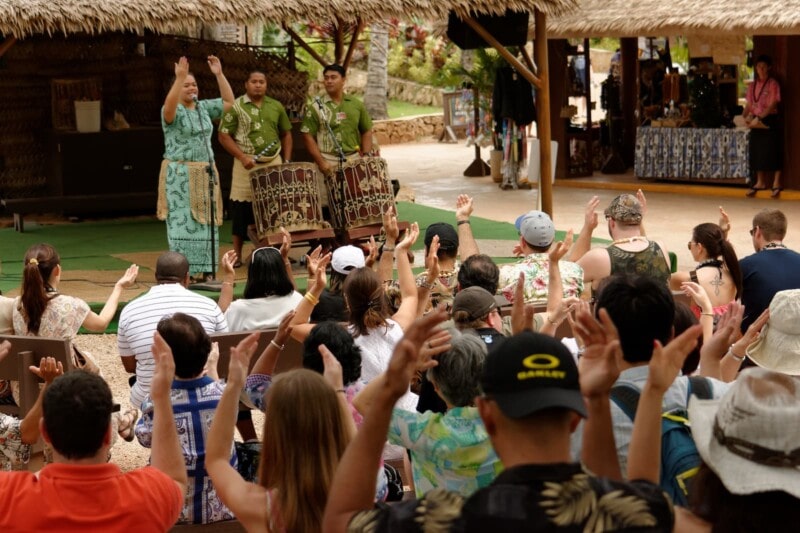 Lūʻaus & Dinner Options
Aside from the marketplace below, there are two ticketed options for dinner at PCC. One is the Aliʻi Lūʻau, which includes a buffet dinner and performance. Keep in mind alcohol is not served at the lūʻaus, or anywhere on the PCC campus.
The other, the Gateway Buffet, is a Hawaiian buffet without the show. Both options are wrapped into ticket packages for the park, so check the details carefully when browsing.
The Gateway Buffet is useful if you're a family looking for an easy dinner, with something for everyone. But it's not something that couples or adult groups should consider.
Marketplace
The Hukilau Marketplace is located outside the ticketed area of PCC, meaning you can visit these shops and food vendors without purchasing a ticket.
There's a full service restaurant called Pounders, and many other food vendors, including coffee, shave ice, ice cream, smoothies, crepes, and larger bites, like fish and chips and Thai noodles (full list here).
For shopping, there are art galleries, henna tattoos, and a variety of souvenir shops.
Evening Show
The Ha Breath of Life show takes place at night at 7:30 p.m. You can buy tickets just for the show, or packages that include entrance to the park.
The show focuses on a Polynesian romance and includes dancing, singing, and fireknife performances, appropriate for all age groups. It usually ends around 9 p.m.
Other Exhibits
The Polynesian Football Hall of Fame and Ukulele Experience & Shop are both outside of the ticketed area. Both are nice additions to a visit to PCC. The Hall of Fame is small but interesting for NFL fans, while the Ukulele Experience offers lessons throughout the day.
Practicalities – Getting There and where to buy tickets
Where To Book Polynesian Cultural Center Tours
The best place to book is on the Polynesian Cultural Center website. They often run a discount campaign where they give e.g. a 10% discount if you book early.
Getting there by Car
The easiest and most straightforward way to reach PCC is by car. Lāʻie is an hour's drive from Waikīkī and Honolulu, reachable either by driving through Kailua and Kāneʻohe up the windward coast, or via H2 and Kamehameha Highway on the North Shore. Parking is free and plentiful at PCC.
Getting there by Local Bus
From Waikīkī/Honolulu
You can reach PCC by local bus from Honolulu/Waikīkī, although we don't recommend it. The one-way journey will take two hours and requires at least one transfer in Kāneʻohe. It is possible, though, if you have no other options. You can see the route here.
From the North Shore
If you're staying on the North Shore, either in Haleʻiwa or somewhere along Kamehameha Highway, you can easily hop the bus to PCC. The #60 cruises Kamehameha Highway along the North Shore, making it easy and straightforward to catch the bus to PCC without any transfers. It will, of course, be slower than driving.
Getting there by Shuttle Bus
A third option for reaching PCC is to jump on a shuttle bus, which is a popular option for people who don't have a rental car (or don't want to rent one for just one day). It's run by PCC and picks up at various hotels in Waikīkī. When purchasing your tickets for PCC, you can add-on the shuttle service. It's $30 roundtrip. While this option is economical and easy, it does cost you some freedom, as you must go and return on the scheduled shuttles, which usually picks up in Waikīkī between 10 and 11 a.m. and returns late, after the Breath of Life show ends, usually around 10:45 p.m.
How to best make a day of your visit
Without a rental car
If you take the shuttle or the bus, it will be hard to add anything else to your day at PCC, as you will be tied to the shuttle/bus schedule and there's not much in walking distance to PCC. In this case, you might consider jumping on the PCC's full-day Circle Island Tour, which includes time at PCC as well as other stops in Central Oʻahu (Dole Pineapple Plantation) and along the North Shore.
With a rental car
However, if you have your own wheels, there are ways to combine the day at PCC with other experiences. First, don't sleep on the drive. Once you pass through Kāneʻohe, the road hugs the eastern shore of the island, taking you through small communities, with ocean and mountain views all along the way. Kualoa Regional Park, Kahana State Park, and any of the smaller beach parks all make for great, scenic stops.
You can also hit the North Shore before or after visiting PCC. Many of the North Shore's iconic beaches, including Sunset and Ehukai, are both within a half-hour drive. If you're hungry for something local, you could hit the North Shore shrimp trucks, like Giovanni's or Fumi's, or grab a slice of chocolate haupia pie at Ted's Bakery.