Most people visit Hawaiʻi with the intention of getting up early, spending long days outside, and capping it off with a relaxing sunset, a couple drinks, and dinner.
This strategy is appropriate on most occasions, especially as nightlife is hit or miss on the neighbor islands.
But on Oʻahu, where the city of Honolulu looms large, there are many options to experience the island vibe at night. Waikīkī is loaded with bars, clubs, and late-night venues, and Honolulu's neighborhoods offer a variety of different options for those that want to stay up late and experience Hawaiʻi after dark.
Table of Contents
Note: Oʻahu bars and night club will not re-open until Tier 4 of the re-opening plan has been reached. Obviously, many establishments in the "nightlife" category will only begin operating again once it is safe to do so. In our descriptions below, we are describing them as they were pre-COVID in hopes that they will return the same. In the meantime, use your judgement and inquire with establishments individually about their COVID-19 situations.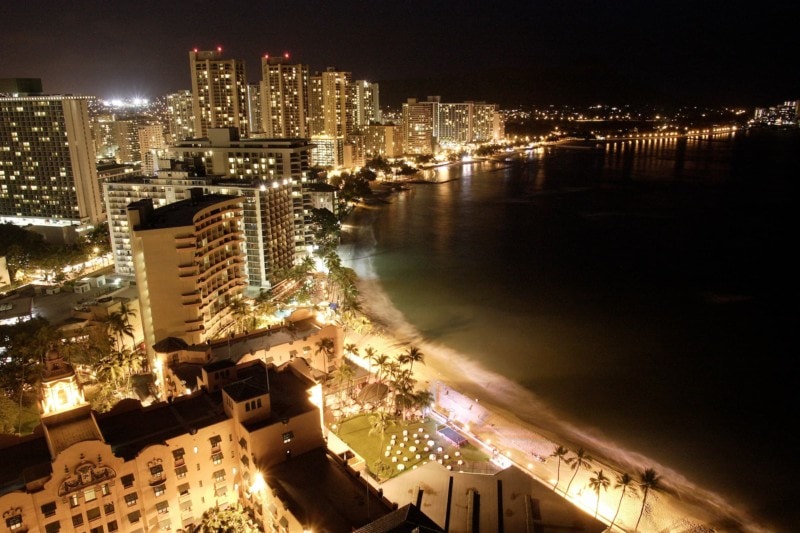 Bars
There are dozens and dozens of bars and breweries to check out on Oʻahu, so be sure to ask around for recommendations based on what you're looking to experience. Below, we present a variety of our favorites to help you get started.
Arnold's (Waikīkī)
Good for: Tiki vibes
Details: This beach-inspired tiki bar is one of Waikīkī's best dive bars for its décor, energy, and live music. Drink offerings are standard, but if you want to mingle with the young surf crowd, pop by Arnold's for a beer.
Bar 35 (Chinatown)
Good for: Beer selection
Details: Bar 35 is a beer-lovers paradise in Chinatown with more than 100 beers on its menu from all over the world. Since you're halfway across the Pacific, seek out brews from, say, Japan, that are harder to find on the mainland. Happy hour goes till 10 p.m. on Saturday night and gets you $3 off draft beers.
Bar Leather Apron (Chinatown)
Good for: Hand-crafted cocktails
Details: If you're looking for a professionally made cocktail in an intimate bar setting, Bar Leather Apron is the place. Among other options, the menu features a variety of old-fashions, but who needs a menu? This is the kind of place where you tell the bartender what you typically like and let them do the rest. Ask about any locally-made spirits they might have to include in your drink of choice.
Wang Chung's/In Between (Waikīkī)
Good for: Karaoke
Details: The karaoke scene on Oʻahu might surprise you. It's quite a thing, in fact, with more than a handful of karaoke bars in and around Honolulu. In Waikīkī, Wang Chung's and In Between are two of the most popular, bustling with young locals and Japanese tourists. There's no shortage of energy flowing through karaoke bars, especially on the weekends.
Gaslamp (Kailua)
Good for: Speakeasy
Details: Located inside of Kailua Town Pub, Gaslamp is a small speakeasy that requires advanced reservations. Live music (such as jazz) is a nightly occurrence and the menu features sophisticated cocktails, providing a sharp contrast to the sports-dominated Kailua Town Pub.
Grace in Growlers (Kailua)
Good for: Local beer crowd.
Details: Get this: Grace in Growlers is a beer bar that donates its profits to charity (and limits its customers to 36 ounces of beer). Take a growler of local beer to go and you'll be doing double duty. Bring your own food and plan to play a board game.
Tiki's Bar and Grill (Waikīkī)
Good for: Outdoor seating
Details: Tiki's features a sprawling outdoor area at the Aston Waikīkī Beach Hotel, located along the beach path in western Waikīkī. It's a nice place for an easy-going happy hour and a relaxing stroll at sunset.
Bacchus Waikīkī
Good for: LGBT scene
Details: Bacchus, a wine bar in Waikīkī, is a popular gay bar. At night, expect dancing and a festive atmosphere.
Bevy Bar (Kakaʻako)
Good for: Local crowd
Details: The SALT Complex at Kakaʻako has been growing for a couple years, and Bevy remains one of its staple offerings. Artsy and outfitted with murals, its cocktail and food menus are locally focused, and the place is a solid, all-around local favorite in budding Kakaʻako.
Live Music Venues
So many bars in Honolulu and Waikīkī offer live music that it would be impossible to list them all. But, here are some of the most consistent, reliable places to catch live music:
Hawaiian Brian's (Ala Moana)
Good for: Local bands
Details: This local hangout has all kinds of things to keep you busy – rows of pool tables, darts, ping-pong, and arcade games – as well as a full stage and concert venue. If you're looking for an all-night hangout with a sizable show crowd, this is the place.
The Dragon Upstairs (Chinatown)
Good for: Local bands
Details: As the name suggests, The Dragon Upstairs is a second-floor venue, small and a neighborhood-type establishment. They've got a new food menu now, which features local ingredients. It's a smaller, more intimate venue than Hawaiian Brian's.
Waikīkī Shell (Waikīkī)
Good for: Character, outdoor show
Details: The Waikīkī Shell isn't what it used to be, but it still comes to life every once in a while, bringing acts like Jimmy Buffett to Queen Kapiʻolani Park below Diamond Head. Shows have been limited the past few years and the sound system has seen better days, so don't get too excited, but it's worth checking to see if anything's going on. If so, it's a unique venue to check out, walking distance from Waikīkī Beach.
Blue Note Hawaiʻi
Good for: Professional performances
Details: The Blue Note jazz and dinner club draws a variety of local, professional acts, including musicians (like Jake Shimabukuro), comedians, and entertainers. The Blue Note has locations all around the world with a strong reputation for its showmanship. There are two show times each night; check the schedule to see what's happening.
Duke's
Good for: Beach vibes
Details: Duke's is an absolute institution in Waikīkī, and it's busy more often than not. It's not hard to see why, with its beachside location, ocean views, and nightly local live music. Sunset is by far the best time to be at Duke's if you can score a table, but that can be tough, so consider stopping by for a last drink after dinner once the happy crowd has moved on. Duke Kahanamoku, who the restaurant is named after, was an Olympic swimmer and the man who popularized surfing. He eventually became the official Aloha Ambassador for Hawaiʻi and taught visiting ex-Presidents how to surf. Check out the photos and displays of his life when you visit.
Clubs and Dance Venues
If you're looking for music you can move to, there's all different kinds of dance floors on Oʻahu.
District (Honolulu)
Good for: Modern/Trendy club scene
Details: For a large dance floor, VIP areas, neon lights, and the latest DJs, District is a solid choice. It's only open on weekends, but stays hopping until 4 a.m.
Addiction (Ala Moana, currently closed)
Good for: Modern/Trendy club scene
Details: Another option for the modern club feel, with velvet ropes and bottle service, is at Addiction inside the Modern Hotel. It's open Thursday, Friday, and Saturday until 3 a.m.
Manifest (Chinatown)
Good for: Bar floor dancing
Details: A coffee shop by day and cocktail bar by happy hour, Manifest in Chinatown turns into a nightclub of sorts after dark, blending the bar and club scenes.
Next Door (Honolulu)
Good for: Underground music/warehouse vibes
Details: Next Door features a wide variety of shows, including live bands, DJs, and even film screenings. The vibe is more like a warehouse than a modern club, leading it to offer more variety in its music, everything from electronic to heavy metal and reggae.
Scarlet Bar & Dance Club (Chinatown)
Good for: EDM/Pop music
Details: DJs and drag shows are the name of the game at Scarlet. Open Fridays and Saturdays until 2 a.m.
Haus Supper Club (Honolulu)
Good for: Karaoke/Dancing
Details: The Haus Supper Club has a lot going on. There's live music, DJs, karaoke rooms, and even a sushi speakeasy, making it one of the more unique late-night destinations. Go for a late bite and stay for the dancing.
Shows, Entertainment, and Weekly Events
Lūaʻus (Island-wide)
Good for: Family entertainment, dinner, drinks
Details: There are a variety of lūʻaus on Oahu, and each offers something a little different. Check out our full list of lūʻaus on Oʻahu for more information.
Art After Dark (Honolulu)
Good for: Socialites and art lovers
Details: Held the last Friday of each month at the Honolulu Museum of Art, Art After Dark rotates its themes and provides the chance to visit the museum at night, drink in hand.
Friday Night Fireworks (Waikiki)
Good for: Families, romance
Details: Every Friday, fireworks take place in Waikīkī off the shores of the Hilton Hawaiian Village Waikiki Beach Resort. It's a unique opportunity to enjoy the show with your feet in the sand.
When? The show will start at 8 p.m. from June to September and run for four minutes. The show will switch to 7:45 p.m. in the fall.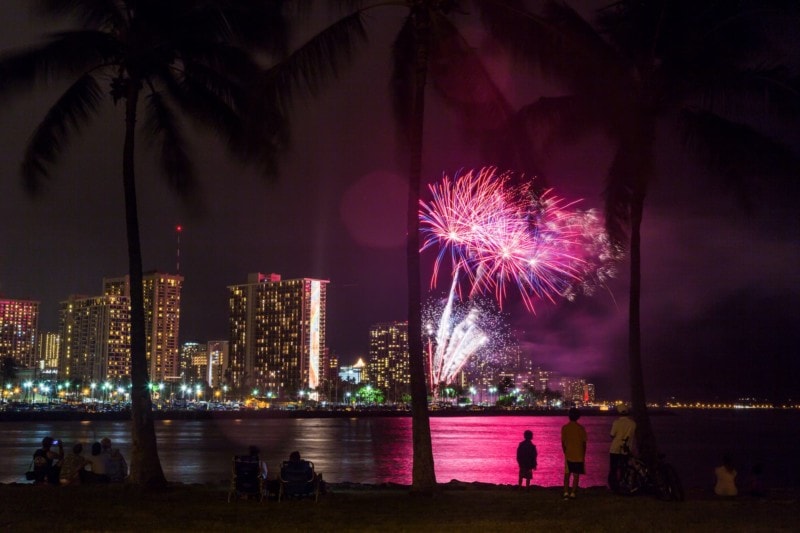 Sunset on the Beach (Waikīkī)
Good for: Families
Details: Every weekend, Sunset on the Beach features a different movie, projected onto a big screen on the beach in Waikīkī at Queen's Beach, across from the Honolulu Zoo.
Night activities in nature
Daytime is by far the most popular time to see nature and wildlife on Oʻahu, but did you know there also are some visitor-friendly nightly opportunities?
The Moon Walk (Waimea Valley)
Good for: Family, couples, nature.
Details: Waimea Valley opens their doors once a month around full moon to let people explore their grounds while lit by moonlight. This is a guided moonlit walk to their waterfall with currently 2 start times: 8pm and 8:30pm. You can find more information about the price and dates of this walk on the Waimea Valley website.
Star Parties
Good for: Astronomy enthusiasts.
Details: The Hawaiʻi Astronomical Society organizes star parties for the general public on most Saturdays where either the Moon sets early or rises late. The public parties were suspended during much of the COVID restrictions, but now that they are lifted we expect them to resume soon. You can find more information about these parties on the Hawaii Astronomical Society website.
More stargazing spots: Dark skies are essential for good stargazing, and finding dark skies on Oʻahu can be somewhat of a challenge. Check out our 3 favorite stargazing spots on Oʻahu to find out where we like to go to look at the stars.