If you are looking for O'ahu's metropolitan vibe, head to the south shore, home of Honolulu. Its neighborhoods of interest include Kakaako, Chinatown, and Waikīkī, the latter being the most famous and the hub of tourism in Hawai'i, renowned for its beginner-friendly surf culture and city-sand combination.
Table of Contents
Here's what you need to know when spending a day on O'ahu's southern coast:
Activity map for the south shore / Honolulu
First things first: on the map below you can find all recommendations we make in our guide for activities, restaurants, bars, things to do, places to go, and more.
This map is useful as overview for planning your day if you don't want to move around too much. Keep reading for our more in-depth guide to Honolulu:
Things to do in and around Honolulu
Though it's the most crowded part of the island, there are still many outdoor activities that highlight Honolulu's versatility. There are staples, of course – hiking Diamond Head is as close as it gets to a rite of passage, and if you don't try to stand up on a surf board in Waikīkī, did you even come to Hawai'i?
In all seriousness, surfing tops the list here, with Waikīkī being one of the friendliest and most iconic places in the world to learn to surf. Scuba diving is a popular south shore activity (Honolulu Scuba Company) but there are also many other ways to get out on the water, including catamaran rides (go at sunset!) and fishing charters.
Catamaran Waikiki Sunset Sail
A great evening for couples, families and large groups! Board a catamaran and experience the night-lights and beautiful sunsets of Honolulu.
from:
$40
What is a suggested tour?

Our suggested tours are hand-picked tours that receive consistent good reviews, give back to the community, and work hard to minimize their impact on the environment.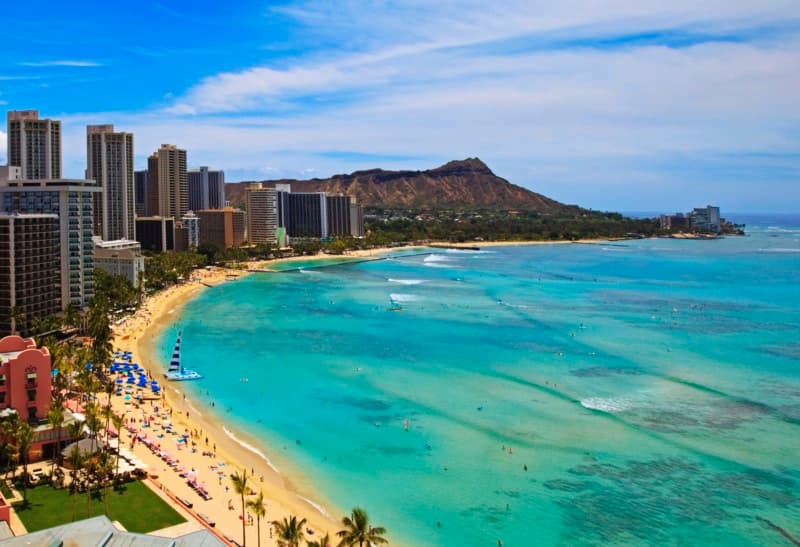 Hawai'i Kai
Farther down the coast, where the south shore meets the east coast, is the town of Hawai'i Kai, centered around a residential and commercial marina. The landscape surrounding it combines volcanic craters (Koko Head), lava flows (Halona Blowhole), surf spots (Sandy Beach), and one of the island's most scenic stretches of coastline adjacent to Hanauma Bay (which is a great but crowded place to go snorkeling).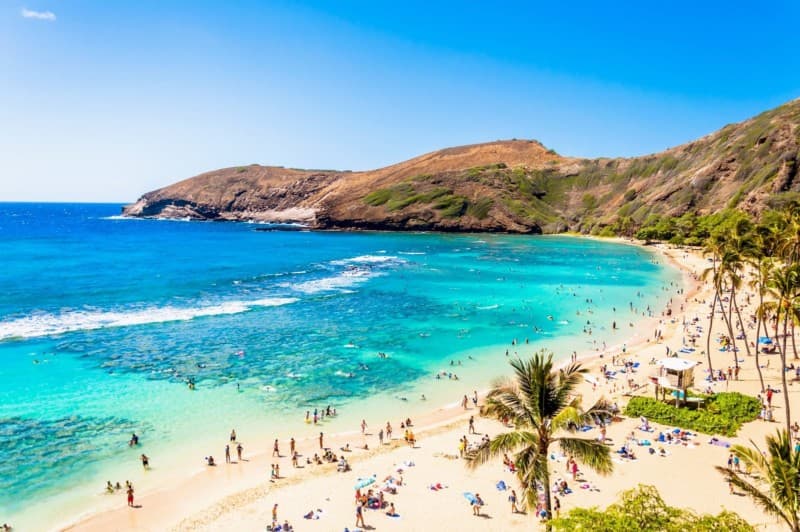 Honolulu: the 5 main neighborhoods of interest
Honolulu is the capital of Hawai'i and most likely the city in which you'll arrive for your holiday. Knowing where to go is important because of its size and population: 350.00 people (the same amount of inhabitants as Maui and the Big Island combined) spread over 60 square miles of land/city.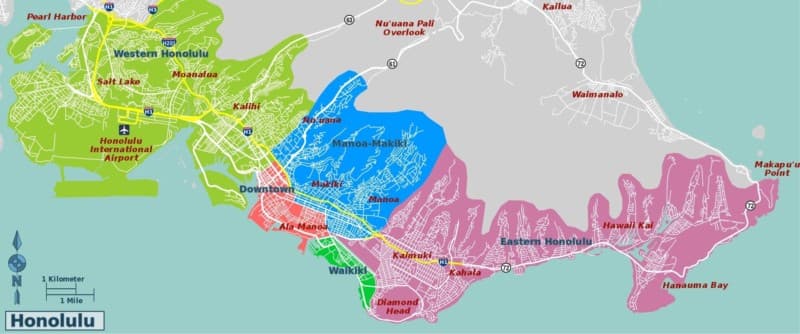 The following 5 neighborhoods are well worth a visit:
Downtown Honolulu
This is the business district of Honolulu. Mostly active during the working hours, with restaurants serving businessmen and women. Quiet after happy hour.
The Historic District
A small section of downtown where you'll find the historic buildings of the Hawaiian kingdom along the modern-day government buildings, including the Iolani Palace, Mission Houses, Kawaiahao Church, King Kamehameha Statue, State Capitol, Governor's Residence, and the Hawai'i Supreme Court.
Chinatown
Located west of Downtown Honolulu, it was destroyed by a fire in World War II and has undergone a transition in the last decade or so (slowly but surely). While still rough around the edges, Chinatown is home to a wide variety of Asian restaurants, markets, and youthful nightlife, and is a vibrant neighborhood to visit.
Kakaako
No area of Honolulu is undergoing more transition than Kakaako. Once home to nothing more than warehouses and auto shops, it has since been the site of rapid restoration. New condos, breweries, and entire city blocks of shops and restaurants (SALT Complex) have been completed in the past couple years. It has done well to maintain its edge with big, beautiful murals on the sides of buildings, attracting a yearly street art festival.
Waikīkī
The hub of tourism in Hawai'i, Waikīkī is home to dozens of hotels, restaurants, high-end shops, and bars. Waikīkī Beach is popular with tourists, beach-bums, and surfers.
Cultural and Historical Activities
3 locations stand above the rest when it comes to cultural and historical value in Honolulu:
The Bishop Museum in Honolulu is Hawai'i's best museum for cultural and historical exhibits. Museum goers, history buffs, and cultural enthusiasts should carve out time to visit.
Take it one step farther with a tour of the Iolani Palace, the only royal home in the United States, completed in 1882 by the last king of Hawai'i, David Kalakaua.
The Honolulu Museum of Art is Hawai'i's largest fine arts featuring a collection that includes traditional Hawaiian and Asian arts, Hokusai, van Gogh, Gauguin, Monet, Picasso and Warhol.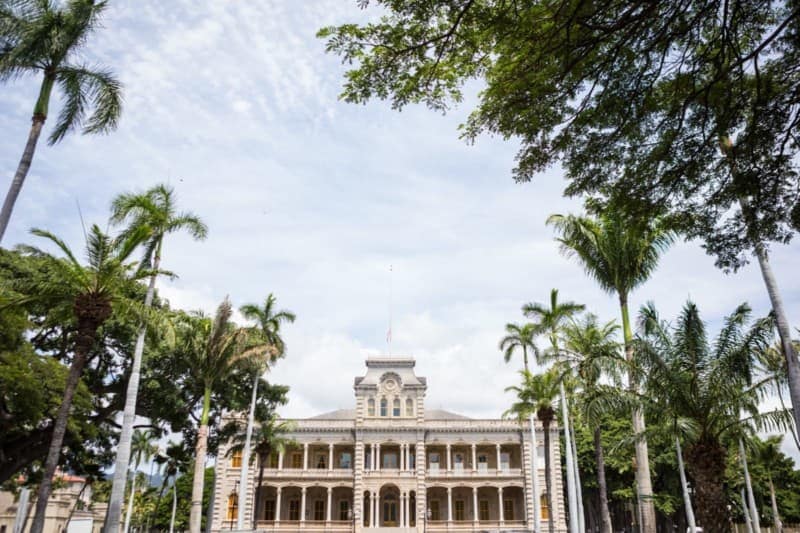 See also our guide about experiencing culture and history which covers places to see on the whole island.
Local Life
If you need a break from the busyness of the area, consider taking a run through Kapiolani Park, where locals gather for intramural sports, workouts, and meet-ups in the shadow of Diamond Head. Ala Moana Beach Park is the place to check out after working hours, where locals gather for volleyball, paddling, and sailing.
Of course the best way to see how locals live is to explore the restaurants and nightlife. All places mentioned in the sections below are also included on our south shore map.
Restaurants
You'll never be able to experience all there is to eat and drink in Honolulu in one visit. It's home to a super-diverse range of cuisines, including influences of Hawaiian, Pacific Rim, French, Japanese, Chinese, and Vietnamese, among others, from high-end (Chef Mavro) to street-food (Marukame). Exploring the food scene takes time, so come hungry.
Timeless local institutions like the Rainbow Drive-In and Leonard's Bakery; New, modern concepts like Lucky Belly and Pig and the Lady; Beautiful waterfront dining at Duke's and Hula Grill and Hau Tree Lanai. Whereas most of the Japanese restaurants are found in Waikīkī, you'll find most of the Chinese and Vietnamese restaurants in Chinatown.
The list goes on and on… so feel free to explore.
Nightlife
Honolulu's nightlife is strong, and something no other area of the island (or state for that matter) can match.
Live music is a big draw for residents of Honolulu, venues like the Waikīkī Shell, the Republik, Jazz Minds, the Dragon Upstairs, and Hawaiian Brian's. If you'd like to combine live music with a tiki bar check out Arnold's in Waikīkī.
There is a plethora of local breweries to check out – Honolulu Beerworks, Aloha, Waikīkī, Stewbum & Stonewall, Square Barrels, and Home of the Brave – as well as late-night establishments like Kelly O'Neil's.
Chinatown also has a lot of nightlife options: Beer bars like Bar 35, neighborhood bars like Smith & King's, and youthful bars like the Manifest.
Read more in our guide to Oʻahu Nightlife, which includes over 20 of our favorite bars, clubs, live music venues, and weekly events.
Putting it all together: a sample 1-day itinerary for Honolulu:
Even Honolulu on its own has too many highlights to reasonably explore in only one day. We propose the following 1-day itinerary for you if you don't want to make the hard choices (those of removing things from your itinerary) yourself:
Start your day with a morning surf lesson in Waikīkī, then grab a banana ice cream at Banan. Head over to the Bishop Museum during the heat of the day to learn more about Hawai'i as a sovereign kingdom. Wind down the afternoon with a sunset catamaran sail, then get ready for a night on the town.
More itineraries for O'ahu:
Honolulu is a good hub to explore the rest of Oʻahu from. Have for example a look at our 7 day itinerary, or take smaller steps with a set of other "1 day in …" itineraries which also are very useful to start planning your trip: