You probably best know Hawai'i for its famous tropical blue waters and relaxing beach holidays, but did you know a visit to O'ahu can also very rewarding to nature lovers? Sure, our other less densely populated islands give you more freedom to roam and to be away from the crowds, but good access to natural resources and strongly increased conservation efforts make exploring nature on our island a rewarding effort!
This guide is all about how you can best experience and learn about our unique nature and wildlife.
Table of Contents
1: Marine life and Coral Reefs
The wide variety of coral and marine life that inhabit our nearshore waters are among Hawai'i's most spectacular and most easy to discover natural treasures. In addition to the more than 400 (!) species of inshore and reef fishes there also are the more visible and famous larger marine animals such as turtles, dolphins, sharks, and whales.
Next to admiring our local wildlife "in the wild" there are also a two places where you can see a lot of marine life in a controlled environment. While this may conflict with your desire to be in nature we thing they are good options because you get to see many of our wildlife in a short amount of time *and* because of the (extra information).
Here you can read where the best places are to see Hawai'i's marine life, split into 4 sections.
The Best places to see fish and coral reefs
Of all our marine habitats reefs and tidepools are the most suited habitats to see fish and corals.  Tidepools provide "nursery" areas for young fish of many species, and reefs attract a great deal of marine life because they provide fish with abundant food resources and protection from predators.
Our nearshore coral reefs attract so many visitors that some are on the verge of being overwhelmed, and not all reefs are a good place to go snorkeling. Luckily, there are 3 Marine Life Conservation districts on O'ahu that are a great place to see coral and reef fish in their natural environment.
Marine Life Conservation Districts provide fish and other aquatic life with a protected area in which to grow and reproduce, and are home to a great variety of species. Additionally, fishes in MLCDs are fairly tame and often show little fear of humans because only limited (or no) fishing and other consumptive uses are allowed in them.
The 3 Marine Life Conservation districts on O'ahu are:
1: Hanauma Bay MLCD
Hanauma Bay is best for families with small kids who want to snorkel in a safe and beautiful environment. Lifeguards are always on duty, and conditions are usually calm. As most famous local snorkeling spots this bay is often very busy and we recommend visiting early. Read more about how and when to visit in our guide to snorkeling in Hanauma Bay.
A shallow fringing reef just offshore with depths up to about 10 feet extends about 100 yards offshore, and has several large sandy-bottomed areas. Fish are abundant along the reef edges surrounding these sandy areas. Visibility is usually best at low tide and early in the day, before sediment is kicked up by snorkelers.
The outer bay is recommended only for experienced divers. Depths range up to about 70 feet, and there is a large finger coral reef on the left side. Visibility is often better here than in any other part of the bay.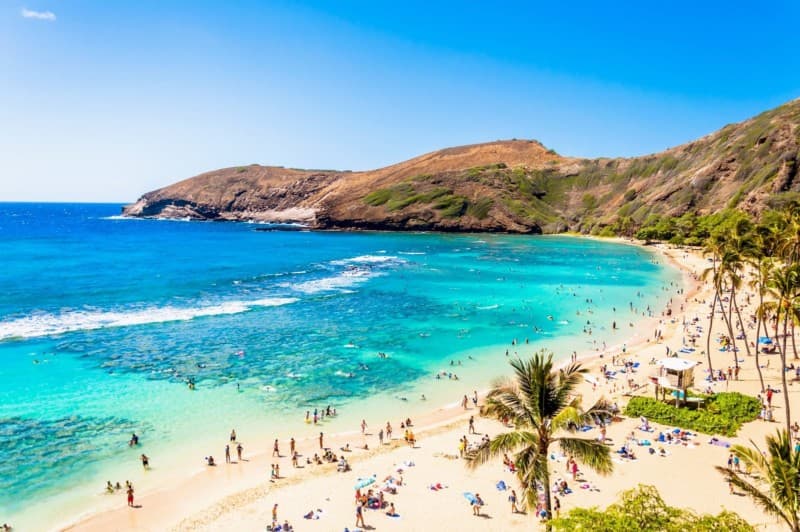 2: Pūpūkea MLCD
Established 1983, this MLCD contains both the Pūpūkea and Waimea Bay Beach Parks. Because the water conditions during the winter can get very rough we recommend this as a summer-only snorkeling spot (May through October). The district includes two major swimming areas, Shark's Cove and Three Tables, but lifeguards are only on duty at Waimea Bay.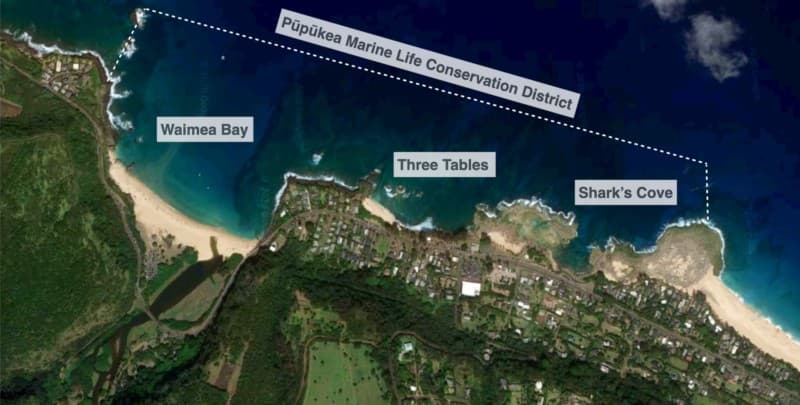 Shark's Cove is relatively shallow and a popular site for snorkeling, while diving conditions are better outside the cove. Caves can be found around the cove's northwest point, and to a lesser extent to the south. The area to the left of the cove offers excellent night diving. Visibility is generally poor inside the cove, but improves quickly outside.
The tidepool area to the left of Shark's Cove is good for reef walking or snorkeling, depending on wave and tide conditions.
Three Tables cove gets its name from the three or four flat sections of reef visible at low tide. Snorkeling is good around and just outside the tables area, and diving conditions improve farther out. Many ledges, arches, lava tubes and other features are found near and outside the tables.
Waimea Bay is primarily a swimming and surfing destination although there is some good coral growth in about 20 feet of water off the rocky point on the right side of the bay.
3: Waikīkī MLCD
The Waikīkī MLCD is located at the Diamond Head end of Waikīkī Beach. There is limited parking in a small parking area by the Waikīkī War Memorial Natatorium. Sediment covers the bottom of most of the MLCD, so visibility is best when there is little or no wave action.
A reef flat extends out from the Waikīkī Aquarium seawall a distance of about 35 yards to a dredged channel, then continues on the other side of the channel. Most fish in this area are found along the channel's shoreline side, along the Natatorium wall, and near the exposed parts of the reef on the channel's seaward side.
At the outer edge of the reef the bottom drops off sharply to about 15 to 20 feet. Numerous arches, crevices and other features are found here, along with an abundance of fish.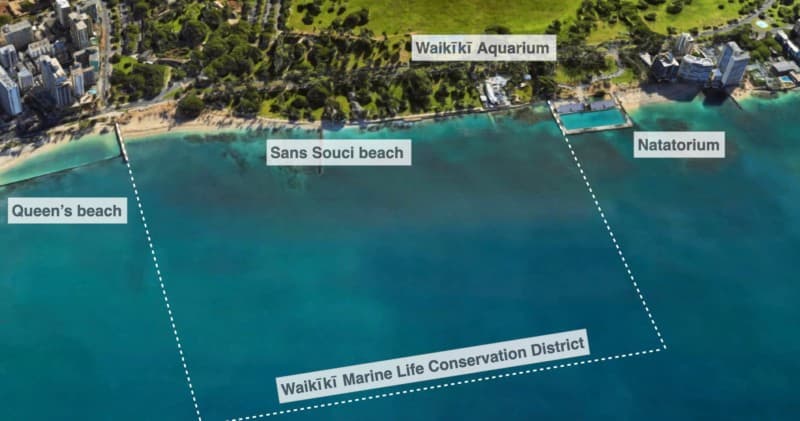 Larger marine animals (turtles, dolphins, whales, and Hawaiian monk seals)
Some of the largest species you can encounter while visiting Hawai'i are marine animals, and while there is no guarantee that you'll see some (unless you go to the Waikīkī Aquarium) there are some things you can do to maximize your chances of spotting them.
Good to know: sea turtles and marine mammals are protected under state and federal laws and should be never be approached closer than 10 feet (or 3 meters, for turtles), 100 yards (or 90 meters, for humpback whales), and 50 yards (or 45 meters, for other whale species and dolphins).
Where and how to see Turtles
In the water: The best places to see turtles while snorkeling on O'ahu are Aweoweo Beach Park and Turtle Canyon. Turtle Canyon is an off-shore spot fronting Waikīkī that is best reached by boat or kayak. Other good places to see turtles while in the water are Lanikai Beach, and Hanauma Bay.
On land: Not to be confused with Turtle bay, Laniakea Beach is a great place to go if you want to see turtles basking in the sun. The best time to spot turtles on this beach is during the early hottest hours of the day, give or take around lunchtime.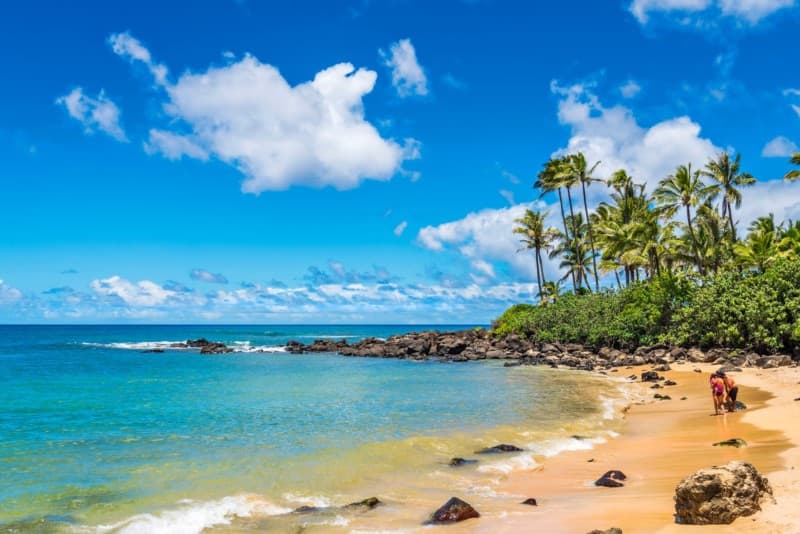 When and how to see Humpback Whales
Every winter, thousands of humpback whales travel 3.000 miles south from their polar feeding grounds off Alaska to the warm and safe Hawaiian waters to give birth to new calves and raise them. During whale season, running from December through May, O'ahu is a great place to see whales.
If you have patience and good eyes you can try to see whales from high viewpoints on land (for example from the Makapuʻu Lighthouse Trail), but most people opt to go on a whale watching cruise. Read more about both options in our guide to whale watching on O'ahu.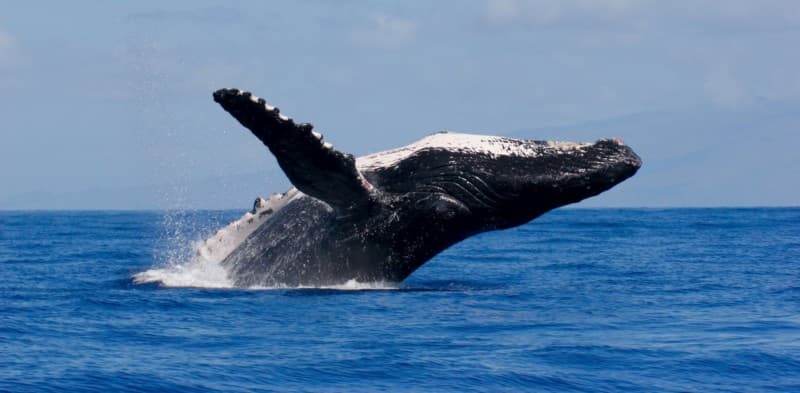 Where and how to see Dolphins
Dolphins are among many people's favorite animals and being close to one often is a bucket-list item. Having said that, activities that focus on being close to dolphins are frowned upon here in Hawai'i because some tour operators ignore regulations that have been put in place to protect the dolphins.
If you want to swim and/or interact with dolphins responsibly you have two options:
Choose a dolphin (snorkeling) tour operator that adheres to the dolphin SMART guidelines, or
Interact with captive dolphins in a pool/aquarium.
Read more about your options on how to see dolphins in a responsible way in our guide about seeing and swimming with dolphins.
A special word about the Hawaiian Monk Seals
Endemic to the Hawaiian islands, Hawaiian Monk Seals are one of the most endangered seal species in the world. Their current population is estimated to be around 1400, 300 of which can be found in the waters surrounding the main Hawaiian Islands.
Good to know: you can find two captive Monk Seals at the Waikīkī Aquarium.
While you are unlikely to see one of these in the wild it does happen, and it is good to remember that Hawaiian monk seals are protected under the Endangered Species Act, the Marine Mammal Protection Act, and Hawai'i state law. If you do see one please follow these guidelines:
Stay behind any signs or barriers when viewing monk seals
Give seals enough space by using the"rule of thumb." Make a "thumbs up" gesture and extend your arm out straight in front of you, with your thumb parallel to the ground in your line of sight of the seal. If your thumb completely covers the seal, then you're far enough away to not disturb it (about 50 feet or 15 meters).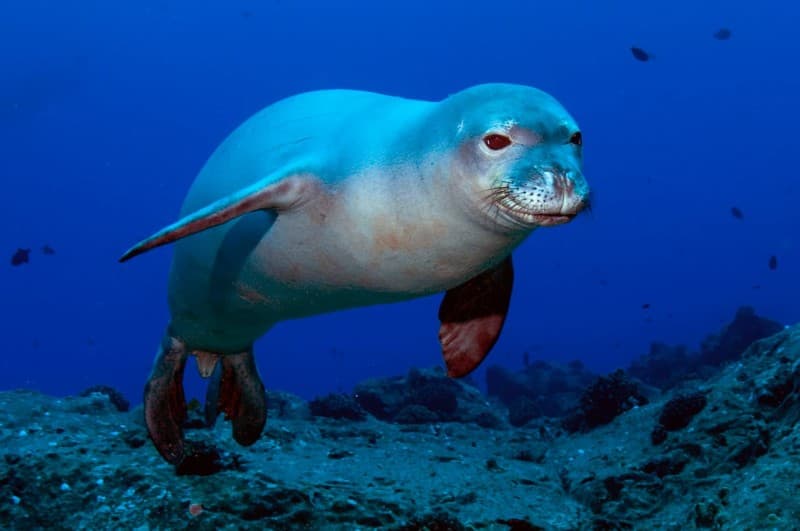 Find out more about the Hawaiian Monk Seal on the NOAA website.
Waikīkī Aquarium
We know that it is a bit counter intuitive to suggest going to an aquarium in a guide on how to see nature, but please hear us out!
The Waikīkī Aquarium is a small aquarium featuring 3,000+ Hawaiian & tropical Pacific marine animals and is know to be an excellent display of ocean life in the pacific. Visiting the aquarium may be a shortcut to seeing many local and endemic species you are unlikely to encounter during your stay here, and it is a family destination. Additionally, the aquarium has an outdoor garden and offers a Hawaiian plant guided tour every first Thursday of the month.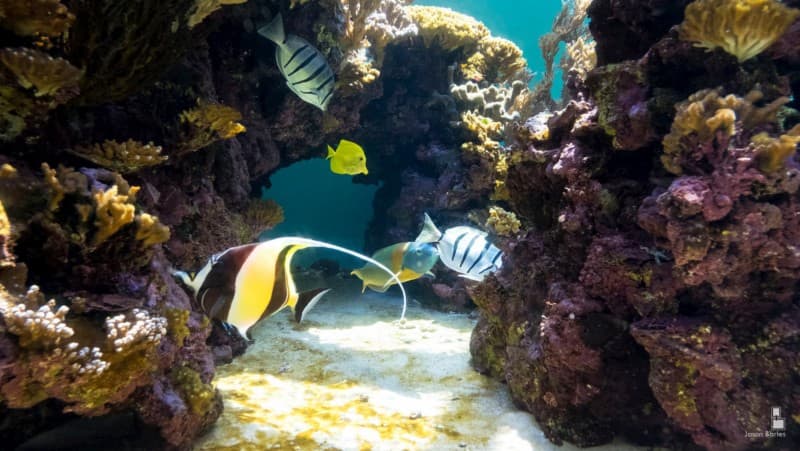 Coconut Island
Not to be confused with Coconut Island on the Big Island, our Coconut Island is a marine research institute. Also know as Moku o Loʻe, it is a 28-acre island in Kāne'ohe Bay that houses the Hawai'i Institute of Marine Biology (HIMB) for the university of Hawai'i – one of the world hotspots for coral restoration research.
And do you want to know the best thing about Coconut Island? The institute organizes fun and education tours that include learning about the island's rich history, ongoing research projects, and Kane'ohe Bay's unique marine ecosystem. Read more about the tours on the Aloha with Love website if you are interested in visiting Coconut island.
Guided walking tours are open to the public, more information on this website.
2: Native Plants, Trees, and Flowers
Nature in Hawaii has evolved to be incredibly unique and diverse because we are such an isolated archipelago and because we pack so many different climate zones on our small volcanic islands. According to the latest survey by the Bishop Museum (2014, source) there are 26,608 species (algae, fungi, insects, fish, etc.) in the state of Hawaii, including over 11,000 native and 10,000 endemic species!
Learn more about Hawaiian native and endemic species in our blog.
From all those species there are over 3,000 different plants in the state, over 1,150 of which are endemic. In this section we discuss 3 good ways to get to know more about the rich flora on O'ahu.
Botanical Gardens
Oddly enough botanical gardens here don't get the attention from visitors we feel they deserve.
Why? We don't know for sure, but our best guess is that people get exposed to so much abundant growth during their daily routine that they think visiting a botanical garden adds little to their Hawai'i experience. We of course beg to differ, and highly recommend visiting a botanical garden during your stay because of the amount of native and endemic plants, flowers, and trees you'd get to see (and learn about through educational displays and tours).
There are 10 botanical gardens on O'ahu, but the ones we suggest to nature lovers are the Lyon Arboretum and the Waimea Valley because of their size and diversity of plant life. If you are primarily looking for educational value we suggest a visit to the Mānoa Heritage Center, as it strives to teach its guests about the preservation and understanding of cultural and natural heritage.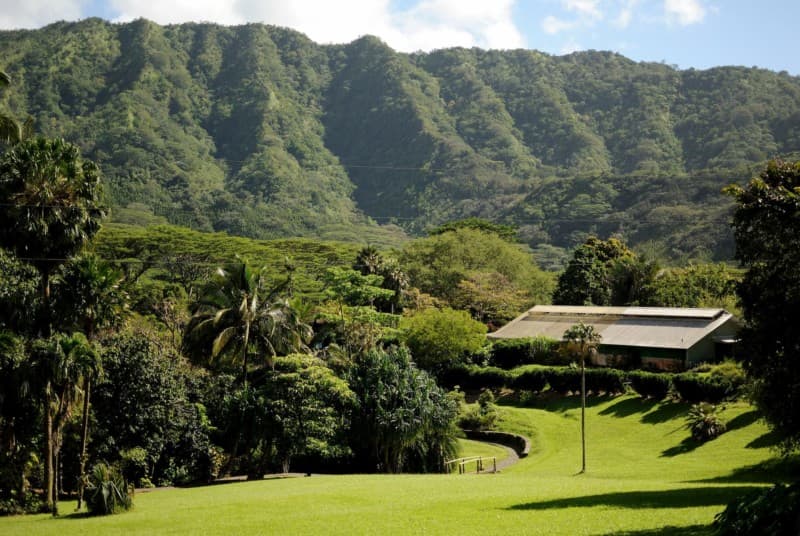 Hiking in Natural Reserves
Hiking is arguably the best thing you can do to immerse yourself in nature. While there are MANY hikes on our island (see our 15 favorite hikes here) we'd like to point you to one of the four dedicated Natural Area Reserve Systems (NARS) on O'ahu if your main aim is to explore our unique flora and fauna. These reserves were created to preserve, as relatively unmodified as possible, the natural flora and fauna of Hawai'i, and within them visitors can find rare endemic plants and animals, many of which are on the edge of extinction.
There are 21 natural reserves spread over the Hawaiian islands, 4 of which can be found on O'ahu:
Ka'ena Point
Ka'ena Point is the site of one of the last intact dune ecosystems in the main Hawaiian Islands. Situated at the base of the Wai'anae Mountains, the reserve protects coastal dry shrub lands and rare coastal plants. It is also a nesting area for the Laysan albatross and is regularly visited by Hawaiian monk seals, while Humpback whales can often be spotted offshore from this reserve during the winter months.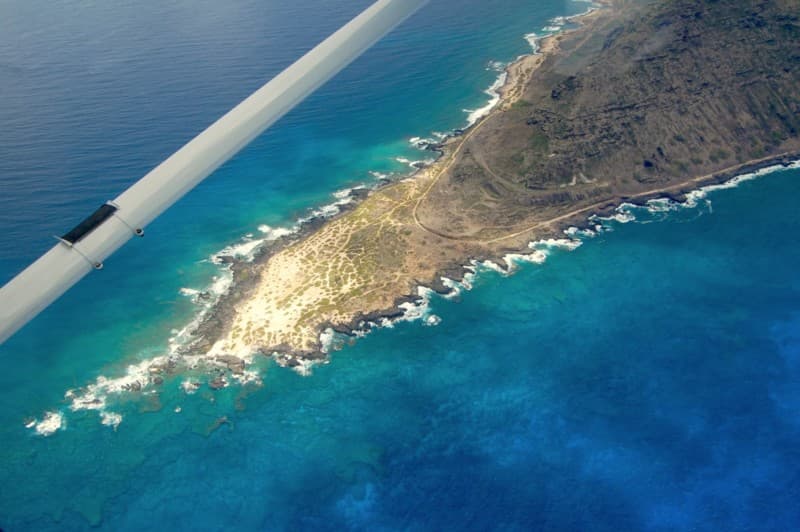 Day entry into the reserve is only by foot or on mountain bikes. On the northern end, the reserve begins approximately two miles past the end of the paved road and extends beyond the boulder barricade and around the Point towards Wai'anae.
More information: Ka'ena Point on the DNLR website // brochure highlighting the plants and animals of Ka'ena
Kaluanui
Located on the windward side of O'ahu, Kaluanui preserves unique lowland forests and the Kaluanui Stream, one of the few streams on O'ahu unaltered by humans and prime habitat for all five of Hawai'i's native freshwater fish species. The lowland wet forests and wet cliffs are home to 29 endangered or rare species. Kaluanui is bounded at its lower elevation by a series of large waterfalls in the Sacred Falls State Park, access to which is closed to the general public (video).
The Kaluanui Natural Area Reserve is very remote and accessing the area requires a minimum five-mile round-trip hike and an elevation gain of 2,200 feet via various unofficial, unmaintained, long, and difficult trails. The Ko'olau Summit trail, Castle trail and Papali ridge trails access the ridges surrounding this very remote Natural Area Reserve. Please note that private landowner permission is required to hike the Castle trail and portions of the Summit trail.
More information: Kaluanui on the DNLR website // Map.
Mount Ka'ala
Part of the Wai'anae Mountain range, Mt. Ka'ala was formed by volcanic eruptions nearly four million years ago. Millions of years of erosion by rain and wind have left huge valleys and sharp ridges cut into the extinct volcano, leaving behind only a small fraction of what once was a large flat summit (which with 4,020 ft. (1226 meters) remains the highest point on the island of O'ahu). On this summit plateau, surrounded by wet cliffs and narrow ridges, and often hidden in the clouds, you can find an ancient Hawaiian rainforest that contains some of the rarest plants in Hawai'i.
The summit area itself can be accessed through a difficult hike, but once you make it up a far easier boardwalk trail through the native cloud forest awaits.
More information: Mount Ka'ala on the DNLT website // map.
Pahole
The 685 acre Pahole Reserve was established in 1981 and encompasses a complex valley system in the northern Wai'anae Mountains. The area is known for its natural diversity and extends from the summit ridge down to the dry lowlands. The reserve contains a rare dry forest, a rare mesic forest, endangered Hawaiian tree snails, lowland mesic forests, dry shrublands, and much more.
Access to this area is not straightforward, but if you are very motivated see e.g. this hike.
More information: Pahole on the DNLR website // map.
Nature tours
The Hawai'i Nature Center organizes educational and entertaining nature tours for children ages 3 to 5 (and accompanied by an adult) or ages 6 and up. These tours are typically held the 1st and 3rd Saturday of each month between 10 am and noon. Go to the Hawai'i Nature Center event overview to see all upcoming events.
3: Terrestrial Wildlife
Getting to the Hawaiian archipelago was far more difficult for larger land mammals than it was for smaller plants, insects, and birds, so it is not surprising there are only two native mammals in the state: the Hawaiian hoary bay and the Hawaiian monk seal.
This lack of land mammals was a very good thing for our birds (until humans introduced a bunch of predators…), and bird lovers will be delighted by the 294 different bird species (63 of which are native!) that can be seen and heard throughout the state.
In the following section we discuss two options you have to learn more about our terrestrial animals: bird watching and going to the zoo.
Bird Watching
Hawai'i's birds represent one of the greatest examples of variety and adaptation anywhere in the world, but unfortunately O'ahu doesn't have as much access places that are well-suited to see our native birds as Maui, Kauai, and the Big Island.
This goes especially for our native forest birds, but don't let that stop you. Birds such as the 'apapane and the 'amakihi can for example be seen on most of the ridge trails in the mountains behind Honolulu and the Maunawili trail.
If it comes to seabirds and native waterbirds you are in more luck, as places from which you can spot those are more plentiful and easily accessible. Examples are the Makapuʻu Lighthouse Trail, Enchanted Lake in Kailua, and the James Campbell National Wildlife Refuge (open from September through mid-February).
Good resources for people planning to pay special attention to birds while visiting Hawai'i are: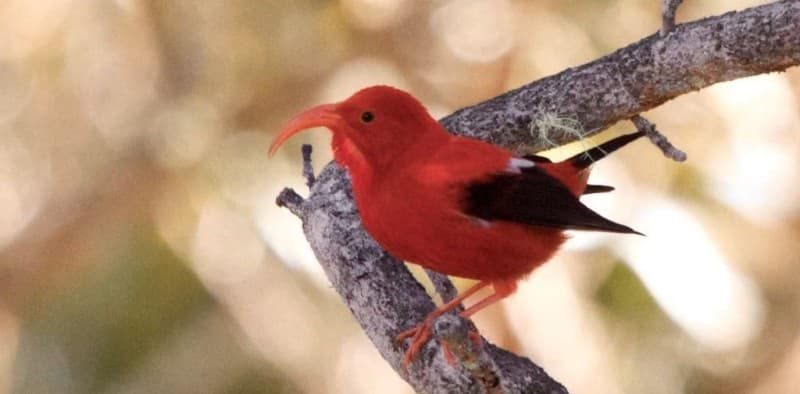 Honolulu Zoo
The Honolulu Zoo covers 42 acres and is located in downtown Honolulu between Waikīkī and Diamond Head. The Zoo emphasizes Pacific tropical island ecosystems and visitors in local nature and wildlife should definitely visit the orchid garden, the nene sanctuary (nene geese are endemic to the Hawaiian islands and are the official state bird), the Koloa (native Hawaiian duck), and the 'Io (native Hawaiian hawk).