O'ahu's windward or eastern coast offers a slower-paced version of O'ahu, including some of the most stunning natural beauty anywhere in Hawai'i.
Table of Contents
Good to know: the Windward coast
In Hawai'i, the wind and weather typically come in from the east/northeast. This small fact explains why the eastern coast of every Hawaiian island called the Windward side.
It also explain why the windward side of O'ahu is such a lush and beautiful place. As the air reaches Hawai'i it drops most of its moisture along the eastern coast as it gets blown over the volcanoes, making that side of the island a bit cooler and more lush than the rest of the island.
But don't worry – these rains won't ruin your trip. In fact, they only make things more beautiful, carving dramatic formations into the Koʻolau Mountains, feeding waterfalls, and allowing tropical plants to flourish.
Popular Beaches
Here are a few beaches to check out on O'ahu's windward side. You can see more in our O'ahu Beaches Guide.
1: Makapuʻu Beach
Tucked away in a small cove in the shadow of its namesake lighthouse, Makapuʻu Beach is popular with the younger crowd, mostly due to its big surf that attracts bodyboarders from across the island. Pull up a chair and enjoy the show, but beware of swimming here as the currents can be quite strong. Always check with lifeguards before entering the water.
2: Waimanalo Beach
Waimanalo Beach is the longest stretch of beach on the Windwardside. With few-to-no services and no commercialization, it shines for its simple, scenic beauty and is one of the most "local" beaches on the southern, east side of the island. Great for swimming, beginner bodyboarding, and sunbathing.
3: Lanikai Beach
Lanikai Beach, with its powdery white sand, clear blue water, and a vantage point of two offshore islands, is routinely voted as one of the world's best beaches.
Read more in our complete guide to Lanikai Beach.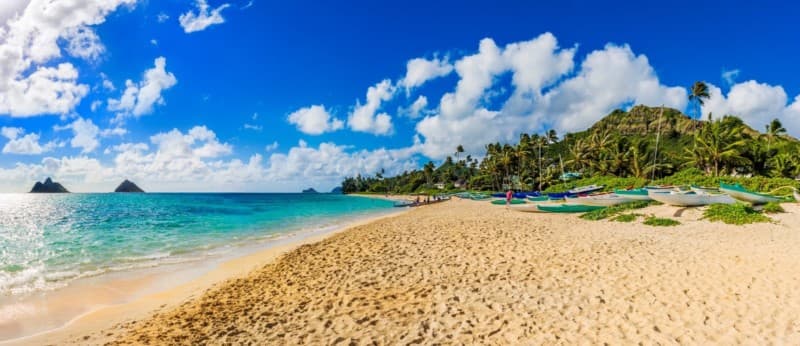 4: Kailua Beach
Kailua Beach is a playground for locals on the Windwardside, home to many watersports. Full of pristine white sand, it has clear blue water and is relatively undeveloped, making it less of a spectacle than Waikīkī and more of a paradise-like neighborhood hang-out kind of beach.
Read more about this beach in our Kailua Beach guide.
5: Kualoa Regional Park
A beautiful beach park with spectacular views down the windward coast and the gorgeous, stunning cliffs of Kualoa Ranch behind. At low tide, you can just about walk out to the island of Mokoliʻi (also known as Chinaman's hat). Otherwise, it's an easy kayak.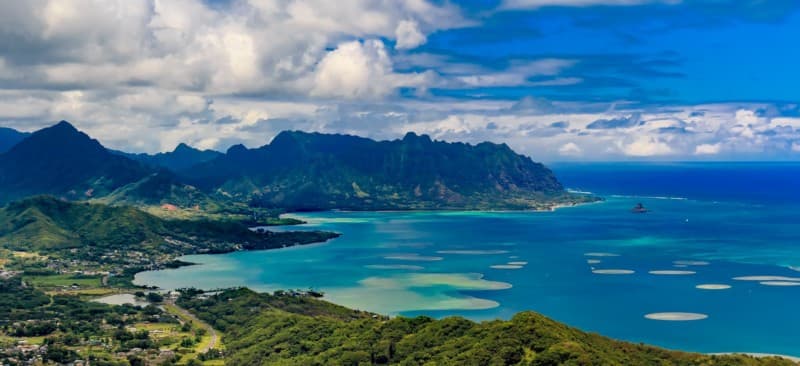 Outdoor activities:
the Windward side has no shortage in activities if you don't feel like hanging on the beach. We summarize some of the most popular hikes, water activities, and luaus, below.
Hiking
There are many hikes on the east side of O'ahu. Below are a few of the most accessible trails, and you can find others in our O'ahu hiking and waterfall guides.
1: Lanikai Pillbox Hike (Beginner)
Behind the Lanikai neighborhood is the trailhead for the Lanikai Pillbox Hike, one of the most scenic and popular hikes on O'ahu. A short but steep one-mile climb brings you to a set of leftover army bunkers and gives you an overlook of Lanikai Beach, Kailua Town, and the Koʻolau coast.
Many people tackle this hike in the early morning to watch the sun rise off the coast.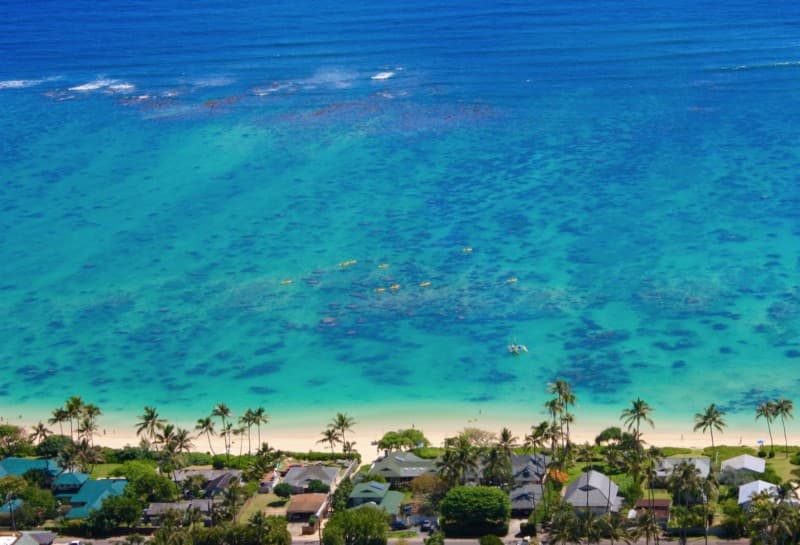 2: Makapuʻu Lighthouse Trail (Beginner)
This 1-mile paved trail offers a mellow climb to the Makapuʻu Lighthouse and an overlook of the southeast part of the island, one of the best bang-for-buck hikes in terms of its accessibility and payoff. On clear days, you can see the islands of Molokai, Lanai, and Maui in the distance.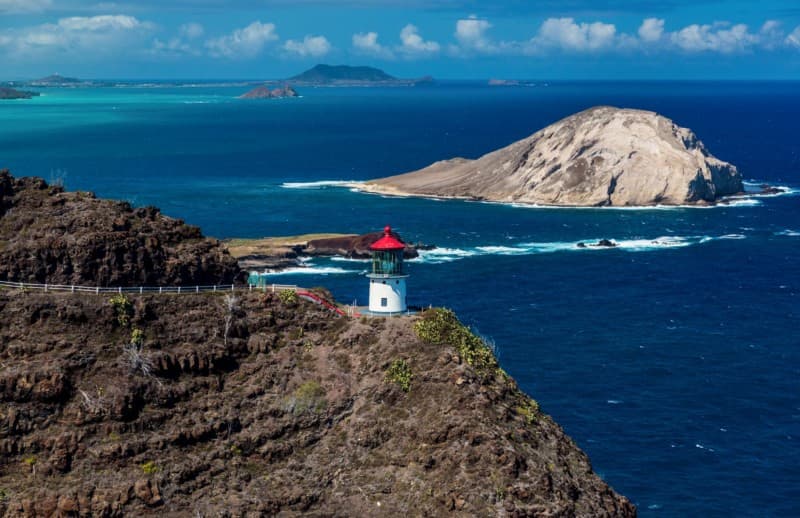 Olomana (Intermediate/Advanced)
This 4+ mile hike gains almost 2,000 feet on the way up to the first of three peaks that rise above the Windward side. The views from the first two peaks offer the best vantage points of the Koʻolau range and the coast. While the first two peaks are relatively safe, peak three is very dangerous and it is not recommended to summit.
Water Activities
Lots of beautiful beaches means there are many things to do in the water! Surfing, Standup Paddleboarding and Kayaking are all popular pastimes on the windward beaches. Unfortunately, the east coast has poor snorkeling spots.
Standup Paddleboarding & Kayaking
Kailua Beach is the hub for paddleboarding and kayaking on O'ahu's east side. Consider renting a board/kayak or hopping on a tour from Kailua Beach Adventures, located across the street from the beach park.
Surfing
Castles Beach in Kailua is a beginner-friendly longboarding break at the far north end of Kailua Beach. You can read more about the break here, or read more about going surfing on O'ahu on our website.
Cultural activities: Luaus
There is only one luau on the east side: the Ka Moana Luau at Sea Life Park in Waimanalo. Check the online schedule for showtimes and ticket prices/packages.
You can find more Luau shows in central O'ahu, at the Polynesian Cultural Center.
Other Outdoor Activities and Tours
Kualoa Ranch (see below for more) is the main site on the windwardside for a variety of tours, including ATVs, ziplining, horseback riding, and mountain biking. It also has movie-set and jungle expeditions.
Places to see
As far as towns go, Kailua is the main hub of the east side, offering a beach-side community full of things to do (see also our full guide on Kailua).
Other popular places to see on O'ahu's windwardside are:
Sea Life Park
Sea Life Park is a family-friendly marine and wildlife park that offers fun and educational activities, including swimming with dolphins and sharks. The Park also focuses on conservation in Hawai'i. There are a variety of ticket prices and packets, depending upon which experiences you choose.
Byodo-In Temple
Located in Valley of the Temples Memorial Park, the Byodo-In Temple commemorates Japanese immigration to Hawai'i and offers a peaceful setting among the Ko'olau Mountains in Kaneohe.
This Buddhist temple is a smaller replica of a nearly 1,000 year-old temple in Uji (Japan) and, though no official services are held at the temple, the public is welcome to practice self mediation or prayer on the temple's grounds. Entry fee is $4, cash only.

Polynesian Cultural Center
One of the busiest attractions in all of O'ahu, the Polynesian Cultural Center is the "Epcot" of Hawai'i – a large park split into different villages that represent the island nations of Polynesia, such as Hawai'i, Tonga, Fiji, Samoa, and more. Each village has cultural presentations and educational performances that depict its life and culture.
Other attractions within the park include the Polynesian Football Hall of Fame, a variety of luaus, a nightly feature show, and plenty of food vendors. There are many different types of tickets, depending on how long you want to visit and how much you want to experience. A visit can range from a couple hours to multiple days.
Nuuanu Pali Lookout
The site of one of the most historic battles in Hawaiian history, the Nuuanu Pali Lookout is also one of the best vantage points of the windwardside.
"Pali" means cliff, which is exactly where this lookout stands, about a thousand feet up on the east side of the Ko'olau Range. In 1795, King Kamehameha won a decisive battle here over the O'ahu army, conquering the island and bringing it under his rule. In the clash, hundreds of men were driven off the side of the cliff, offering a grim reality to this otherwise stunning modern view.

Kualoa Ranch
In addition to its tours (see above), Kualoa Ranch holds much cultural and historical significance. One of the last remaining undeveloped series of land divisions on O'ahu, it has become a place of recreation and a favorite location for Hollywood filming thanks to its preserved, gorgeous landscape.
Even if you don't jump on a tour, stop by for local plate lunches at Aunty Pat's Cafe – including beef and pork raised right on property – as well as meat and oysters to go.

Kahana State Park
This U-shaped bay and State Park is small but incredibly scenic as a result, squeezed in between the peaks of the majestic Ko'olau Range. The primary purpose of this park is to nurture and foster native Hawaiian cultural traditions and the cultural landscape of rural windward Oʻahu.
You can find two relatively easy hiking trails in the park, as well as extensive remnants of Hawaiian culture in the valley. Camping, paddleboarding, and kayaking are all possible, but there are no rental stores, so you'll have to bring your own equipment.

Eating and drinking
Here are some places to grab a drink or a bite as you cruise the east side:
Keneke's: If you're after a large and affordable plate lunch, such as Kalua pork, stop by local-favorite Kennekes. It has two locations on the east side, one in Waimanalo and one in Punaluu.
Ai Love Nalo: This plant-based restaurant in Waimanalo uses local ingredients in its dishes and offers a peaceful garden setting.
Lanikai Brewery: Pop into this local Kailua brewery for island-inspired ales.
Buzz's Steakhouse: Whether it's one of their famous mai tais and a couple appetizers on the patio, or a steak inside, Buzz's is one of the only restaurants near the water in Kailua.
Kalapawai Market: With two locations in Kailua, Kalapawai has you covered for to-go sandwiches.
Nico's Kailua: If you're looking for a proper seafood dinner, Nico's in Kailua offers fresh fish and poke.
Shrimp Shack: This food truck in Punaluu has you covered for shrimp and seafood plate lunches.
Putting it all together: a sample 1-day itinerary for east O'ahu
Wake up early for the sunrise on Kailua or Lanikai Beach, perhaps knocking out the Pillbox Hike or simply walking the sandy shores at first light.

Pick up breakfast at Kalapawai Market, then hit the road and drive north to Kualoa Ranch for a tour of your choosing. Continue north to check out Kahana Bay, where you can pause for a few moments on the beach, or take a walk through the state park.
Check out the Shrimp Shack or Keneke's in Punaluu for a local lunch, then cruise back down south. Enjoy a relaxing afternoon at Kailua, Lanikai, or Waimanalo Beach. Finish the day with a beer at Lanikai Brewing or a mai tai on the patio at Buzz's.
ee the following 9-minute video for a slow trip along the east coast filmed with drone by the TAPP channel:
East Shore Oahu Hawaii | 4K Drone Video
More 1-day itineraries for O'ahu
The windward coast plays an important part in our pre-made one week itinerary for the island. See also the other "1 day in …" itineraries for O'ahu we made to make start planning your trip easier: