O'ahu is the most diverse and multicultural island in Hawai'i, and no other island in the chain can match the contrast of its offerings, wide-reaching and complete.
The south shore is home to Honolulu, a bustling international city, while the North Shore plays host to international surf competitions. Historical sites, like Pearl Harbor and the 'Iolani Palace, are tucked in between two gorgeous mountain ranges, the Ko'olau Range in the east and the Wai'anae Range out west. Volcanic sites, like Diamond Head and Koko Head, offer active teaching moments about O'ahu's rise from the ocean.
Table of Contents
According to tourism statistics, the average length of visit on O'ahu is about seven days (pre-covid), and if you are looking to experience everything the island has to offer without rush, we agree that a week's time is necessary. Our itinerary is not meant to be exhaustive – please, pursue your own specific interests as appropriate – but rather, we hope it can be useful as a template and guide to O'ahu for first-time visitors, and as an introduction to the major districts of the island.
When should you go? Get a personalized recommendation when to visit in our article that describes when the best time is to visit Oʻahu for you.
We wish you a wonderful time on O'ahu, and ask that you help preserve the island by treating all of its historical, ecological, and cultural offerings with respect. We ask that you pay heed to the golden proverb: "Take nothing but memories, leave nothing but footprints."
Have fun planning your trip to Hawaiʻi!
Day 1: Waikīkī
On most routes from the mainland, you'll arrive in Honolulu in the afternoon or evening. Often, the time change presents a small challenge for those arriving, especially travelers en route from the east coast. Many travelers arrive weary, ready for some rest and relaxation.
Pick up your rental car at the Honolulu Airport and make your way to Waikīkī. Regardless of which hotel you choose, you'll be within walking distance to the infamous Waikīkī Beach (see our guide to Waikīkī Beach), and we suggest dipping your toes in the sand or going for a swim immediately. If your arrival corresponds with the sunset, even better. Take a moment for a silent breath, feel the warm winds on your skin, and notice the beauty all around you.
Depending on your energy level, you can go out for a proper dinner, or grab something quick. Either way, use this evening to refresh and unwind after the long day of travel.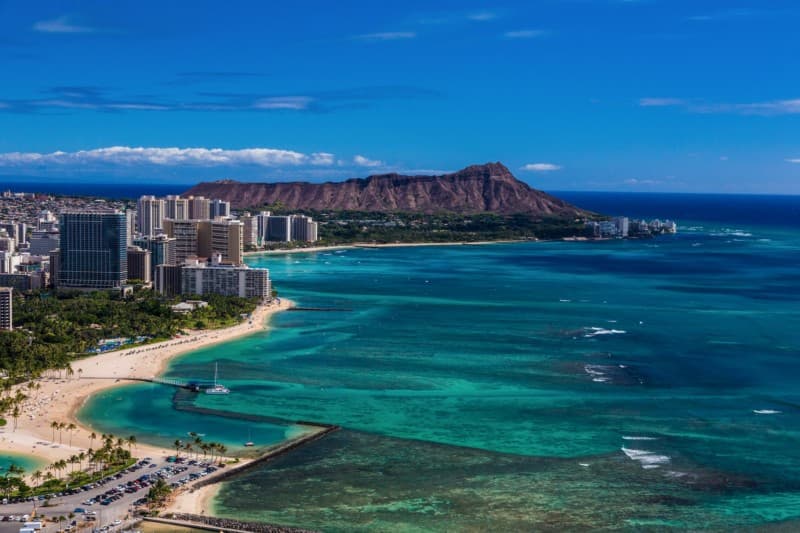 Day 2: Honolulu and the South Shore
Since you'll still be adjusting to the local time, chances are you'll wake up early on day 2. Don't fight it. The beach in Waikīkī is beautiful and peaceful in the morning – grab a coffee and enjoy a walk beside the ocean, on the path from the Duke Kahanamoku statue to Kaimana Beach. Active travelers might consider hiking to the top of Diamond Head while the morning is still cool.
Return to your hotel for breakfast, and after, prepare to head out for the morning. This is a great time to check out Pearl Harbor (advanced reservations required, see our guide), Punchbowl Crater, or the 'Iolani Palace. Those with a strong interest in Hawai'i's history should consider a visit to the Bishop Museum, or one of the many other historical sites in Honolulu (see our guide to historical/cultural sites on O'ahu).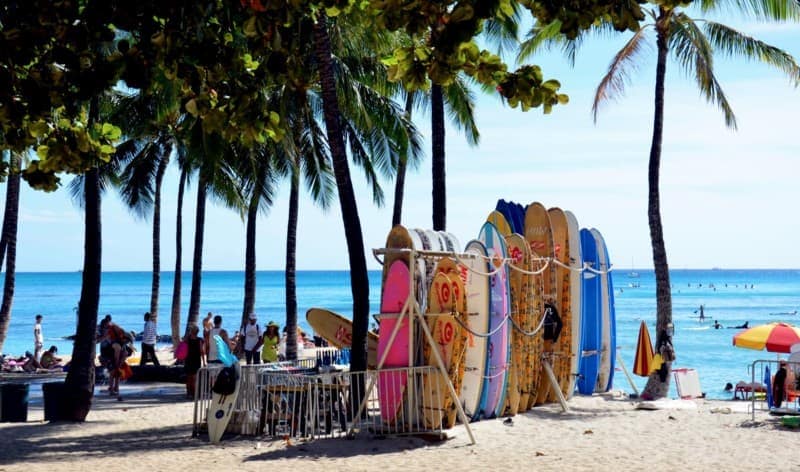 On your way back, take a driving tour of Honolulu. You can browse the markets in Chinatown, cruise through the historic downtown, or check out a local brewery in Kaka'ako. See also our description of Honolulu neighborhoods.
Waikiki Surf Lessons
Learn how to surf with personalized basic or advances classes that are customized to your age, skill level, and personal goals.
from:
$90
What is a suggested tour?

Our suggested tours are hand-picked tours that receive consistent good reviews, give back to the community, and work hard to minimize their impact on the environment.
Return to Waikīkī and plan to spend the rest of the afternoon on the beach. You could simply sit, swim, and relax, or you could take a surf lesson (see above), go scuba diving or snorkeling, or jump on a catamaran sail. There are many other activities in Waikiki as well, such as outrigger canoeing and parasailing.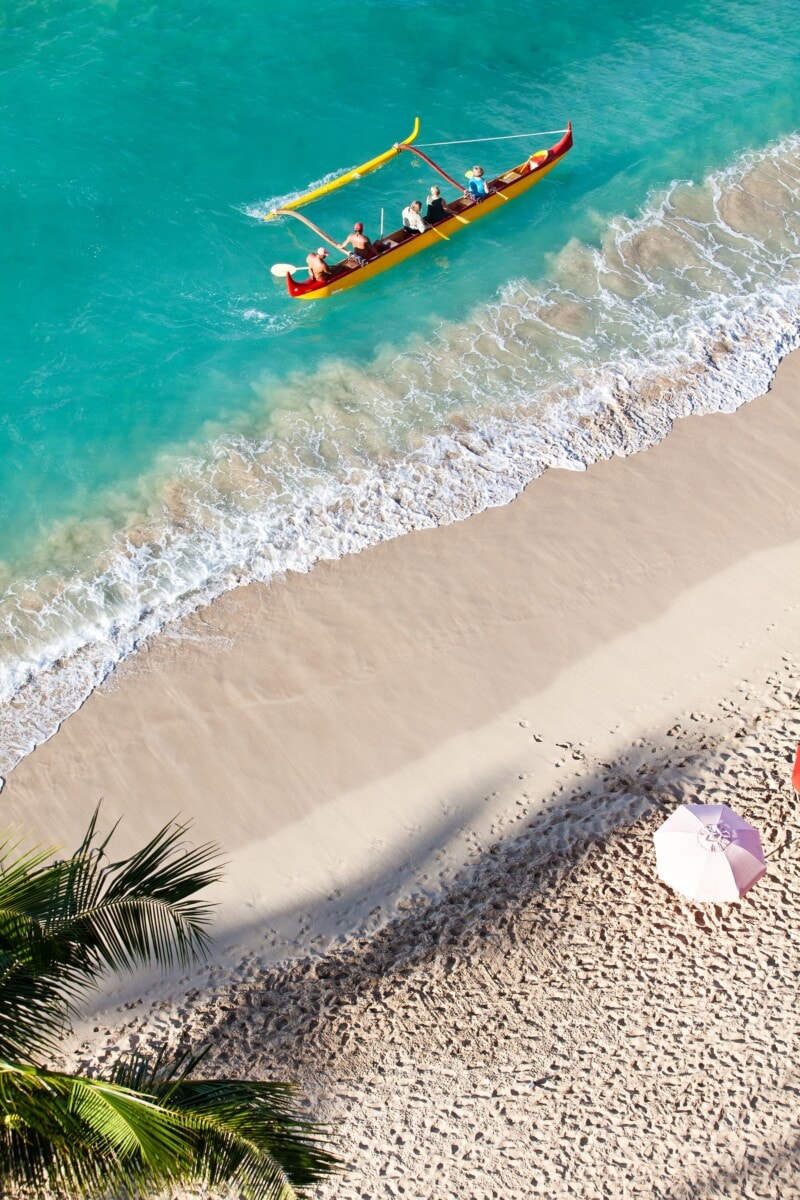 For dinner, we recommend eating at a waterfront restaurant, such as Hula Grill, or a rooftop with a view, like Deck at the Queen Kapi'olani Hotel. Those wanting to check out nightlife on O'ahu should make use of the evening in Waikīkī – breweries, tiki bars, and nightclubs are all possibilities.
Day 3: The West Side
Start slow once again with an early-morning walk, surf, snorkel, or swim at Waikīkī Beach. Then, after breakfast, prepare your daypack with plenty of water, sunscreen, close-toed shoes, and snacks. Plan to be out for the majority of the day.
The West Side is one of the island's most under-visited areas, home to beautiful beaches and natural areas, but because it's a bit out of the way, most people, aside from those who stay out at Ko'olina, don't make the effort to go and check it out.
The day's destination is Yokohama Beach, where the road dead ends at the very northern end of the west side. Yokohama is prime for an extended hangout, with views looking back down the coast of the Wai'anae Mountains. It's also one of the trailheads for Ka'ena Point, a protected seabird sanctuary, with walking paths along the ocean. Arrive mid-morning and hike out to the point. Look for seabirds and, in winter, whales are often visible offshore.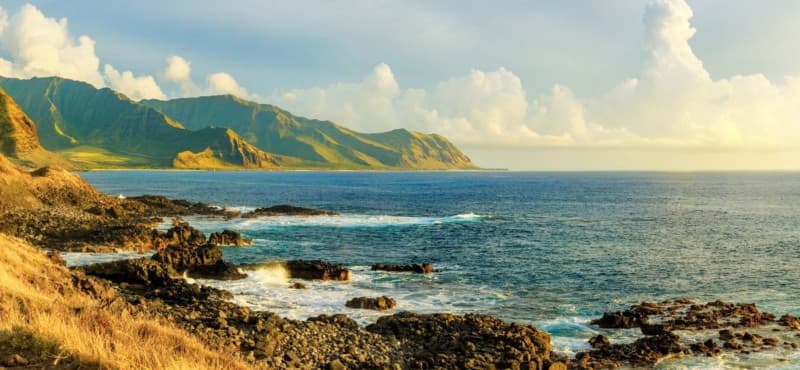 From there, work your way back down the coast. Make a stop at Mākaha Beach, popular with local surfers. If you'd like to get a closer look at local life in Wai'anae, pop into the Mao Organic Farms for a tour, or have a farm-fresh lunch at the Kahumana Cafe.
Advanced snorkelers should make time during the day to visit Electric Beach, but only when it's calm. Alternatively, you can jump on a snorkeling, dolphin, or whale watching boat tour out of Wai'anae.
Watch the sunset from the west side if you've got the stamina; otherwise, return to Waikīkī for dinner and drinks.
Day 4: Kailua
After breakfast, head out by car to the Windwardside, or eastern side, of the island. There are several ways to cross over, and we'll focus on two of them here.
The first is via the Pali Highway, which crosses over via a tunnel in the Ko'olau mountain range. This route offers a beautiful, bird's eye view of the Windwardside in all its glory. We recommend stopping at the Pali Lookout on the way to take pictures and learn more about the historic battle that was once fought there.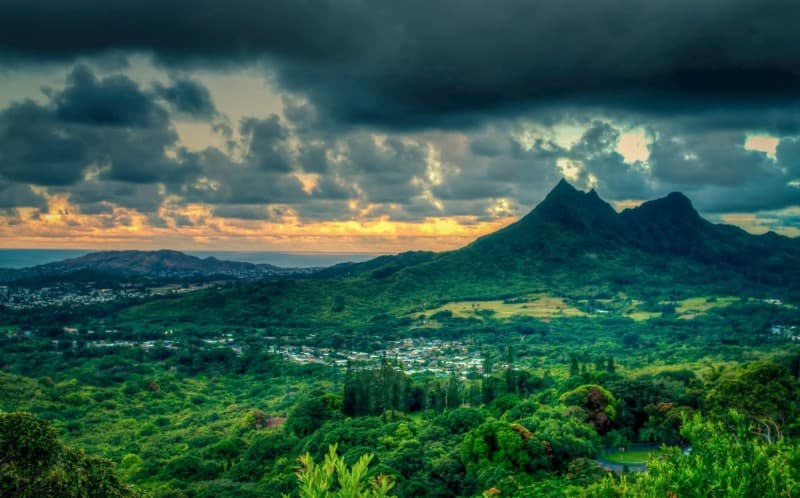 The second way to the Windwardside goes the coastal route, past Koko Head and through Hawai'i Kai before turning the southeast corner. This route has several stopping points, including the Hālona Blowhole, Sandy's Beach, and the Makapu'u Lighthouse and overlook. The latter includes a short, 1-mile hike to an overlook of the coastline.
Whichever way you choose, go slow. The journey there is part of the experience, so plan to stop a couple times, especially on the second route, where views of the ocean are abundant. Once you cross over onto the Windwardside, you'll see a major change in the environment. Because weather comes in from the east, the Windwardside receives the majority of the island's rain, resulting in a lush, tropical landscape that's much different than the dry south shore.
Kailua, once a sleepy beach town, has transformed into a place of equal interest to both residents and tourists. Spend time at Kailua Beach or Lanikai Beach and you'll see why – long white-sand beaches, mountain backdrops, clear blue water, and off shore islands, all with a relaxed, small-community feel.

Active travelers should rent kayaks to paddle around off Kailua's coast. If inexperienced, consider joining a tour that paddles out to Kailua's offshore islands, the Mokes. From there, the views looking back on O'ahu are simply stunning. Alternatively, there are many hikes in Kailua, including the Lanikai Pillbox and Olomana (see our guide to O'ahu's hikes).
For happy hour, try the mai tai at Buzz's – notorious for being the strongest on the island – or pop into Lanikai Brewery for some local suds. Though they don't stay open as late as in Waikīkī, Kailua has a variety of dining options for dinner.
Depending on your preferences and tolerance for hotel hopping, you can either return to the buzz of Waikīkī for another night, or check into a vacation rental in Kailua for a more low-key stay.
Day 5: Windwardside Road Trip
The sun comes up each day off the coast of Kailua, so if you spend the night, you could get up early and take a walk on the beach to watch it rise. Or, you could use the morning to hike to the Lanikai Pillbox. If you wake up in Waikīkī, head out first thing and make your way over to the east side via one of the two routes mentioned above. Either way, have breakfast at one of the many restaurants in Kailua before heading out.
Follow the Kamehameha Highway into Kane'ohe. It's mostly local neighborhoods there, but the Ho'omaluhia Botanical Garden is backdropped by the jagged peaks of the Ko'olau range, and the He'eia Fishpond tour is an enriching, educational experience.
Once through Kane'ohe, the land starts to open up, and the dramatic natural beauty of the windwardside takes over. Kualoa Ranch is the next destination, and it's a good place for a mid-day family tour, whether it be something natural, like horseback riding, or a movie tour. At the very least, you should pull off into the adjacent Kualoa Regional Park for a rest. From there, you can see another offshore island, Chinaman's Hat, as well as large sections of Kane'ohe Bay, and the views of the mountains at Kualoa Ranch are top notch.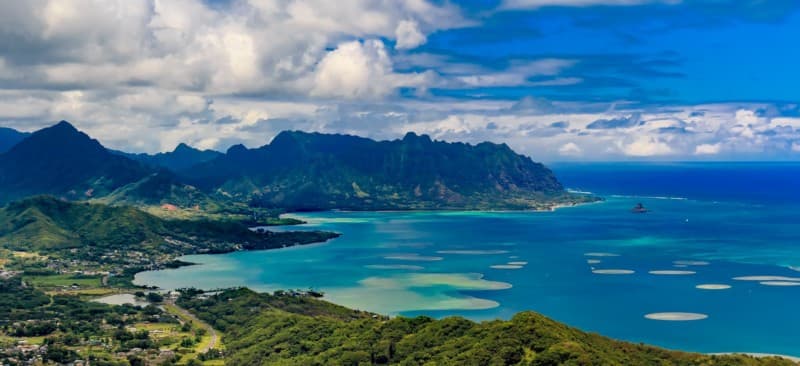 Other stops on the road trip could include Kahana Bay or La'ie Point. Families might consider spending the afternoon or evening at the Polynesian Cultural Center. For lunch, try a local joint, like Kenneke's or Waiahole Poi Factory.
Arrive at your hotel or vacation rental of choice on the North Shore. Head into Hale'iwa for dinner at a local restaurant.
Day 6: The North Shore
The North Shore has somewhat of a split personality. If it's summer, the water is generally calm; but in winter, the surf rolls in and swimming gets more complicated. Be sure to check with lifeguards about conditions for getting in the water.
Either way, the beach is the dominant force along the North Shore and should be your main focus. Surf lessons are available in Hale'iwa, as are numerous tours, like kayaking on the Anahulu River, shark diving, horseback riding, and snorkeling. If it's winter, visit the North Shore's three iconic surf breaks: Sunset Beach, Bonzai Pipeline, and Waimea Bay, where you are likely to see competitions, or at the very least, many surfers practicing.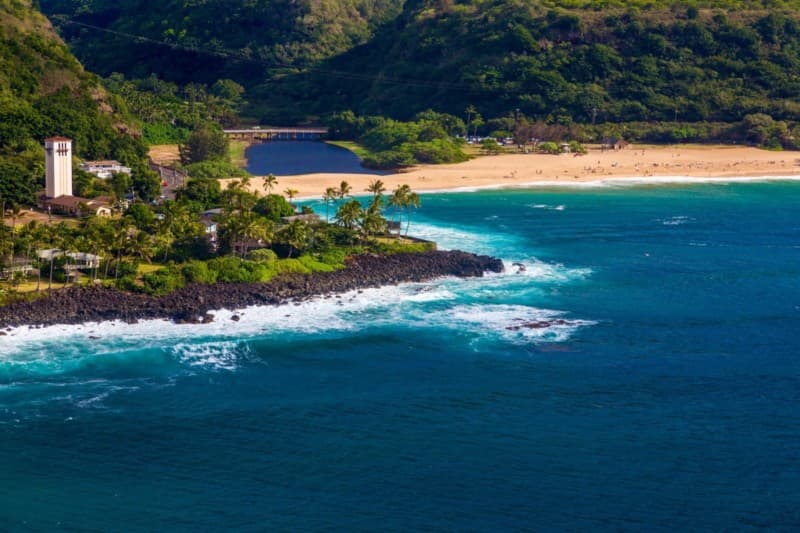 When it's calm, snorkeling at Shark's Cove or swimming at Waimea Bay are two excellent choices. Across from Waimea Bay is Waimea Valley, home to a large, tropical botanical garden and a lifeguarded, swimmable waterfall that's perfect for families. Check for turtles at Laniakea Beach, and if you head all the way west on Kamehameha Highway, you'll reach Mokulē'ia. Here, the beaches are quite serene and uncrowded. You can also access Ka'ena Point from this direction.
Food trucks are abundant on the North Shore, perhaps none more famous than the shrimp trucks – we recommend either Giovanni's or Fumi's. If it's a local poke bowl you seek, try the unique combinations at Pupukea Grill, a food truck parked across from Shark's Cove. You will find many other food trucks in that area, too. For a sweet snack, pop into Ted's Bakery and try a piece of its legendary Chocolate Haupia Pie.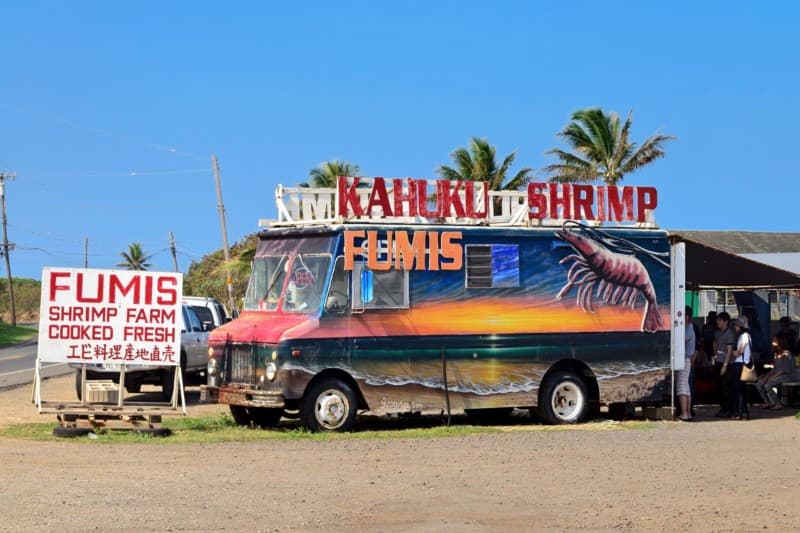 For dinner, try another restaurant in Hale'iwa, or one at Turtle Bay Resort. Or, if your lodging allows it, you can pick up ingredients in Hale'iwa to cook at home.
Day 7: The North Shore/Central Oahu
In many cases, your flight back to the mainland will be late at night, meaning you can take advantage of your final day in full. The morning is a great place to tie up any lose ends on the North Shore, sneaking in one last half-day tour or revisiting a beach. You might also choose to stretch your legs before the flight by hiking to the 'Ehukai Pillbox for a bird's eye view of the North Shore.
Traveling back from the North Shore, it's a good time to make a couple stops in Central O'ahu, an area of the island that is often overlooked. There are cultural sites, coffee farms, and local rum makers to visit (see our guide to Central O'ahu for ideas).
Before departing, catch a final sunset and dinner (or ail! see below) in Honolulu. There are no goodbyes in Hawai'i, so before you leave, whisper the Hawaiian saying, "A hui hou," which means, "until we meet again."
Catamaran Waikiki Sunset Sail
A great evening for couples, families and large groups! Board a catamaran and experience the night-lights and beautiful sunsets of Honolulu.
from:
$40
What is a suggested tour?

Our suggested tours are hand-picked tours that receive consistent good reviews, give back to the community, and work hard to minimize their impact on the environment.