For many people, choosing their accommodation is only about finding "a place to lay their head." They figure they will spend most of their holiday outside exploring, especially in Hawai'i, and so they take little time to think about where they want to stay. Instead, they flock to whoever has the lowest price or is the most convenient to book.
In our opinion, deciding where to stay is one of the most important things to consider when planning a trip to Hawai'i. While these two aspects of price and convenience should play a role when selecting where to stay, you should not overlook the actual amount of time you'll spend at your accommodation. It's your home for the duration of your stay, where you wake up and go to bed, where you'll meet other travelers, where you'll no doubt have some of your meals and where you'll go to put your feet up and relax between activities.
Table of Contents

What are the best regions to stay on O'ahu?
Our suggestions for… families, beach bums, backpackers, etc.
In the end, you'll probably spend about half your holiday at your accommodation when it's all said and done, and being smart about choosing that location will help you get the most of out your experience. Plus, choosing the right type of lodging and the right amenities will make it easier to do everything you want to do.
In this article, we break down the different regions on O'ahu to give you a better sense of their individual pros and cons, as well as examples of properties you will find there. We also dive into the different types of accommodations available – hotel rooms, vacation rentals, campsites, etc. – to help you decide which is the best fit for you.
Where on O'ahu should you stay?
On some islands, like Kaua'i and the Big Island, travelers destination-hop within the island to avoid long drives between their accommodation and places of interest. For example, visitors might stay a few nights in Waimea to see Waimea Canyon before moving to Hanalei to be closer to the Nā Pali Coast, or Kona before Hilo, respectively.
But thanks to the well-developed system of highways on O'ahu, travel times are reasonable, and there's no pressing logistical need to bounce between accommodations (most drive times are less than one hour). That said, O'ahu offers a variety of different hubs, so while there is no logistical reason to move, you may enjoy experiencing different sides of the same island.
Regardless, understanding the different regions is important, and below we break down what each one has to offer, and what kind of visitors they attract.
Waikīkī
Waikīkī, the most-famous neighborhood in Honolulu, is the hub of all tourism in Hawai'i, featuring a large assortment of accommodations, restaurants, bars, nightclubs, and points of interest. Backdropped by the infamous Diamond Head Crater, the long, white-sand beach along its metropolitan shoreline has attracted international visitors for more than a hundred years.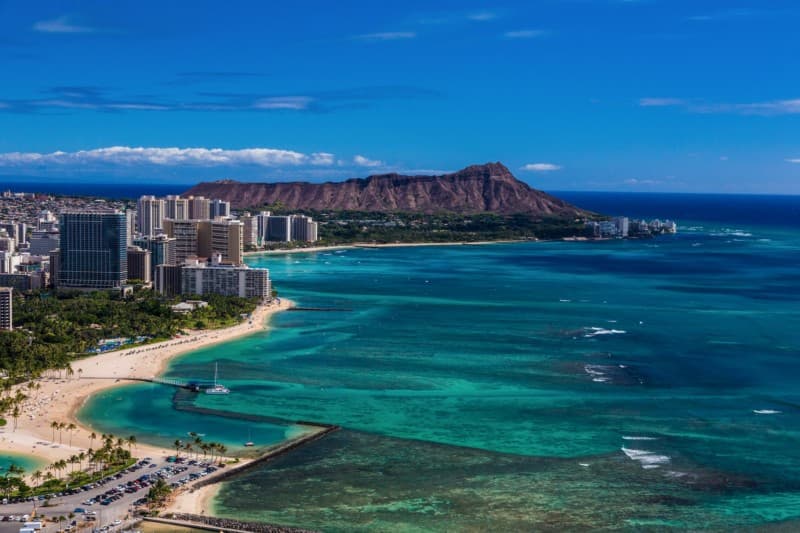 Why should you stay in Waikīkī?

Waikīkī is by far the most convenient place to stay.
Lots of choice: Waikīkī has the highest concentration of hotels in the state (see for yourself), giving visitors options upon options when it comes to hotel, vacation rental, and condo choices.
Easy: From these accommodations, dozens of tours and activities are offered, many through activity centers located in hotel lobbies or nearby kiosks.
Transport options are also maximized in Waikīkī: car and scooter rentals, taxis, ride shares, public buses, bike shares, and ticketed trolleys are all available to get around.
Prime destination for restaurants, nightlife, and upscale shopping. If you are a foodie, you will want to be in Waikīkī. There is no end of the number of restaurants, from small holes-in-the-wall to award-winning establishments.
Waikīkī Beach is laid-back and offers the best entry-level surfing conditions on the island. Sunset sails, scuba diving, paddle boarding, fishing, and many other ocean activities are also available.
Why shouldn't you stay in Waikīkī?
Waikīkī is very popular, and has its own share of crowd-related issues:
Traffic and congestion: Waikīkī's streets are typically very busy, though there are sufficient sidewalks for pedestrians.
Parking can be difficult and expensive, and hotels often charge separate per-night parking fees.
Waikīkī Beach can be crowded and noisy. If finding your own slice of sand is important, you will be hard-pressed to find it in Waikīkī.
Accommodations in Waikīkī are good for:
Backpackers: Budget travelers looking for cheap accommodations and walkability will find their needs met in Waikīkī, with good access to public transportation and a youthful nightlife. There are several hostels, including the Beach Waikīkī Boutique Hostel, the Pacific Ohana Hostel, the Seaside Hawaiian Hostel Waikīkī, and the Polynesian Hostel Beach Club Waikīkī.
Beach Bums: Do you envision your day starting and ending at the beach? Do you want to pop in and out of eateries throughout the day? Do you want to do as little thinking as possible? Waikīkī, with all its conveniences, allows you to focus on your leisure time and avoid excess planning. There are many budget-friendly hotels (non-hostels) that would accommodate this travel style, such as the Park Shore Hotel, Waikīkī Resort Hotel, the Surfjack, and the Royal Grove, among many others.
Families: Those with children of all ages tend to appreciate Waikīkī for its ease of access, beach accessibility, and wide range of food options. Many hotels and resorts offer activity centers, kids' programming, and free or discounted meals. For example, this program from the Royal Hawaiian, and similar options from full-service resorts and upscale boutique hotels like the Outrigger, the Hokulani, the Moana Surfrider, the Halekulani, the Hilton Hawaiian Village, and many others.
Nearby Highlights
There are many destinations within walking distance or a short bike ride, including the Waikīkī Aquarium, Waikīkī Shell, Queen Kapi'olani Park, and Diamond Head State Park. Other attractions on the south shore are within a short drive, such as Hanauma Bay and Pearl Harbor.
North Shore
The North Shore of O'ahu is known worldwide for its offshore breaks and surf vibes, popularized in the 1970s as part of the international spread of surf lore, culture, and competitions. Its rural, residential development offers a contrast to the dense, city-dominated South Shore of Waikīkī and Honolulu.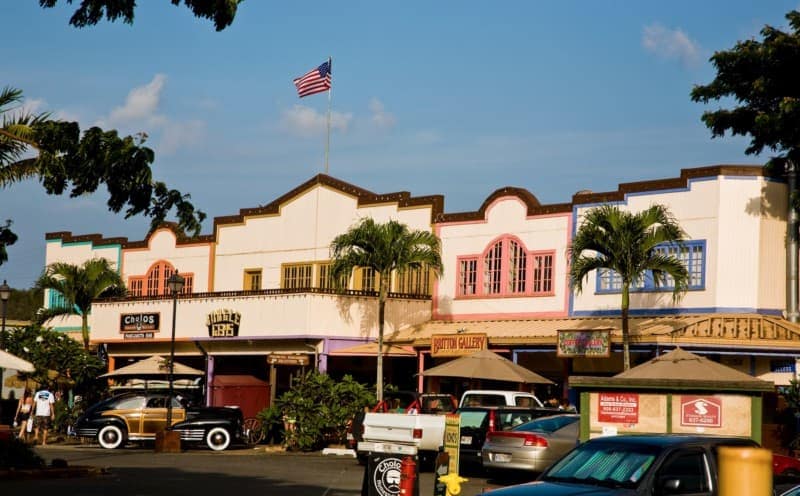 Why should you stay on the North Shore?
Laid back with a rural vibe: There are no high rises on the North Shore; instead, it's made up of small communities mixed in with rural and ranch land.
Beaches: The North Shore is riddled with white-sand beaches.
Natural beauty: Ocean, beaches, mountains, and plenty of green landscape.
Why shouldn't you stay on the North Shore?
Surfs up in the winter; however, it is very dangerous to swim during this time because of the strong currents, and many beaches will prohibit swimming altogether.
The low-key towns on the North Shore offer limited nightlife and entertainment after dinner time. While there are many great places to eat, establishments will not be open as late as those on the South Shore.
Traffic. Unfortunately, the North Shore is not immune to traffic. Because there is only one main road going through it, backups occur and some of the more popular areas, such as Shark's Cove and Laniakea Beach, can become congested.
There is significantly less choice of accommodation on the North Shore.
Accommodations on the North Shore are good for: 
Backpackers, Surfers, and Beach Bums: The North Shore's vibe links up perfectly with easy-going backpackers, surfers, and other beach bums looking to putz around, catch some sun and surf, and hit up a food truck. There is a hostel on the North Shore, the Backpacker's Vacation Inn & Hostel, as well as several small bungalow type rental units, such as the Ke Iki Beach Bungalows. Vacation rentals are also very popular as well.
Families: Despite the rough surf and strong currents (winter), the North Shore is a great destination for families thanks to its plethora of large, sprawling, white-sand beaches and laid-back, relaxed pace. Besides the natural attractions, there are plenty of activities nearby to keep kids happy, such as snorkeling (Shark's Cove), ziplining, horseback riding, and surf lessons, to name a few. Turtle Bay Resort offers all the services a family might need and serves as a great hub for exploring the North Shore.
Nearby highlights
One of the island's most family-friendly and popular attractions, the Polynesian Cultural Center, is just a short drive from the North Shore (Lā'ie). The North Shore's main hub, Hale'iwa, has local food options, surf rentals, and some boutique shops. There are many outdoor opportunities: Laniakea Beach is great for turtle viewing; Shark's Cove is a safe, beginner-friendly snorkel spot during the summer; Ka'ena Point is perfect for a morning walk and whale watching; Waimea Bay has a botanical garden and the island's only lifeguarded, swimmable waterfall; Waimea Bay, Bonzai Pipeline, and Sunset Beach are the three world-renowned surf breaks. Food trucks are very popular on the North Shore, including the infamous shrimp trucks like Giovanni's and Fumi's.
East Coast (Windwardside)
The East Coast or Windwardside of O'ahu shows off the dramatic beauty of the Ko'olau Mountains. Its wet, green, rippled surface soars high above the laid-back, residential towns of Waimānalo, Kailua, and Kāne'ohe, providing an epic backdrop for the area's long, white-sand beaches.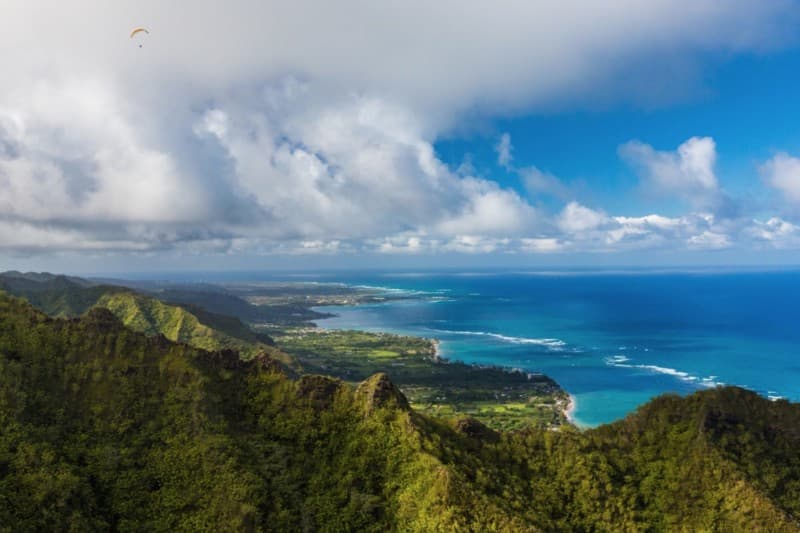 Why should you stay on the East Coast?
Beaches. Kailua and Waimānalo's beaches are as good as it gets, perfect for activities of all kinds.
Scenic beauty. The southeast part of O'ahu is simply breathtaking. The mix of sun and rain offers much abundance from the land.
Outdoor recreation. Between Waimānalo, Kailua, and Kāne'ohe, you have many outdoor activities at your fingertips. There are a number of great local hikes, such as the Lanikai Pillbox, and the islands off shore of Kailua make a great kayaking destination.
Less development. Kailua and Kāne'ohe are by no means undiscovered, but they also aren't as developed as Honolulu and Waikīkī, i.e., no high-rises and relatively quiet nights.
Why shouldn't you stay on the East Coast?
Weather. The trade winds blow in from the northeast, often bringing rain and passing storms. Some people like this because it cools things down; others prefer the more consistent weather in Waikīkī.
Nightlife. Outside of a couple local bars and breweries in Kailua, there's not much happening in the way of night life on the east side. The locals like it that way.
Lack of accommodation options. Nearly all of the visitation to the east side happens by way of Airbnb. There are no major hotels, just small inns and vacation rentals. If you're looking for a full-service hotel, you won't find it on the east side.
Accommodations on the East Coast are good for:
Active Adventurers: So long as you have a car, and are not relying on public transportation, the East Side is a great hub for adventurers. Many of the islands most unique outings are located there. You can kayak out to the Mokes in Kailua or Chinaman's Hat in Kāne'ohe; Climb Olomana Peak for a spectacular view of the Windwardside, hike to a waterfall deep within the jungle; or visit the tidepools, surf, or bodyboard underneath the lighthouse in Makapu'u. Because of how close they are, you could do a variety of activities each day without much of a hassle and end each one with a dip in the ocean.
Families: Families, especially those with small children, will be delighted with all that Kailua has to offer. Lanikai Beach is often considered the most beautiful beach on the island, and it's without question one of the safest places on the island to swim, with surf that is typically very flat and calm and two offshore islands staring you right in the face. The town of Kailua has all the conveniences a family would need (grocery, pharmacies, restaurants, breweries, etc) in close proximity, and it's easy to find a place that's walking or biking distance from the beach. Family-friendly hikes (Lanikai Pillbox), spacious beach parks (Kailua Beach Park), and kid-friendly restaurants in a laid-back, slow-paced atmosphere make Kailua an all-around great destination for families.
Beach Bums: You can't go wrong committing yourself to the beaches on the east side. Kailua Beach, Lanikai Beach, and Waimānalo Beach are all beautiful, that classic white sand and blue water you picture. Rent a pad within walking distance to one of them, and don't forget your beach chair.
Nearby highlights
Many of these have been aforementioned, but don't miss the Makapu'u Lighthouse/Beach, Kailua Beach Park, Lanikai Beach, Waimānalo Beach, or downtown Kailua. Farther up the coast is Kahana Valley State Park (more below in the camping section) and Kualoa Ranch, where many tours take place. On the north side of Kāne'ohe is the He'eia Fishpond and Tropical Farms (macadamia nuts). Stop for a happy hour mai tai and an appetizer at Buzz's, have a local fish dinner at Nico's Kailua, and don't forget to have a local brew at Lanikai Brewing.
West Coast (Leeward Side)
The west coast of O'ahu has remained relatively undeveloped as far as tourism is concerned. The one exception is Ko Olina, a manicured resort area located in the island's southwest corner. It's home to multiple resorts, all focused on the luxury market, and features four man-made swimming lagoons. There's a small "village" with shops and restaurants, curated to tourists.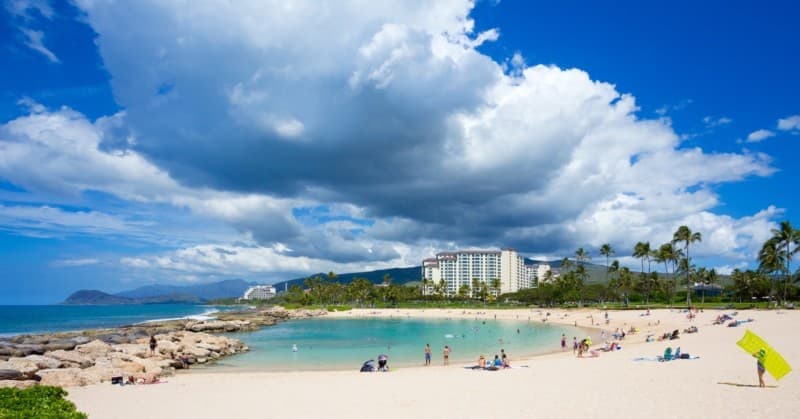 Why should you stay on the West Coast?
It's quiet and secluded. Ko Olina and the west coast are very laid-back, with limited fanfare and nightlife.
Luxury accommodations. Ko Olina has four luxury resorts: The Four Seasons, the Marriot, the Aulani Disney Resort, and the Beach Villas.
Natural beauty. The Wai'anae Mountains hug the coast tight, creating beautiful valleys and vantage points.
Weather. The west coast is very dry and offers warm, sunny days with very little rain.
Why shouldn't you stay on the West Coast?
No budget lodging. Ko Olina's accommodations, restaurants, and shops are all aimed at luxury tourism.
Isolation. If you stay on the west side, it will be a long drive to most of the island's main attractions.
Not as lush. The lack of rain on the west side means less of a rainforest feel.
Good For:
Families and Luxury Seekers: While the activities along the west coast are fit for all (see below), its lodging is appropriate mainly for families and luxury travelers. The Aulani Disney Resort is perfect for families, and the Ko Olina Lagoons are a safe place for kids to play in the water. Those looking for luxury will find everything they are looking for at a place like the Four Seasons.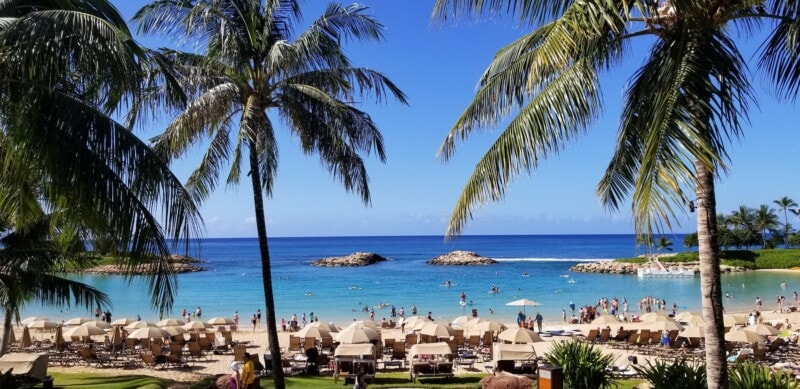 Nearby highlights:
We highly encourage everyone to check out the west coast during your trip, as there are many points of interest and outdoor activities.
There are many white-sand beaches, including Nānākuli and Mākaha. Drive to the end of the road to the remote Yokohama Beach, then walk out along the rocky coast to Ka'ena Point.
Advanced snorkelers should check out the underwater world at Electric Beach.
In Wai'anae, get a taste of the local produce at Kahumana Farm to Table Cafe.
Experienced surfers shouldn't miss the break at Mākaha.
There are three luau venues in the southwest: Paradise Cove, Chief's, and Germaine's.
Different Types of Accommodation
There are different types of accommodations that have their own pros and cons. Here's what you need to consider:
Hotels
Hotels are the most popular choice for accommodation on O'ahu, where almost two-thirds of the state's total rooms are located. They come in a variety of shapes and sizes. Some offer restaurants and concierge services; others do not.
Why should you stay at a hotel?
Affordability. With an average daily rate of $240 per night, O'ahu hotels are, on average, the cheapest of all islands.
Options. There are endless hotel options, from budget-friendly, no-frills rooms to beautiful ocean-view suites.
Daily housekeeping and services. Hotels offer such conveniences, whereas vacation rentals do not.
Why shouldn't you stay at a hotel?
Livability. Many hotels, especially in Waikīkī, are small, lacking kitchens and living spaces.
Privacy. Some hotels offer only limited privacy, with hundreds of rooms and small common areas.
Resorts
The difference between a hotel and a resort is mostly in the services they offer. Resorts tend to include additional on-site activities and amenities, such as adventure centers, spas, in-house restaurants, and room service, while many hotels do not offer these services at all. Resorts tend to have larger grounds and common areas, often with secluded relaxation areas. Examples include the Hawaiian Hilton Village, Turtle Bay Resort, the Kahala Hotel and Resort, and the Disney Aulani Hotel, among others.
Why should you stay at a resort?
Convenience. Resorts have everything you need on-site, i.e., you don't have to leave the property if you don't want to.
Serenity. Resorts tend to cultivate relaxed atmospheres and offer the chance to unwind undisturbed.
Why shouldn't you stay at a resort?
Cost. Resorts rooms are more expensive than rooms at standard hotels.
Lack of local feel. The more a resort cultivates its own property, the more it tends to cut its guests off from the surrounding local communities.
Vacation Rentals
Vacation rentals are another way to experience Hawai'i. By renting out a local's home, apartment, condo, or bungalow, you are instantly infused into the local community, with all the conveniences of a real home, the most significant being a living area, full kitchen, and neighborhood feel.
Vacation rental regulations in Hawai'i have changed the past few years, restricting their numbers and limiting where they can operate. The most important thing to know as a visitor is that rentals must be located in specific areas or have a state-issued permit to be legal.
A rental is legal if it satisfies one of two criteria:
It is located in a resort-zoned district, such as Kahala, Waikīkī, Ko Olina, Lāʻie, ʻEwa, Mākaha, and Kuilima.
It is located outside a resort-zone district but possesses a certificate/permit number for the advertised property on Airbnb, VRBO, etc. You can check the validity of the number on this state website to ensure everything is in order.
Why should you stay at a vacation rental?
 Vacation rental homes are the most local-feeling accommodation option – imagine spending time with your family in a fully-furnished house with a kitchen and a lanai overlooking the ocean or the mountains.
Why shouldn't you stay at a vacation rental?
Ethics. Some experts say that vacation rentals do more harm than good to local communities (although other people argue the opposite).
No services. Unlike a hotel or resort where a staff is on-hand to help and provide housekeeping, you're on your own at a vacation rental.
Camping
There are 17 campgrounds run by the County and four state-run campgrounds on O'ahu, and in theory, it's a budget-friendly way to move around the island. Many are located in beautiful areas, either adjacent to the beach or beneath the mountains, and for self-sufficient types who don't require many services, camping can be a wonderful way to experience O'ahu.
That said, it's by no means an easy thing to execute. The campgrounds have stay restrictions and require permits, which makes it tricky to line up your nights, and you'd have to bring all your own camping equipment, of course.
Why should you stay at a campground?
Natural beauty. Imagine camping just steps away from the sand and salty water.
Affordability. Compared to hotels, campsites are very cheap, typically $10-$30 per night, depending on the site.
Peace and freedom. The spirit of camping puts you on a slow pace to enjoy the natural areas of Hawai'i, and bouncing campground to campground is a unique way to see the island.
Why shouldn't you stay at a campground?
Permits & regulations. County-run campgrounds are limited to 3 and 5 day stays, with no camping on Wednesday and Thursday nights. State-run campgrounds have maximum stays of 5 nights., and also close down on Wednesday and Thursday nights.
Availability. Campsites are popular with locals and can fill up quickly. It may be difficult to plan and secure your stay if your days are not flexible.
Lack of services. Most campgrounds on O'ahu lack infrastructure – i.e. no convenience store, electricity, or rental kiosks.
Weather. Rain could make camping uncomfortable.
Luggage. You will need to bring a tent, sleeping bag, and all the other camping equipment with you.
Accommodations FAQ
Answers to questions about where the best place to stay is for different types of visitors, that is what this section is about:
If you like this guide and are also visiting other islands we recommend the following accommodation overview: